So, as you may know, after Melania Trump delivered her speech at the Republican National Convention, it became clear that parts of it bore a striking similarity to a 2008 Michelle Obama speech.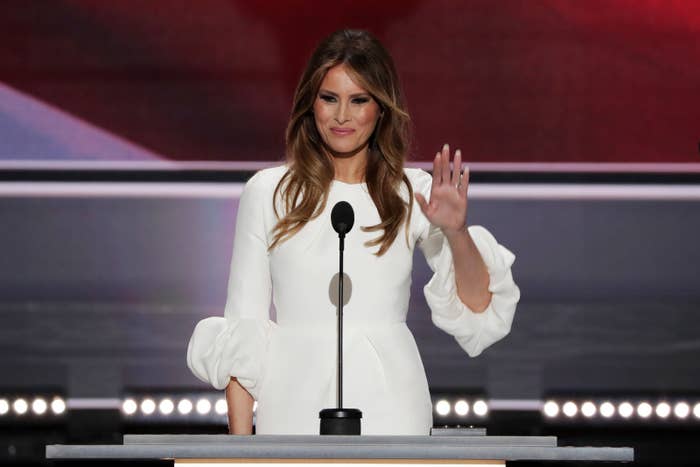 On Wednesday, the Trump campaign released a statement from an "in-house staff writer from the Trump organization" named Meredith McIver, who took credit for the plagiarism.
A quick Google search reveals that McIver co-wrote four books with Donald Trump.
Here are her acknowledgements from "Trump: How to Get Rich," which was published in 2004.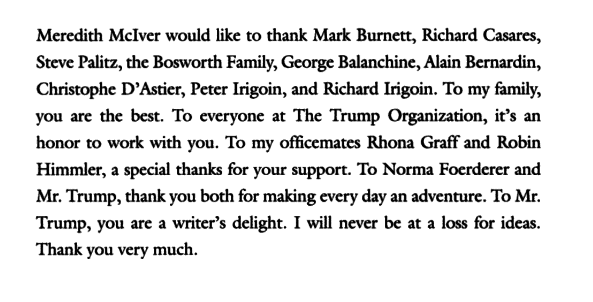 Those details appear to match the biography of a Meredith McIver posted on the website of All American Speakers, a celebrity booking agency.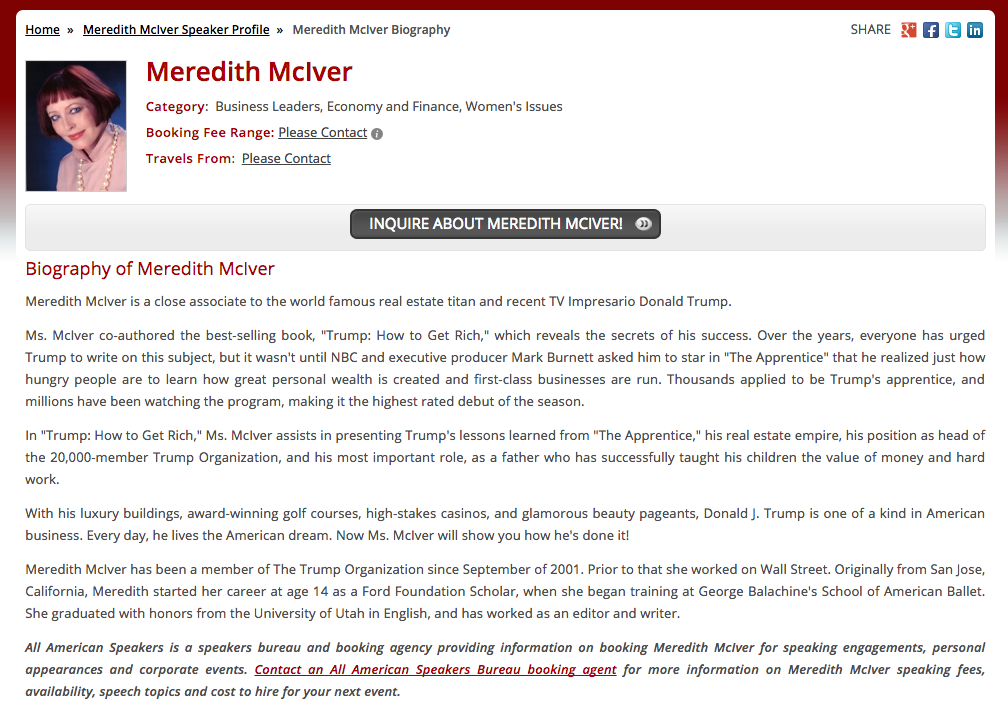 Here's her biography in full:
Meredith McIver is a close associate to the world famous real estate titan and recent TV Impresario Donald Trump.

Ms. McIver co-authored the best-selling book, "Trump: How to Get Rich," which reveals the secrets of his success. Over the years, everyone has urged Trump to write on this subject, but it wasn't until NBC and executive producer Mark Burnett asked him to star in "The Apprentice" that he realized just how hungry people are to learn how great personal wealth is created and first-class businesses are run. Thousands applied to be Trump's apprentice, and millions have been watching the program, making it the highest rated debut of the season.

In "Trump: How to Get Rich," Ms. McIver assists in presenting Trump's lessons learned from "The Apprentice," his real estate empire, his position as head of the 20,000-member Trump Organization, and his most important role, as a father who has successfully taught his children the value of money and hard work.
With his luxury buildings, award-winning golf courses, high-stakes casinos, and glamorous beauty pageants, Donald J. Trump is one of a kind in American business. Every day, he lives the American dream. Now Ms. McIver will show you how he's done it!

Meredith McIver has been a member of The Trump Organization since September of 2001. Prior to that she worked on Wall Street. Originally from San Jose, California, Meredith started her career at age 14 as a Ford Foundation Scholar, when she began training at George Balachine's School of American Ballet. She graduated with honors from the University of Utah in English, and has worked as an editor and writer.
McIver also appears to have given a testimonial for a woman named Donna Root, and a picture of her is displayed next to her endorsement.

A headshot and a normal photo show some differences, but these do appear to be the same woman.

People started to get suspicious when a Facebook page for McIver appeared out of nowhere after the statement was released.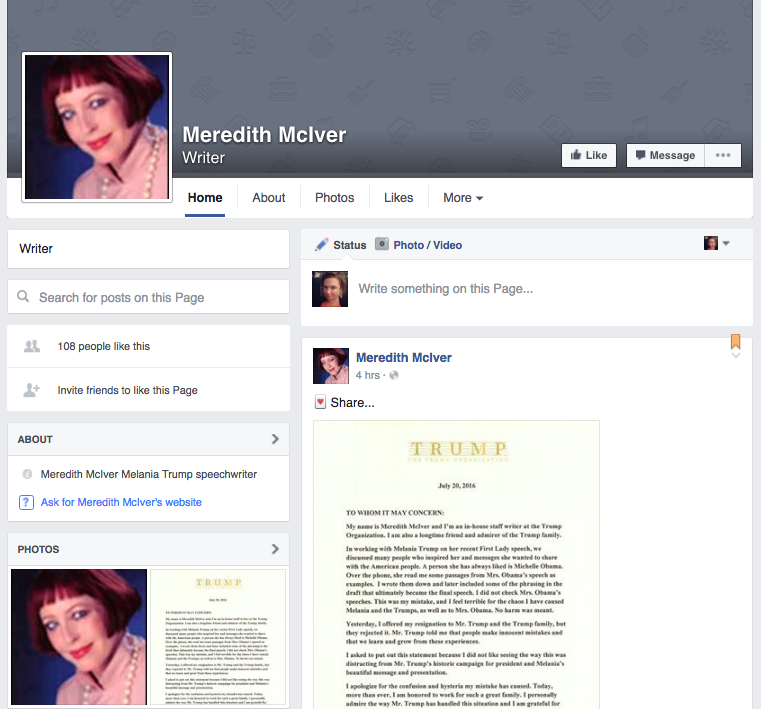 The situation got even more sketchy when McIver's biography disappeared from the All American Speakers website Wednesday afternoon, although McIver's name still appears when you search the site (clicking on the profile redirects you to the website's homepage).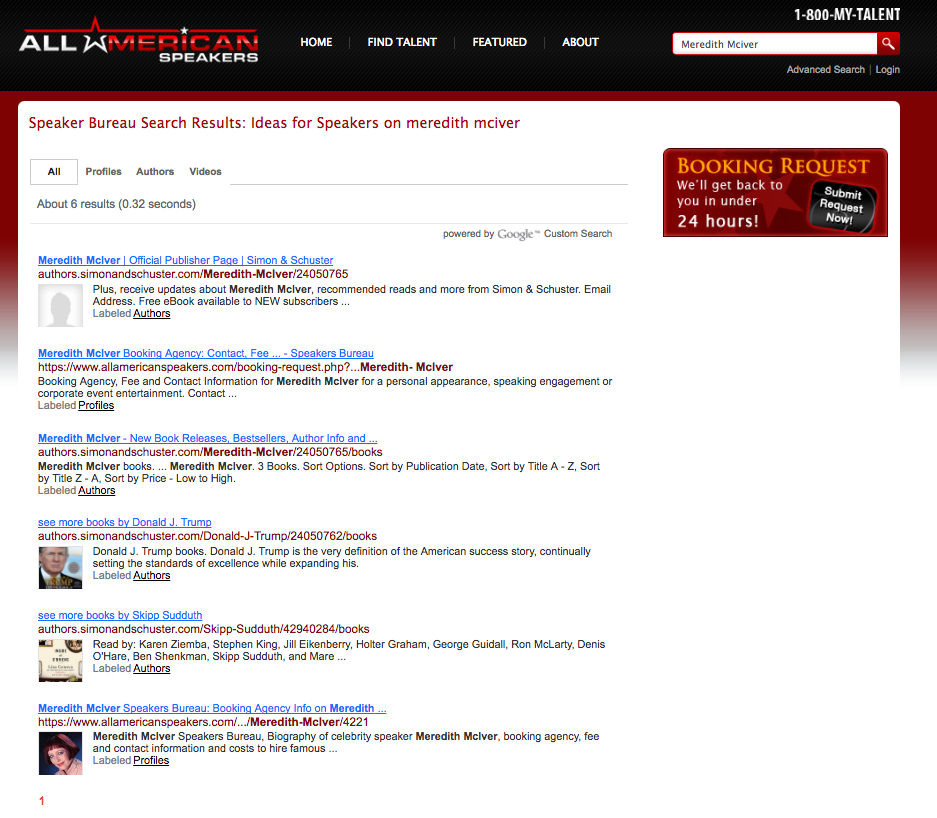 BuzzFeed News has reached out for comment about the profile's removal.
So what's going on? Is Meredith McIver a completely made-up person? Let's move away from internet speculation and look for some real information.
According to the New York State Board of Elections website, not only is Meredith McIver a real person living in Manhattan, she's a registered Democrat.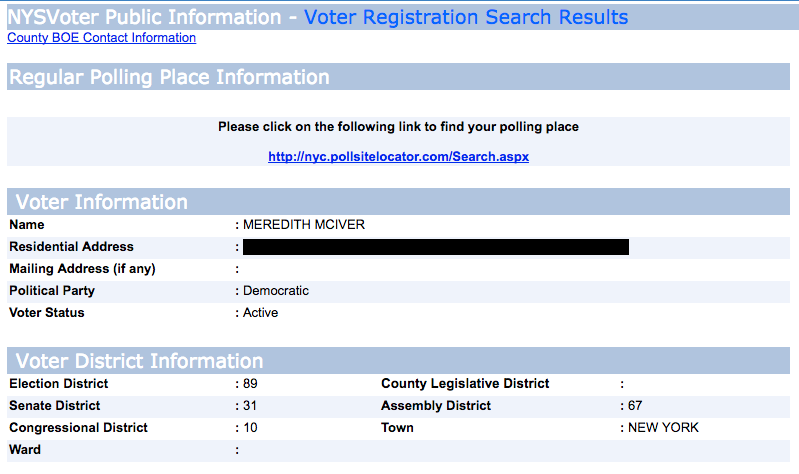 The database Lexis Nexis also lists a Meredith McIver (who lives or has lived at the address on record in the voter registration) as being an employee of the Trump Organization.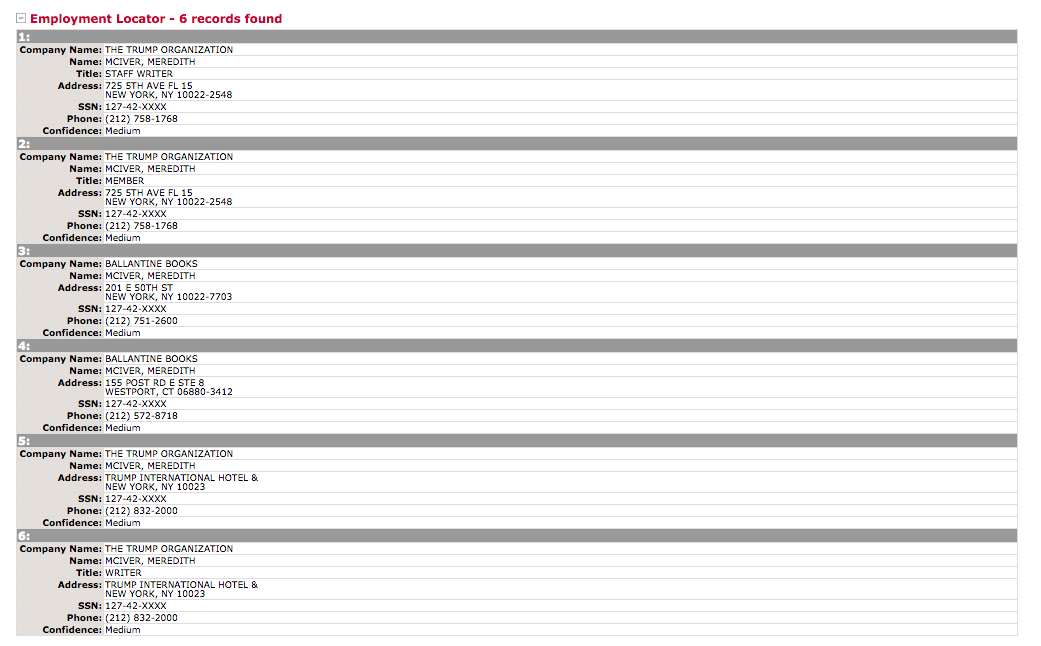 Also, New York City records indicate that a woman named Meredith McIver bought a co-op in Manhattan in 2006 and paid it off in 2011.

In conclusion, unless this is an elaborate scheme involving extensive fraud, it seems likely that Meredith McIver is a real person who works for Donald Trump and we can all calm down.