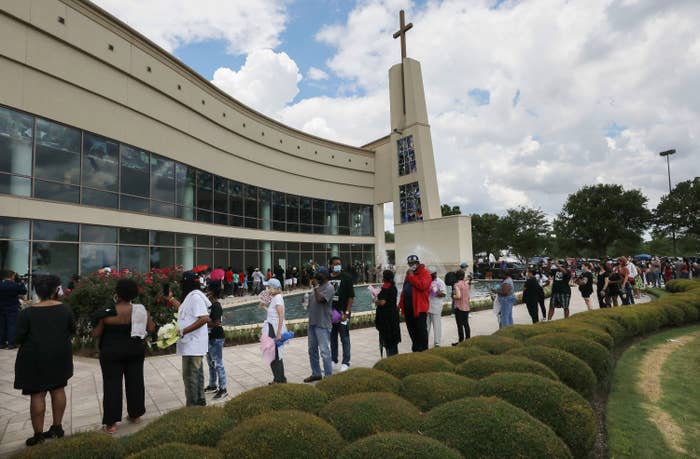 Thousands of people waited hours in 90-degree heat to pay their respects to George Floyd at a public viewing memorial in Texas on Monday.
The six-hour viewing at Houston's Fountains of Praise church was the last memorial open to the public for Floyd, a former resident of the city.
"I had a responsibility to be there if I could be there," mourner Shelly Baker told BuzzFeed News. "I don't take it lightly that George Floyd was from Houston, from Third Ward. I live in Third Ward."
Floyd, 46, was killed in police custody on May 25 after Minneapolis police officer Derek Chauvin pinned him to the ground in a fatal chokehold while placing him under arrest. After a witness's video of Floyd dying and pleading the officer to let him breathe was posted online, Chauvin was fired; he has since been charged with murder.
Floyd's death has sparked protests against anti-Black racism and police brutality across the United States and around the world.
In anticipation of large crowds at the memorial, organizers arranged for shuttle buses to bring mourners to the church from an offsite parking location.
Baker, 28, told BuzzFeed News she waited for nearly two hours to board the shuttle bus to the Fountains of Praise church and saw someone else in line collapse from the heat. She waited an additional hour once the bus delivered her to the memorial site.
Baker said the church enforced the strict social distancing measures recommended by the Centers for Disease Control and Prevention to protect individuals from the coronavirus.
"They were really on it with the social distancing," she said, describing the measures as the "strictest" she'd seen.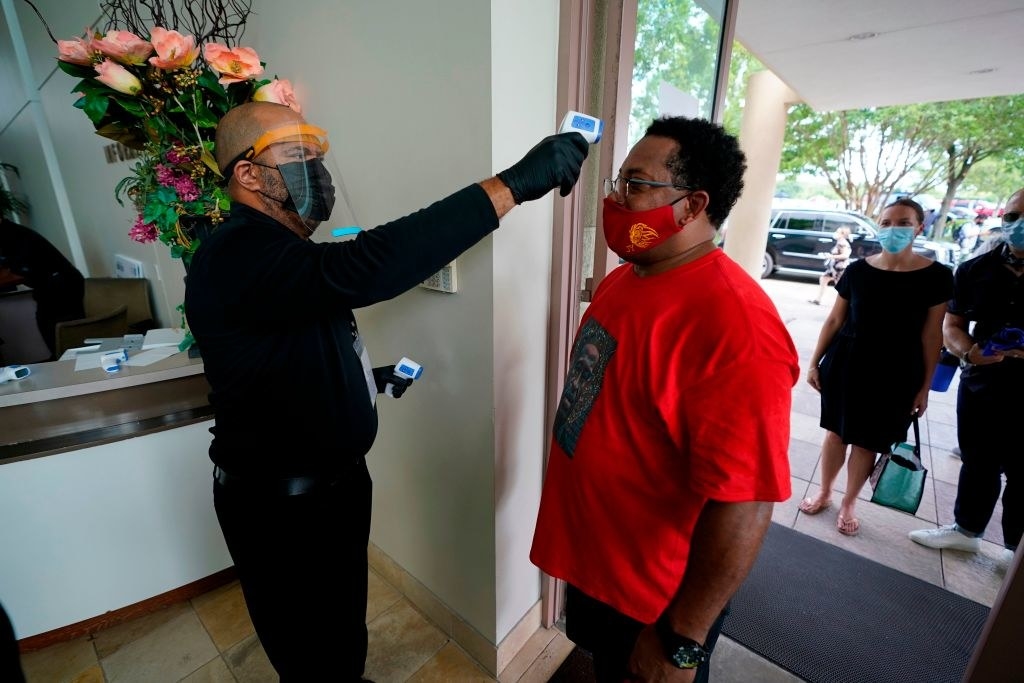 Among those who attended the viewing was Texas Gov. Greg Abbott, who paid his respects before privately meeting with Floyd's family. Abbott told reporters that Floyd's death was "the most horrific tragedy [he'd] ever personally observed."

The governor said Floyd's life "will be a living legacy about the way that America and Texas responds to this tragedy.
"I'm here to tell you today that I am committed to working with the family of George Floyd to ensure we never have anything like this ever occur in the state of Texas," he said.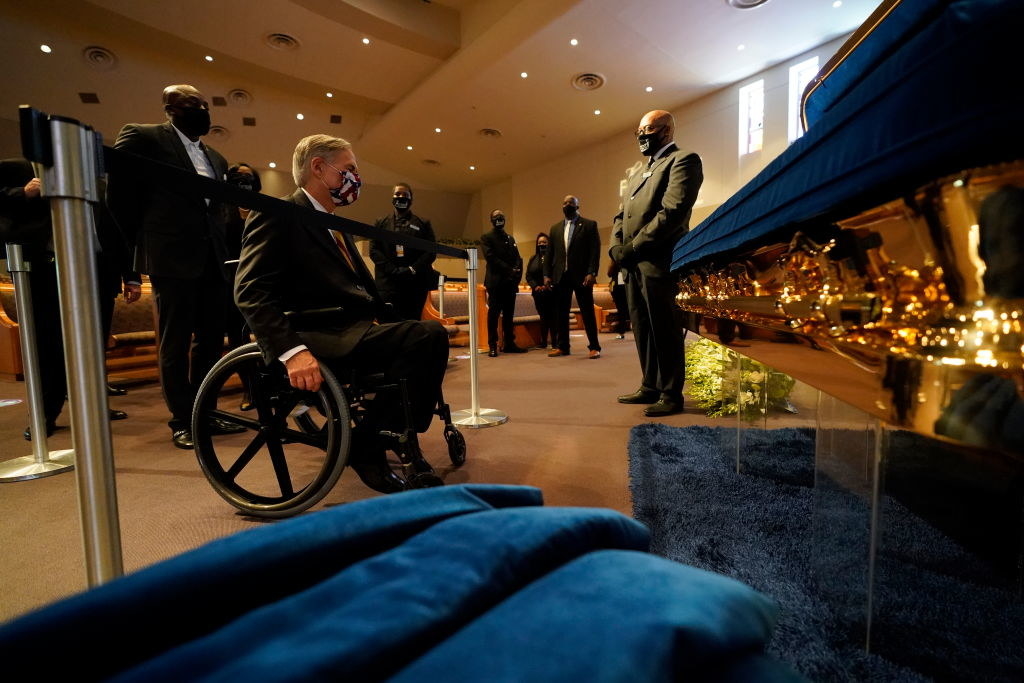 Alberto Huichapa, 20, told BuzzFeed News he attended the memorial to show support for the Black community and Floyd's family.

"Going to see him in person just brings out this deep sadness and urge to keep on fighting and fighting and fighting until we're treated equally," he said.
"I couldn't believe that this man was so full of life not too long ago and is now in a casket and getting ready to go 6 feet under thanks to the brutality of the police officers."

Floyd's funeral, which will not be open to the public, will take place on Tuesday.
Following the service, he will be buried next to his mother, Larcenia Floyd, at the Houston Memorial Gardens cemetery in suburban Pearland.