Fox News host Kimberly Guilfoyle said Tuesday that she is in talks with the Trump administration about replacing Sean Spicer as the new White House press secretary.
"I'm a patriot, and it would be an honor to serve the country," she said in an interview with Bay Area News Group. "I think it'd be a fascinating job, it's a challenging job, and you need someone really determined and focused, a great communicator in there with deep knowledge to be able to handle that position."
Guilfoyle, currently a co-host of the Fox News show The Five, was reportedly a top candidate for the press secretary job after the election. She had multiple meetings with members of the Trump transition team in December about the post, but lost out to Spicer, the former Republican National Committee communications director.
"Sean Spicer is a very nice man and a patriot; he's dedicated himself to this public service," Guilfoyle said when asked about the man she might be replacing. "Very tough position he's in — I wish him the best, and I know he puts a lot of effort into it."
Guilfoyle added that her decade-long friendship with the Trump family would help her if she became the White House press secretary.
"I think I have a very good relationship with the president," she said. "I think I enjoy a very straightforward and authentic, very genuine relationship, one that's built on trust and integrity, and I think that's imperative for success in that position."
A spokesperson for Fox News said that Guilfoyle is under a longterm contract.
"Kimberly is a valued member of the FOX News primetime lineup, and is under a long-term contract with the network," the statement said.
Guilfoyle added in a statement distributed by Fox that she continues to be happy in her current position.
"As I stated in the interview, I really love what I do and my job co-hosting The Five is tough to beat," she said.
BuzzFeed News has reached out to the White House for comment.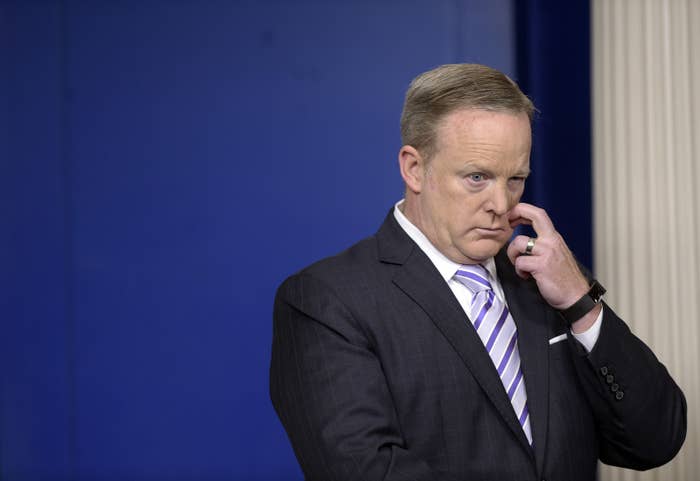 Rumors of Spicer's possible exit intensified last week in the aftermath of his initial handling of the news that Trump had fired FBI Director James Comey. His subsequent absence from the podium, to fulfill pre-scheduled Navy reserve duty, only further fueled speculation that he had fallen out of favor with Trump.
Asked about Spicer was on his way out, an administration official told BuzzFeed News on Thursday: "Oh my god, for the billionth time no."
However, other sources told BuzzFeed News that Spicer had drawn Trump's ire, and that the president was discussing possibly replacing him. Aides were also making calls to prospective candidates who may be interested in joining the communications team if there is a major shake-up, they added.