Firefly, a short-lived "space western" TV show created by Joss Whedon, aired for four months in 2002 before it was cancelled by the Fox Broadcasting Company. The show developed a passionate fan base, known collectively as "Browncoats."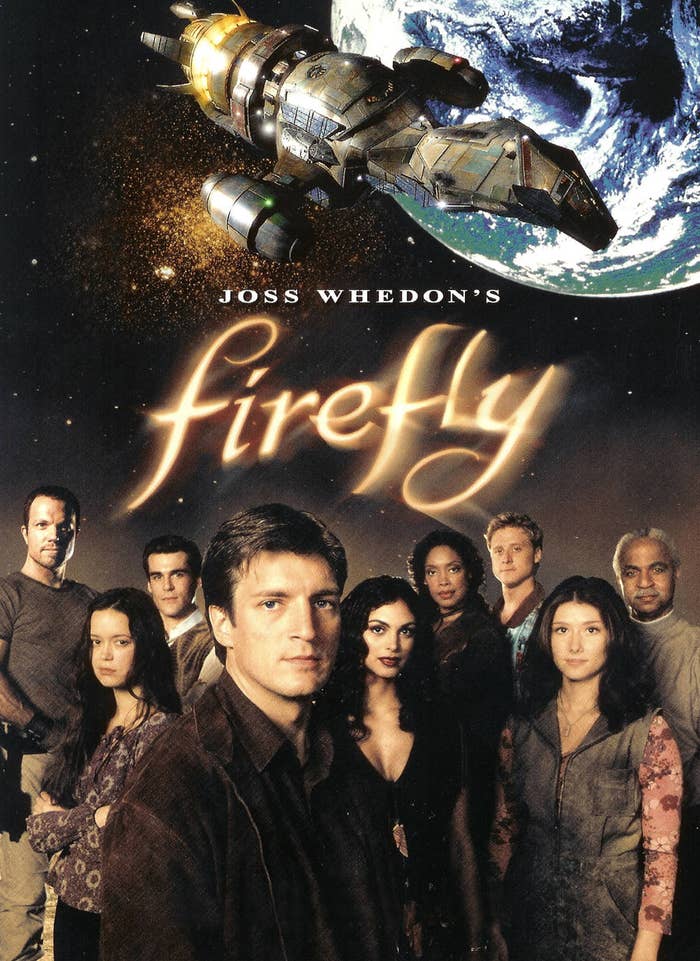 In one of the show's fourteen episodes, a character named Jayne Cobb receives a distinctive yellow and orange hat in a package from his mother. Jayne, a gun-happy tough guy, is very pleased with the handmade hat and wears it throughout the episode.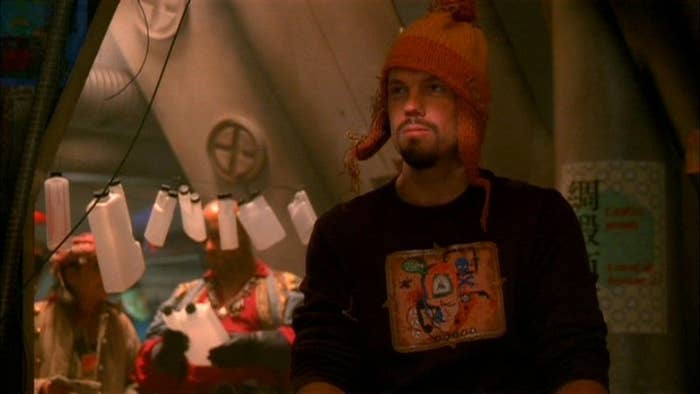 Like Jayne, fans fell in love with the hat and began to make their own versions. Knitters gave away hats to friends, exchanged them with other Browncoats, and, eventually, began to sell them to their eager fellow fans.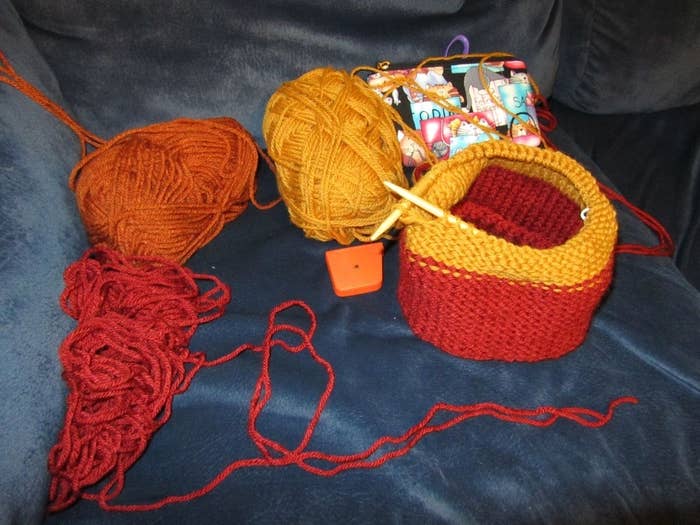 To meet the growing demand, Browncoat knitters turned to the Internet, and by 2008 a cottage industry of Jayne hat makers had established themselves on CafePress, Etsy and eBay.
In the ten years since the show aired, Jayne's iconic hat has become an unofficial symbol of the Firefly fandom.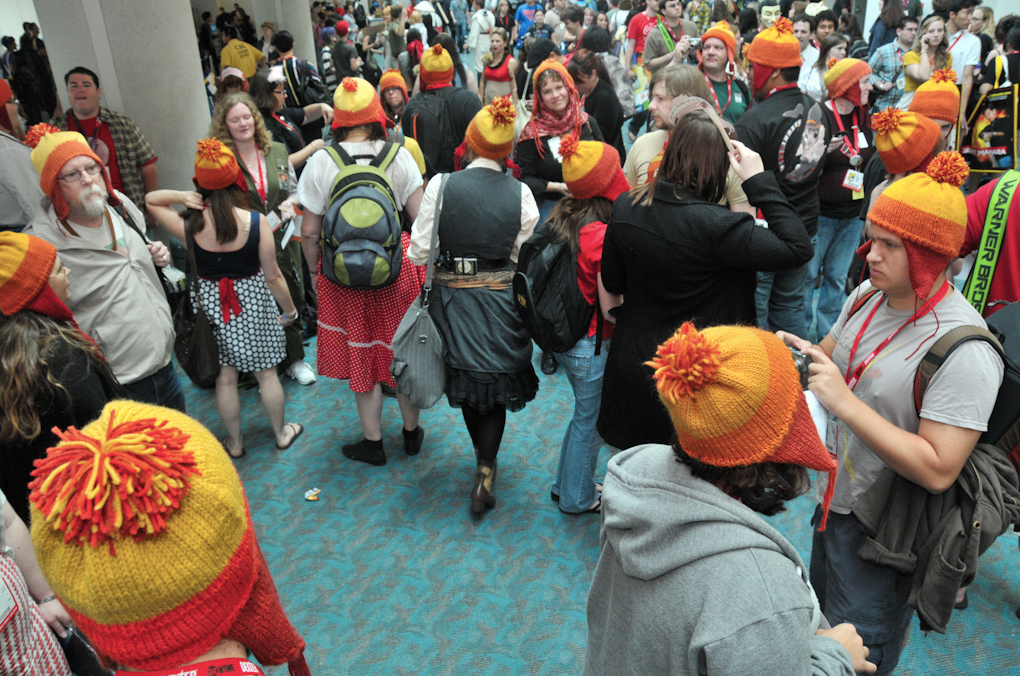 Jayne hats have become so recognizable that a few fans have created costumes of the hat itself.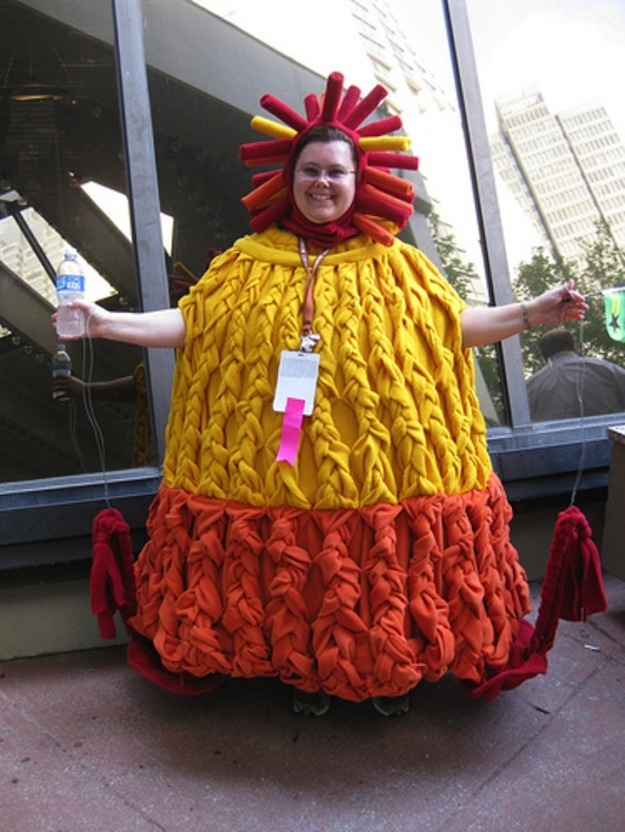 For Browncoats, wearing a Jayne hat is an easy (and subtle) way to show your love of the show and identify other fans.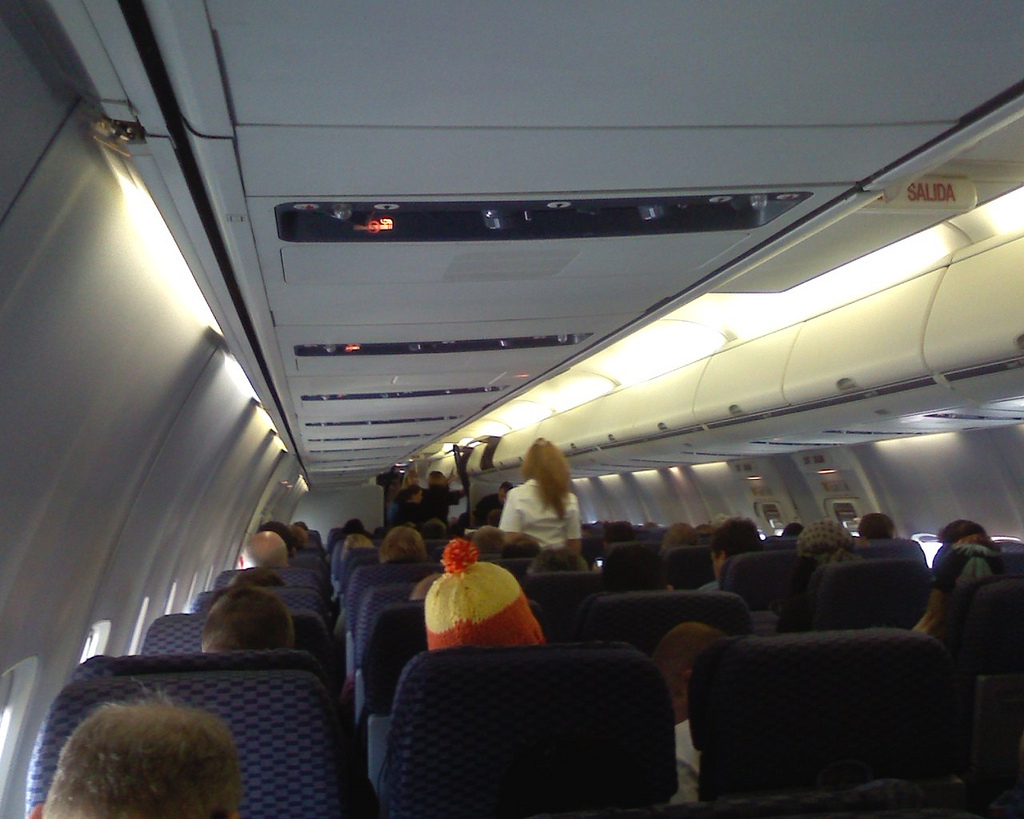 Firefly creator Joss Whedon and actor Adam Baldwin talked about the Jayne hat phenomenon at a press conference for the show's tenth anniversary panel at ComicCon in July 2012.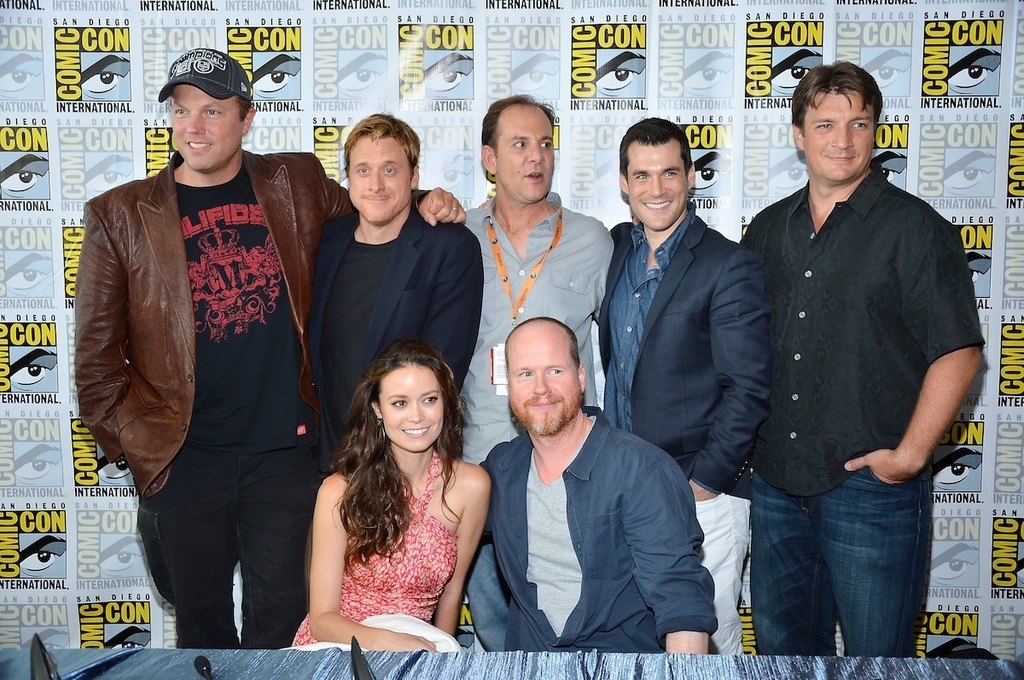 Joss Whedon: Here's the thing about the hat. It's tangible, it's DIY, it's not wearing an entire costume. You can have the hat and go to your day job. It's everything that should work for cult... it's the specificity and the fact that it's got that homemade feel. People can make it themselves. Also, it's very flattering.
Adam Baldwin: It does. And it's cozy in the wintertime.
The "homemade feel" of the Jayne hat was preserved for years because, in the absence of a mass-produced version, fans had emerged to fill the void with hand-knitted headgear.

"I started selling [Jayne hats] to fill a need that just wasn't being met for Browncoats," said Angela, a Toronto-based fan who started knitting and selling hats in 2008, in an email to BuzzFeed. For years, she sold hats online as "Ma Cobb," after the Firefly character's mother who sends him the hat in the show.
"It was clear, after the show was cancelled, that Fox really had no interest in promoting the show. There was hardly any officially licensed merchandise at the time, besides the DVDs, and the show had a cult following."
"I had the skills to fill a need, and make Browncoats happy, and so I did. I definitely didn't do it for the money-- it's just a bit of supplemental income, and most of it went back into buying the supplies I needed to make more hats. I didn't make much considering the time, care and materials that I put into each hat."
"I did it for a community of Browncoats who wanted to show their love and loyalty to the show," Angela explained.
Then, in December 2012, ThinkGeek, an online store that caters to pop culture nerds and TV and movie fandoms, began selling a licensed version of the Jayne hat. This new product marked the beginning of the end for online mom-and-pop hat sellers.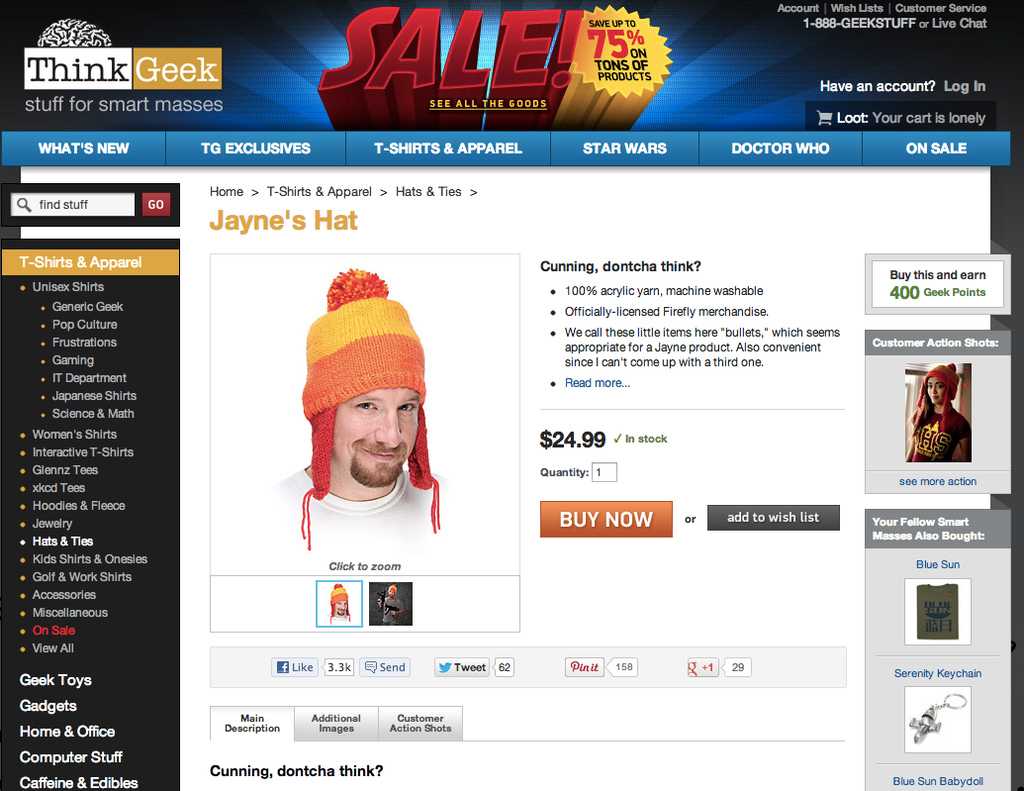 "Many of you told us you wanted this hat," wrote ThinkGeek in the product description of their licensed version, which became available on their website on Dec. 10, 2012.
"Many of you gave up on us and already have this hat. Maybe you picked it up on Etsy; maybe you made it yourself. But there are those of us not burdened with an overabundance of knitting skills who procrastinated and just never got around to putting in that Etsy order."
ThinkGeek doesn't own the license for the Jayne hat— that belongs to a vendor called Ripple Junction whose employees, according to the "Jayne's Hat" product description, "weren't huge fans. Not like us. They knew of the hat, but didn't know the details. So we got to play adviser on this, giving them specs for different parts and picking the colors."
A representative for ThinkGeek confirmed to BuzzFeed that the company worked with Ripple Junction from October-November 2012 to make sure that the hat would be as authentic as possible.
Ripple Junction did not respond to BuzzFeed's requests for comment.
Soon after the licensed Jayne hat went on sale, after years of turning a blind eye to the homemade hat business, the Fox Group began to lay down the law. Etsy sellers started to receive official cease and desist notices, such as the one below.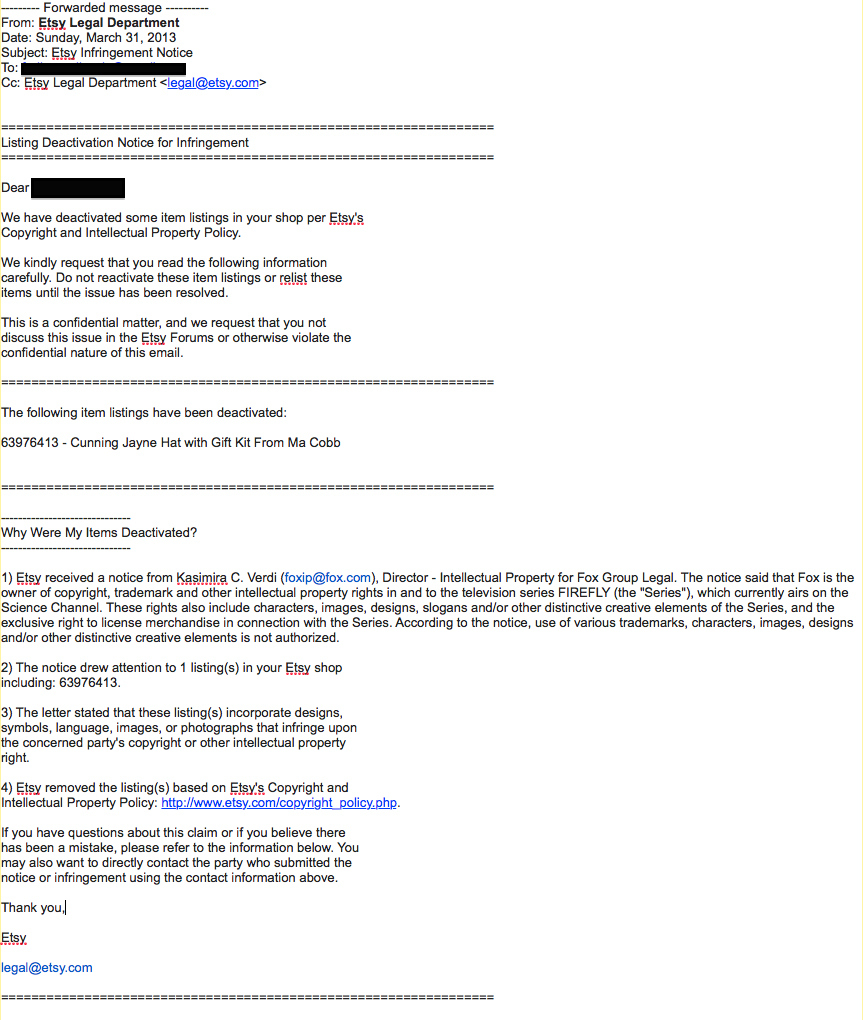 "When I first got the cease and desist, I felt like I'd been thrown out of an airlock," said Angela of Ma Cobbe's Shoppe, who had been selling Jayne hats on Etsy for almost five years.
"I've seen some copyright infringement on Etsy, but I always thought that the hat was something of my own. Yes, it's inspired by a hat worn by a character in a show that is the intellectual property of Fox, but each independent hand-knitting seller puts their own spin on it. They write up their own patterns with subtle shifts in color and design to appeal to everyone."
"The irony of it is that it's the fans of the show who have propelled the hat into the iconic symbol that it is. The hat itself had only a few measly minutes of screen time in one episode-- an episode that Fox didn't even air."
The crackdown came to light after one Firefly fan store posted a "rant" about the situation on Facebook. The note was "liked" by more than 1,000 people before it was taken down.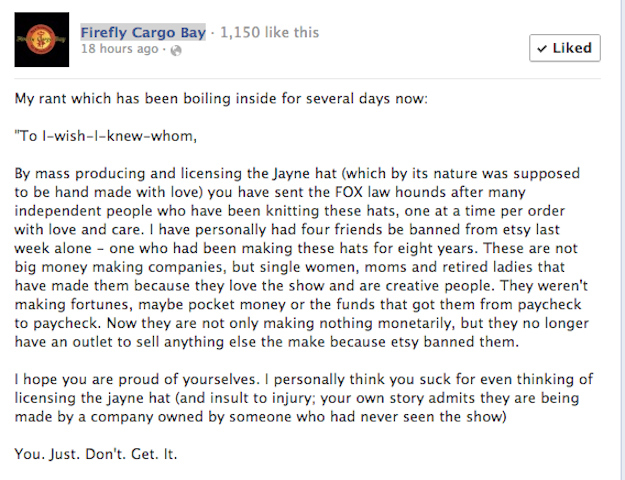 The store posted another message criticizing ThinkGeek and Ripple Junction, which was also taken down when legions of Firefly fans began to share it.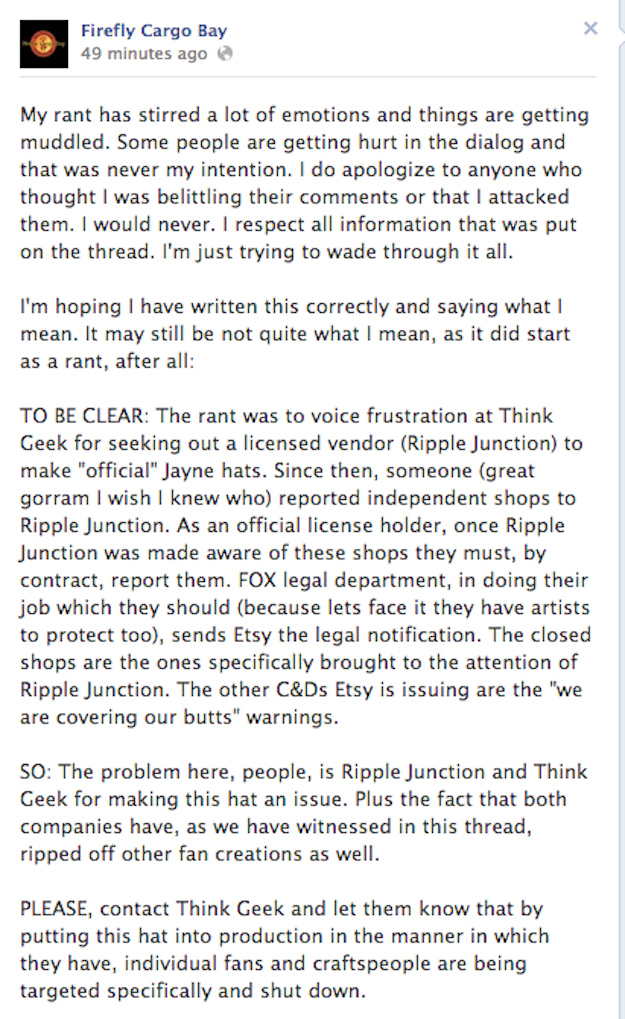 Fans began to tweet their disappointment and anger at ThinkGeek.
Which led the company to publish an official statement denying involvement in the copyright crackdown in their blog.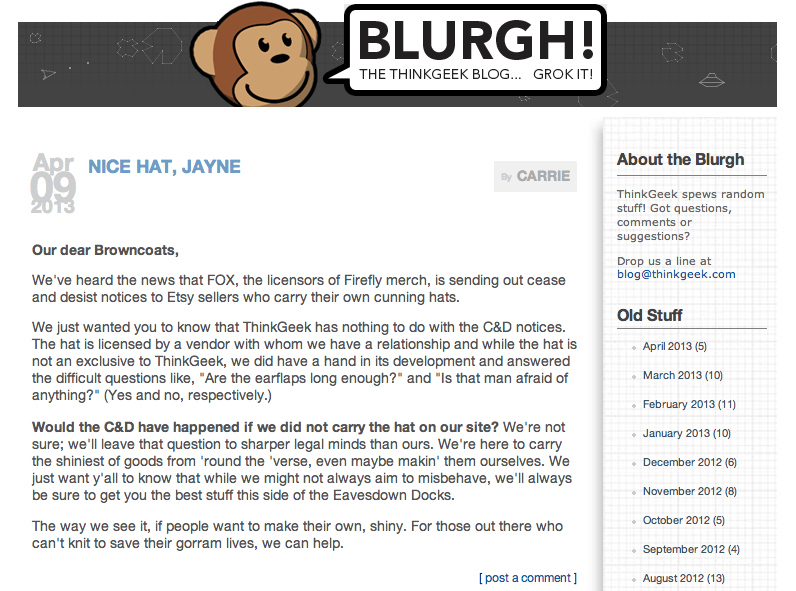 "Etsy is a strange and mercurial beast," said ThinkGeek Public Relations manager Steve Zimmerman in an interview with BuzzFeed. "But we don't patrol it."
"Handmade objects that go up on Etsy push the limits. We don't patrol that, it's not our bag. We care about bringing awesome things to as many people as possible."
"It's unfortunate that we're receiving negative attention, because we're Browncoats ourselves," Zimmerman continued. "That's the reason we carry so much merchandise from the show, it's because we love it. Of course, it's within the legal rights of Fox to defend their license, and we work hard to retain a relationship with and work with licensors, so that what we offer fans is authentic and legitimate and real."
It's interesting to note that the Jayne hat worn by ThinkGeek's mascot, a stuffed monkey named Timmy, was made by an online knitter of Jayne hats back in 2010. The company commissioned 18 hats for their employees as well.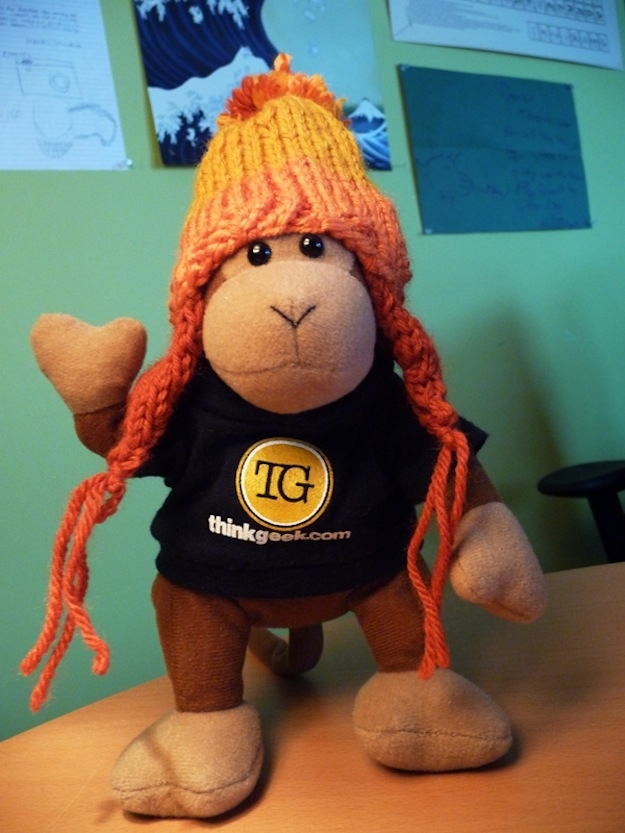 "My feelings towards ThinkGeek right now are hard to explain properly," said RumiElf, the knitter who made 19 hats for the company after they reached out to her over Twitter.
"I can see why they sell the product. I know they would never report individual knitters. But as someone who might be affected by all of this, it's more like mixed feelings," said RumiElf in an email to BuzzFeed.
"The folks at ThinkGeek that I know and talk to on a fairly regular basis? I still love them dearly. But I am irritated that folks at the company who were directly involved in the creation of the manufactured product either had no idea what would happen (which is naive) or knew and went through with it anyway (which is harsh). Still, they are a business and I can't fault them for instigating the manufacturing of a product they knew people wanted."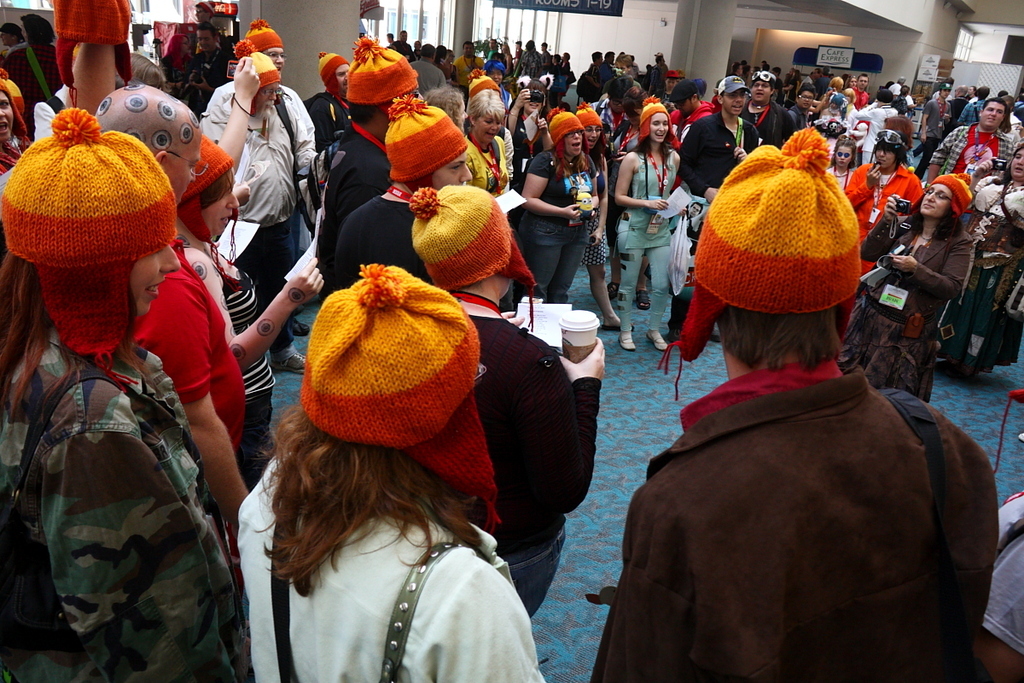 In the past 24 hours, at least two pages of Etsy "Jayne hat" listings have disappeared, but it's unknown whether the sellers were forced to remove the items or whether they removed to them to be safe.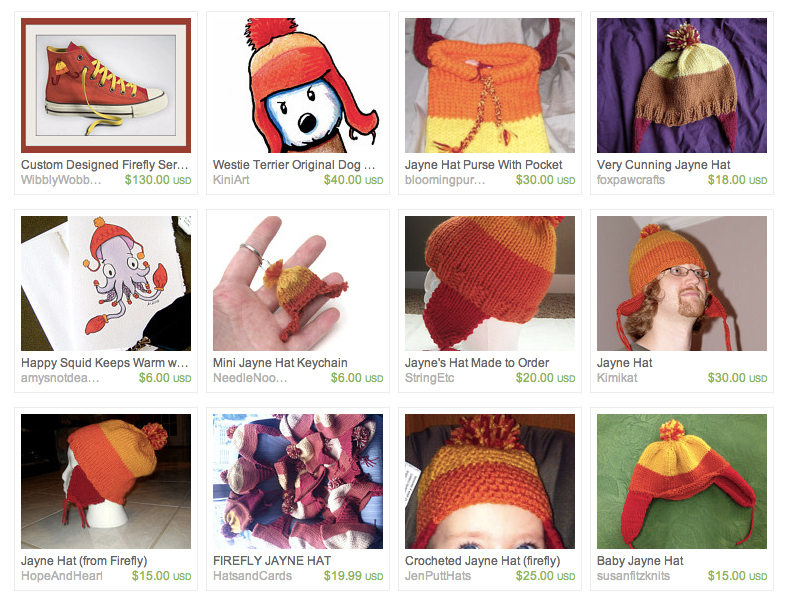 "It seemed inevitable that Fox would eventually catch on and try to take us all down," said Angela of Ma Cobbe's Shoppe. "But in a way I do feel like I've been betrayed a bit by Etsy, as a loyal seller there for many years."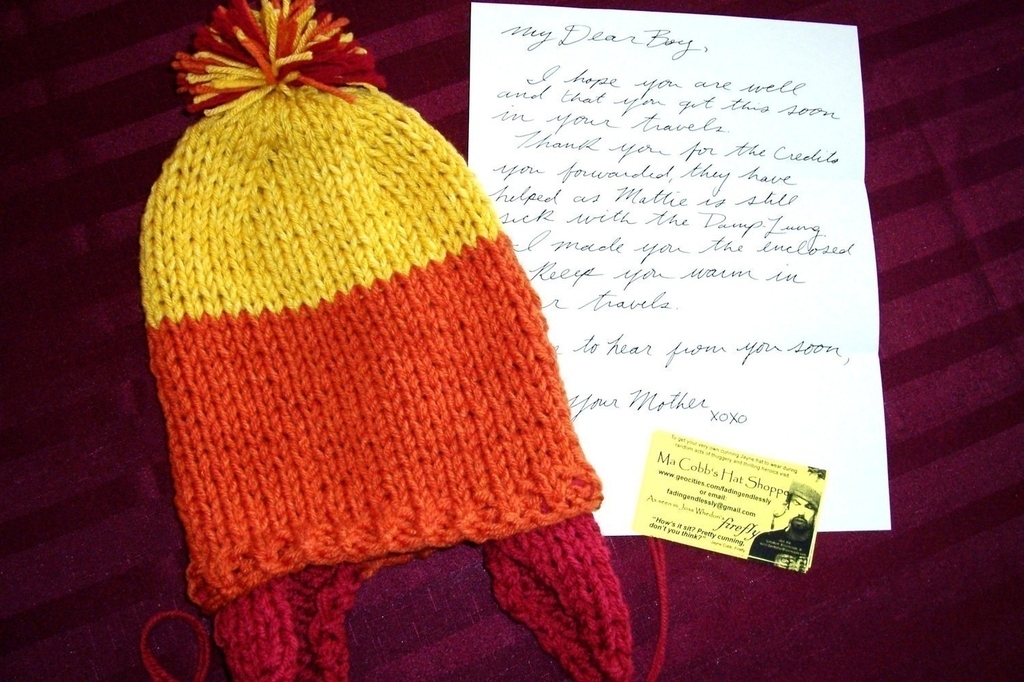 "I found it ironic that ThinkGeek even mentioned getting a Jayne hat on Etsy on their sale page," Angela continued. "It makes me wonder how many of their customers they inadvertently sent to the Jayne hat black market on Etsy, because they knew they could find something better there that was more in the spirit of the show: something hand-knit with love from a fan to a fan."
"I've knit hats for babies named after characters in the show and I've knit hats for people going through chemotherapy who needed a cunning hat to keep their heads warm. I've shipped them to all over the world, and I have been constantly surprised by how far this show has reached."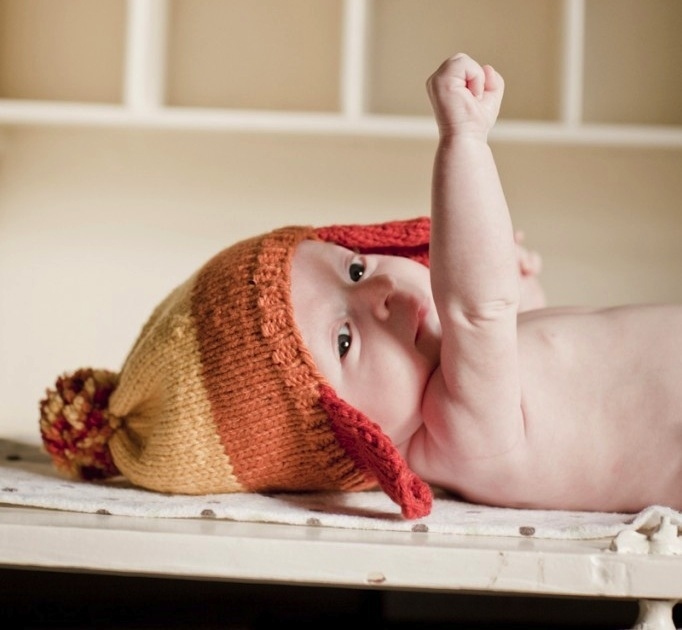 For the most part, Firefly fans online acknowledge 20th Century Fox's right to defend its license, but question the company's sudden enforcement of this one particular item.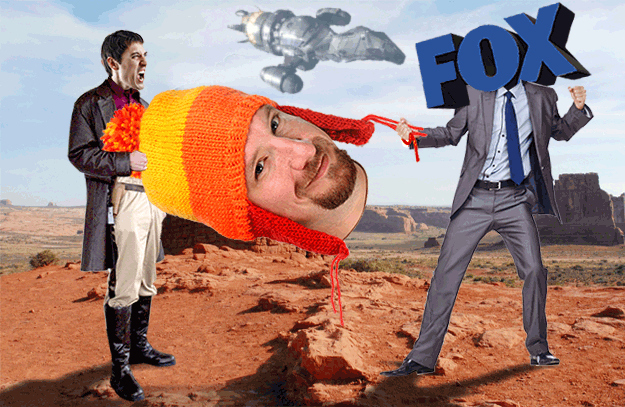 "It needs to be stated that legally, morally, and ethically, Fox has every right to insist upon only licensed versions of its property," writes one fan. "Really, it has something of a fiduciary obligation to its shareholders to protect anything it owns that could make them money, as that's a corporation's job."
"However, notwithstanding the legal, moral, and ethical ground upon which Fox Legal is standing, culturally speaking the move is almost complete ass. They can be legally, morally, and ethically in the right and still have this stink to high heaven."
Fox Legal did not respond to BuzzFeed's request for comment.
UPDATE, April 9th, 8:09 p.m.: Adam Baldwin tweets about his Firefly character's iconic hat.
UPDATE, April 10th, 11:50 a.m.: In a 2008 interview, when asked if he had seen fans wearing Jayne hats, Joss Whedon said, "Oh, I see them constantly. And it fills me with tiny knitted joy."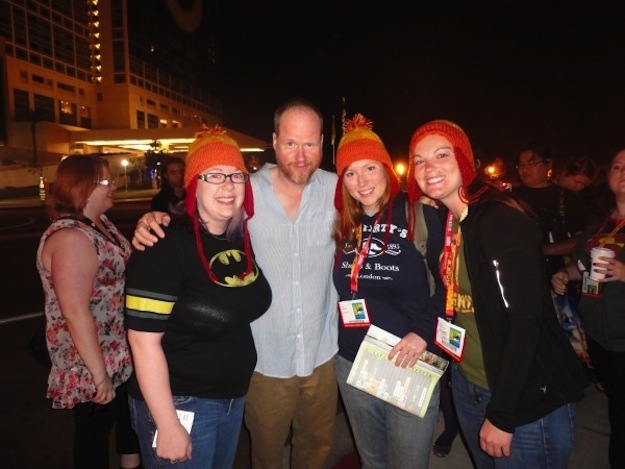 UPDATE, April 10th, 1:10 p.m: In a statement on its website, ThinkGeek writes that they will donate all profits from their Jayne Hat sales to Browncoat Charity "Can't Stop the Serenity."
From the ThinkGeek blog:
JAYNE HAT PROCEEDS TO CAN'T STOP THE SERENITY
Browncoats, we hear your concerns about the cease and desist on Etsy Jayne Hat sellers!

We weren't involved in that process, but we have reached out to FOX and we've definitely heard what you've had to say. (We know you guys have Vera to back you up.)

As a result, we've decided to donate the profits from all Jayne Hat sales on our site to Can't Stop the Serenity, a Browncoat charity dear to ThinkGeek's heart that raises funds and awareness in support of Equality Now. We'll continue making that donation until we run out of stock of Jayne Hats.

We hope the Hero of Canton himself would approve.
CORRECTION: 20th Century Fox Television, a subsidiary of News Corporation, owns the intellectual property rights to Firefly. An earlier version of this item misstated the name of the company. (4/10/13)
buzzfeed.com
These hats were recently listed on Etsy and they have absolutely nothing to do with that guy in that TV show. They definitely wouldn't have anything to do with the recent 20th Century Fox crackdown on online sellers of Jayne hats.