A video showing a 14-year-old girl being beaten up went viral recently after the girl's father said his daughter was targeted for being Muslim. But authorities say neither religion nor race were factors, and that the girls may have tussled over a boy.
The incident started drawing widespread attention after Shakeel Munshi said on Facebook that his daughter, Manaal Munshi, was attacked by other girls in her high school class in Boca Raton, Florida, "because she was Muslim." Munshi's video had more than 700,000 views by Friday evening.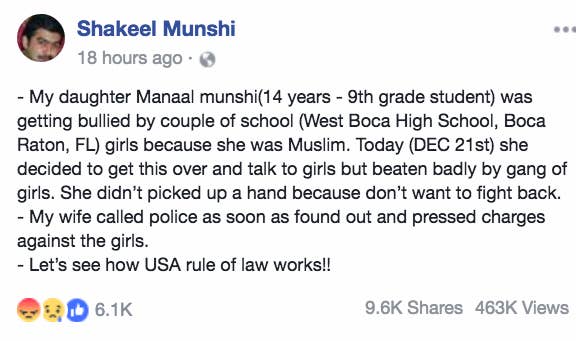 The Facebook video quickly spread to other platforms, and many people called for Manaal to receive national attention for her attempts to end bullying.
The Center for American-Islamic Relations even issued a statement calling for criminal charges to be filed against the attackers.
But Friday night, the Palm Beach County Sheriff's Office told BuzzFeed News that religion and race did not appear to have been a factor in the altercation, which was not being investigated as a hate crime.
In an email, sheriff's spokesperson Teri Barbera said the victim and the girl who could be seen hitting her had agreed to meet. The victim "was under the impression the two were meeting to 'talk,'" though the suspect "apparently told the victim she wanted to meet to fight."

Barbera said the two girls, who attended different high schools, know each other and have a history of confrontations. In interviews after the confrontation, Barbera said the victim told investigators that they were fighting over a boy.
"Never was the discussion of being a muslim ever brought up," Barbera added. "Race was never brought up."
Bullying also didn't appear to be a factor, Barbera said. She added that the victim was wearing a shirt that said "bulls" because that is the mascot of her high school.
Shakeel Munshi, the girl's father, was out of town at the time of the altercation and not at the scene, Barbera also said.

The investigation into the incident is ongoing, but Friday the sheriff's office repeatedly posted on social media that "At NO time was 'race' or 'bullying' ever discussed, determined or considered to have played a role in the altercation."
When asked for comment on the new developments by BuzzFeed News via email, CAIR Florida spokesperson Wilfredo A Ruiz said they still wanted further investigation.

"We called for a full investigation of these events precisely to clarify the circumstances under which this teenager was hanged [sic] up by other three females. That is why we prefer also the involvement of the State Attorney's office on this matter," he said.
Investigators have interviewed the girl and her mother, but are still trying to track down suspects in the case, authorities said.