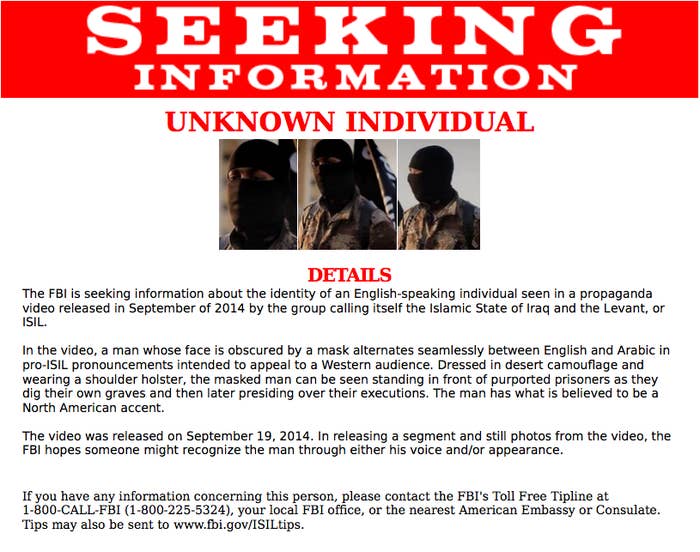 The FBI has asked to the public to help identify U.S. citizens who have traveled, or are planning to travel, to the Middle East to join terrorists groups such as the Islamic State of Iraq and Syria (ISIS).
"We need the public's assistance in identifying U.S. persons going to fight overseas with terrorist groups or who are returning home from fighting overseas," Michael Steinbach, assistant director of the FBI's Counterterrorism Division, said in a press release Tuesday.
According to the FBI, at least a dozen Americans are known to be fighting in Syria with ISIS, although there are other reports that indicate the number may be as high as 100.
In particular, the FBI's Counterterrorism Division is trying to determine the identity of a North American man who was featured overseeing a mass execution in ISIS's latest propaganda video.
In the FBI-edited and non-graphic clip from the recent video, a masked ISIS fighter speaks fluent English with what appears to be a North American accent. Alternating seamlessly between Arabic and English, the man shows off a group of ISIS prisoners who are digging their own graves before they are executed (which, again, is not shown in the above clip).
"We're here in the 17th Division military base just outside the city of Raqqa, and we're here with the soldiers of Assad," the masked fighter says in the video. "You can see them now digging their own graves in the very place where they were stationed. The very place where they were stationed terrorizing the Muslims in [the city]."
"This is the end of every [unbeliever] that we get a hold of," he says before showing the prisoners kneeling in preparation for execution. "This is the end that they face."