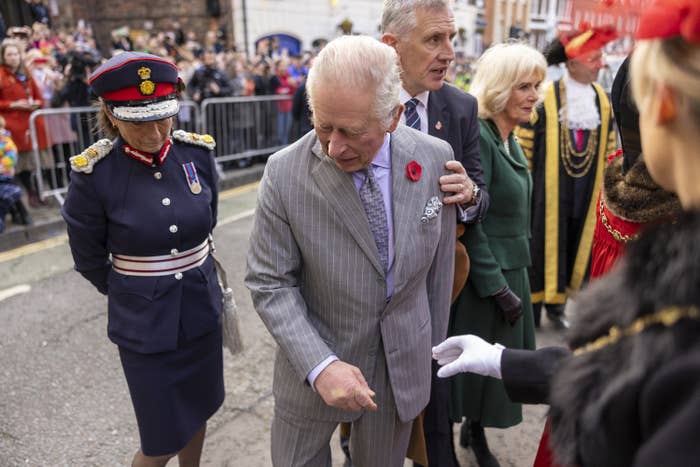 A UK man was arrested for throwing eggs at King Charles III and Camilla, the Queen Consort, during a royal visit to York on Wednesday, North Yorkshire Police said.
The royal couple were greeting well-wishers and local leaders outside the historic landmark Micklegate Bar, the traditional spot monarchs have used for centuries to enter the city, when someone in the crowd threw eggs in their direction. Reports differ on whether three or four or five eggs were thrown, but all of them missed.
The egg-thrower also booed the royal couple and yelled, "This country was built on the blood of slaves," and "Not my king."
Here's another angle of the egging:
As the King and Queen Consort were ushered away, the other members of the crowd began to boo the protester, starting a chant of "God save the King" and "Shame on you," the BBC reported. Police swarmed, and the egg-thrower was quickly taken into custody.
"A 23-year-old man was arrested on a suspicion of a public order offence following an incident on Micklegate in York," North Yorkshire Police said in a statement posted on its website. The suspect remains in police custody.

A Twitter video of the egg-tossing assailant being handcuffed shows the protester referencing the King's friendship with Jimmy Savile, a television and radio personality against whom hundreds of allegations of sexual predation and abuse were leveled after his death, as well as Prince Andrew's friendship with convicted sex offender Jeffrey Epstein. "Those eggs are the only justice they're ever going to see for all of the people who died so that [they] could wear a crown and we could all sit there and clap," he said.
A number of UK media outlets have identified the man as an activist, but police have not confirmed this.

A witness to the attack told the BBC that she had been watching the King and Queen Consort when she heard booing and saw eggs flying. "Camilla sort of flinched a little bit when the booing started, but [the police] quelled it really quickly," the woman, Kim Oldfield, said. "Just a shame they spoilt what was a lovely moment."