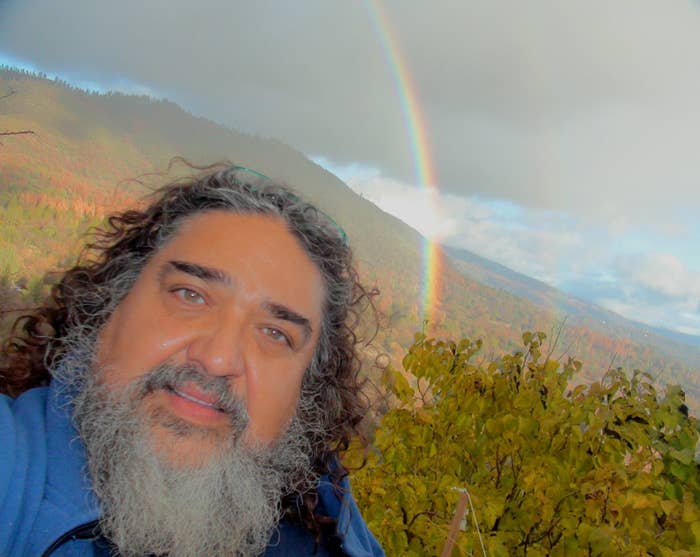 Paul Vasquez, the man behind 2010's "Double Rainbow" video and one of the first mainstream viral video stars, has died at age 57.

Known as "Bear" or "Yosemite Bear" to his friends, Vasquez died Saturday afternoon in the emergency room of John C. Fremont Hospital, the Mariposa County Coroner's Office in California told the Modesto Bee.

On May 3, Vasquez posted on Facebook that he was in ill health, writing that he was experiencing heart problems, his lungs were congested, and he had a fever of 100.2 degrees. On May 5, he wrote that he received a COVID-19 test but told a friend in a comment Friday that it came back negative for the coronavirus.
He indicated that he had been diagnosed with an unspecified serious condition. "It's a long story that ends with me not having Coronavirus but a ticking bomb in my chest that could go off at any moment," he said.
Vasquez became an internet star in 2010 thanks to his exuberant video of himself reacting to two rainbows in the sky over Yosemite National Park.
In the video, which has been viewed over 47 million times, Vasquez marvels at the "double rainbow all the way across the sky" and cries over its beauty.
The clip was launched into virality when Jimmy Kimmel posted it on his Twitter account on July 3, 2010. Linking to the video, the comedian wrote, "My friend Todd has declared this 'funniest video in the world' — he might very well be right."
Vasquez went on to appear on a number of talk shows, including Jimmy Kimmel Live!, which would later award him a prize for viral video of the year. Vasquez also scored commercial deals thanks to his viral video fame, appearing in ads for Vodafone New Zealand and Smartwater.
"His 'Double Rainbow' basically wrote the book on what a viral video was," friend Robert Borchard told the Modesto Bee. "Paul was a bright spot, always enthusiastic about the world."

Vasquez was born in Los Angeles and moved to Modesto in 1985 in order to live near his beloved Yosemite National Park, he told CNN in a 2015 interview about his post-viral-fame life.
He described his "interesting life," which included stints as a firefighter, professional cage fighter, truck driver, and a variety of positions with the National Park Service and the Yosemite park concessionaire.
He was an active member of the Yosemite National Park online community. On April 28, he posted in a Yosemite Facebook group about his hope that the park would reopen during the summer.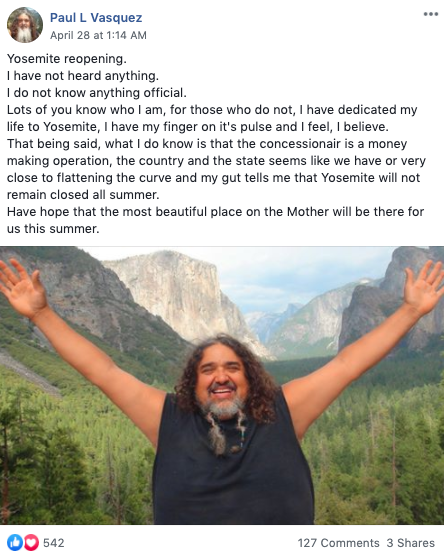 Vasquez's friends and fans have been posting messages of condolence and remembrance on social media, flooding the comments of his final Facebook post. "Every rainbow that I see for the rest of my life will be you smiling down at us. You lived your life so fully," wrote one person.

YouTube also paid tribute to Vasquez on its official Twitter account, as did a number of the platform's stars.
Vasquez is survived by his two children.