Creigh Deeds, Virginia Politician Brutally Attacked By Son, Returns To State Senate
The state senator was viciously attacked by his son — who then committed suicide — in November.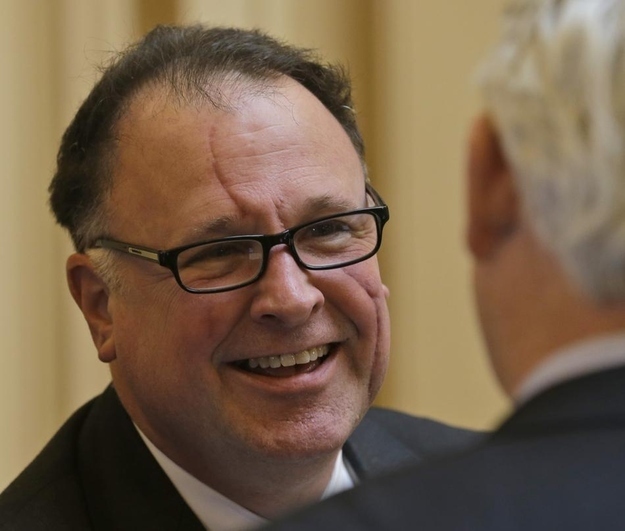 Virginia State Senator Creigh Deeds returned to the Richmond Wednesday for the opening day of the state's General Assembly, marking his first public appearance since he was attacked in his home by his son, who then committed suicide, nearly two months ago.
"We love you. Welcome back," Gov. Bob McDonnell told Deeds in his final State of the Commonwealth address, prompting the room of lawmakers to show their support by rising to their feet and applauding. The senator, whose face now bears deep scars, appeared visibly moved by the gesture.
In an interview with The Roanoke Times, Deeds said he was overwhelmed by the support he and his family have received since the attack. He didn't go into detail about the events of Nov. 19, saying only, "I survived."
Deeds told the newspaper that he has been moved by the stories of other families' "harrowing experiences" with Virginia's mental health system. He confirmed that his son Austin, known as "Gus," had a history of mental illness and had been committed for psychiatric treatment twice in 2011.
"My son was 18, he was an adult," Deeds said. "I couldn't make him keep appointments. … I couldn't make him take medicine."
The day before the attack, Deeds was concerned enough about his son's erratic behavior to obtain an emergency custody order from a local magistrate that allowed Gus Deeds to be held for up to six hours for mental evaluation. However, Deeds said the Rockbridge Area Community Services Board released his son when the six hours expired because it could not find a psychiatric bed to hold him under a 48-hour temporary detention order.
"My son was let go that night," Deeds said. "I think that was irresponsible."
The next morning, Gus Deeds returned to the family home and stabbed his father multiple times in the head and torso before fatally shooting himself with a rifle. Later, three area hospitals told the press that they had psychiatric beds available but had not been contacted.
Before the legislative session began, the Washington Post reports, Deeds had already introduced two mental health bills: "one to lengthen the emergency custody period from six to 24 hours and the other to create a minute-by-minute registry of beds available in public and private psychiatric facilities."