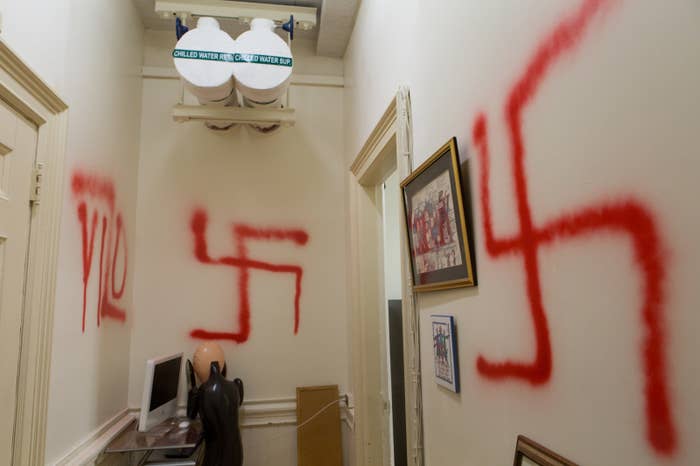 Columbia University Teachers College is investigating an act of anti-Semitic vandalism after a Jewish professor's office was painted with swastikas and slurs.

Elizabeth Midlarsky, 77, a professor of psychology and education who has taught at the college for the past 28 years, told the Columbia Daily Spectator that she found the graffiti in her office when she arrived at Horace Mann Hall with a group of students on Wednesday afternoon.

"I was in shock," she said. "I stopped for a moment, because I couldn't believe what I was seeing."

Midlarsky is Jewish and a noted scholar of the Holocaust.

In addition to the swastikas, in red paint, the slur "Yid" was written on the walls.

In a statement, Teachers College President Thomas Bailey said that the school was working with the NYPD to find the person behind the graffiti.

"We unequivocally condemn any expression of hatred, which has no place in our society. We are outraged and horrified by this act of aggression and use of this vile anti-Semitic symbol against a valued member of our community," Bailey said.

BuzzFeed News has reached out to Midlarsky and Columbia University Teachers College for additional comment.

The NYPD said, "The incident is under investigation by the Hate Crime Task Force. There are no suspects at this time."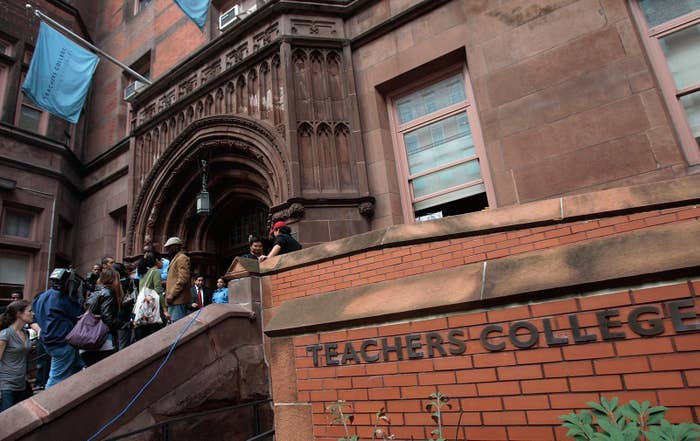 "I'm usually not a fearful person, but they got me. I'm afraid," Midlarsky told the Washington Post.

This is not the first instance of racist and anti-Semitic vandalism at Columbia's Teachers College — or the first act targeted at Midlarsky.

In 2007, Midlarsky's office door was painted with a swastika and a noose was left on the doorknob of a black professor's office in the same building. In a Nov. 1, 2007, interview, Midlarsky spoke about the targeted acts. "I think there's a very hate-filled person who is an extreme coward," she said. "It makes my blood run cold."
Midlarsky addressed the 11-year-old incident in the Columbia Spectator interview, calling it "horrifying but not surprising" due to her "relatively visible status as a Jew" at the time thanks to her many academic publications.

According to the paper, "Midlarsky attributed this second incident to a broader national rise in anti-Semitic crimes and a changing culture."

In the past 10 days, anti-Semitic vandalism has been reported on two other college campuses. At Cornell University, swastikas were drawn in the snow and hung on signs in two dormitories. At Duke University, a memorial to the victims of the Tree of Life synagogue massacre was defaced with a swastika overnight.