For four years, author Diana Rowland has set up inflatable dragons in her yard to celebrate Christmas and Halloween, much to the delight of passersby who take photos of the display in Louisiana.
"At first, we took it down after Halloween, but then we thought, 'Why not?' and put it back up for Christmas, with a Santa hat and sparkly decorations — everyone loved the dragon," she said.

But this year, a neighbor apparently had enough and sent Rowland an anonymous letter asking her to take the "inappropriate" display down. And her tweet about it went viral.
"Your dragon display is only marginally acceptable at Halloween," the note stated. "It is totally inappropriate at Christmas. It makes your neighbors wonder if you are involved in a demonic cult."

The anonymous writer then asked God to bless her and help her "to know the true meaning of Christmas."

Rowland told BuzzFeed News she laughed when she read the letter.
"I chortled, and then ran to my daughter and said, 'Look at this, we got hate mail!'" she said. "I did consider removing them for about a nanosecond, and then went, 'Nope.'"
The next day, Rowland's sister brought her two more dragons for the display and she added halo decorations.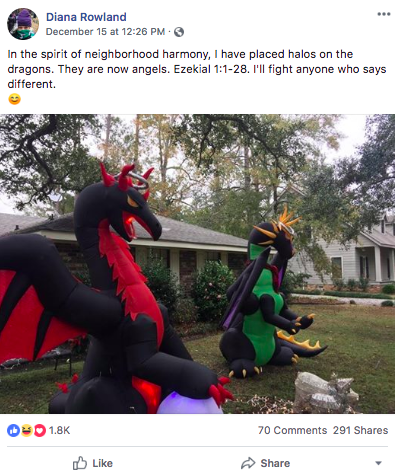 She posted photos of the note and her response on social media Saturday, with her post on Twitter getting retweeted nearly 15,000 times.

Rowland said she's surprised about the social media response to the anonymous note and her dragon display.

"It's got more reactions than I ever expected," she said. "I think this obviously resonated with a lot of people. I think there are a lot of people who have experiences with bad neighbors."
Rowland said she's been inundated with offers of donations to help her buy more dragons, but she'd rather people donate to charity instead. (So far, at least one person has taken her up on donating to a penguin rescue fund in honor of Rowland's dragon army.)

"I make a good living. I can buy my own dragons," she said.


Plus, she said, "there's a line between getting back at a jerky neighbor and being a jerky neighbor."
"Stand your ground, but don't be an asshole," Rowland said.
The purpose of her dragon display — and the reason why she's asking people to make charitable donations — is to spread joy, which is the "true meaning of Christmas," she added.
"I think [the person who sent the note] misses the point about what Christmas is," Rowland said. "Christmas is about joy. That's what it boils down to. If you're a Christian, you're feeling joy about the birth of Christ. We should all be looking for things to be joyful about."