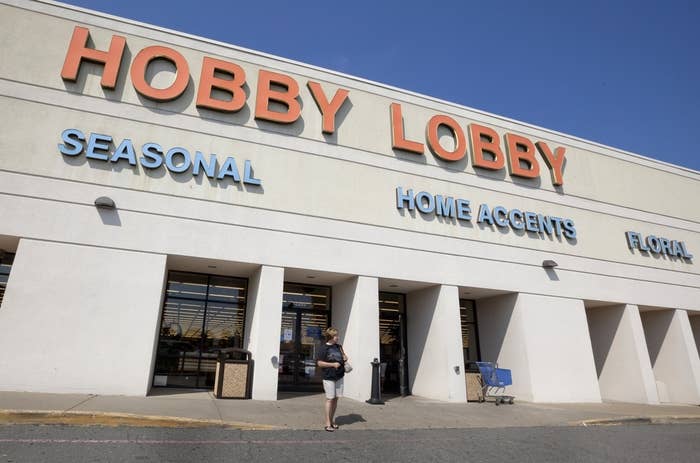 Craft store Hobby Lobby is facing accusations of anti-Semitism over its refusal to stock Jewish items in its nationwide stores. Although the company stocks Christmas items, crosses, and Christian-themed cards, they do not offer similar items for Jewish shoppers.
After noticing that the Marlboro, N.J., Hobby Lobby offered Christmas decorations but lacked any Hanukkah-related merchandise, the political blogger Ken Berwitz called the store to ask if they would be stocking items for Jewish customers. The employee on the phone told Berwitz that they would not be selling Hanukkah items because "Because Mr. [David] Green is the owner of the company, he's a Christian, and those are his values."
In an earlier incident at the same store, a shopper who asked why the store doesn't carry Bar Mitzvah cards was allegedly told by a clerk, "We don't cater to you people."
"Mr. David Green," the CEO, is an evangelical pastor who makes no effort to separate his devout Christianity from his hundreds of arts and crafts stores. God is even explicitly mentioned in the company's mission statement: "We believe that it is by God's grace and provision that Hobby Lobby has endured. He has been faithful in the past, and we trust Him for our future."
All stores are closed on Sunday (the Sabbath Day) and the company is currently suing the federal government over the Obamacare mandate that private companies offer employees birth control coverage, even if the business owner morally objects to their use.
After confirming that Hobby Lobby does not currently stock Hanukkah merchandise, the company offered this statement to Entrepreneur:
Hobby Lobby Stores, Inc. is currently working with our buyers over our merchandise selection. Due to multiple customer requests, we are currently evaluating our Holiday items and what we will carry in the future.

Alleged comments made by employees are currently being investigated and will be addressed accordingly. These comments are in no way indicative of Hobby Lobby culture, the owners and the operators.

Marlboro is a great city and has wonderful people and we are blessed to be apart [sic] the community.