Catholic Archbishop Says Homophobia Is An Insult To God
"Just because a person isn't in favor of gay marriage doesn't mean that one is homophobic — let's be very clear on that."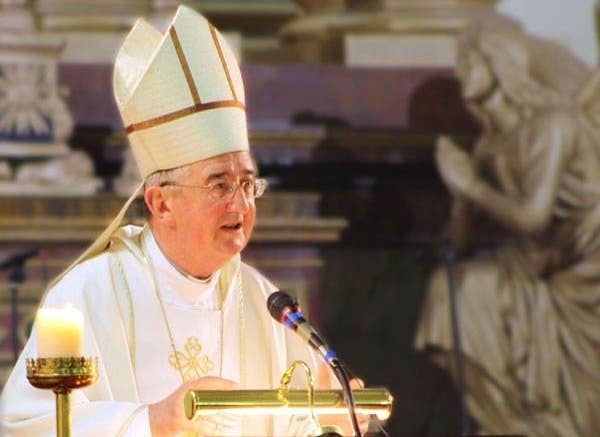 Archbishop of Dublin Diarmuid Martin cautioned Catholics against homophobia in a series of interviews over the weekend, warning that such behavior is an insult to God. "God never created anybody that he doesn't love," Martin told The Independent.
"Anybody who doesn't show love towards gay and lesbian people is insulting God. They are not just homophobic if they do that — they are actually Godophobic because God loves every one of those people," he said.
In a radio interview about Ireland's upcoming referendum on same-sex marriage, the archbishop said that the country's gay community "has suffered enormously" due to the culture of homophobia.
"Anyone who grew up in Ireland would have told jokes that were pointed at the gay community... it is part of the culture we grew up in, but we have to grow out of it." The country's anti-LGBT culture has been in the news over the past few weeks after a prominent activist delivered a damning speech about homophobia and an openly gay member of the Irish Parliament revealed he had been harassed, spit at, and even beaten because of his sexuality.
Martin responded thoughtfully when asked if the Catholic Church was a homophobic institution. "People in the Catholic Church may be homophobic. Certainly the teachings of the Catholic Church could be used by some people in a homophobic way, and we have to be very careful that that isn't done." He added that it was equally important not to demonize the church, which opposes the legalization same-sex marriage in Ireland. "Just because a person isn't in favor of gay marriage doesn't mean that one is homophobic — let's be very clear on that."
The archbishop said that the role of the church in this and all moral debates "is to present its teaching in its globality," and propose the implementation of policies that are consistent with its teachings. The Catholic Church has a right to go out and say what it believes in the political sphere, he said, but it does not have the right to impose its teachings on individuals or society. "All of us have to be careful about the way we speak and the language we use," he added.
It's important to note that the archbishop is not deviating from church teaching by taking a stance against homophobia and discrimination toward the LGBT community (although one might debate his argument that opposing same-sex marriage is not a form of homophobia). The catechism of the Catholic Church instructs Catholics that gay men and women "must be accepted with respect, compassion, and sensitivity. Every sign of unjust discrimination in their regard should be avoided. These persons are called to fulfill God's will in their lives."