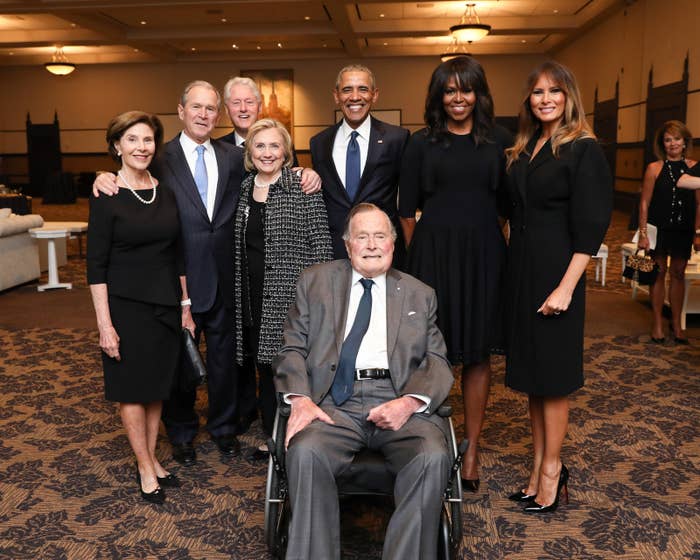 The current and former first ladies of the United States have spoken out against children being separated from their families after crossing the border.
President Donald Trump's "zero tolerance" immigration policy that has led to the separations, as all adults who cross over are referred for criminal prosecution and their children are kept at holding centers.

Former first lady Laura Bush wrote an op-ed for the Washington Post on Sunday calling for an end to the policy, which she described as "cruel" and "immoral."
"Americans pride ourselves on being a moral nation, on being the nation that sends humanitarian relief to places devastated by natural disasters or famine or war. We pride ourselves on believing that people should be seen for the content of their character, not the color of their skin. We pride ourselves on acceptance. If we are truly that country, then it is our obligation to reunite these detained children with their parents — and to stop separating parents and children in the first place.
"People on all sides agree that our immigration system isn't working, but the injustice of zero tolerance is not the answer," she wrote. "I moved away from Washington almost a decade ago, but I know there are good people at all levels of government who can do better to fix this."
Her brother-in-law, Jeb, followed up by saying, "Children shouldn't be used as a negotiating tool."
Former first lady Michelle Obama retweeted the op-ed Monday, adding, "Sometimes, truth transcends party."
Former first lady and presidential candidate Hillary Clinton also shared Bush's op-ed, which she described as eloquent, on Twitter.
Former first lady Rosalynn Carter released a separate statement calling the separation of children from their parents at the border "disgraceful and a shame to our country."
And current first lady Melania Trump said she "hates" to see children separated from families, but stopped short of full-on criticism of Trump's zero tolerance policy.
"Mrs. Trump hates to see children separated from their families and hopes both sides of the aisle can finally come together to achieve successful immigration reform," her spokesperson told CNN. "She believes we need to be a country that follows all laws, but also a country that governs with heart."

The first ladies joined many other Republicans and Democrats in the criticism of the Trump administration's policy, which the president and top members of his cabinet defended Monday.


CORRECTION
Jeb Bush is Laura Bush's brother-in-law. A previous version of this story misstated their relationship.