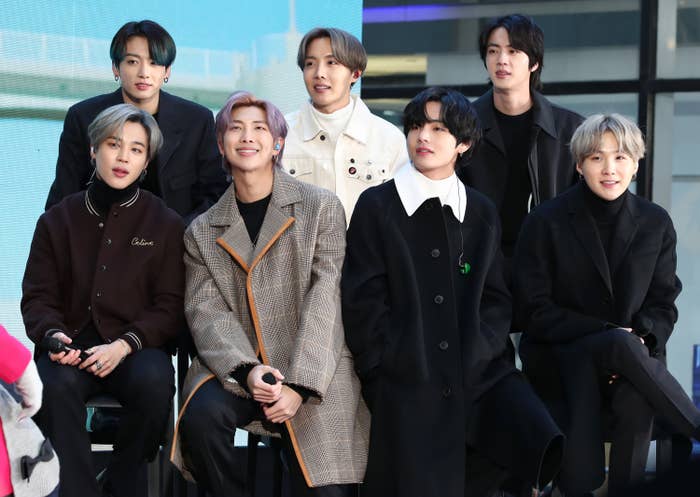 K-pop superstars BTS have canceled their South Korean tour dates over the coronavirus outbreak, the band's agency said Thursday.
"While we hope that the situation will improve, we must take into consideration the health and safety of hundreds of thousands of guests as well as our artists and the dire impact a last-minute cancellation may have on guests from overseas, production companies, and staff," Big Hit Entertainment said in a statement.
The band was scheduled to launch its Map of the Soul tour in South Korea's capital city with performances on Apr. 11, 12, 18, and 19.
Big Hit Entertainment said the more than 200,000 concertgoers who were expected to attend the four Seoul dates will be refunded for their tickets.

"Please understand that this decision was made after extensive and careful consideration," the band's agency said.
Per the official BTS website, the tour will now begin in California.
There have been more than 84,000 confirmed cases of COVID-19, the disease caused by the coronavirus. Nearly 2,900 people have died. The vast majority of these cases have been in mainland China, but the coronavirus has been rapidly spreading in South Korea. In the past five days, the number of confirmed COVID-19 cases in the country has risen from 763 to 2,337.
Other artists have preemptively canceled tour dates in Asia over coronavirus fears.
On Friday, Green Day said they would postpone all their shows in Asia due to the outbreak. The band was scheduled to perform next month in Singapore, Thailand, the Philippines, Taiwan, Hong Kong, South Korea, and Japan.
K-pop groups Seventeen, Got7, and Winner have also pulled out of planned shows in Asian countries.
The US National Symphony Orchestra announced Thursday it was canceling its tour of Japan due to the outbreak.