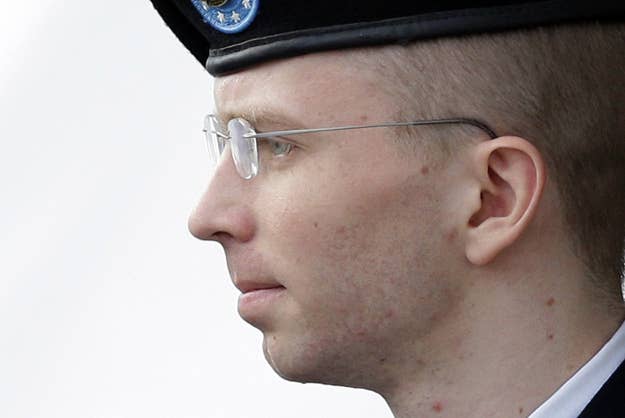 A military judge has sentenced Bradley Manning to 35 years in prison for releasing hundreds of thousands of classified documents to WikiLeaks. The 25-year-old private faced a maximum of 90 years in prison, minus 1,294 days (approximately 3.5 years) for time served. He is required to serve one-third of the sentence (roughly 11.5 years) before he becomes eligible for parole, The Washington Post reports. In addition, Manning's rank was reduced, his pay was forfeited, and he was dishonorably discharged.
Judge Col. Denise Lind found Manning guilty of 20 out of the 22 charges against him on July 30, 2013. She later reduced Manning's overall maximum sentencing time — 136 years — to 90 years by merging some of the charges.
Manning's lawyer David Coombs will address members of the press at 1:30 p.m. It is not known whether or not Manning will make a statement himself.
After the verdict was announced, Amnesty International released a statement urging President Barack Obama to commute Manning's sentence to time already served. "He has already served more than three years in pre-trial detention, including 11 months in conditions described by the UN Special Rapporteur on Torture as cruel and inhumane," Amnesty International said. "Instead of fighting tooth and nail to lock him up for the equivalent of several life sentences, the US government should turn its attention to investigating and delivering justice for the serious human rights abuses committed by its officials in the name of countering terror."
More as the story develops.
This this in-depth chart, put together by journalist Alexa O'Brien, breaks down the charges against Manning and the maximum possible sentences.
Update - Aug. 21, 2:45 p.m., EDT: At a press conference on Wednesday Bradley Manning's lead attorney, David Coombs, said that his fight has just begun.
"Early next week I will file a request to the President for the pardon of Private Manning, or at least [ask to] commute his sentence," he said. Manning will be eligible for parole in seven years and can go before a clemency board in three. "His fight is not over," said his attorney.
Coombs read a letter from Manning in which he said he leaked information because he loved his country, and that "sometimes you have to pay a high price." Manning also quoted American historian Howard Zinn, writing, "there is not a flag large enough to cover the shame of killing innocent people."
Reflecting on his client, Coombs claimed that Manning "was a realist. He knew he might serve the rest of his life in prison, and he was okay with that, as long as people didn't characterize him as a traitor."
Coombs also read a statement from Manning's family in which they said they were saddened by today's sentencing, and "still believe he was acting in the best interest of the country."
The appeal will begin in late 2014 or early 2015, according to Coombs.
buzzfeed.com
Updated: "I'm sorry that my actions hurt people. I'm sorry that it hurt the United States."