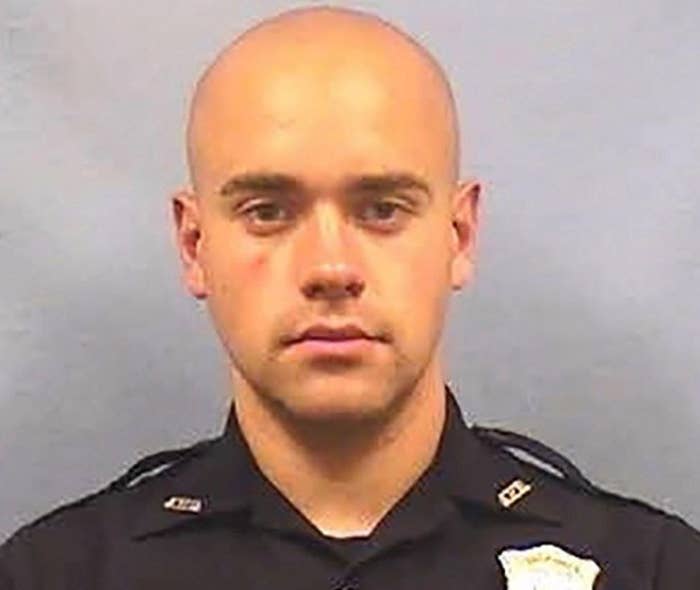 The Atlanta police officer who fatally shot Rayshard Brooks, a black man who was found asleep in a car in a Wendy's drive-thru line, has been charged with felony murder.
In a press conference Wednesday, Fulton County District Attorney Paul L. Howard Jr. announced 11 charges against Atlanta Police Department officer Garrett Rolfe and three charges against the other officer present during the shooting, Devin Brosnan.
Rolfe shot Brooks, 27, as he attempted to run away from police after a struggle in the fast-food restaurant's parking lot last week. Brooks was taken to a nearby hospital but later died from the injuries.
Howard said that Brosnan agreed to appear as a state witness, making him one of the first, if not the first, police officer to cooperate with the district attorney's office. However, Brosnan's lawyer said after the press conference that this was not accurate.
On Sunday, following an autopsy, an investigator from the Fulton County medical examiner's office told BuzzFeed News that Brooks had died of organ damage and blood loss caused by two gunshot wounds to his back. His death has been ruled a homicide.
During Wednesday's press conference, Howard said that not only did both officers failed to administer medical aid to Brooks as he lay bleeding on the ground, Rolfe kicked him and Brosnan stood on his shoulders.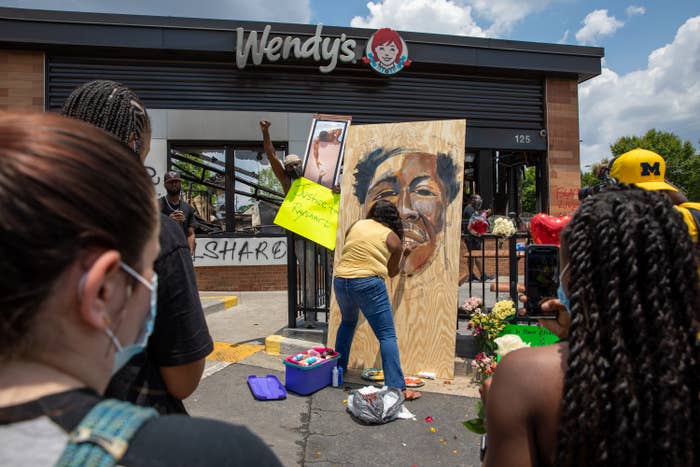 Brooks' death led to mass protests in Atlanta — on Saturday night, demonstrators set fire to the Wendy's where he had been killed.
Rolfe, 27, was fired from the police department following these protests. He had worked for the Atlanta Police Department since 2013. The Atlanta Journal-Constitution reported Sunday that Rolfe had recently completed courses on de-escalation options and appropriate use of force.
Court documents obtained by the Guardian revealed that Rolfe had attempted to cover up an incident in 2015 where he shot a black man.
In a statement, the APD said that Rolfe and Brosnan arrived at the Wendy's restaurant at 125 University Ave at 10:33 p.m. on Friday night, after police received a complaint that a man had fallen asleep in the drive-thru, forcing other vehicles to drive around it. The officers woke up Brooks and administered a field sobriety test, which he failed.
Video footage from Friday night showed that the officers spoke with Brooks for 41 minutes and 17 seconds, during which time he repeatedly asked if he could walk to his sister's house nearby.
Brooks attempted to flee when officers tried to take him into custody following the sobriety test. During the struggle, Brooks obtained one of the officers' tasers and ran away. The APD had previously said that Rolfe shot because Brooks turned around as if he was about to fire the taser, but Howard said Wednesday that the video footage he reviewed showed that this wasn't the case
"We concluded that Mr. Brooks was running away at the time that the shot was fired," the district attorney said. Howard also told reporters that the taser had already been fired twice and was thus unusable — something that he said the officers knew.
Meanwhile, a state investigation into the shooting is continuing. In a statement Wednesday, the Georgia Bureau of Investigation said it had not been aware of the press conference in advance.
"Despite today's occurrence, the GBI will complete its mission of completing an impartial and thorough investigation of this incident and we will submit the file, once completed, to the Fulton County District Attorney's Office."