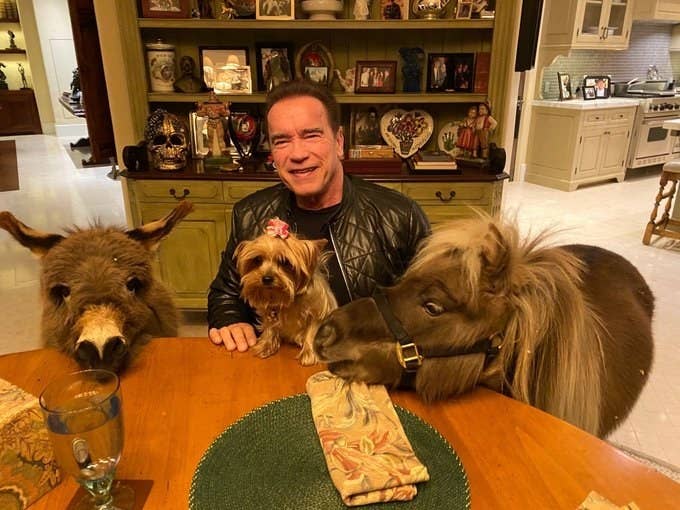 Arnold Schwarzenegger is urging people to stay home as the coronavirus outbreak continues to spread by making an amazing video featuring his mini donkey and mini horse.

The 72-year-old former actor and governor of California fed his equine friends Lulu (the mini donkey) and Whiskey (the mini horse) carrots as he advised his 4.4 million Twitter followers to practice social distancing and follow the government's instructions as the US battles COVID-19, the disease caused by the coronavirus.

Schwarzenegger posted the video Sunday night, shortly after current California Gov. Gavin Newsom asked individuals over the age of 65 and those with underlying health conditions to isolate themselves from others.

"The important thing is that you stay at home, because there's a curfew now. No one is allowed out," said Schwarzenegger. "Especially someone who is, like, 72 years old. After you are 65, you are not allowed out of the house anymore in California. So we stay home and we eat here."

"No more restaurants, forget all that. Public gatherings, restaurants, gymnasiums are out the window. We stay home," he said.

"We don't do anything like that anymore here. We just eat with Whiskey and with Lulu, we have a good time, we get entertained." he said. "So much more fun."
Schwarzenegger is one of many celebrities who are using their platforms to post about the dangers of COVID-19, which has already killed 68 people in the United States. Ariana Grande and Taylor Swift have also posted messages asking their fans to take the outbreak seriously.

Sunday's video wasn't Schwarzenegger's first coronavirus PSA with his pets. On Friday, he uploaded a hand-washing tutorial featuring his rescue dog Cherry.

"I wash my hands a minimum of 50 times a day," he said. "I wash my hands over and over and over again to be safe myself and for everyone else."
On Reddit, Schwarzenegger said that he was putting together a home workout plan to share exercises that can be done in self-isolation "while we are all being responsible during this pandemic."

"I hope to have it ready to go next week, my team is all testing it now to make sure the beginner version doesn't destroy people so they don't want to work out any more."

He also offered some additional advice on best quarantine practices.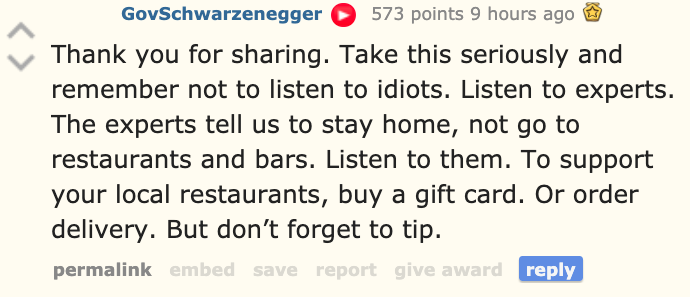 "On Monday, the Governator summarized his coronavirus advice to his followers: "Stay the F home."