This is Dr. Jack Wolfson, a cardiologist based in Phoenix and a vocal member of the anti-vaccination movement.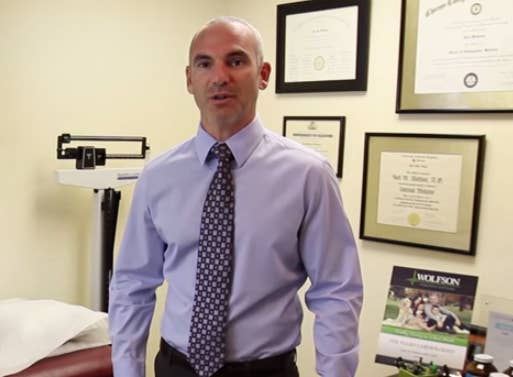 In the wake of a measles outbreak at Disneyland in December, Wolfson has been quoted by a number of media organizations about his view that vaccines are unsafe.
"We do not need to inject chemicals into ourselves and into our children in order to boost our immune system," Wolfson told Arizona Central in January. "We should be getting measles, mumps, rubella, chicken pox, these are the rights of our children to get it."
Wolfson, an osteopathic physician, said he believes a natural lifestyle, and not vaccinations, is the best way to prevent illnesses. But the vast majority of doctors strongly disagree with the claims of Wolfson and others in the anti-vaccination movement that the measles, mumps, and rubella inoculation is dangerous.
In an interview last month with the Washington Post, he criticized parents who vaccinate their children.
"Don't be mad at me for speaking the truth about vaccines," Wolfson said. "Be mad at yourself, because you're, frankly, a bad mother. You didn't ask once about those vaccines. You didn't ask about the chemicals in them."
BuzzFeed News confirmed that there have been complaints filed against Wolfson with the Arizona Board of Osteopathic Examiners in Medicine and Surgery in the past weeks, and that he is under investigation.
Jenna Jones, the board's executive director, told BuzzFeed News via email that she could not share the specific allegations against Wolfson since they are confidential, but she confirmed that complaints had been filed recently.
"After we complete the investigation process, it is possible the matter would go before the full board," she said. CNN later reported that two complaints had been received by the board.
According to the standards set by the Arizona Revised Statutes concerning osteopathic physicians and surgeons, Wolford's stance on vaccines could violate the state's code of professional conduct. The 49-point definition of unprofessional conduct has several charges that could possibly be leveled at Wolfson.
One example is the sixth point on the list: "Engaging in the practice of medicine in a manner that harms or may harm a patient or that the board determines falls below the community standard."
Another is the broad definition in item No. 38: "Any conduct or practice that endangers a patient's or the public's health or may reasonably be expected to do so."
Wolfson and his wife have not vaccinated their two young sons, and he says on his website that neither of his children "have ever taken a pharmaceutical, prescribed or OTC."
"It's not my responsibility to inject my child with chemicals in order for [a child with leukemia] to be supposedly healthy," Wolfson told CNN last month.
"As far as I'm concerned, it's very likely that her leukemia is from vaccinations in the first place." (There is no evidence that vaccinations cause leukemia.)

"I'm not going to sacrifice the well-being of my child. My child is pure," he added. "It's not my responsibility to be protecting their child."

CNN asked Wolfson if he could live with himself if his unvaccinated child got another child gravely ill.

"I could live with myself easily," he said. "It's an unfortunate thing that people die, but people die. I'm not going to put my child at risk to save another child."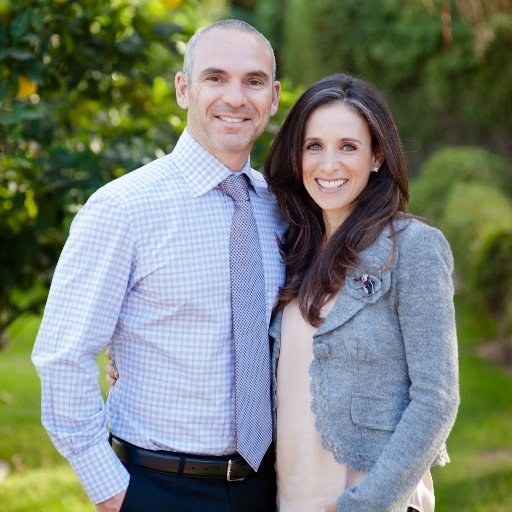 Following Wolfson's recent interviews, some Arizona residents threatened to report Wolfson to the state's medical board on social media.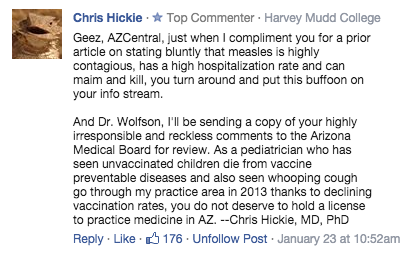 Wolfson has cut back his media interviews, but he appears to be continuing his anti-vaccine advocacy via his Facebook page. The page has more than 21,000 followers, most of whom appear to share Wolfson's views.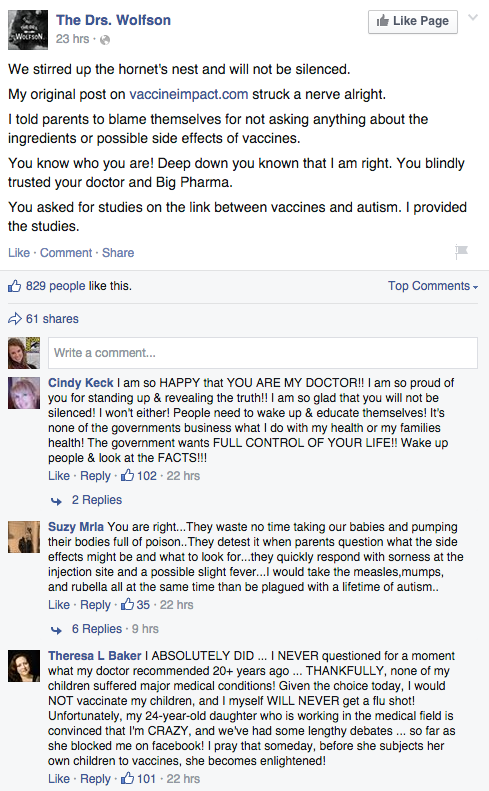 Wolfson sent BuzzFeed News the following statement, which is considerably softer in tone than his previous remarks:
The Drs. Wolfson are committed to fighting for patients' rights. True informed consent needs to be obtained from every patient. In the case of children, parents must know the facts. Every pill and procedure has benefits and risks. We urge patients and parents to fully understand both sides before making any medical decision.

Here is our opinion regarding the recent measles outbreak. In 2014, there were 360 cases of measles yet there was no media uproar. Pro-vaccine forces assert that vaccination is our only protection, are safe, and cause little, if any harm. This is certainly not the case. Billions of dollars have been awarded to families of vaccine injured children.

Losing our freedom of choice in medicine can potentially lead to hundreds of more vaccines added to the vaccine schedule. Parents have little recourse since manufacturers cannot be held accountable in the court of law.

There is another way to protect our children. Paleo nutrition, avoidance of toxins, sunshine, appropriate sleep, physical activity, and vitamin supplements can protect us from the vast majority of illness. In the case of infants, breastfeeding may be the single best way to raise a healthy and happy child. These methods are rarely discussed on most media outlets yet represent a real preventive approach.
CNN reported last week that the parking lot of Wolfson's office was full when its crew was there on Wednesday, and that the doctor's schedule is apparently packed.