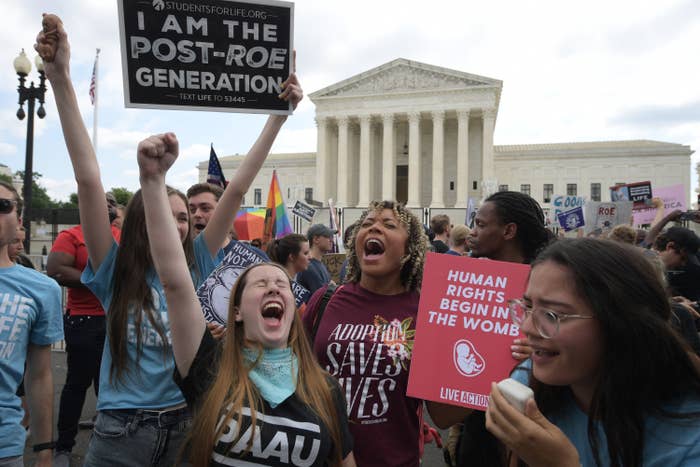 WASHINGTON, DC — Outside the Supreme Court in Washington, DC, on Saturday, a small group of anti-abortion activists held a makeshift rally, celebrating the overturning of Roe v. Wade while surrounded — and vastly outnumbered — by abortion rights protesters chanting to drown them out. From behind a small lectern, hung with a poster of an embryo and the words "Forceps off my body," members of the anti-abortion group attempted to address the crowd as they struggled to be heard from the one speaker they'd set up.
It was all part of their weeklong training to become the next "Marines of the pro-life movement," AJ Hurley, founder of the anti-abortion group Survivors (also known as Survivors of the Abortion Holocaust), told BuzzFeed News.
Buoyed by the leaked draft opinion in the weeks before the Supreme Court voted to end the federal right to an abortion in the US, young men and women from around the country were gathering in the nation's capital for a crash course in anti-abortion activism.
"The reason I came out today is because we've got a training for young people," Randall Terry, the founder of anti-abortion group Operation Rescue, told BuzzFeed News on Saturday.
Terry, who is helping Hurley's organization, said that because of his age, he was on a "mission" to "train young people how to carry on this fight."
"This is on-the-job training," he said, referring to the anti-abortion activists rallying and, in some cases, confronting abortion rights protesters in heated arguments outside the Supreme Court on Saturday. "This is the first day of a post-Roe world."
He emphasized the importance of "confrontational rhetoric" and "aggression" in what he was teaching future anti-abortion advocates.
"I want these kids to feel the heat, the pressure, the tension of having an event with their picture [against] the backdrop of the Supreme Court," Terry said.
Hurley said that "30 to 40 young adults" had traveled to DC for a weeklong training in how to fight against abortion rights.
"We're training pro-life activists to be the Marines of the pro-life movement through nonviolent direct action," he said.
They are being trained on how to hold press conferences, how to become volunteers in their local neighborhoods, and how to "get their voices out as activists," Hurley said. Training also includes "sidewalk counseling" — a tactic that abortion rights advocates have slammed as harassment — where anti-abortion activists try to engage a woman entering a clinic in an attempt to stop her from getting the procedure. Abortion clinic escorts have also described the escalated threats to their safety from anti-abortion protesters increasingly emboldened by the dismantling of abortion rights in states around the country.
"This is no longer a federal issue. It's down at the state now. All politics now is local," Hurley said. "The next step is grassroots local involvement. We need to change hearts and minds in our own states."
BuzzFeed News talked to two young women who had traveled from across the country for this anti-abortion boot camp.
Azalea Follis, 20, who arrived in DC from Texas, said that she was one of the speakers at Saturday's rally whose speech was drowned out by abortion rights protesters. "I've never really come out of my shell that often, so when I heard about this training, I knew I would improve, and so I came out," she said.
Illinois resident Samantha, who declined to provide her age or her last name, identified herself as another one of the trainees. She said that she already engages in "sidewalk counseling" and "outreach" but wanted to learn more.
"Some states, like Illinois, are definitely going to be trying to strengthen abortion laws," she said. "That's something — that's why we need to be out there."
The concept of anti-abortion "boot camps" isn't new. In 2019, Vice profiled the Texas Right to Life group's seven-day training fellowship for "pro-life leaders," created with the goal of encouraging on-the-ground activism. Anti-abortion organizations like Heartbeat International offer leadership training seminars and an annual conference to educate activists.
Meanwhile, abortion providers and activists, who have been preparing for a post-Roe world for a decade, are continuing their fight for abortion rights. With Roe overturned, 26 states are expected to ban abortion early in pregnancy or outright, according to the Guttmacher Institute, an abortion rights research and advocacy group that tracks state legislation. But abortion care will continue to be accessible in at least 16 states and the District of Columbia, which have laws in place that protect it as a right. Medication abortions, which have grown to account for more than half of all abortions in the US, are also still an option — though they, too, face opposition from anti-abortion legislators. For people needing to travel out of state for a procedure, abortion funds can help cover the costs.
Thousands of Americans have voiced their anger and despair over the Supreme Court's decision by taking to the streets on Friday and Saturday. The protests have been largely peaceful, but in Arizona, police fired tear gas on protesters outside the state capitol, and in Los Angeles, officers confronted several people, including members of the press.
Yet anti-abortion activists like Terry are not satisfied with the federal dismantling of abortion rights.
"This is D-Day," Terry said of the decision in Dobbs v. Jackson. "We have to get to Berlin. It's a great victory that we took the beach, but we're going to Berlin. We're going to make it a crime in all 50 states to kill a human being."