The anonymous senior Trump official who penned a 2018 New York Times editorial about the "resistance inside the Trump administration" has written a book that will be released next month.
The book, titled A Warning, will be published on Nov. 19 by Twelve, an imprint of Grand Central Publishing/Hachette Book Group.
According to the book's description, it will be "an unprecedented behind-the-scenes portrait of the Trump presidency from the anonymous senior official whose first words of warning about the president rocked the nation's capital."
The author's literary agent told the Washington Post, which was first to report the news, that the author will not reveal their identity in the book but will go into the reasons why they chose to remain anonymous.
"There obviously will be those who want the author to reveal themselves publicly, but there are good reasons for that not to happen," said Matt Latimer of Javelin, a literary and creative agency. "The author feels their identity is almost irrelevant because there is scarcely a sentiment expressed in this book that is not shared by numerous others who have served and continue to serve this administration at its highest levels."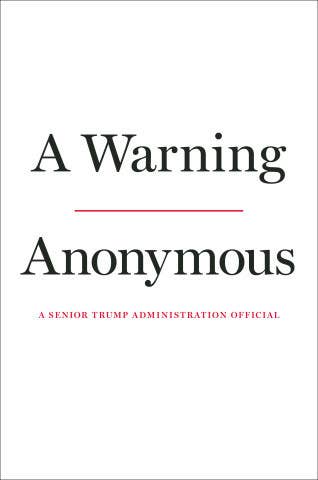 Javelin also represented former FBI director James Comey and former White House aide Cliff Sims as they sold memoirs of their time working with Trump.

Latimer said the author did not receive an advance and plans to donate "a substantial portion of any royalties" to charities and organizations "that protect those seeking the truth around the world."

"The author sees this as an act of conscience and of duty."
Twelve, the publishing company, told BuzzFeed News in a statement it would also not release any information about the book's writer in order to protect their identify.
"In an effort to protect the identity of Anonymous, Twelve is not going to embellish or elaborate on how the New York Times initially characterized our author – a 'senior official in the Trump Administration,'" the company said in a statement.
The anonymous New York Times editorial, published Sept. 5, 2018, claimed that "many of the senior officials" in the Trump administration are "working diligently from within to frustrate parts of his agenda and his worst inclinations." It described Trump's leadership as "impetuous, adversarial, petty and ineffective."

"Meetings with him veer off topic and off the rails, he engages in repetitive rants, and his impulsiveness results in half-baked, ill-informed and occasionally reckless decisions that have to be walked back."

The day the editorial was published, Trump attacked the "failing New York Times" and told reporters that the source of the "gutless" piece was likely "failing" at their job and "probably [working in the administration] for all the wrong reasons."

On Twitter, he suggested that the anonymous author should face criminal charges.
BuzzFeed News has reached out to the White House for comment.