One of the most active ISIS members on social media is a woman named "Shams," who calls herself "Bird of Jannah" and runs a blog called Diary of a Muhajirah.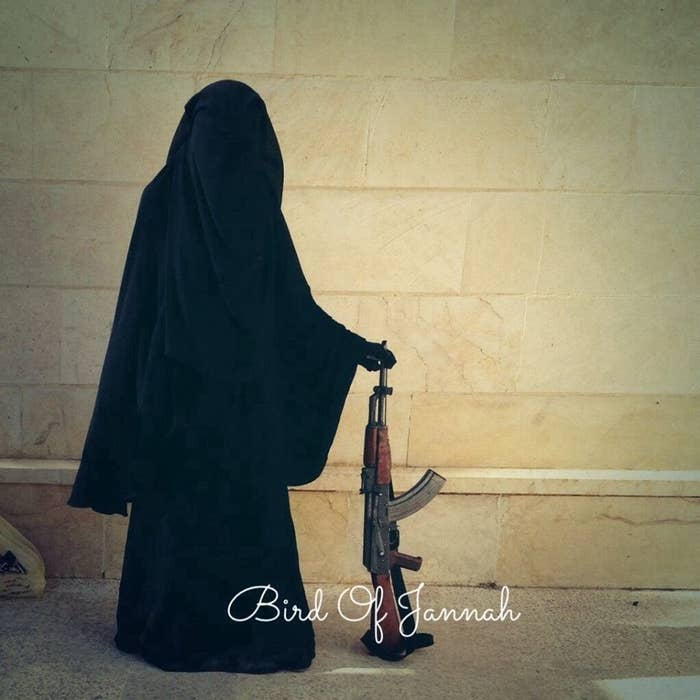 The 26-year-old woman said she joined ISIS in February.

Shams, who says she is Malaysian, used contacts made over social media to plan her journey. (Many Malaysians are fluent in English.)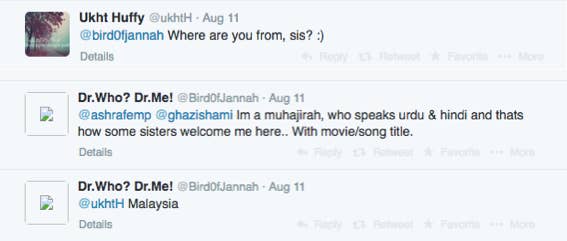 Her posts indicate that she flew to Turkey and then crossed the Syrian border.
ISIS members refer to this process of immigrating to the "Islamic state" as hijrah, which means "pilgrimage."
Shams wrote on her blog that she thought it was her duty to "make hijrah" to Syria and join the insurgents, since she is a doctor.
After two months in Syria, she started thinking about marriage, since she said that living as woman without a spouse or any male family members was proving difficult.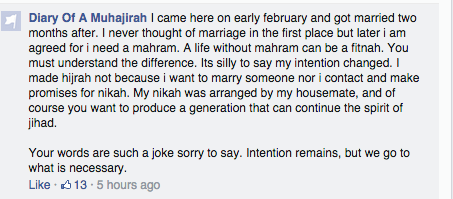 Her best friend's husband suggested that Shams marry one of his friends, an insurgent who was looking for a wife. According to her account of the process, they both agreed to be married without having met each other.
One night, my best friend knocked my door and before I could answer her, she opened the door and jumped on me. She told me that her husband has spoken to his friend, and his friend is interested in marrying me even without looking at me. I was astonished, and I told her that, I too agreed for the marriage. She hugged me and cried and kept saying how much she's happy with my decision. Wallahi, I felt she acted like my mother and it was an emotional night.
In accordance with a practice called "Nadra-Shar'eeah," Shams' future husband met her and saw her face before their wedding, or nikah.
I made my little steps. Sat. I was trembling. Nervous. Scared. My emotions were mixed. When he noticed my arrival, he gave salam and introduced him self, so did I. Then, it was a long awkward silence. After few minutes, I flipped my Niqab. He looked at me, our eyes catches each others'. I had palpitation that is faster than the speed of light.

He smiled. And he asked a question that I shall never forget for the rest of my life.

"Can we get married today? After Asr?"

Deep inside my heart shouted, noooo. But I have no idea why I answered "Yes".

Per Islamic law, Shams had to obtain permission from her wali, or guardian, before the marriage could take place. In her case, her father needed to give his consent to the match.
On the same day, after Asr prayer, my friend, her husband, an english speaking brother and I went to the nearest internet cafe and made call to my father. Again, I spoke about this issue to him and I can hear my mother was shouting in joy at the back. Later, I passed the phone to the english-speaking brother for him to take the consent from my father, as my father is my Wali.
Her parents approved of the match with an ISIS fighter, and Shams' father gave his permission for the wedding to take place.
Shams and her future husband didn't share a common language on their wedding day, which, according to her tweets, is common among ISIS arranged marriages.
As is the haste with which the marriage took place.
Shams later wrote that she and her Moroccan husband had to download dictionary apps on their phones to speak to each other in the early days of their marriage.
ISIS couples take a new kunya, or nickname, "the moment" they're married. Shams took the name "Umm al Baraa," while her husband became "Abu al Baraa."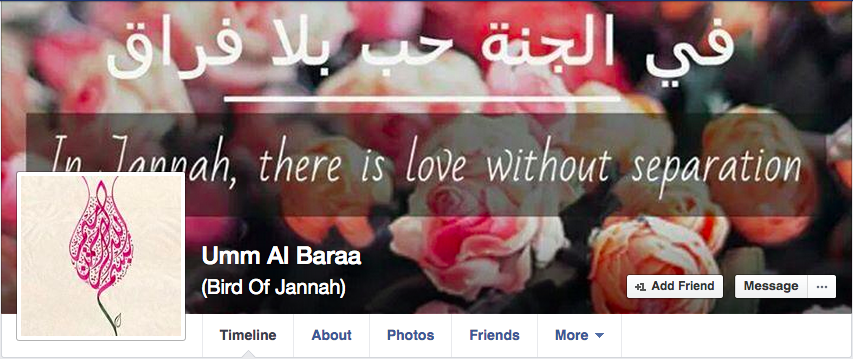 The new bride was overcome with emotion when the newlyweds prayed together the morning after their wedding. "He turned back and smiled at me. And I can feel something. Yes, I guess I just fell in love with someone — my husband!"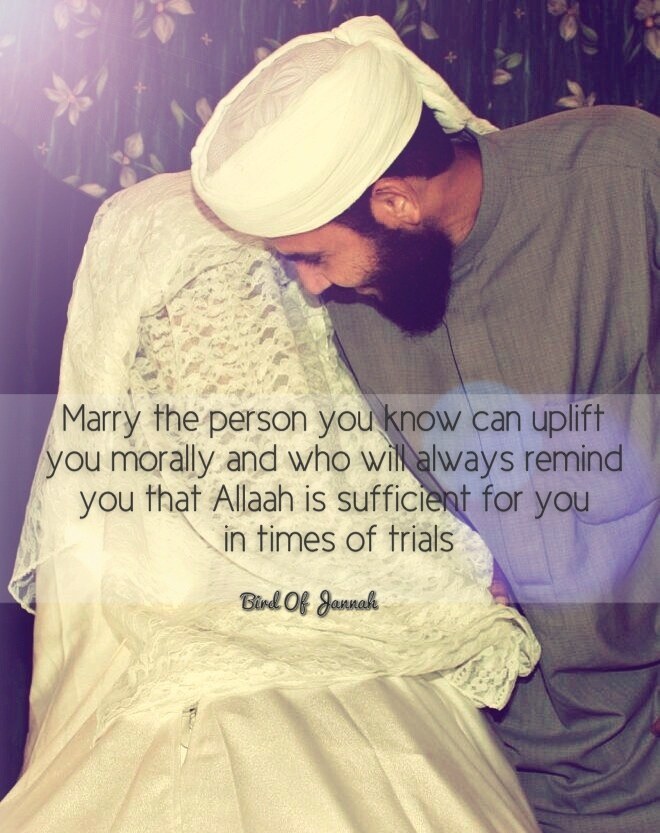 Four days after their wedding, Shams was forced to confront the reality of being married to a mujaheed when her friend's husband was killed in battle.
Visiting her friend, Shams found herself being comforted by the new widow, who was celebrating her deceased husband's "martyrdom."
We entered the house, I saw there was almost 20 sisters. No body cried. Everyone was smiling. The house smells good. The kids seemed happy, and there were foods on the floor. I was astonished, puzzled.

"What's going on?" I whispered to myself.

"Welcome Shams, oh no. Welcome Umm al Baraa, ya aroos. O my new bride! Why you came here. You should be with your husband!"

I heard Umm Habiba approached me joyfully. She looked pretty as always, she wore a nice cloth, with make-up on her face, jewelries and she smelled good.

"Umm Habiba.." I hugged her. The tears began to flow on my cheeks. I cried like a baby. She took her hand and wiped my tears and hold my cheeks. She said something that amazed me.

"Umm al Baraa ya Habibty. My husband is a shaheed. He is In sha Allāh in the garden of Jannah, married to Hoor-al Ayn. Today is the day of celebration. Today is the day of joy. No one shall cry! Especially you. You're a new bride, you should always smile."

Her words made me cry even more. I never thought someone can be this strong. I looked at her kids, two beautiful girls. I don't know if they understand that their father is no more alive. I pulled Habiba closer to me and asked her how she's doing. She said she's happy because her mother told her that the father has bought a house in paradise and waiting for them.
(The goal of an ISIS couple is to be together in jannah, the Islamic heaven, not in this life.)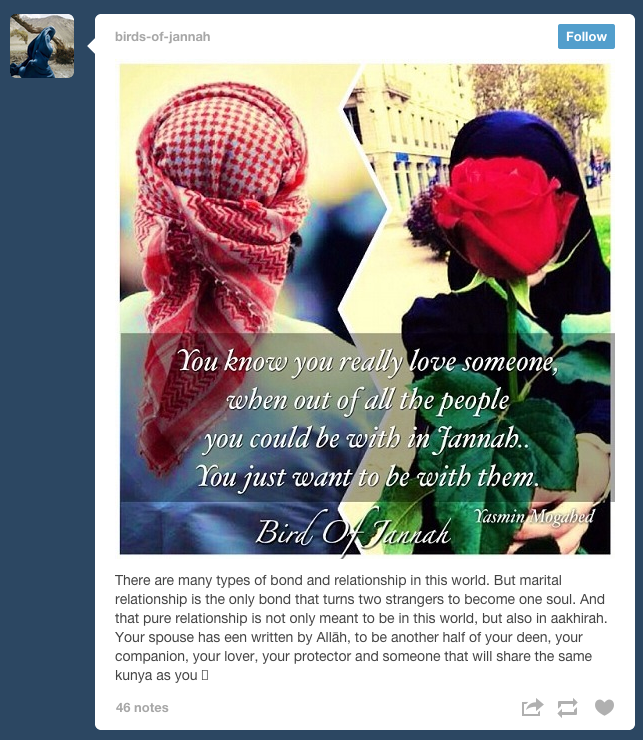 Shams returned home and begged her husband of four days, "Don't leave me too soon."
I went back home. My husband was quiet, perhaps he understood I need some time. I looked at his face, I'm married to him for 4 days and I felt so much pain, I can't think of Umm Habiba who were married for 7 years with two daughters.

Strange. The matters in Shaam are strange. I don't know how these people can cope up with much pain.

----

I took my husband's hand and said to him,

"I am not a strong woman. So please make du'aa so Allāh grant me strength to overcome the hardships."

He hold my fingers and said,

"Indeed you're not a strong woman. You're a superwoman. You know why?"

I shook my head. Waiting for his answer.

"Because I'm a superman and you're my wife. You share the profit"

I know the joke was so funny, but I couldn't smile. I just took his hand and pout on my cheek and said,

"Abu al Baraa, just don't leave me too soon. Please"
A week and a half after their wedding, Abu al Baraa left for a militant operation, knowing that he might not return. "Jihad is my first wife, and you're my second," he told Shams. "I hope you understand."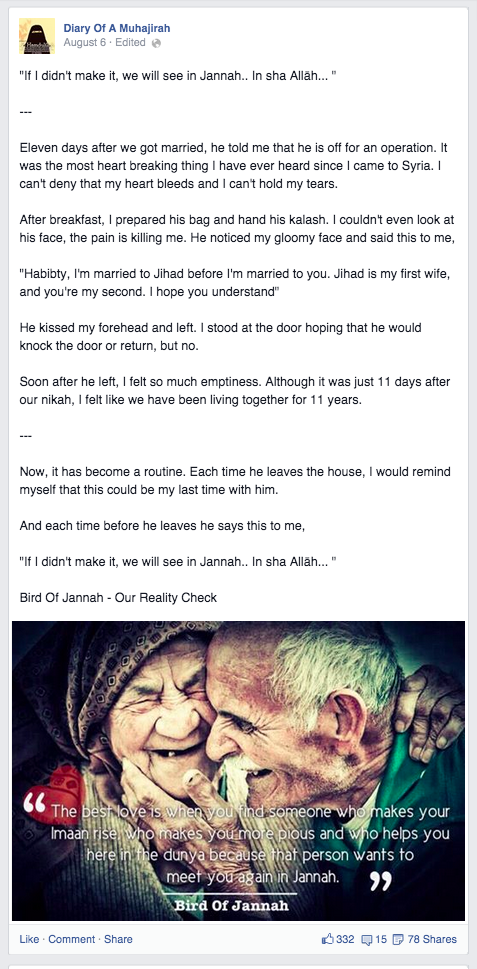 Being married to an ISIS fighter means accepting that you could be widowed every time your husband leaves, she said.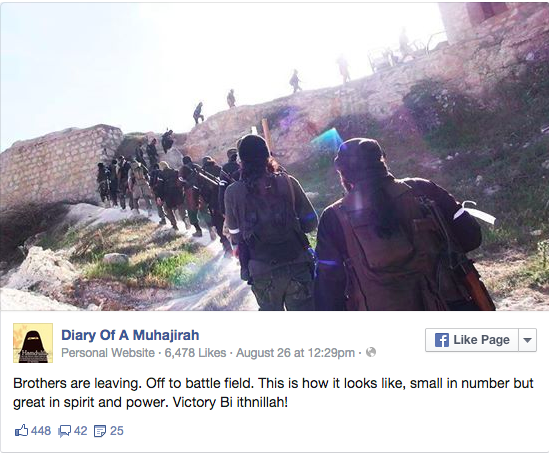 And accepting that your husband wants to die for the cause.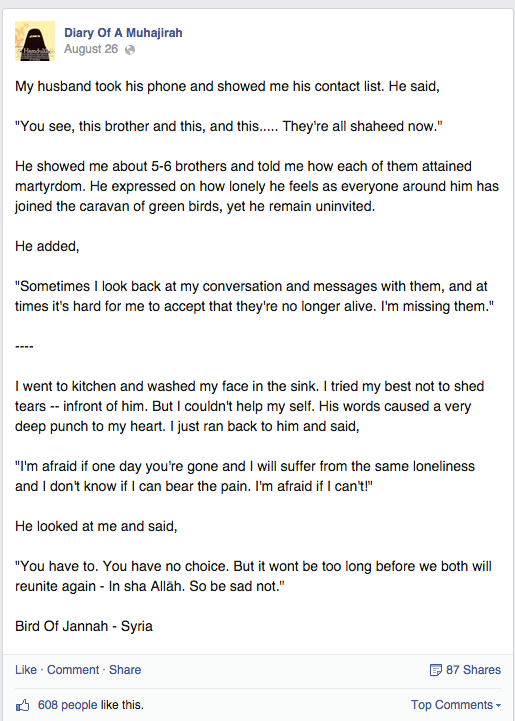 "Every time they release the names of the martyrs and their photos, I will start to imagine my husband's name or photo to be on the list. It's just too painful and sometimes unbearable."

To cope with her husband's departures, Shams would sometimes post poetry on her Facebook page.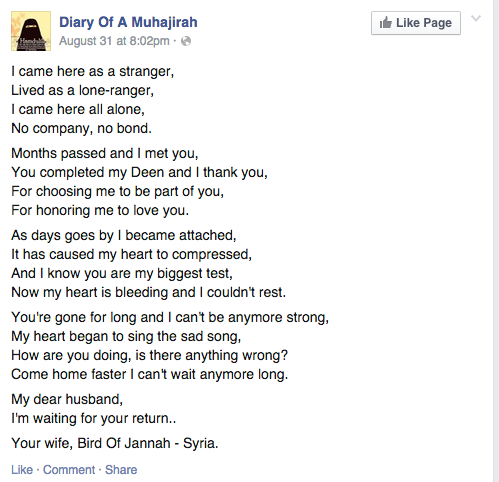 Or tell anecdotes about their marriage:
Whenever my husband at home, he is the one who wakes me up for Tahajjud - He never complained even the food tastes so bad - He will not eat until I sit and eat together with him - Everytime I recite the Qur'an, he shall pause his doings and listen to my recitation and correct whenever I made a mistake - the list go on (I don't want to make you jealous, just kidding!)

When I noticed all this, it really made me realized how much he does actually care for me. So I messaged my sister with teary eyes and told her about this. She said, you're blessed. I'm married for ten years and there are some that I've never experienced.
Many of Shams's posts "from the land of jihad" use language typical of any young woman on social media, such as this "selfie."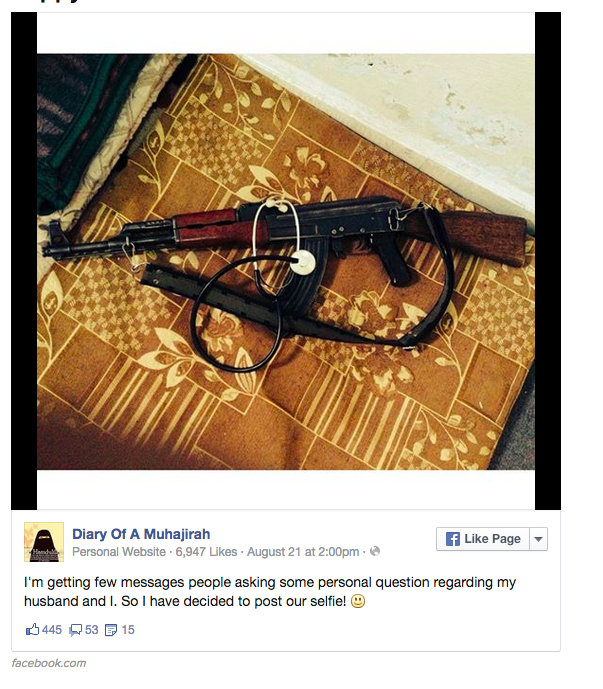 Or this Pinterest-friendly Disney meme.
(Apparently Frozen is just as popular in Syria as it is everywhere else in the world.)
In August, Shams posted that she was pregnant with her first child.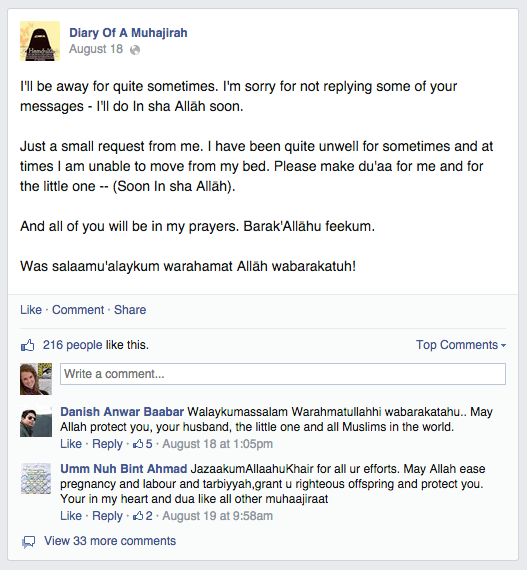 She's recently blogged about suffering from the violent morning sickness known as hyperemesis gravidarum and her prenatal care in ISIS-run hospitals.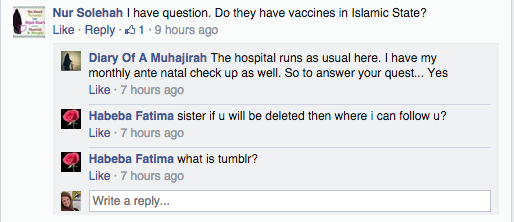 Since her illness currently prevents her from working as a doctor, Shams has redoubled her efforts to spread "the truth" about ISIS.
Which includes defending the executions of Western journalists and aid workers.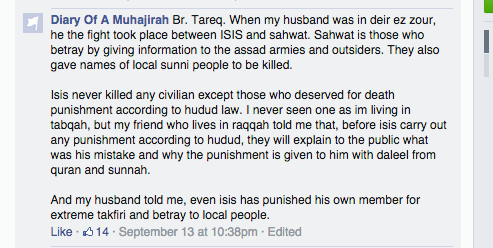 And tweeting about the newest ISIS propaganda videos.
(She continues to do this despite the fact that her pages are constantly being taken down, as Facebook's standards "don't permit terrorist groups to use [the] site."