"Here's my sweet not so little newborn! His name is Latrell and weighs 112 lbs. ;-)"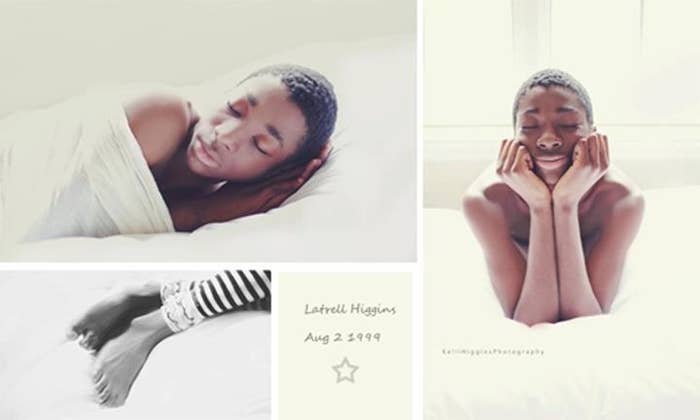 An adopted teenage boy's "newborn" photo shoot has gone viral after his professional photographer mother uploaded the pictures to her Facebook page.
"Here's my sweet not so little newborn! His name is Latrell and weighs 112 lbs," Kelli Higgins wrote proudly on the post, which has been liked more than 10,000 times.
Higgins and her husband adopted Lattrell, 13, and his 8-year-old sister Chanya two years ago. The Crestview, FL couple already had five small children and were expecting a sixth at the time, but they felt they had more love to give, Higgins told TODAY.com, especially to older children who would have a harder time finding a home.
"These children, once they get past a certain age, they don't find homes and they age out of foster care," she told TODAY.com. "They have to figure out the world on their own and there's no one to go back to as an adult. Where do you go for Christmas? It's just horrible, it's heartbreaking."
The family was eating dinner one night last month when Higgins mentioned an upcoming newborn photo session that she had scheduled with a local family and their new baby. Latrell told the table that he wished he had baby photos of himself and his 12-year-old sister asked if their mother could recreate a photo shoot for the teenage boy.
"I thought it was funny and that it would be a good idea," Latrell told TODAY.com. He and his mother had a "hilarious" time taking the pictures and he's happy that so many people have enjoyed them.
"I feel this has been such a fun way to spread the word about adopting older children and that they really are just "big babies" needing a mothers love," Kelli wrote last week. "We are never too old to desire love and security and parents!! Thank you all for your sweet loving messages and comments and thank you for sharing my photo."
The Higgins children: