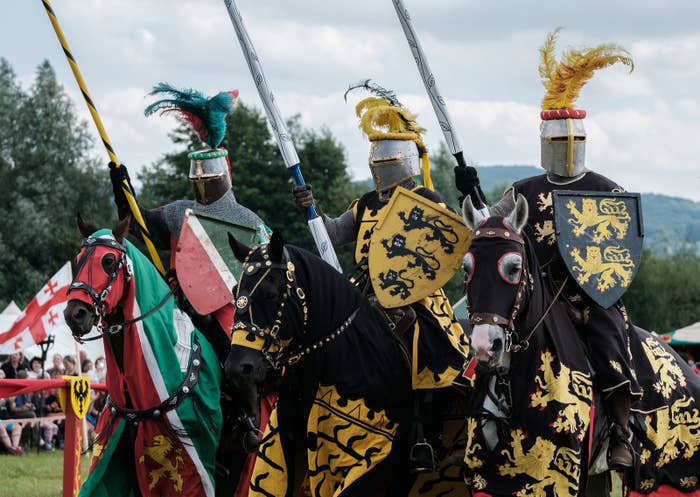 A medieval reenactor died Saturday after impaling himself on his lance in a "freak accident" during an equestrian demonstration in Kentucky.

Peter Barclay, 53, was a retired Army lieutenant colonel and well-known member of the Society for Creative Anachronism, a medieval research and re-creation organization with more than 30,000 members worldwide.

Barclay — who participated in the society and its demonstrations under the name Terafan Greydragon — had recently been named the group's Society Equestrian Marshal.

"On Saturday, October 6, a brother in arms to many of us lost his life in the pursuit of our game," SCA Society Marshal Alan Gravesend said in a statement posted to the group's official Facebook page. "The Society Marshal is conducting an investigation to determine what might have led up to the accident, and what specific measures should be taken to ensure that this does not occur again."

According to a Facebook post by Barclay's brother, the cause of death was a "freak accident" that occurred when the metal-tipped lance that his brother was holding somehow flipped and impaled him under his sternum.
SCA President John Fulton told the Washington Post in an interview Wednesday that the group follows a strict set of rules for all combat-related activities and that Barclay was a "consummate expert" who "knew how to do it and do it correctly."

Saturday's competition was a timed contest where competitors pick up their lance and spear a paper plate on the ground, meant to show the contestant's dexterity with a lance and control of their horse. Barclay, an active member of the society for more than 30 years who regularly demonstrated this skill, was using a 7-foot lance weighing about 2 to 3 pounds.

"Something happened with that spear," Fulton said. "He lost control of it or it turned, hit the ground, and as his horse was moving, the tip of it went into him."

"He got off the horse, took some steps, and people noticed he was bleeding," he said.

Barclay was airlifted, but died en route to the hospital.

In a statement posted to Facebook, Barclay's wife, Deborah, thanked friends and family for their love and support. "I know there are questions. We're working on answers," she wrote.