In his memoir Spare, Prince Harry gives an intimate look behind the scenes of his royal life. The book, released Jan. 10, has already made headlines around the world for some of the more shocking revelations within its pages (although, as Harry pointed out in his late-night interview with Stephen Colbert, many of those stories were based on out-of-context excerpts leaked before Spare's release). Spare has also raised many eyebrows for the, uh, intimate details that Harry chooses to share about a certain part of his anatomy. But the memoir also contains interesting little details about the Duke and Duchess of Sussex and the entire Mountbatten-Windsor family.
Here are 45 little tidbits you may have missed while reading Spare:
Almost everybody in the royal family has a nickname:
Prince William is "Willy." Catherine, Princess of Wales, is "Kate." The King is simply "Pa." Princess Diana was "Mummy." The Queen and Prince Philip were "Granny" and "Grandpa." The Queen Mother was "Gan-Gan." Princess Margaret was "Aunt Margo." Princess Eugenie is "Euge."
And Harry? He has a bunch of nicknames. His family calls him "Harold" (although his father also calls him "darling boy"). Palace staffers called him "Scrawny." Meghan calls him "Haz." His friends call him: "Spike," "Baz," and "Prince Jackaroo." ("Spike" was also the code name used by Harry's bodyguards.)
The King wanted to name Harry "Albert." Diana overruled him, and it became one of Harry's middle names: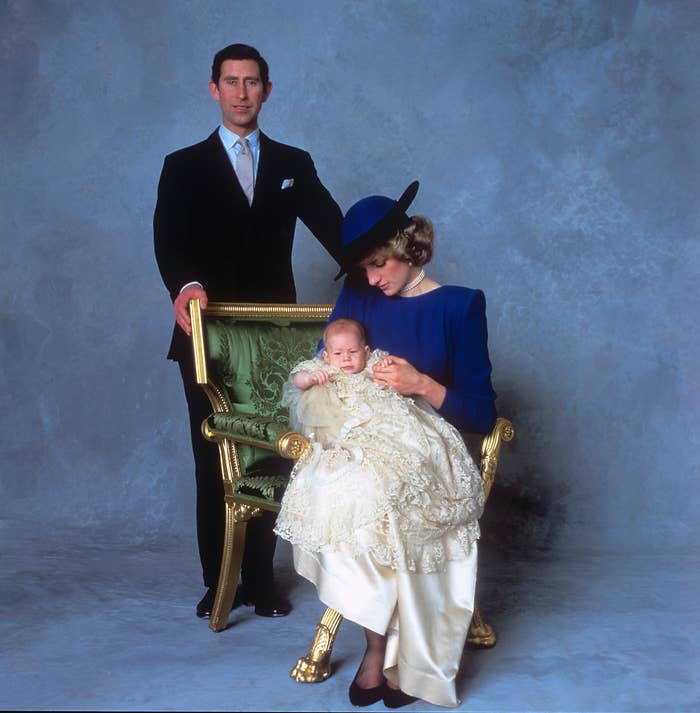 Harry writes that his father was a fan of Queen Victoria's husband Albert and at one point wanted to name his second son after the famous Prince Consort. "Mummy blocked him," he writes. Harry was christened Henry Charles Albert David of Wales.
The King has a regular self-care routine:
The King performs headstands daily, which Harry said were prescribed by a physical therapist and proved to be the only effective remedy for neck and back pain caused by old polo injuries. He also listens to audiobooks (which he calls "storybooks") on a portable CD player (his "wireless") while taking baths.
Princess Diana loved mango sorbet and bread-and-butter pudding:
Harry reveals these two facts in different dessert-related moments in Spare.
The King has an unusual favorite teatime snack: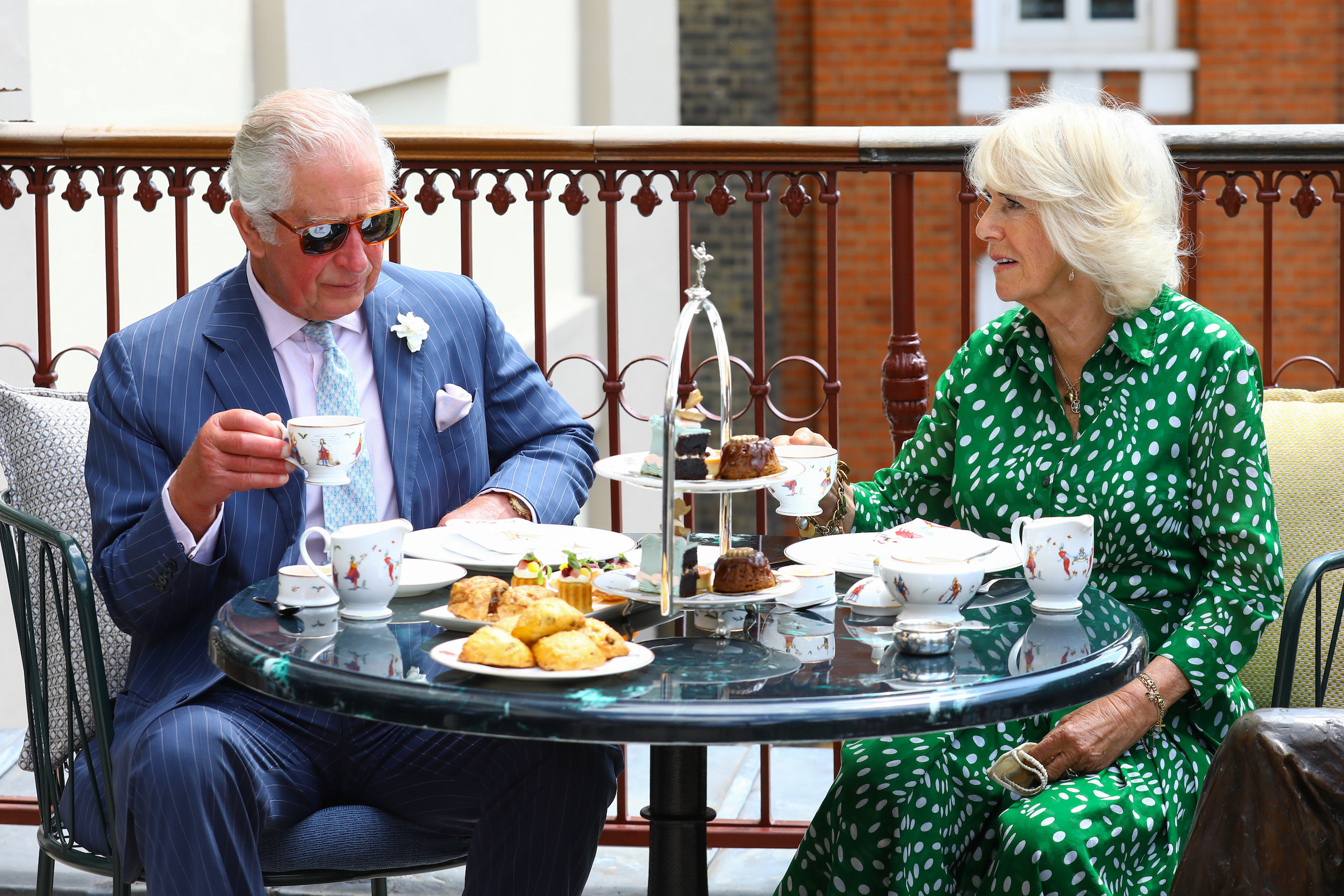 Harry writes that his father loves "crackers with some creamy spread [and] shredded basil."
Harry loves the candy Opal Fruits and was offended when its name was changed to Starbursts:
He describes in detail the joy of those days at Eton College when the students were allowed to choose from a variety of sweets for consumption. He would always choose Opal Fruits and "squeeze them together into one massive gobstobber, then jam it into the side of my mouth."
"I took great offense when Opal Fruits changed their name to Starburst," he writes. "Pure heresy. Like Britain changing its name."
The royal family had informal dinners at Balmoral, with Prince Philip grilling and the Queen making salad dressing:
The family would gather at Inchnabobart, an "old stone hunting lodge" on the Balmoral estate, during their summer trips to Scotland. Harry describes one particular trip in the summer of 2001 in Spare.
Upon arrival, he writes, "Grandpa, who'd set off half an hour before us, was already tending his grill at the back of the lodge." Standing in "a thick cloud of smoke, tears streaming from his eyes," Prince Philip wore a flat hat, which he also used as a towel to wipe his face and a flyswatter. "As the filets of venison sizzled he turned them with a huge pair of tongs, then put on a loop of Cumberland sausages." The Queen's specialty was the salad dressing, of which she would whisk "a large batch." The family (and, sometimes, a "famous or eminent personage" who merited an invite) would sit at a long table with "creaky straw seats."
The royal family doesn't do physical displays of affection:
"The older generation maintained a nearly zero-tolerance prohibition on all physical contact," Harry writes of his family. "No hugs, no kisses, no pats. Now and then, maybe a light touching of cheeks… on special occasions." In Spare, Harry describes several moments where he wanted to give his grandmother the Queen a hug, but ultimately refrained from doing so.
One of the rare occasions where members of the royal family deviated from this unofficial policy was when Harry returned home from his first overseas army tour, he writes. "I think Willy hugged me. I think I gave Pa a kiss on each cheek. He might also have… squeezed my shoulder? It would've appeared, to anyone at a distance, a normal family greeting and interaction, but for us it was a flamboyant, unprecedented demonstration of physical affection."
The royal family opens their Christmas presents on Christmas Eve: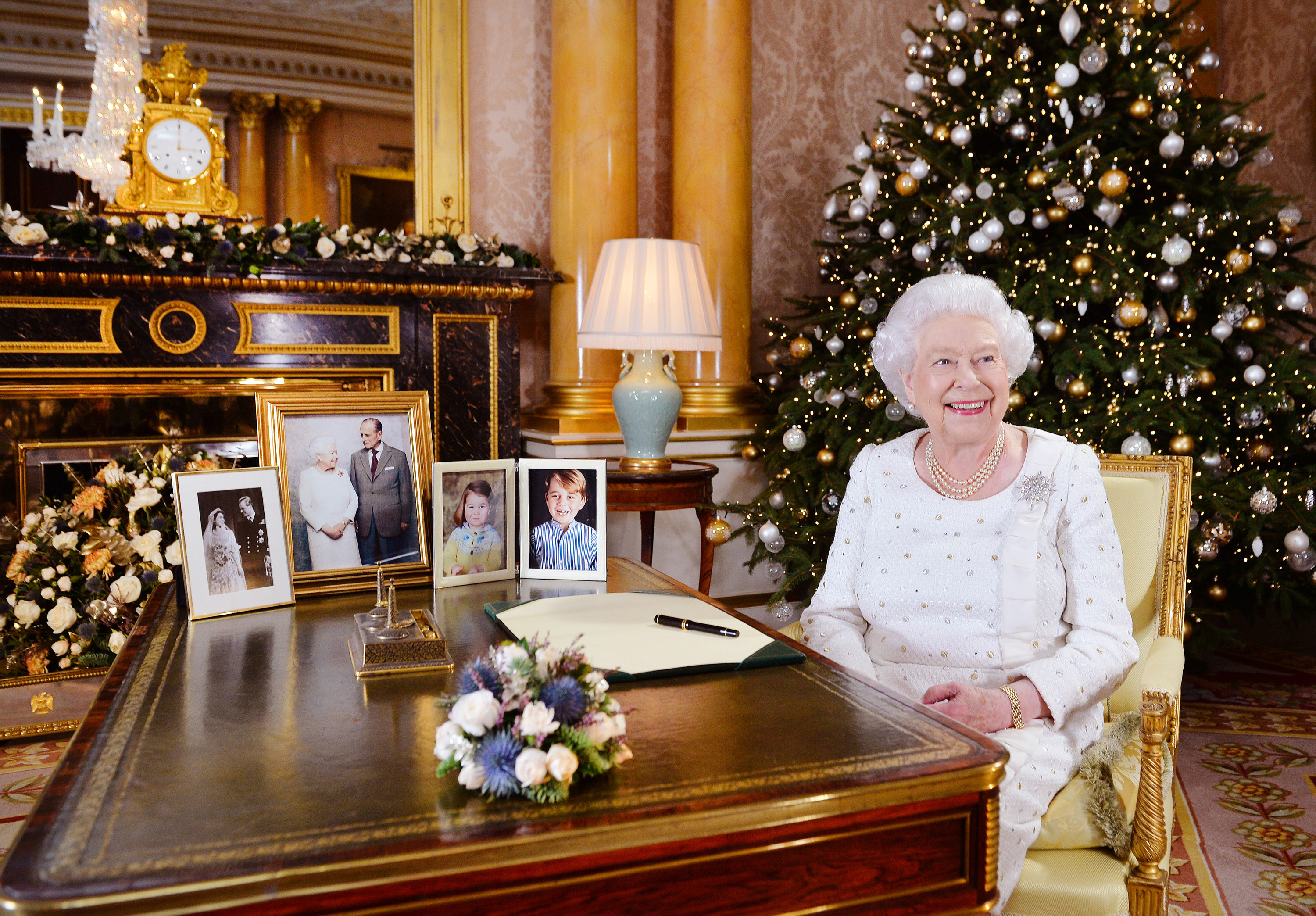 Harry describes the early gift-opening as "a German tradition that survived the anglicizing of the family surname from Saxe-Coburg-Gotha to Windsor." As the family normally spends Christmas at Sandringham, a large room with a large table "covered with white cloth and white name cards" is reserved for the event. "By custom, at the start of the night, each of us located our place, stood before our mound of presents," Harry writes. "Then, suddenly, everyone begins opening at the same time. A free-for-all, with scores of family members talking at once and pulling at bows and tearing at wrapping paper."
The King brings a teddy bear with him wherever he goes:
Harry writes that the teddy bear (named "Teddy") gave the King comfort when he was bullied as a child. "Teddy went everywhere with Pa. It was a pitiful object, with broken arms and dangly threads, holes patched up here and there. It looked, I imagined, like Pa might have after the bullies had finished with them. Teddy expressed eloquently, better than Pa ever could, the essential loneliness of his childhood," Harry writes.
One Christmas, Harry's great-aunt Princess Margaret gave him a "biro" (a pen) with a rubber fish wrapped around it: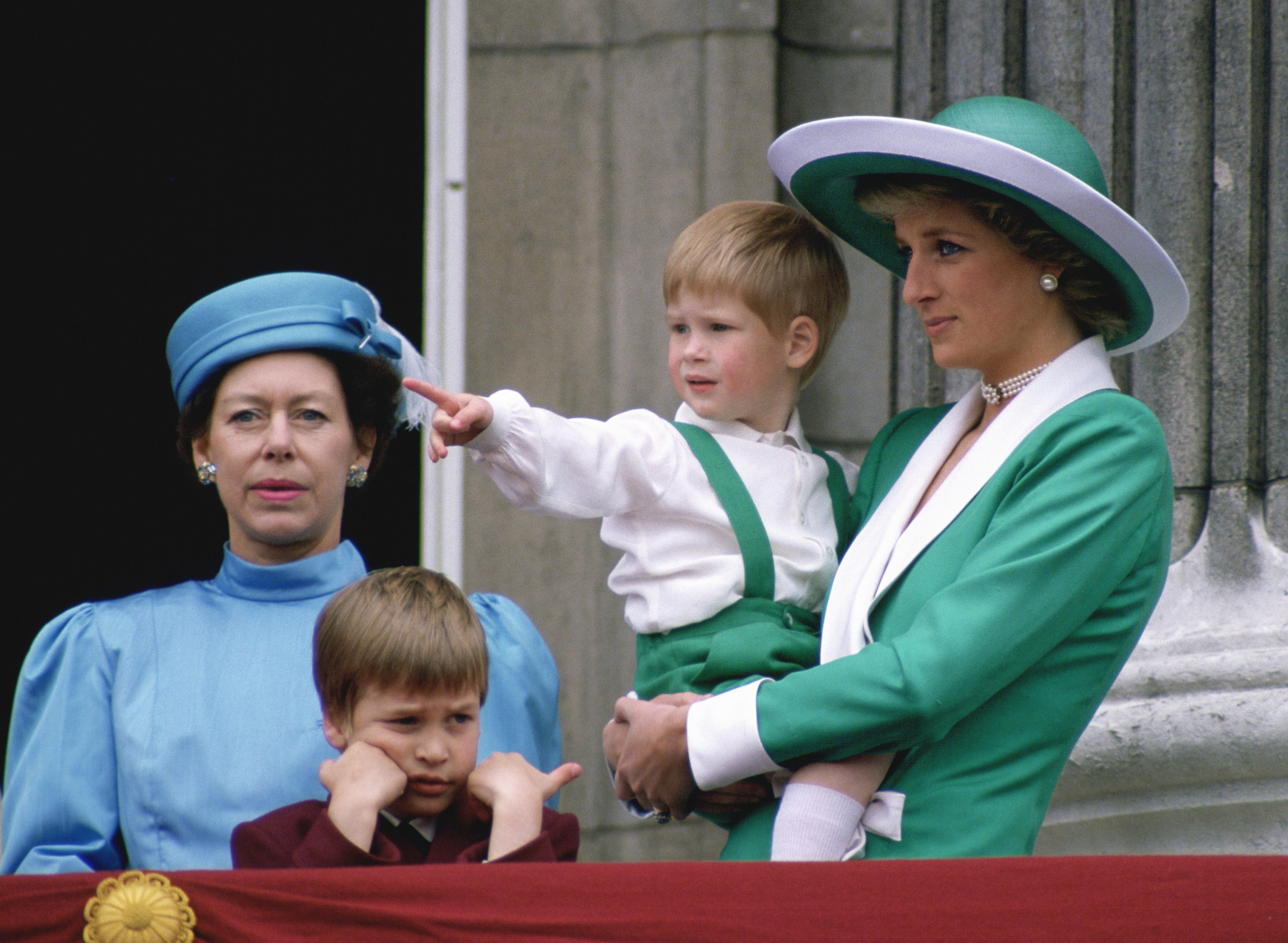 Harry said it was the smallest present in his pile that Christmas, although he does not specify the year, and describes the gift as "cold-blooded."
Harry has never talked to the King about the (incorrect, based on timing) rumors that James Hewitt is his actual father:
There is a long-persisting rumor that Harry is not the child of the King and Diana, but of one of his mother's former lovers, Major James Hewitt (who, like Harry, has red hair). "Never mind that my mother didn't meet Major Hewitt until long after I was born, the story was simply too good to drop," he writes.
"To this day, nearly every biography of me, every longish profile in a paper or magazine, touches on Major Hewitt, treats the prospect of his paternity with some seriousness, including a description of the moment Pa finally sat me down for a proper heart-to-heart, reassuring me that Major Hewitt wasn't my real father. Vivid scene, poignant, moving, and wholly made up." Harry writes that if the King had any thoughts about the rumors and Major Hewitt, "he kept them to himself."
Harry's hair was never the same after some friends at Eton shaved his head: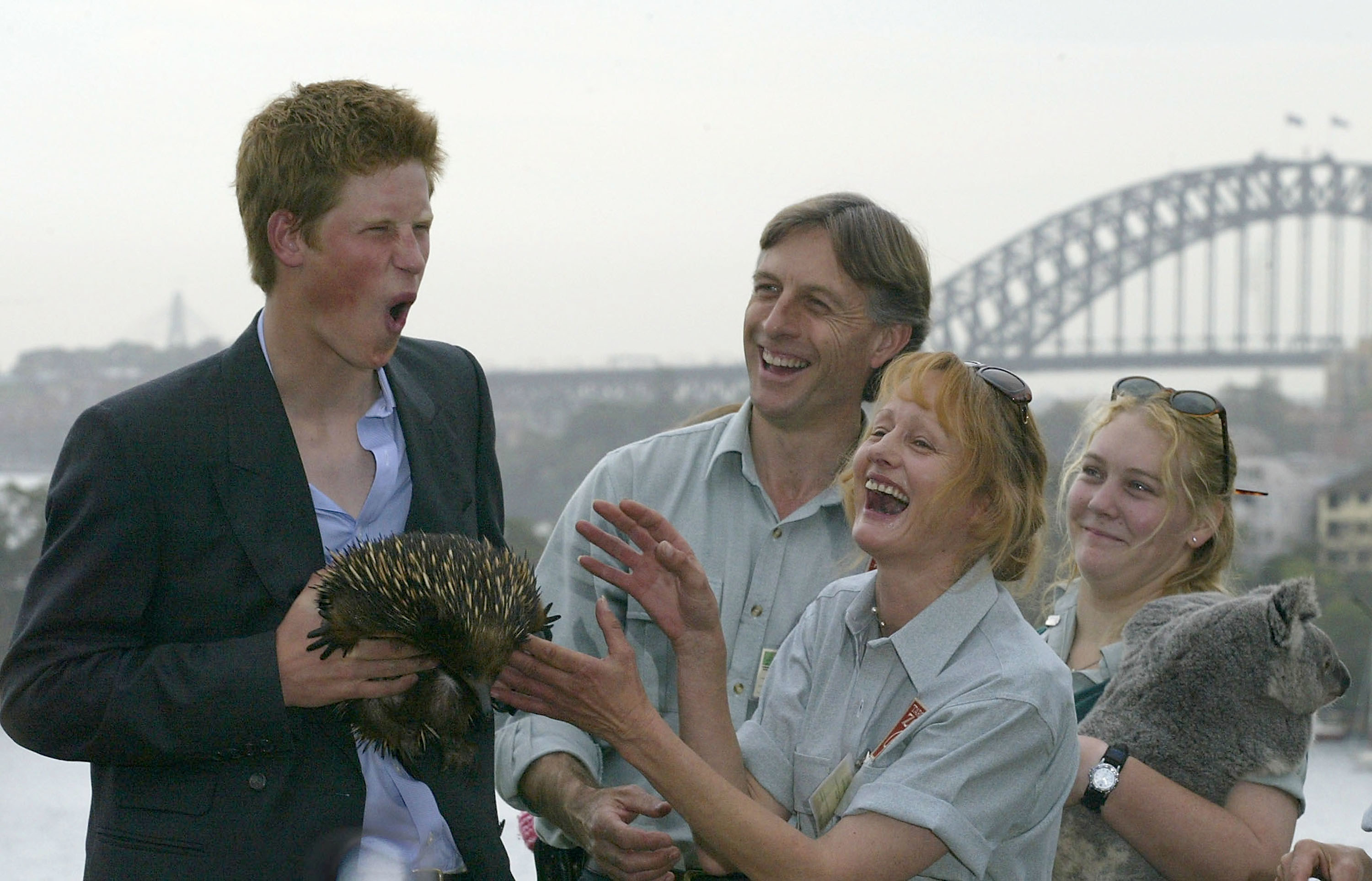 In what he describes as a "supremely stupid" decision, Harry allowed his friends to shave his head while he was enrolled at Eton. "My hair had never fully recovered," he writes. "Some strands shot up like summer grass, some lay flat, like lacquered hay." His resemblance to an echidna was what spawned his nickname "Spike."
Harry doesn't like beer:
Although Harry writes about consuming a whole bunch of beer during his teenage years, in the book's middle section — which describes his time in the military — he reveals that he's not a huge fan of the beverage. "Everyone was issued exactly two cans. No more," he writes of a "decompression" mission in the army following a tour of Afghanistan. "I didn't like beer, so I handed mine over to a soldier who looked like he needed it more than me. He reacted as if I'd given him a Rolex."
In Spare, Harry complains about the massive amount of fiction that's published about him in the form of exclusive stories and unauthorized biographies. "Books about me dived into my love life, honed in on each romantic failure and near miss. I seem to recall one detailing my flirtation with Cameron Diaz." In that book, he said, the author wrote that the prince couldn't see himself with the actor. "Indeed I couldn't, since we'd never met. I was never within fifty meters of Ms. Diaz, further proof that if you like reading pure bollocks, then royal biographies are just your thing."
The Queen's corgis lived the good life — and snitched on the King and Harry:
"My mother used to say that being around Granny and the corgis was like standing on a moving carpet, and I used to know most of them, living and dead, as if they were my cousins," Harry writes. At Balmoral, the Queen and the corgis would often take the elevator to her bedroom on the second floor, which Harry said the corgis preferred.
Harry writes that he and his father are both sensitive to heat, and they would particularly suffer when the royal family ate in Sandringham's "subtropical" formal dining room. He said that he and his father would wait for the Queen to look away, and "then one of us would jump up, sprint to a window, crack it an inch. Ah, blessed cool air. But the corgis always betrayed us. The cool air would make them whimper, and Granny would say: Is there a draft? And then a footman would promptly shut the window."
The widely reported story about William getting Princess Diana's engagement ring from Harry in order to propose to Kate isn't true: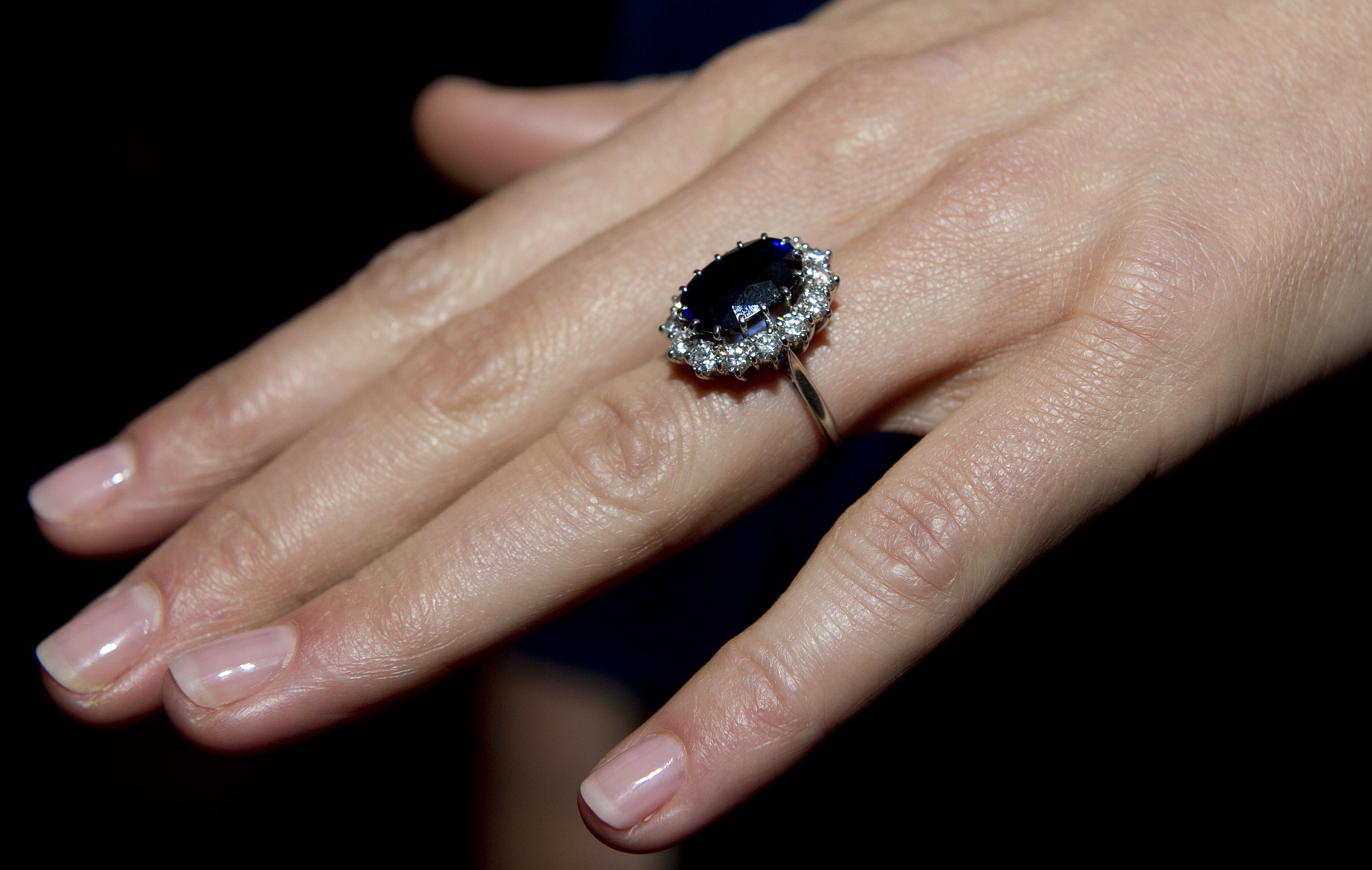 "The papers published florid stories about the moment I realized Willy and Kate were well matched, the moment I appreciated the depth of their love and thus decided to gift Willy the ring I'd inherited from Mummy, the legendary sapphire, a tender moment between brothers, a bonding moment for all three of us, and absolute rubbish: none of it ever happened," Harry writes. He said that William already had the ring. "He'd asked for it after Mummy died, and I'd been more than happy to let it go."
Harry thought he'd be married with children before William:
"I'd always assumed I'd be the first to be married, because I wanted it so badly," he writes in his memoir about the preparations for William and Kate's wedding. The King was 35 when Harry was born, and Harry wanted to be a younger and more active father.
Harry and William weren't really each other's best men at their weddings:
Harry writes that this "bare-faced lie" was something the Palace came up with and released to the press because "the public expected [it]." Also, Harry says, "in truth, Willy didn't want me giving a best-man speech. He didn't think it safe to hand me a live mic and put me in a position to go off script. I might say something wildly inappropriate. He wasn't wrong."
William's friends James and Thomas were, in truth, his best men. Harry's real best man was his "old mate Charlie."
The King and Queen Consort apparently wanted Kate to change the way her name was spelled:
Harry said that when his brother's wife joined the family, the-then Prince Charles and Camilla, Duchess of Cornwall thought "there were already two royal cyphers with a C and a crown above" and "it would be too confusing to have another." They suggested that Kate (who was born Catherine Elizabeth Middleton) change her name to Katherine with a K.
The Queen was a big fan of Kate's hair: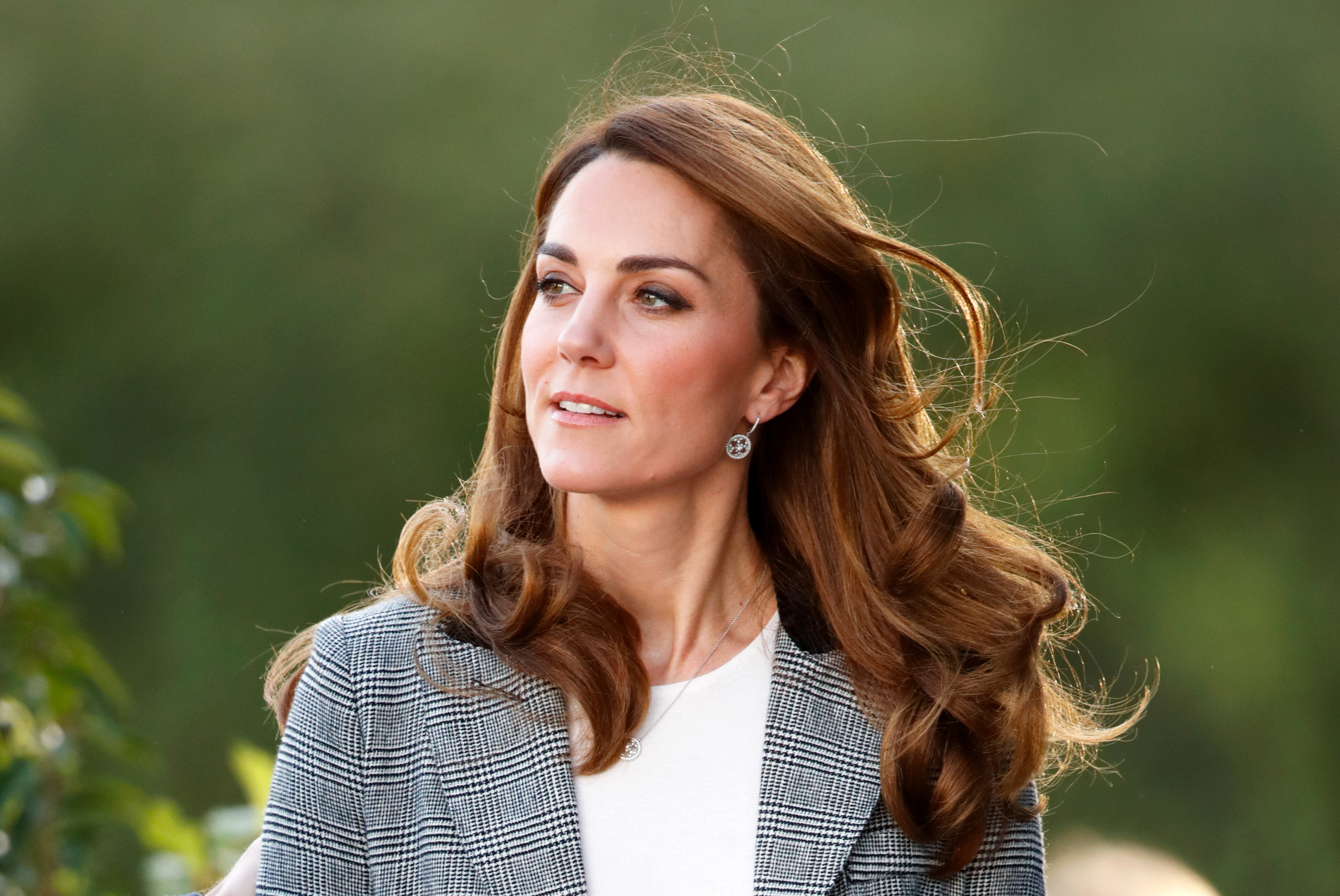 Harry writes that the current King and former Queen both preferred it when women wore their hair down. "[Granny] often commented on 'Kate's beautiful mane,'" Harry writes.
Meghan really didn't google Harry or the royal family while they were dating:
The Duchess of Sussex made this (let's be real — seemingly pretty unrealistic!) claim both in her interview with Oprah and the Netflix docuseries Harry & Meghan, and the Duke of Sussex doubles down in his memoir that this is actually the truth.
"I felt pretty sure she hadn't googled me, because she was always asking questions," Harry writes. "She seemed to know almost nothing — so refreshing." When Meghan met the Queen for the first time, she didn't recognize Prince Andrew, Duke of York, and thought that he was the Queen's assistant because he had carried his mother's purse to the car. "She definitely hadn't Googled us," Harry concludes.
Harry regretted googling Meghan's sex scenes from Suits:
"I'd made the mistake of googling and watching some of her love scenes online," Harry admits in Spare. "I'd witnessed her and a castmate mauling each other in some sort of office or conference room … It would take electric-shock therapy to get those images out of my head."
William and Kate were fans of Suits and couldn't believe Harry was dating an actor from the show:
Harry writes that the first time he told his brother and sister-in-law about the new woman in his life they were shocked. "Their mouths fell open. They turned to each other. Then Willy turned to me and said: Fuck off!" Harry writes that he was "baffled" until "Willy and Kate explained that they were regular — nay, religious — viewers of Suits." Harry jokes that he was initially afraid that the Cambridges might not welcome Meghan into the family, but now he was worried "about them hounding her for an autograph."
Harry borrowed a Mad Max costume from his friend Tom Hardy for a Halloween party he attended with Meghan:
During one of Harry's visits to Toronto to see Meghan in October 2016, they made plans to attend a Halloween party alongside his cousin Eugenie, her then-boyfriend Jack Brooksbank, and Meghan's friend Markus. In Spare, Harry intimates that this was the first "fancy dress party" he'd attended since his infamous Nazi uniform incident.
"For help with my costume, I'd turned to a friend, the actor Tom Hardy, before I left home," Harry says. "I phoned him to ask if I could borrow his costume from Mad Max. The whole thing? Yes, please mate! The whole kit. He'd given it all to me before I left Britain." Harry writes that Meghan "roared with laughter" when he showed it to her for the first time.
Meghan left her rescue dog Bogart behind in Canada when she moved to London because he had gotten overly protective of her and aggressive:
After news broke that Meghan and Harry were dating, press swarmed her Toronto home, attempting to enter the house, constantly knocking on the door, and ringing the doorbell, Harry writes. The commotion was too much for one of Meghan's rescue dogs, Bogart, and she had to leave him behind in Canada when she moved to the UK.
"He'd been so traumatized by the siege of her house, by the constant ringing of the doorbell, that his demeanor changed when Meg was around. He'd become an aggressive guard dog. Meg's neighbors had graciously agreed to adopt him."
Harry spent much of his adult life — up until he met Meghan — wishing he had a dog: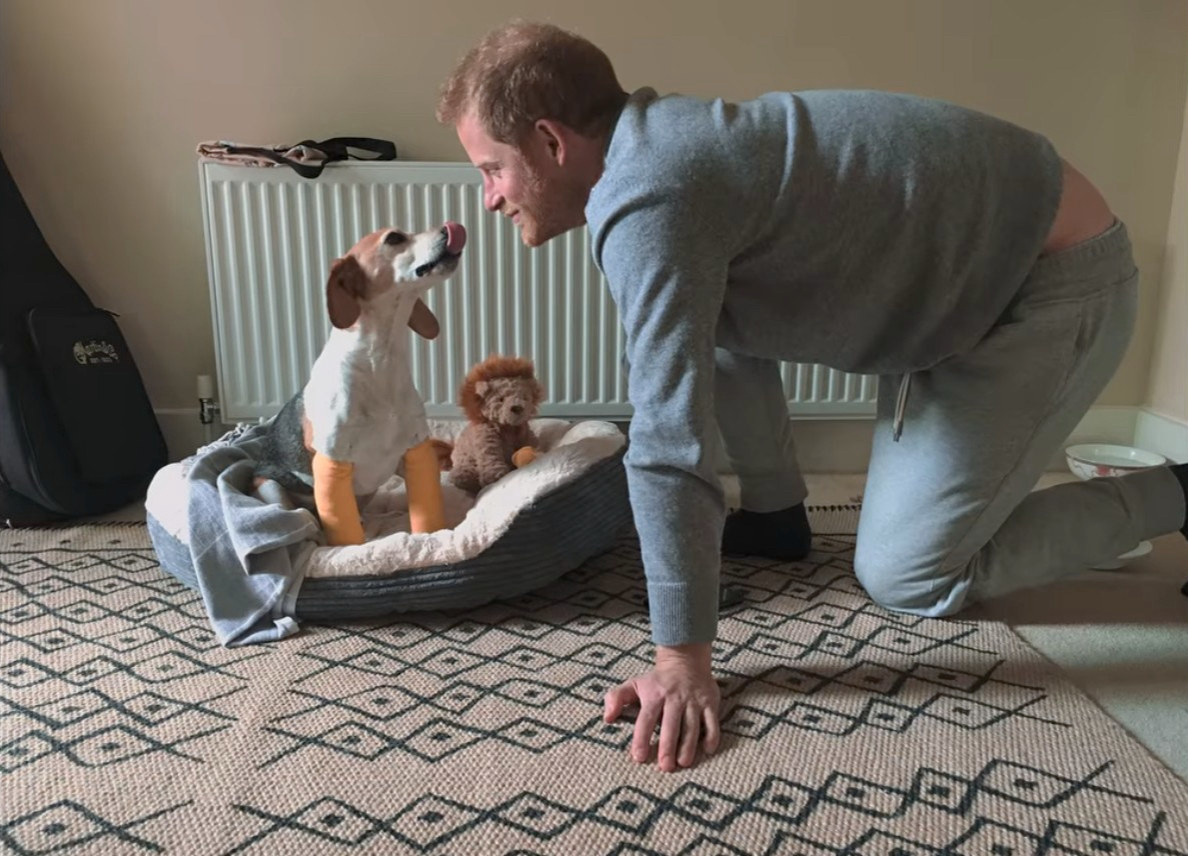 "I'd wanted a dog for so long, and I'd never been able to have one because I'd been such a nomad," Harry writes. He particularly bonded to Meghan's rescue beagle Guy, and in early 2018, they brought home a female black lab puppy that they named Pula, the Setswana word for "rain" and "good fortune." (In August 2022, Harry and Meghan added a third dog to their family: a beagle named Mamma Mia who had been rescued from a medical testing facility.)
Camilla turned Harry's bedroom into a dressing room when he moved out of Clarence House:
Harry reveals this tidbit of information while describing Meghan's first meeting with his father, the King. He tells his then-girlfriend that he lived at Clarence House from when he was 19 until he was about 28. "After I moved out, Camilla turned my bedroom into her dressing room," he said. "I tried not to care. But, especially the first time I saw it, I cared."
William cautioned Harry about his relationship with Meghan — in strong words — on multiple occasions: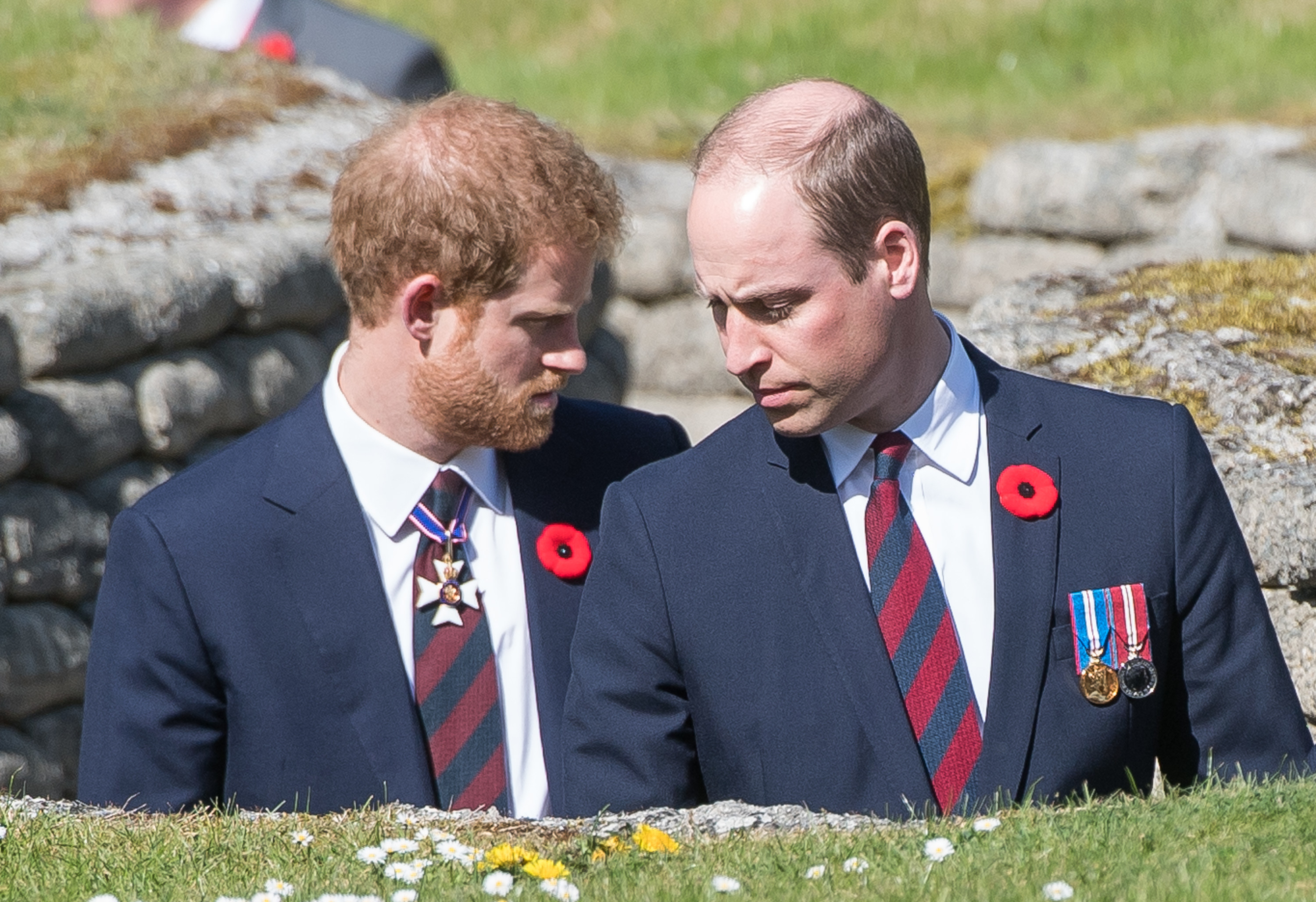 "He'd always been pretty discouraging about my even dating Meg," Harry writes in Spare. "One day, sitting together in his garden, he'd predicted a host of difficulties I could expect if I hooked up with an 'American actress,' a phrase he always managed to make sound like 'convicted felon.'"
When the brothers visited their mother's grave in 2017 on the 20th anniversary of her death, William challenged Harry's assertion that Diana helped him find Meghan: "Well now, Harold, I'm not sure about that. I wouldn't say THAT." Furthermore, when Harry told William he planned to propose, his brother warned against it, saying that Harry was moving "too fast." Nonetheless, he made no objection when Harry took diamonds from one of their mother's bracelets to craft Meghan's engagement ring and noted that William "seemed to like Meg, despite his oft-cited concerns."
When Harry asked the Queen's permission to marry Meghan, her response was "I suppose I have to say yes":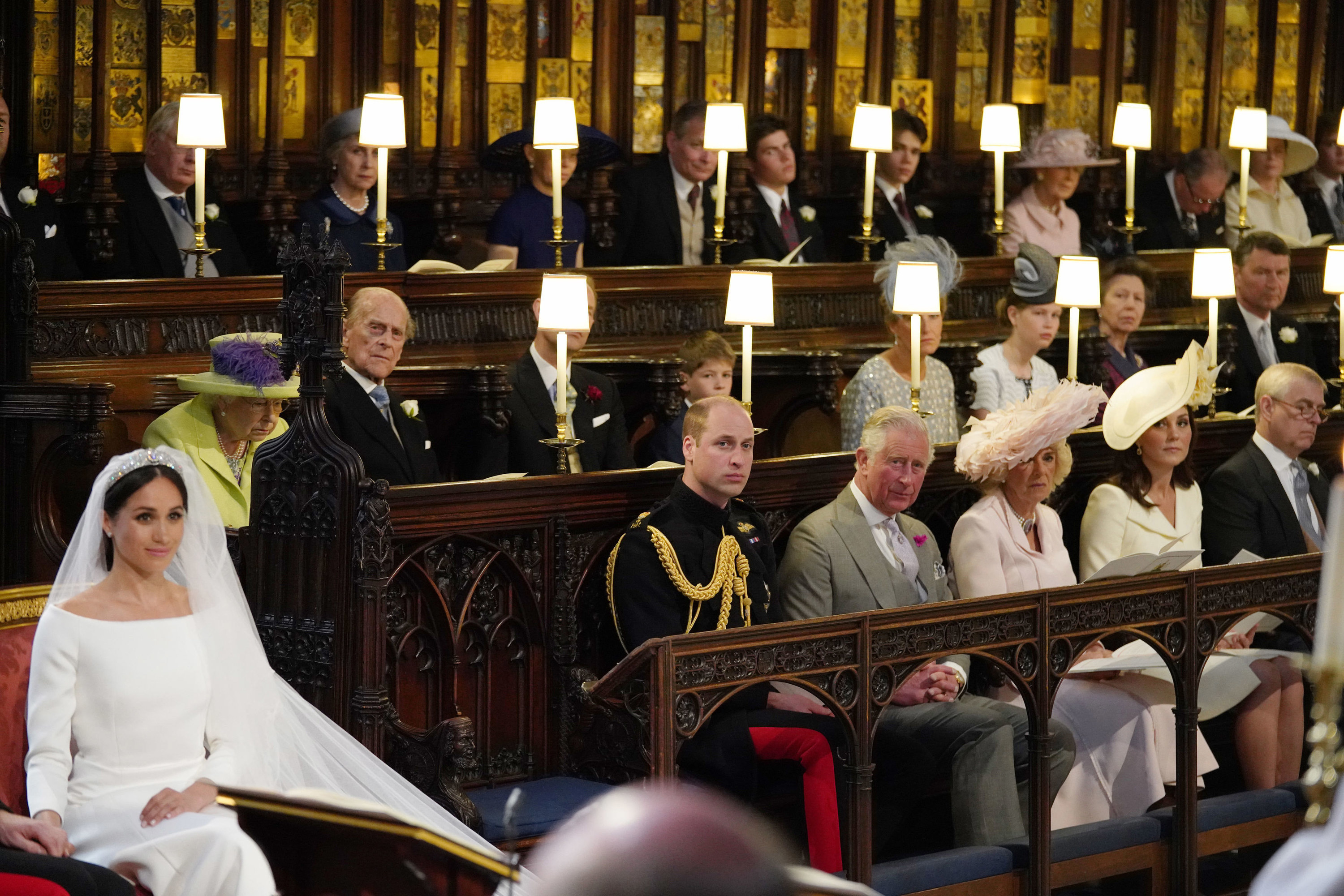 Thanks to the terms of the Succession to the Crown Act 2013, as one of the first six people in line to the throne, Harry had to obtain permission from the Queen before marrying Meghan. Harry writes that he was incredibly nervous about asking the question and waited until a family shooting trip at Sandringham, since "shooting trips always put Granny in a good mood."
He managed to get some alone time with the Queen after a day of shooting and nervously asked her for permission to propose — mentioning in his request that his staffers and the Queen's staffers had told him that the monarch's permission was mandatory. "I stared at her face but it was unreadable," he writes. "At last she replied, Well, then, I suppose I have to say yes." Harry said that he "didn't get" why the Queen said it in that way. "Was she being sarcastic? Ironic? Deliberately cryptic? Was she indulging in a bit of wordplay?" Ultimately, he decided that it didn't matter, because she had said yes — and, although he wanted to hug her, he refrained from doing so.
The King helped Harry and Meghan choose the music for their wedding: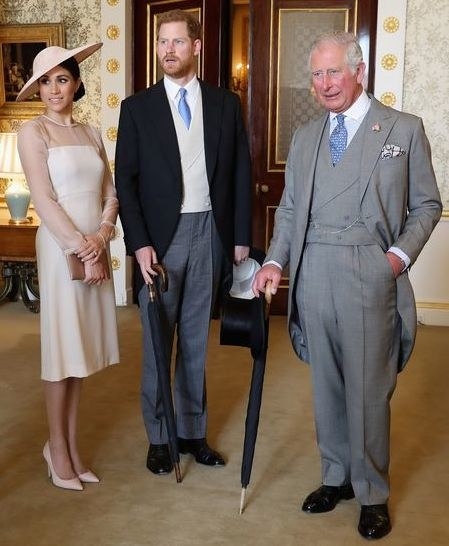 Harry devotes an entire chapter of Spare to an evening he and Meghan spent at Clarence House with the King while they were planning their wedding. "He wholly endorsed our desire to have an orchestra rather than an organist, and he played an assortment of orchestras to get us in the mood."
Meghan and the King bonded over their shared love of music (Beethoven for him, Chopin for her) during this planning session, Harry said. "As one piece ended, he'd quickly reload his wireless, begin humming or tapping his foot to the next. He was airy, witty, charming, and I kept shaking my head in amazement." Harry writes that he knew his father loved music, but until this moment, he didn't know "he loved it this much." Harry credited Meghan for this. "[She] evoked so much in him, qualities I'd rarely seen. In her presence Pa became boyish. I saw it, saw the bond between them growing stronger, and I felt strengthened in my own bond with him."
The Queen gave Harry permission to keep his beard for his wedding (to the annoyance of William, who threatened to hold Harry down and shave him if he got too drunk at his stag/bachelor party):
"After all the stress of asking Granny for permission to marry Meg, I thought I'd never have the courage to ask her for anything else," Harry writes in Spare. "And yet I now dared to make another ask: Granny, please, may I, for my wedding, keep my beard? Not a small ask either. A beard was thought by some to be a clear violation of protocol and long-standing norms, especially since I was getting married in my Army uniform." Harry said that Meghan had never seen him without a beard, and wearing a beard helped him with his anxiety. When he explained this to the Queen, she said that she understood, adding that "her own husband liked to rock a bit of scruff now and then."
Harry said that this frustrated his brother, who was reportedly told to shave his own beard when he grew one while on an assignment with Special Forces. William was angry that Harry went to the Queen for permission and, Harry writes, "at one point, [William] actually ordered me, as the Heir speaking to the Spare, to shave." (Harry writes that the beard frustration was in part caused because he was being allowed to wear the military uniform that William wanted to wear when he married Kate.)
At his stag/bachelor party, Harry said, he was afraid that if he "got too drunk and passed out, Willy and his mates would hold me down and shave me." As it turns out, that was a valid fear. "Willy told me, explicitly, in all seriousness, that this was his plan."
Meghan was originally going to wear the Spencer Tiara (as famously worn by Princess Diana) for her wedding, but then the Queen offered to loan her one from the royal collection: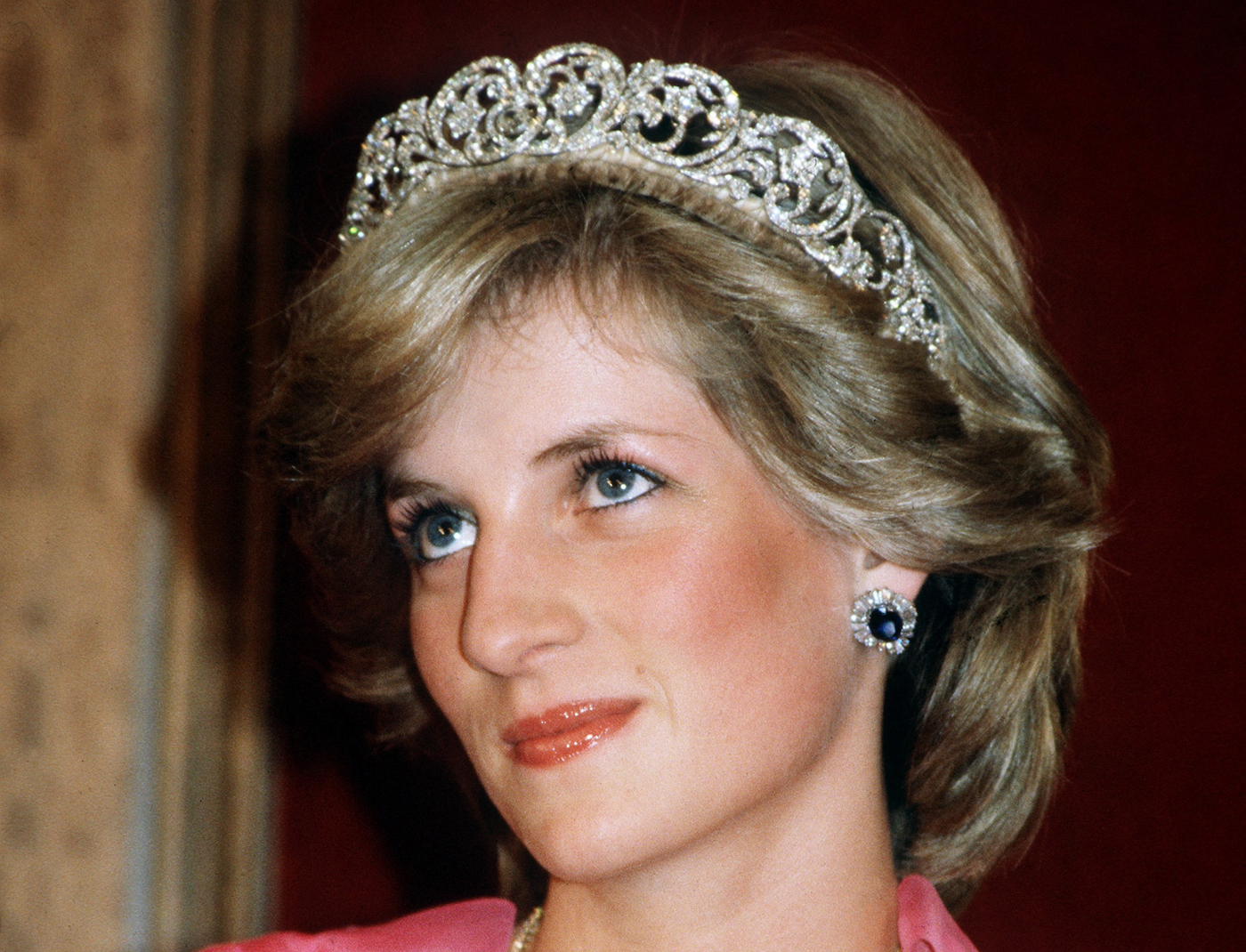 Harry's aunts (Diana's sisters) initially asked if Meghan would like to wear the Spencer Tiara, which Diana wore on her wedding day. "We were both touched," Harry writes. "Meg then spent hours and hours with her dress designer, getting the veil to match the tiara, giving it a similar scalloped edge." However, shortly before the wedding, "Granny reached out" to offer Harry and Meghan "access to her collection of tiaras." She invited them over to Buckingham Palace to try on a selection, which Harry describes as an "extraordinary morning."
"We walked into Granny's private dressing room, right next to her bedroom, a space I'd never been in," Harry writes. "Along with Granny was a jewelry expert, an eminent historian who knew the lineage of each stone in the royal collection." The Queen's "dresser and confidante" Angela Kelly was also there. The Queen had chosen five tiaras as possible options: "One was all emeralds. One was aquamarines. Each was more dazzlingly stunning than the last." Meghan and the Queen had a special moment, Harry writes. "Granny said to Meg quite tenderly: Tiaras suit you. Meg melted. Thank you, ma'am. Ultimately one of the five (Queen Mary's bandeau tiara) stood out, "seemingly made for Meg," Harry says. They left the Palace feeling "awed and loved and grateful."
There was an issue getting the tiara from the Queen's dresser Angela Kelly so that Meghan could practice placing it in her hair with her hairdresser:
The press saga of Harry, Meghan, and the wedding tiara was such tabloid fodder that it was given a name by royal correspondents: Tiaragate. Reports claimed that Meghan was denied her first choice of tiara and that she and Harry had thrown a temper tantrum when the chosen tiara couldn't be provided on demand so that Meghan could practice her hairstyle. In Spare, Harry paints Kelly as the unreasonable gatekeeper, ignoring requests and needlessly denying the couple access to the tiara out of spite — and implies that she was the media's source for the negative (and false, he claims) stories.
"The placing of the tiara was an intricate, elaborate process," Harry writes. "It had to be first sewn to the veil, then Meg's hairdresser would need to fix it to a small plait in her hair. Complicated, time-consuming — we'd need at least one dress rehearsal." Kelly, he says, "was being obstructive," and when she finally handed over the tiara, "her eyes were fire. … She fixed me with a look that made me shiver. I could read in her face a clear warning. This isn't over."
Harry and Meghan really did have a private, unofficial wedding "ceremony" in their garden in the days before the big royal wedding:
Meghan revealed this information to Oprah Winfrey in the March 2021 interview, and the claim was quickly fact-checked by the UK press, who crowed that such a thing wasn't legally possible. (A quick Google search will reveal that this was A Thing that received lots of media coverage in the wake of the interview.)
But Harry writes in Spare that a few days before the royal wedding, their officiant, the Archbishop of Canterbury, performed a "small ceremony" in Harry and Meghan's gardens, "just the two of us, [dogs] Guy and Pula the only witnesses." He describes the ceremony as "unofficial, non-binding, except in our souls."
"We were grateful for every person in and around St George's, and watching on TV, but our love began in private, and being public had been mostly pain, so we wanted the first consecration of our love, the first vows, to be private as well."
Meghan's wedding ring used the last of a special bit of Welsh gold that had been used for generations of royal wedding rings: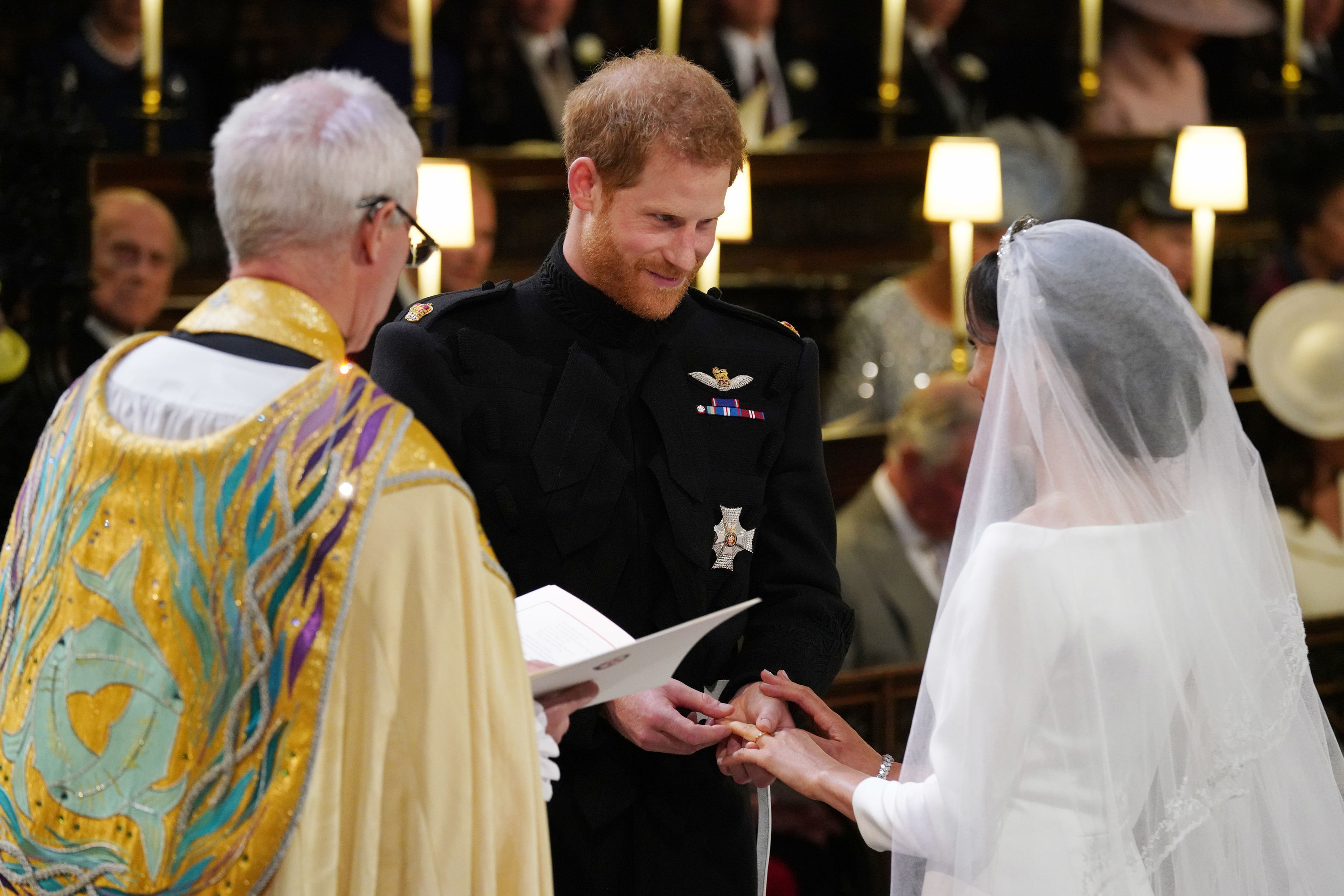 For generations, members of the royal family have forged their wedding rings from ultra-rare Welsh gold. The tradition began in 1923, when a gift of gold from the Clogau St David's mine was given to the House of Windsor. That gold was used to craft the wedding ring for Elizabeth Bowes-Lyon, the future wife of King George VI, and later, the ring for then-Princess Elizabeth's marriage to Lt. Philip Mountbatten. Clogau's website details all of the royal brides who have worn Welsh gold wedding rings in the years since (and the occasions when the royal family has been gifted more gold).
In Spare, Harry claims that both Meghan's and Kate's rings were forged from that original lump gifted in 1923. The gold is first mentioned during his account of William and Kate's wedding, as he was the person to hold the ring until the groom slid it onto his bride's finger. "A thin band of Welsh gold, shaved off a hunk given to the royal family nearly a century before. The same hunk had provided a ring for Granny when she married, and for Princess Margaret, but it was nearly exhausted now, I'd heard. By the time I got married, if I ever got married, there might be none left."
Happily, there was enough gold to make Meghan's wedding ring. "Granny had told me that this was nearly the last of [the gold]," he writes. "Last of the gold. That was how I felt about Meg."
William and Kate didn't sit at their assigned seats at Harry and Meghan's wedding reception — although they claimed that they didn't move the place cards at their table:
When the Cambridges and the Sussexes had their first big, tense meeting to "clear the air," this was one of the grievances that Harry and Meghan wanted to address. (This was the much-reported meeting where Kate wanted an apology from Meghan for accusing her of having "baby brain" after the birth of her third child, Prince Louis.)
"We weren't too pleased when Willy and Kate switched place cards and changed seats at our wedding. We'd followed the American tradition, placing couples next to each other, but Willy and Kate didn't like that tradition, so their table was the only one where spouses sat apart. They insisted it wasn't them; it was someone else."
Meghan made a joke that caused a tense moment during one of her first big royal events: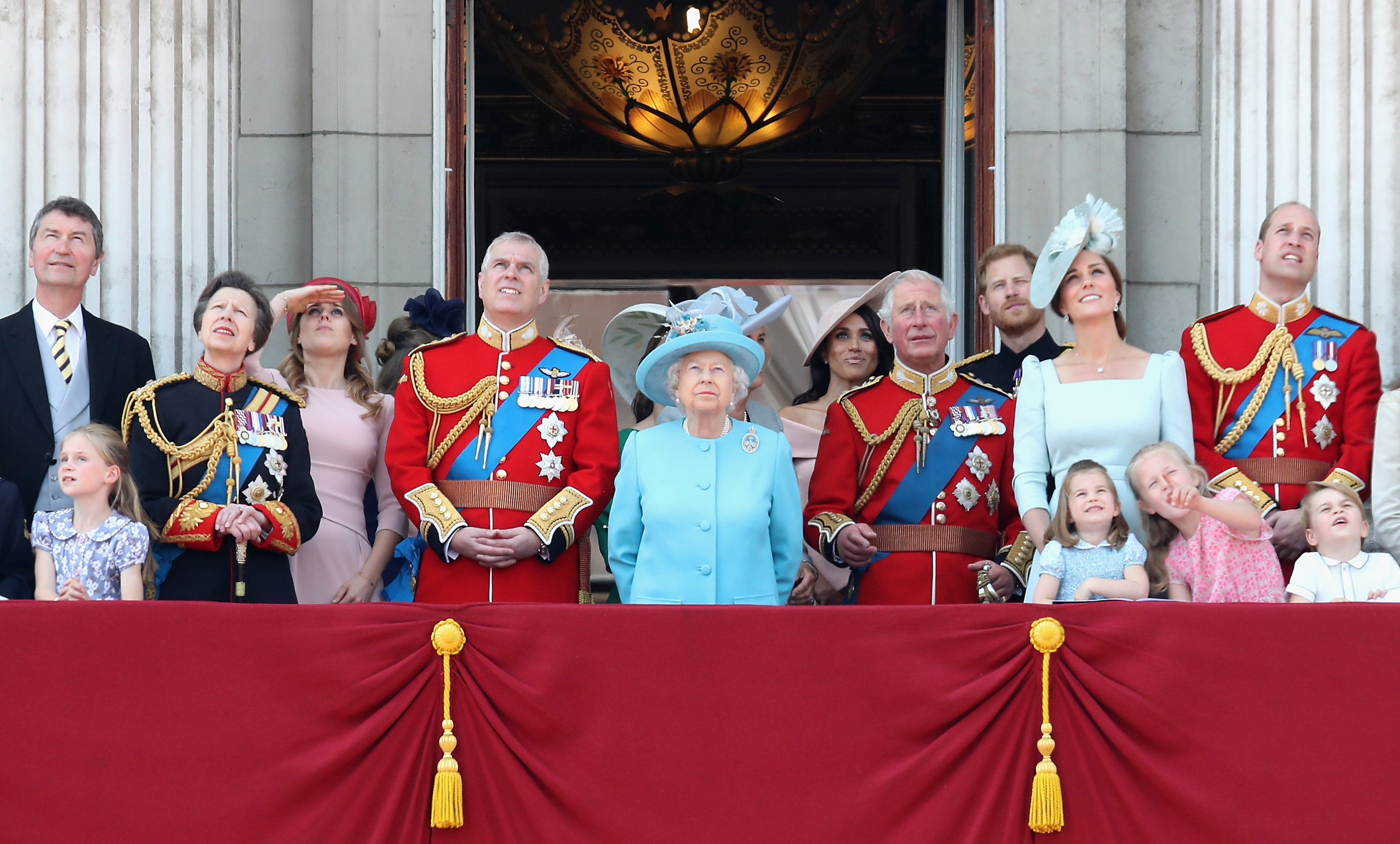 Harry writes that soon after he and Meghan returned from their honeymoon, it was time for the official celebration of the Queen's birthday — Trooping the Colour. They made their first public appearance as newlyweds at the event. "Everyone present was in a good mood, upbeat," he writes. "But then: Kate asked Meg what she thought of her first Trooping the Colour. And Meg joked: Colorful. And a yawning silence threatened to swallow us all whole."
Meghan and Kate got off on the wrong foot because of a misunderstanding about fashion contacts:
At this same "clear the air" meeting, Meghan suggested that some of the "tension" between the Cambridges and the Sussexes might date back to a misunderstanding from when she first joined the royal family — one that meant the two royal wives "got off on the wrong foot, perhaps." Harry writes, "Kate thought Meg had wanted her fashion contacts. But Meg had her own."
Harry and Meghan really did tell the royal family that they were pregnant at Princess Eugenie's wedding:
This reveal was one of several times in Spare where Harry confirmed a story that had been previously reported in the UK media. The duke does not address the fact that sharing such big news at a wedding is usually considered gauche and impolite. Harry told the King, William, and Kate at Windsor before and after a drinks reception for Eugenie and her fiancé, Jack Brooksbank.
Harry and Meghan offered to give up their titles as Duke and Duchess of Sussex in January 2020:
Ever since Harry and Meghan announced their decision to step back from life as working royals, there have been calls from the public to strip them of their titles. (The UK Parliament would need to be involved in this decision in some way. You can read more about that here.) However, in Spare, Harry reveals that he offered to give them up in the very first letter he sent to the King about his and Meghan's plan to lead less public lives. "I hammered the essential theme: we were prepared to make any sacrifice necessary to find some peace and safety, including relinquishing our Sussex titles," he writes.
Tyler Perry said he helped Meghan and Harry when they needed housing and security because his mother loved Princess Diana: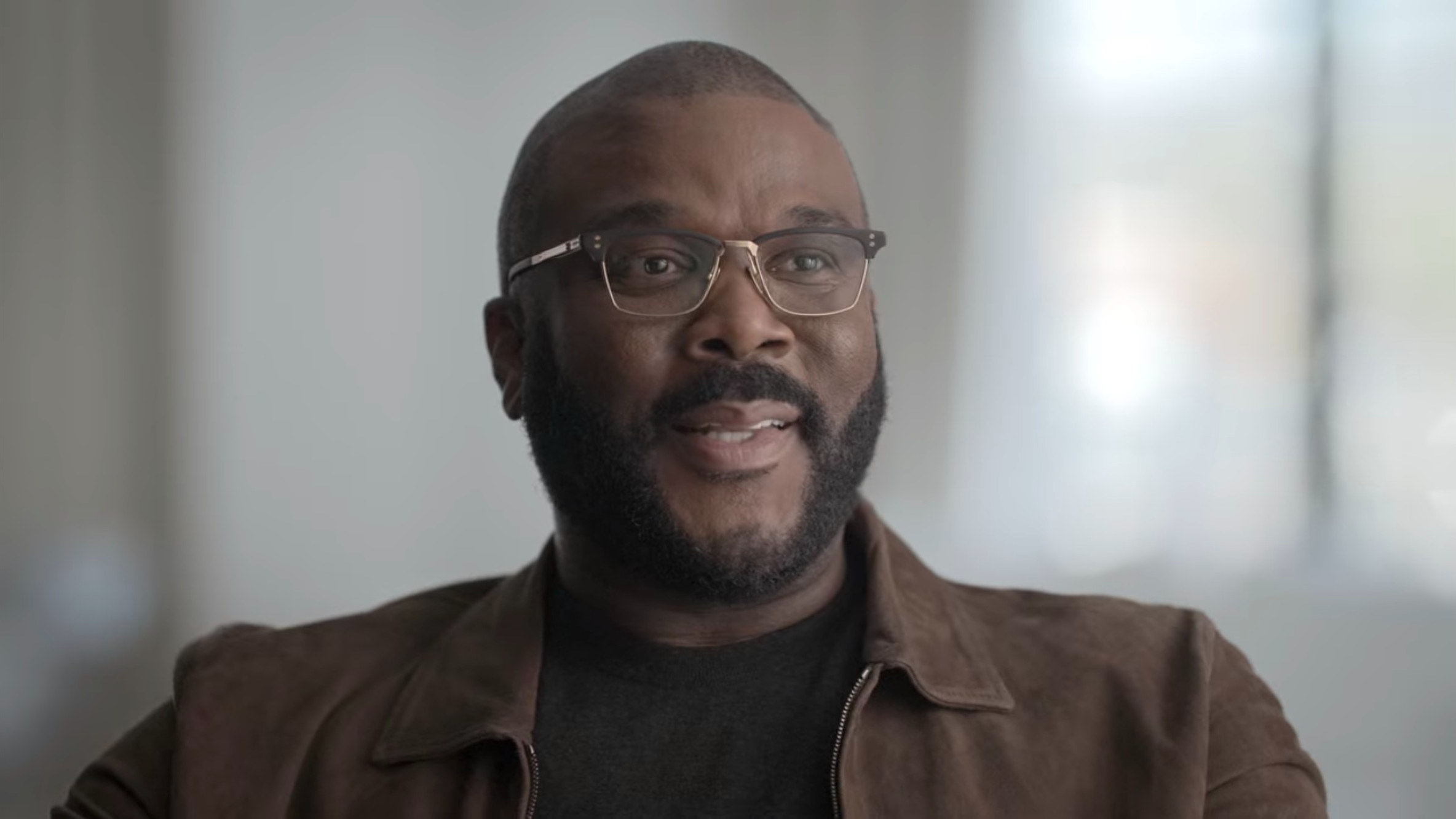 The Sussexes' Netflix docuseries Harry & Meghan goes into more detail about how Perry flew the couple and their son from Canada to Los Angeles on his private plane and housed them (including security) while they were getting on their feet, but in Spare, Harry reveals why the actor-writer-director made that decision for people he barely knew.
"I asked him why he was doing this. My mother. Your…? My mother loved your mother. I was caught completely by surprise. He said: After your mother visited Harlem, that was it. She could do no wrong in Maxine Perry's book."
Harry — instead of a doctor or midwife — caught his daughter Lilibet when she was born: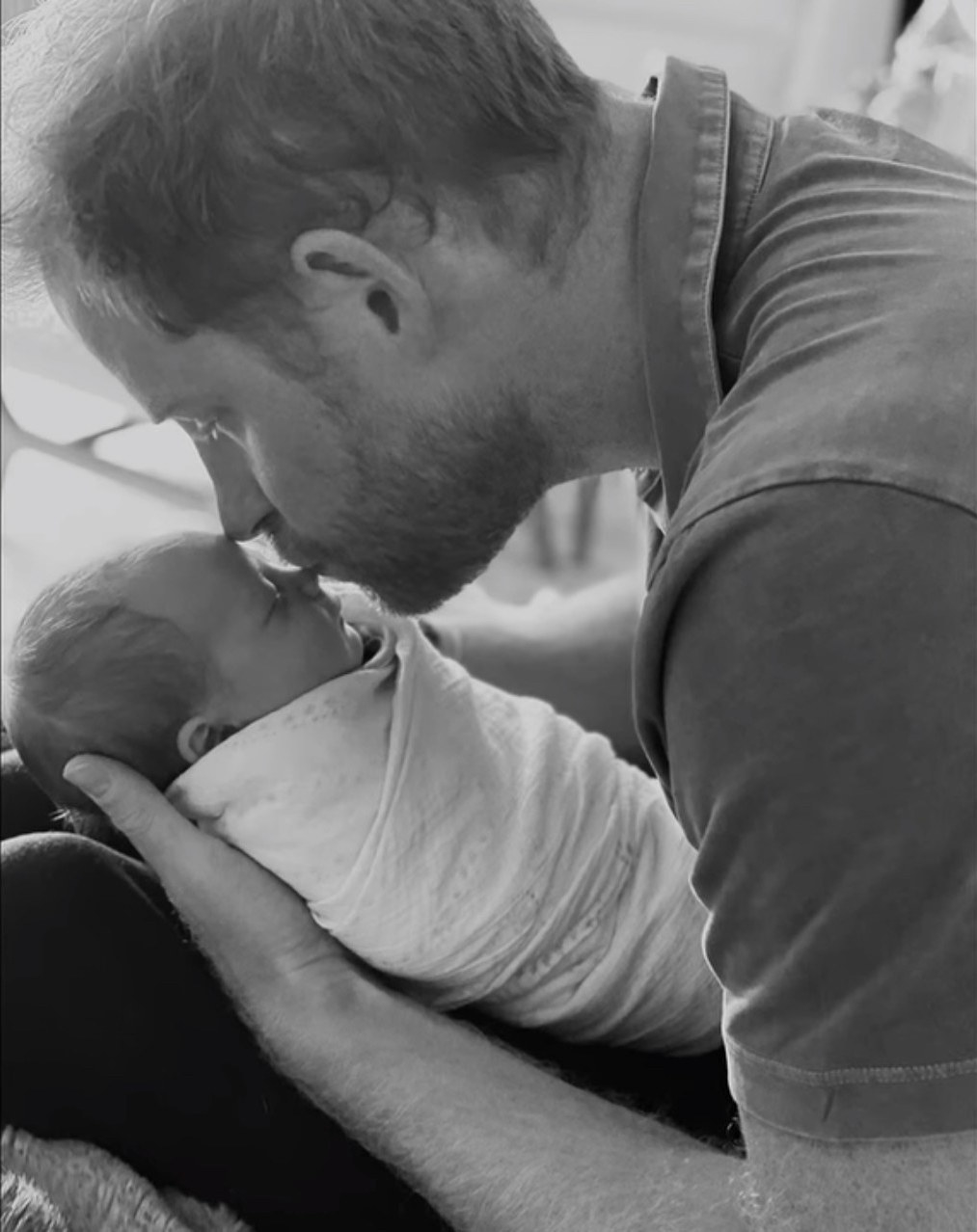 The duke made this decision while his wife was in labor. "When the doctor said it was a matter of minutes, I told Meg that I wanted mine to be the first face our little girl saw," he writes. The doctor guided Harry into place and helped him as the baby was born. "I slid my hands under the tiny back and neck. Gently, but firmly, as I'd seen in films, I pulled our precious daughter from that world into this." Later, Harry writes, Meghan told him she had "never been more in love with [him] than in that moment."
When the Queen met Harry's daughter Lilibet (and saw Archie again) in the summer of 2022, he thought she expected the children to be more "American":
Harry describes the final visit his family had with his grandmother the Queen near the end of the book, writing that he "couldn't stop picturing [his children] with Granny" when he returned to California after her funeral.
"Archie making deep, chivalrous bows, his baby sister Lilibet cuddling the monarch's shins. Sweetest children, Granny said, sounding bemused. She'd expected them to be a bit more… American, I think? Meaning, in her mind, more rambunctious."
Harry says that he learned of the Queen's death from the BBC after his flight landed in Scotland: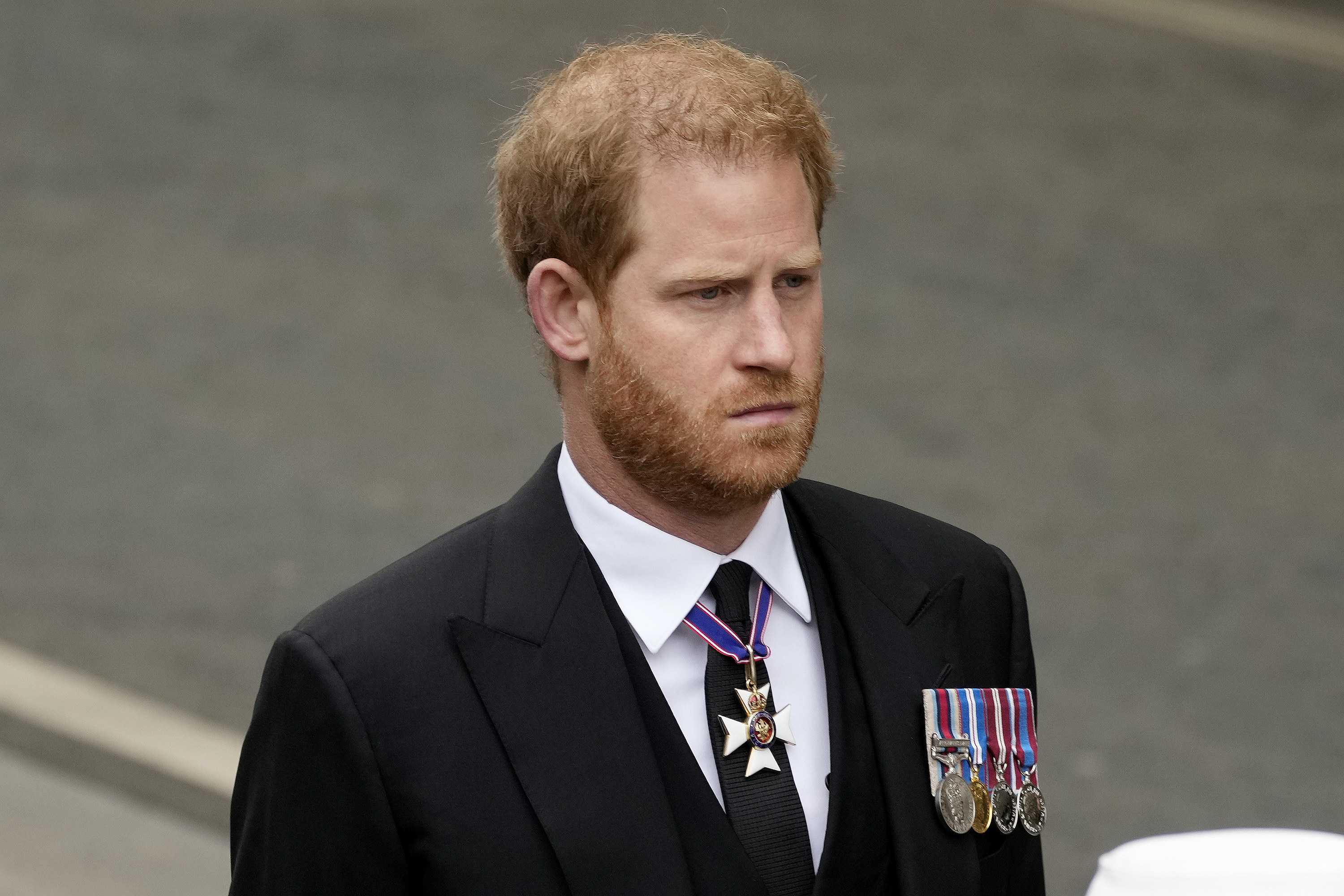 In Spare, Harry writes that when he received news that the Queen's health was declining, he contacted William to see how his brother was getting up to Scotland, but never heard back (it turned out that William and other members of the royal family took a military flight, arriving hours before Harry). After being told by his father that Meghan was not welcome, Harry took a charter flight and, according to him, he was in the air when his grandmother died. "As the plane began its descent, my phone lit up. A text from Meg. Call me the moment you get this. I checked the BBC website. Granny was gone. Pa was King."
"Royal sources" have challenged the Duke of Sussex's account, claiming that the King personally made sure that all members of the royal family knew before the announcement was made.