In the extremely unlikely event that you managed to miss it, Rihanna just performed at the Super Bowl halftime show!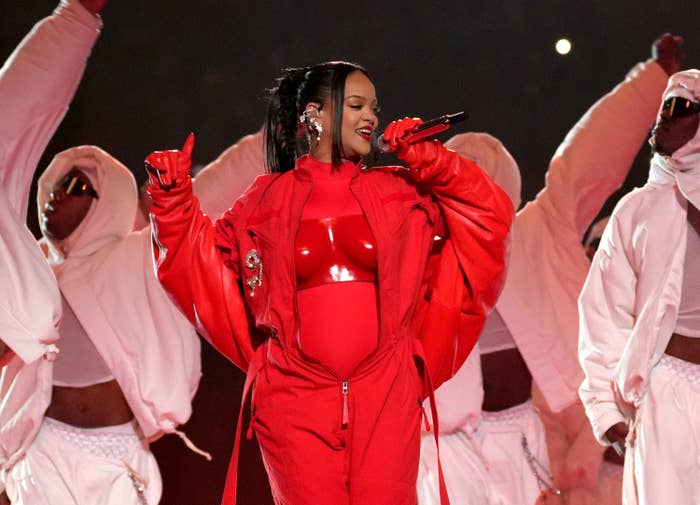 The explosive showcase marked her first live performance in five years, and her comeback certainly didn't disappoint.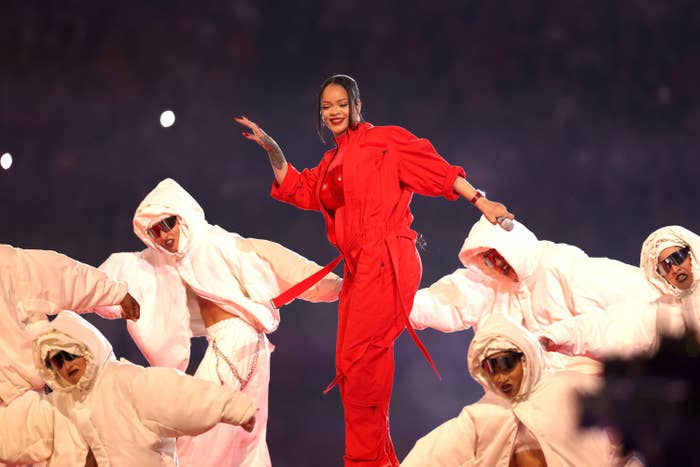 While belting out back-to-back hits for 13 minutes straight, Rihanna floated on a giant moving platform in midair, sneakily managed to promote Fenty Beauty, and, oh yes, announced her second pregnancy in the most iconic fashion possible.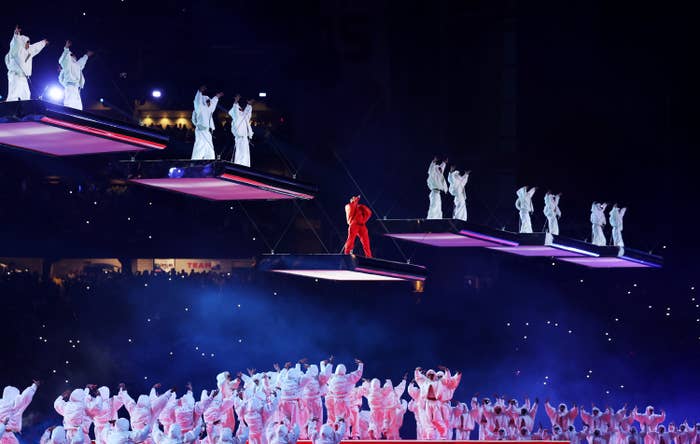 As we now know, Rihanna ultimately opted to take to the stage solo — her baby bump serving as the true guest of honor. However, fans couldn't help fantasizing about what could've been if she'd decided to call upon the help of Tom Holland.
For those of you who may be unfamiliar with his extended work, Tom isn't just your friendly neighborhood Spider-Man. He's also a pretty spectacular dancer too — like, he literally starred as Billy Elliot on the West End and is set to play Fred Astaire in an upcoming biopic.
But, of course, most people got to see Tom's talent in all its glory back in 2017, when he and his Spider-Man costar — and now-girlfriend — Zendaya went head-to-head in an epic installment of Comedy Central's Lip Sync Battle.
In the iconic episode, Tom and Zendaya took turns lip-synching to their favorite tunes, with Zendaya showing out with an incredible take on Bruno Mars's "24K Magic."
Unfortunately for Z, her efforts were no match for that of her esteemed competitor, who solidified himself in the history books with a showstopping mashup of "Singin' in the Rain" by Gene Kelly and Rihanna's megahit "Umbrella."
Lifting the choreography — and outfit — right from Rih's original music video, Tom spared no expense for his lip sync rendition, even ending the show by whipping out a casual front flip in the pouring rain.
Naturally, Zendaya was so blown away by Tom's performance that she fell to the ground on the stage, bowing down to the rightful winner of their battle. (Also, given that two are now happily dating, I guess it's not farfetched to wonder if it was this moment when Zendaya realized that Tom was the one.)
Anyhow, flash-forward six years, and the video now boasts a cool 138 million views on YouTube, meaning fans felt it'd only make sense for Rihanna to pay homage to Tom's lip sync legacy by bringing him out to perform the song with her at the Super Bowl.
"rihanna should bring tom holland out to perform umbrella send tweet mute replies," someone tweeted.
"Idk what song Rihanna is gonna start with but she better bring out Tom Holland during Umbrella," agreed another.
"if Rihanna brings Tom Holland on stage to perform umbrella during halftime i swear i'll never complain again," someone else added.
Rihanna did perform "Umbrella," but, somewhat unsurprisingly, Tom didn't make a cameo. (That said, neither did Jay-Z, who literally features on the song and was in attendance at the Super Bowl, so Tom needn't be too offended.)
Despite fans' inevitable disappointment, Zendaya found the perfect way to call back to Tom's incredible performance while celebrating Rih's halftime show on social media.
Being the ultimate Rihanna stan, Zendaya posted a photograph from the show on her Instagram story, paired alongside a screenshot of her exact reaction to Tom on Lip Sync Battle, her hands on her face in complete shock and amazement.
Honestly, I think she speaks for us all.