There's every chance you might be familiar with The Chainsmokers.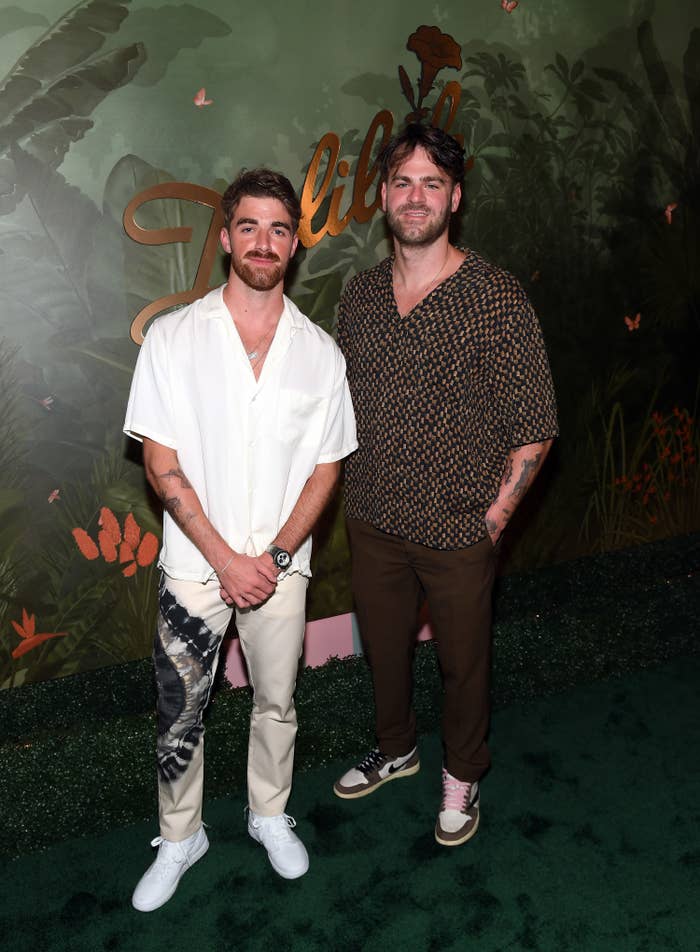 The electronic music duo — made up of Alex Pall and Andrew "Drew" Taggart — are perhaps best known for hit songs like "Closer" featuring Halsey and their collaboration with Coldplay, "Something Just Like This."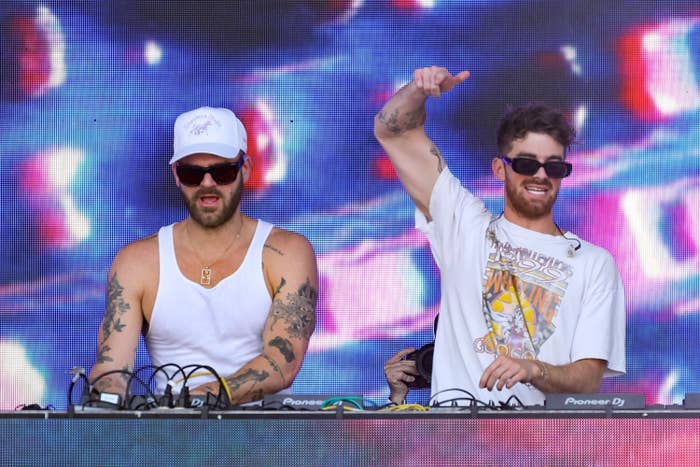 This week, however, it wasn't their music that got people talking.
On Wednesday, the pair made an appearance on the Call Her Daddy podcast to talk with host Alexandra Cooper about all things work, love, and *checks notes* threesomes.
In case you managed to miss it, the biggest takeaway from the interview came when the trio got onto the topic of fan hookups, leading to the revelation that Alex and Drew have shared sexual partners on more than one occasion.
"I think we were like, 'What the fuck just happened?' Because they were never planned," Alex said after the two laughed sheepishly at the question of how often people propose threesomes with them. "It's weird, I'm not gonna lie," he added.
Naturally, the host dug deeper, asking Drew and Alex whether they looked at each other ~differently~ the morning after sharing such an intimate experience. This prompted Drew to ask in reply, "The first time?" — making clear that this wasn't just a one-time occasion.
Looking a little nervous, the pair proceeded to offer an explanation as to how these sexual escapades came to be, with Alex clarifying that the threesomes happened "almost by force" back in "the days when we used to share hotel rooms."
"In Europe, they have the two beds, they don't split them apart! They literally have two singles," he went on. "We were forced into these scenarios."
Of course, it didn't take long for their steamy revelation to make waves on Twitter — and let's just say, people certainly didn't hold back from sharing their thoughts.
"ain't no way there are people getting in bed with one chainsmoker let alone two chainsmokers," someone joked.
"Sorry but no way the chainsmokers have multiple fans," added someone else, while others simply begged to unlearn the information.
But, among the varied responses, there was an overwhelming sense of shock and confusion for many upon discovering that Drew and Alex — who bear a noticeable resemblance — are not, in fact, brothers.
"just found out the chainsmokers are not brothers but are in fact fucking each other ?" one person wrote, which was echoed by plenty of others who joked that the news of their threesome(s) was how they discovered that they weren't related.
"This is how I learned the chainsmokers aren't brothers," someone tweeted.
Despite being at the center of attention, it seems like Drew and Alex are taking the mockery in stride, tweeting simply: "We love our fans."
Every day's a school day, right?