Rounding off a busy week, Selena Gomez has deactivated — and now seemingly reactivated — her TikTok account.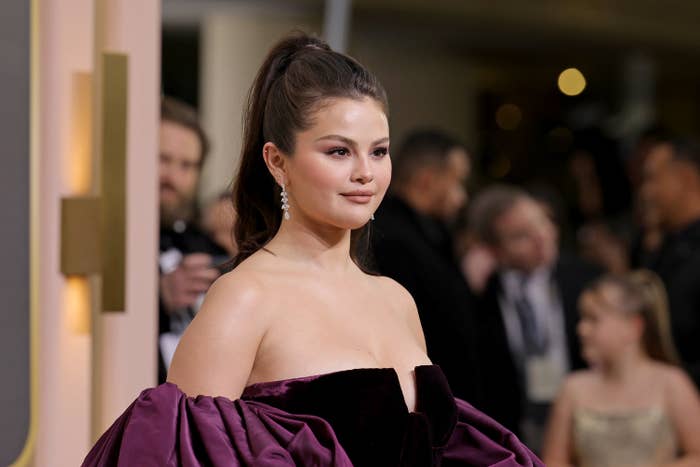 To better understand how we got to this point, we first have a whole lot of context to unpack.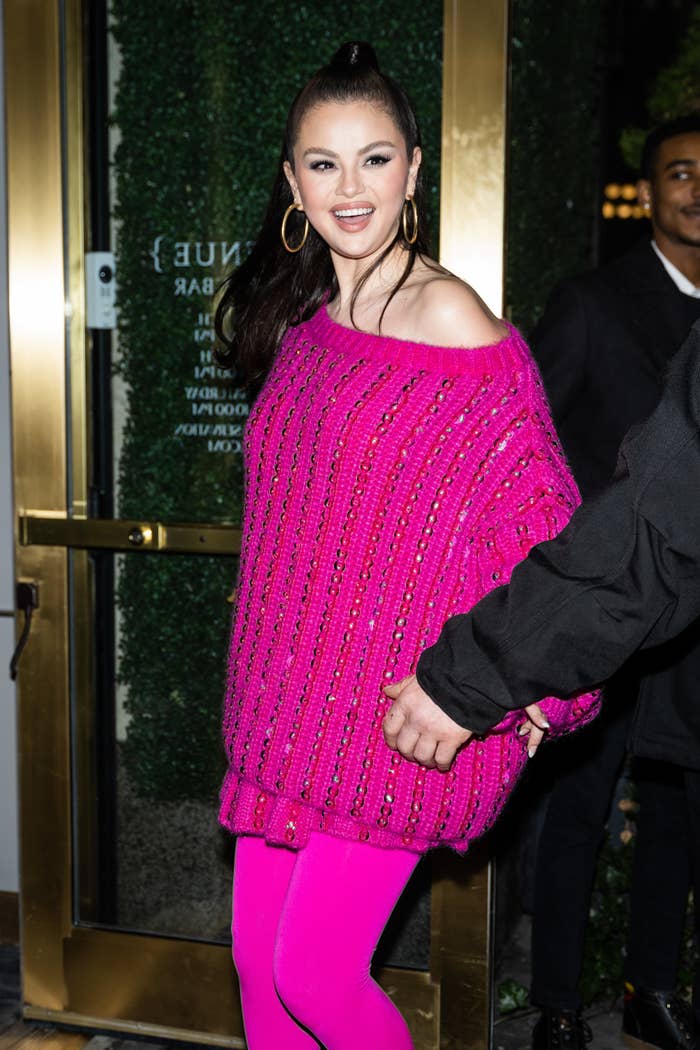 Let's rewind back to Tuesday, when Selena posted a TikTok story showing love for supermodel Bella Hadid.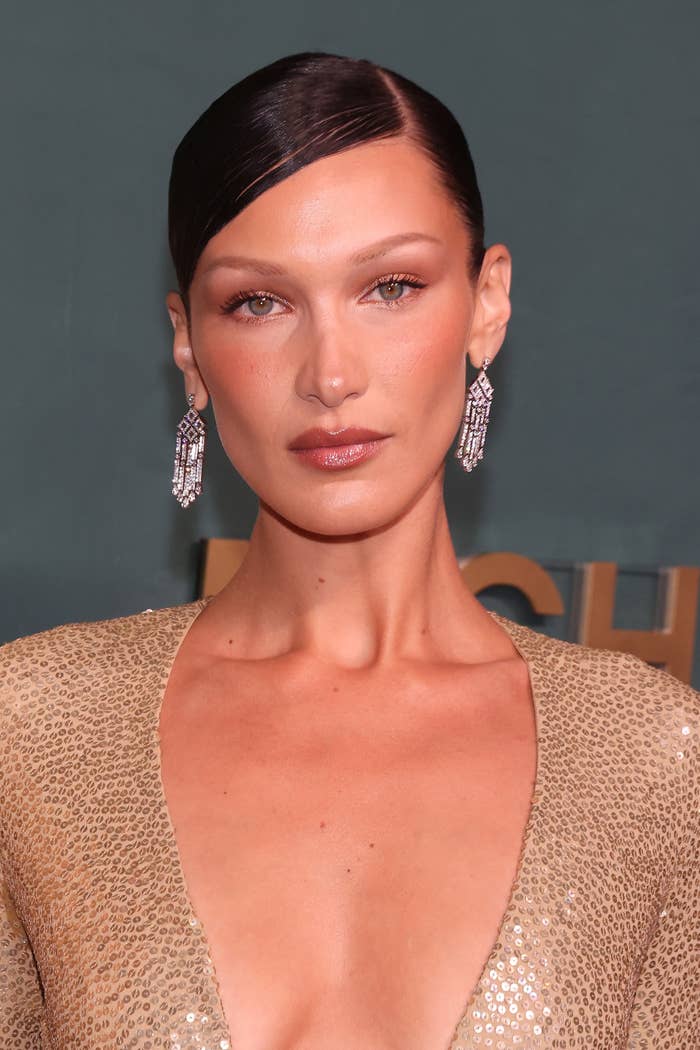 Using the fan-favorite Bella-inspired filter, Selena lip-synched along to the viral audio clip of her saying, "So my name — my name is Bella Hadid." She captioned the video: "I wish I was as pretty as Bella Hadid."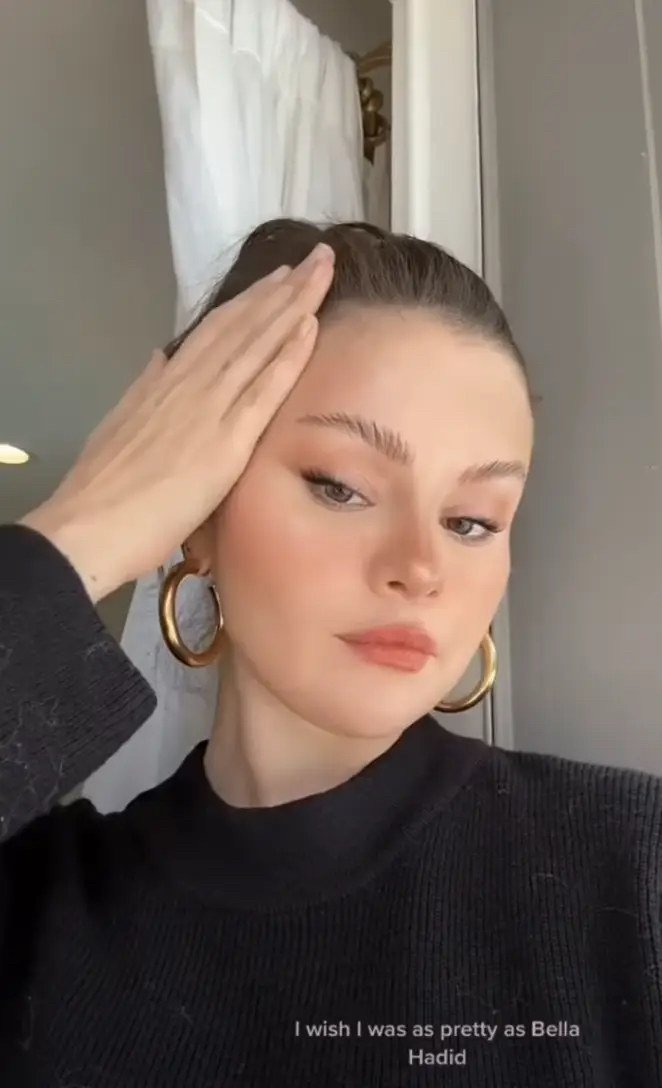 After this, she also posted a picture of Bella on her Instagram story, declaring the model as her "#girlcrush."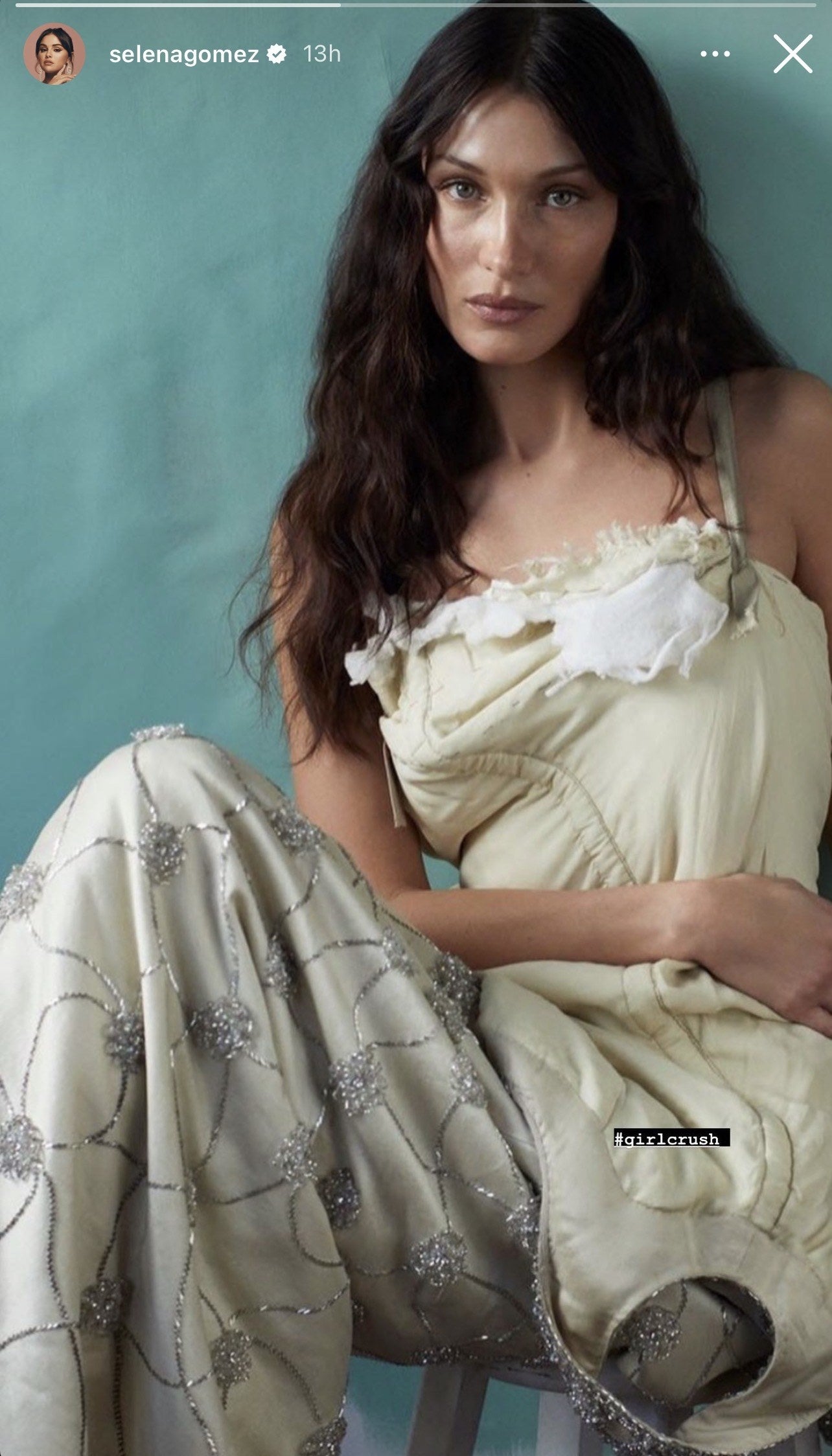 People were a little taken aback by Selena proclaiming her love for Bella, mainly due to the fact that the two both famously dated The Weeknd and have long been tied to rumors of a feud. As it currently stands, Bella has not publicly responded to Selena's posts.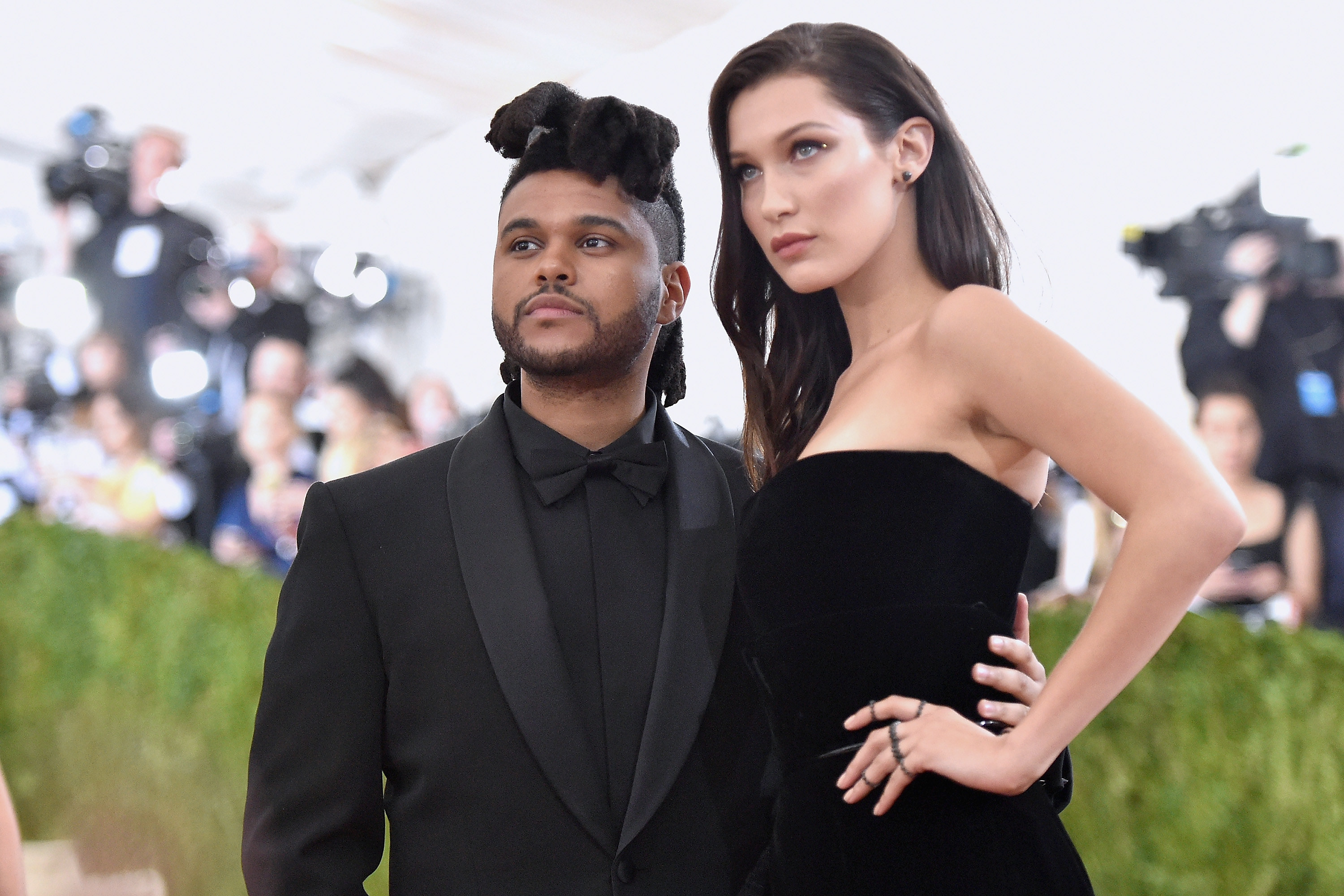 Three hours after Selena posted about Bella and her eyebrows, Kylie proceeded to upload a selfie paired with text that read: "this was an accident???"
Due to the fact that the caption was placed near her eyebrow, fans quickly began speculating that Kylie was shading Selena's TikTok story about "accidentally" over-laminating her brows.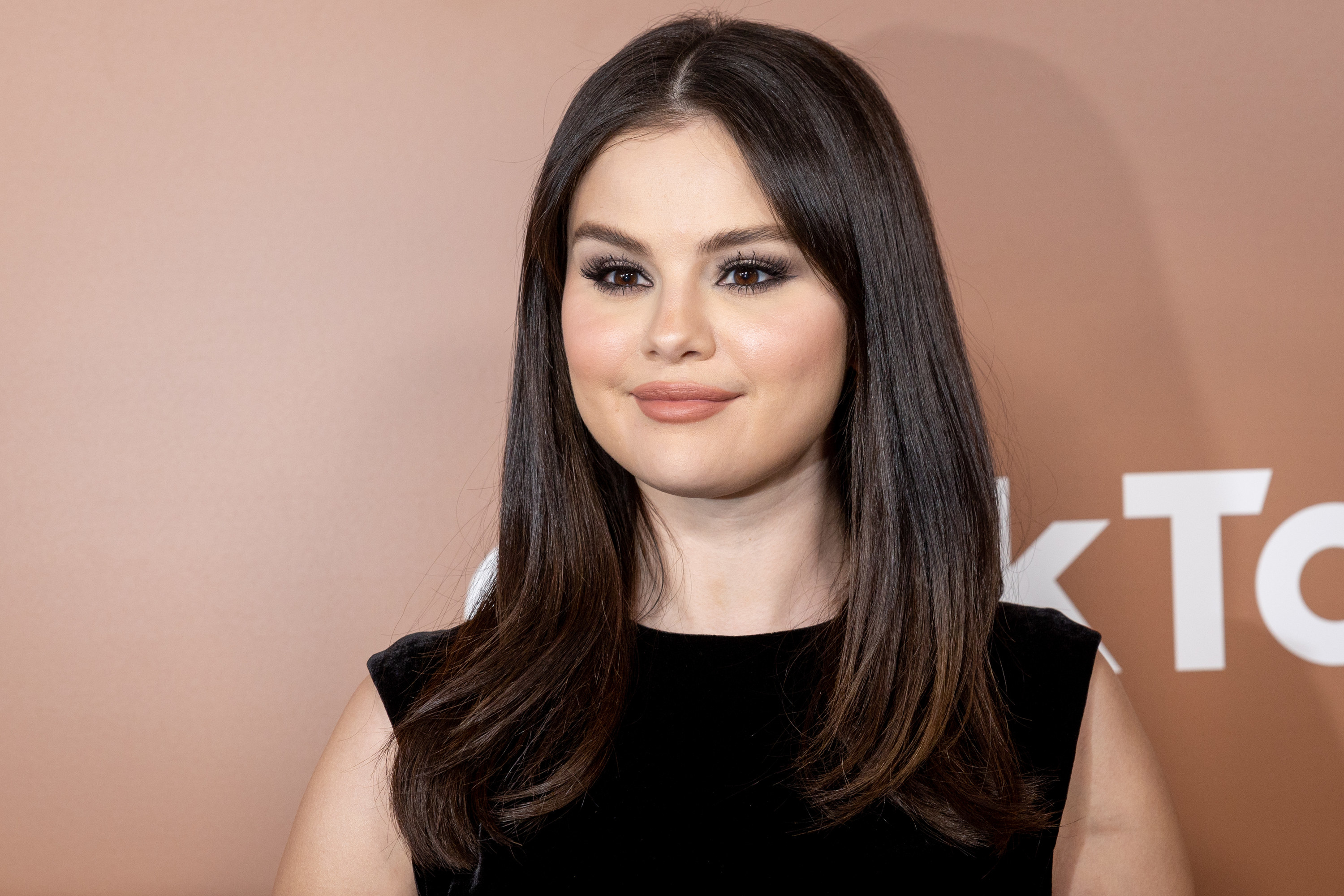 This wasn't the only brow-related post for fans to contend with, though. Shortly after, Kylie uploaded a screenshot from a FaceTime call she had with Hailey Bieber, where the pair had both zoomed in on — you guessed it — their eyebrows.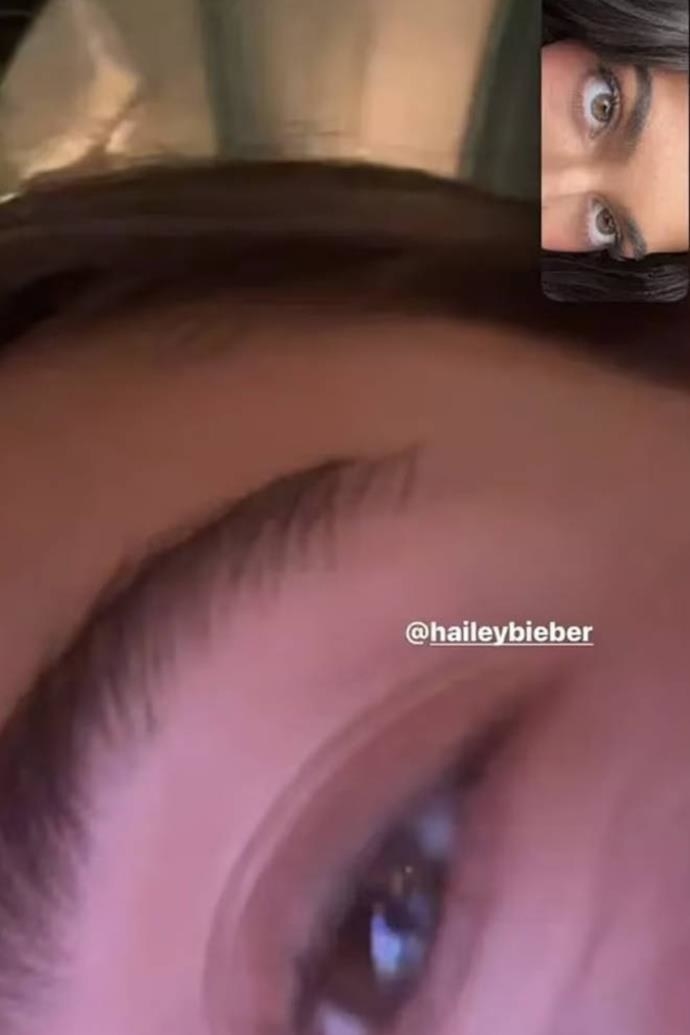 People interpreted this as shade because Hailey is married to Selena's ex-boyfriend, Justin Bieber, and so the two women have been surrounded by rumors of a feud since 2018, when Selena and Justin split and Hailey and Justin got engaged within a matter of months.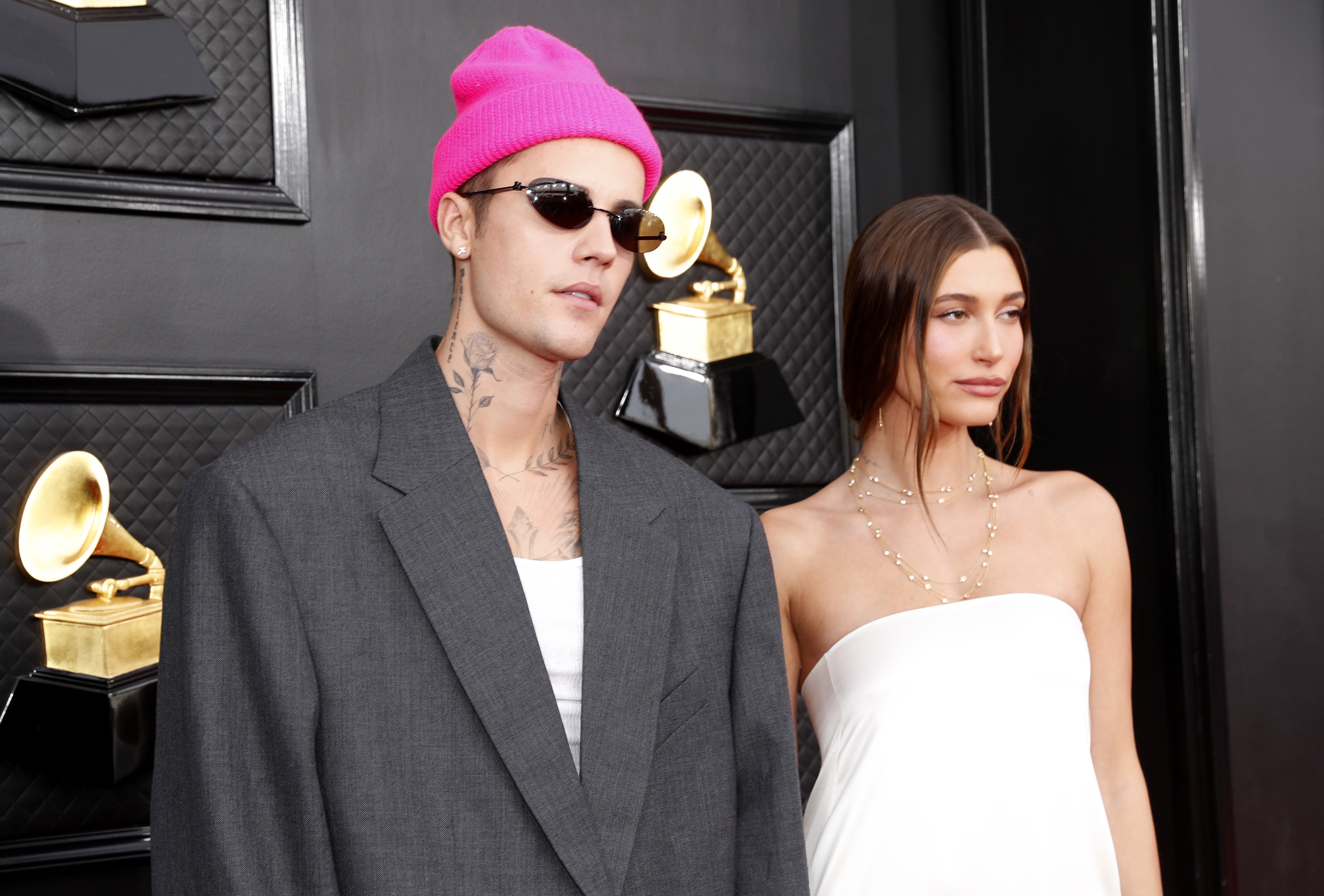 That said, the pair successfully quashed any claims of a rivalry back in October, when they were photographed together at the Academy Museum Gala in Los Angeles.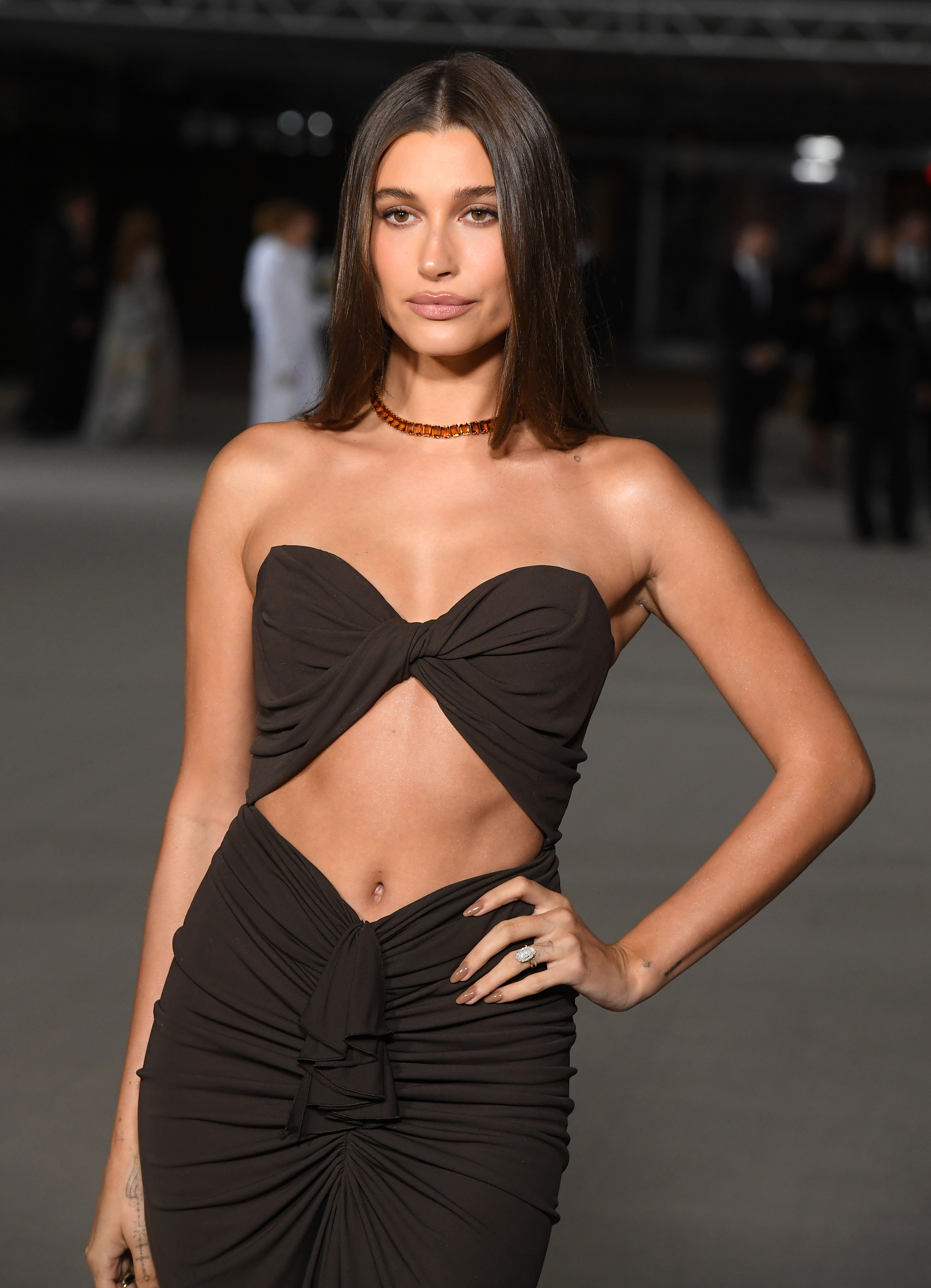 With all this in mind, fans ran wild creating theories about why Kylie and Hailey might have decided to uproot all the drama, prompting Kylie to chime in and clear the air.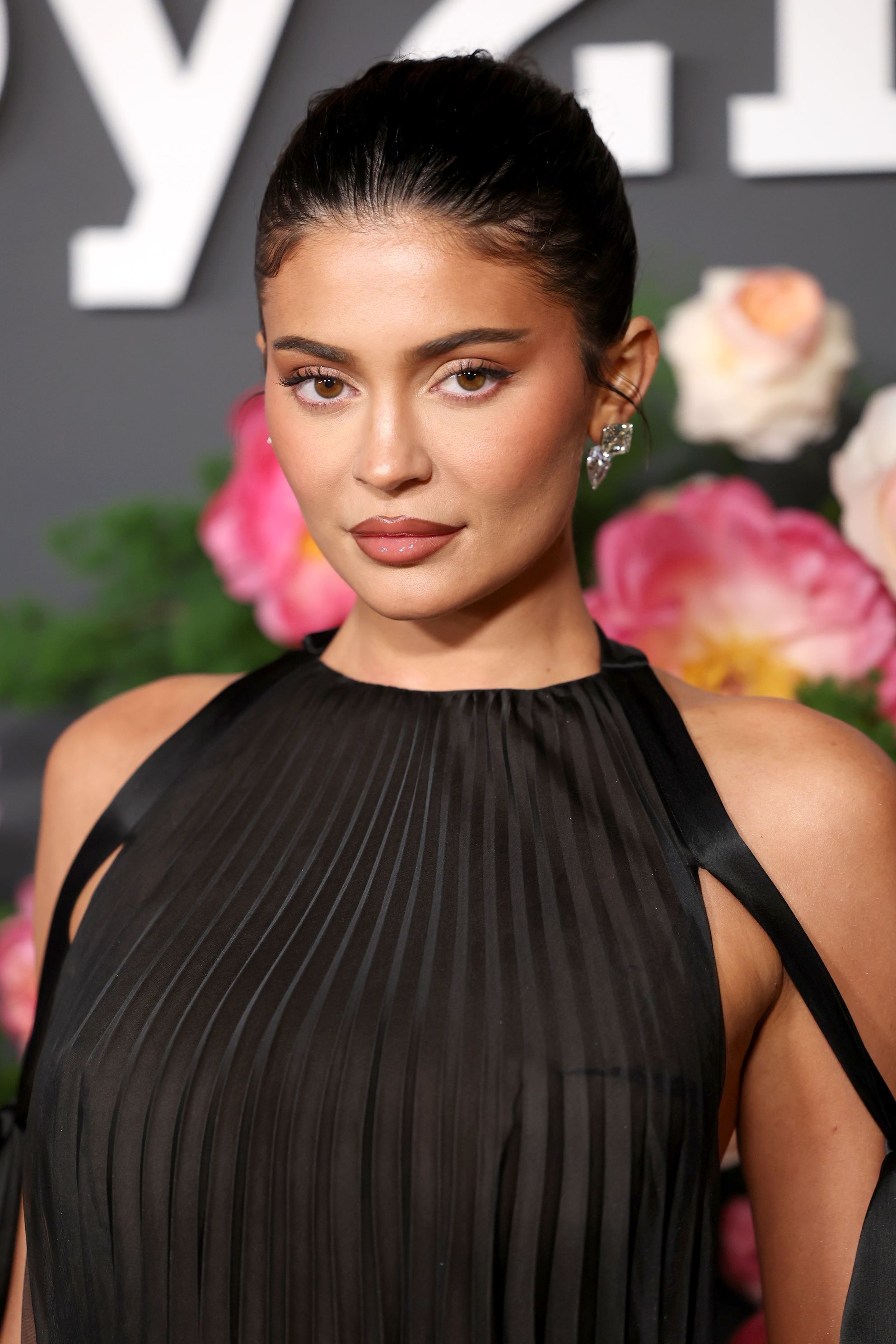 "this is reaching," Kylie wrote in the comments section of a TikTok that accused her and Hailey of being "childish." "no shade towards selena ever and i didn't see her eyebrow posts! u guys are making something out of nothing. this is silly."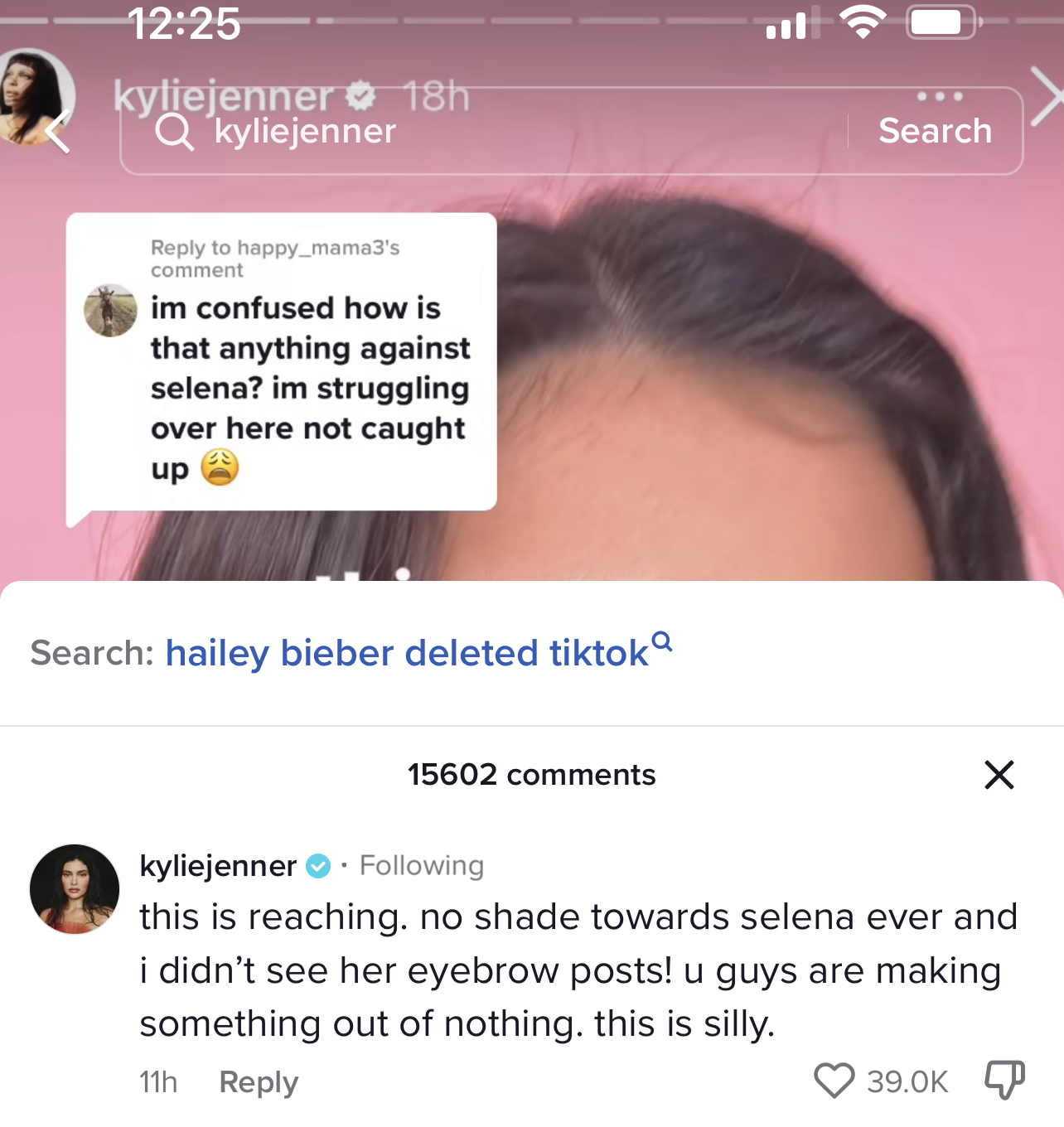 Selena swiftly backed Kylie up, replying to the comment: "Agreed @kyliejenner. It's all unnecessary. I'm a fan of Kylie!"

In the old video, Hailey is cohosting Drop The Mic and can be seen appearing to fake a gag when Taylor's name is mentioned.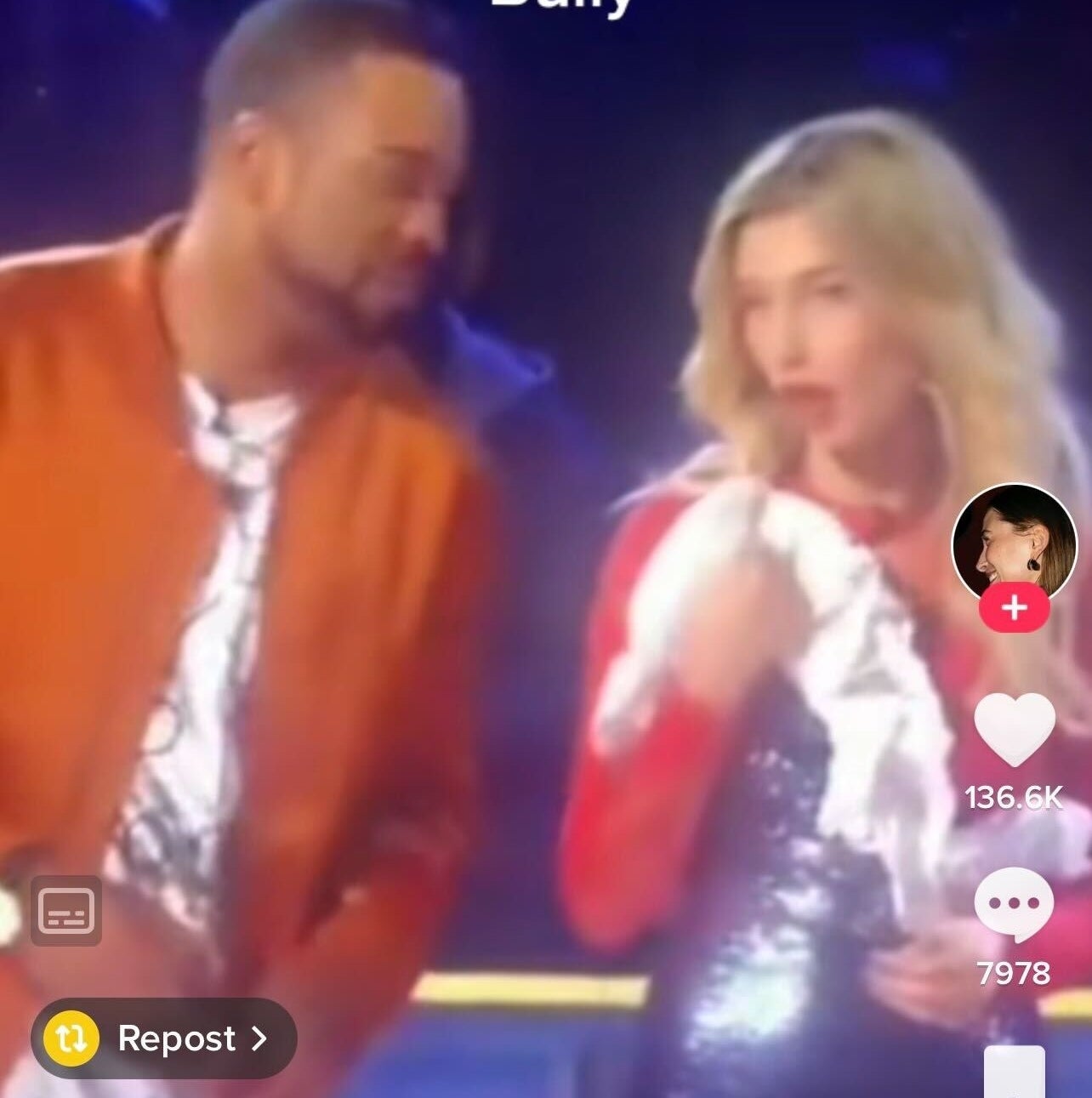 Being that Selena and Taylor are close friends, Selena jumped to her defense and clapped back at Hailey's seemingly shady gesture.
"So sorry, my best friend is and continues to be one of the best in the game," she wrote.

This left people pretty divided, with some feeling that the clip was proof that Hailey has always been spiteful toward Selena and her friends, while plenty of others felt that it was completely uncalled for Selena to needlessly reignite the rivalry — with one fan calling her a "hypocrite."
But before long, Selena went live on the platform and announced that she'd be taking a social media detox.
"I'm very happy. I'm so blessed," she began, reassuring her followers that there's no need for concern. "I have the best friends, the best fans in the whole world, and I just couldn't be happier. I'm good, I love who I am. I don't care."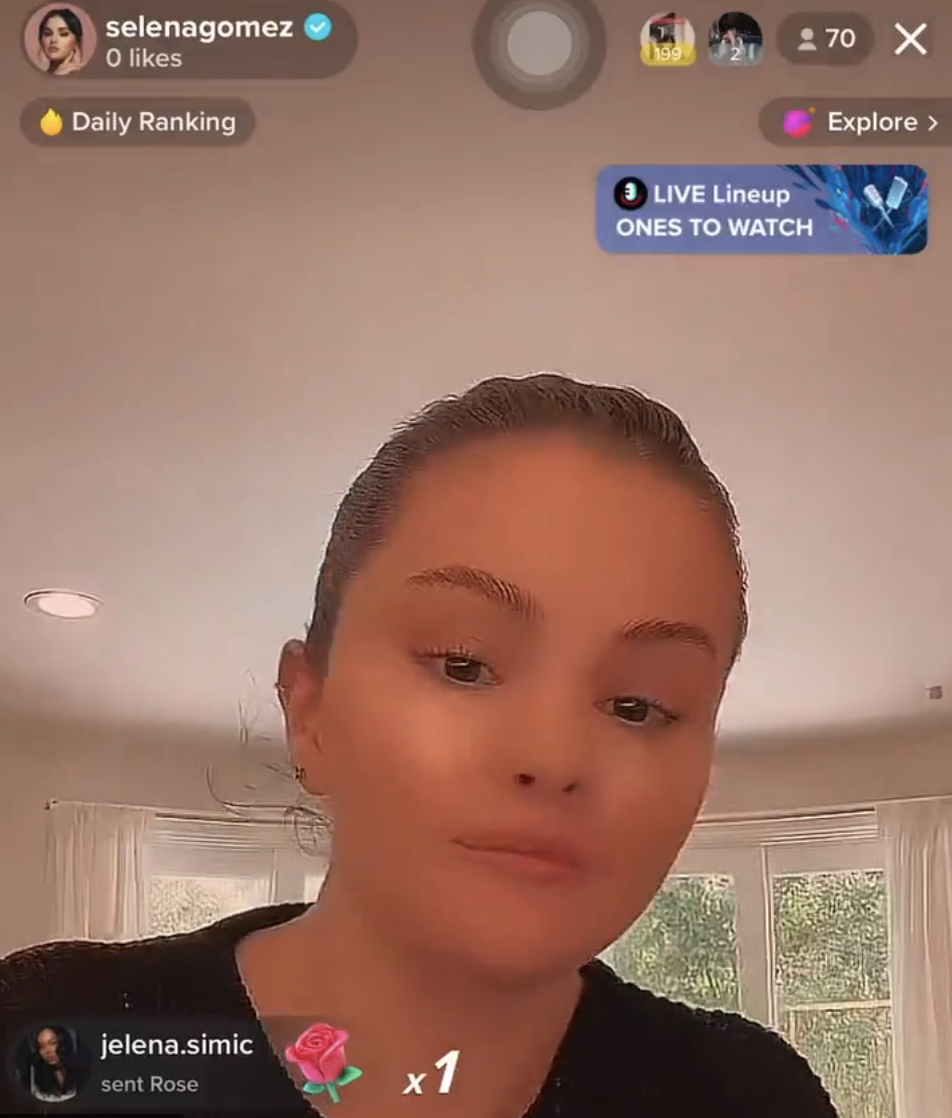 "I'm gonna be taking a second from social media, 'cause this is a little silly," she added. "And I'm 30, I'm too old for this… I'll see you guys sooner than later, I'm just gonna take a break from everything."
Selena didn't specify exactly what she meant by "this," but it was seemingly enough to make her stay true to her word and entirely deactivate her TikTok account.
Along with fans online, numerous outlets noted that Selena's page was inactive on Thursday evening. However, after just a few hours away, it now seems that the account is back up and she'd seemingly also commented on a fan's page.
In the past, Selena has spoken candidly about her "dangerous" relationship with social media, telling InStyle in January 2022 that Instagram — where she is now the most-followed woman — became her "whole world."
"In my early 20s, I felt like I wasn't pretty enough. There was a whole period in my life when I thought I needed makeup and never wanted to be seen without it," she said.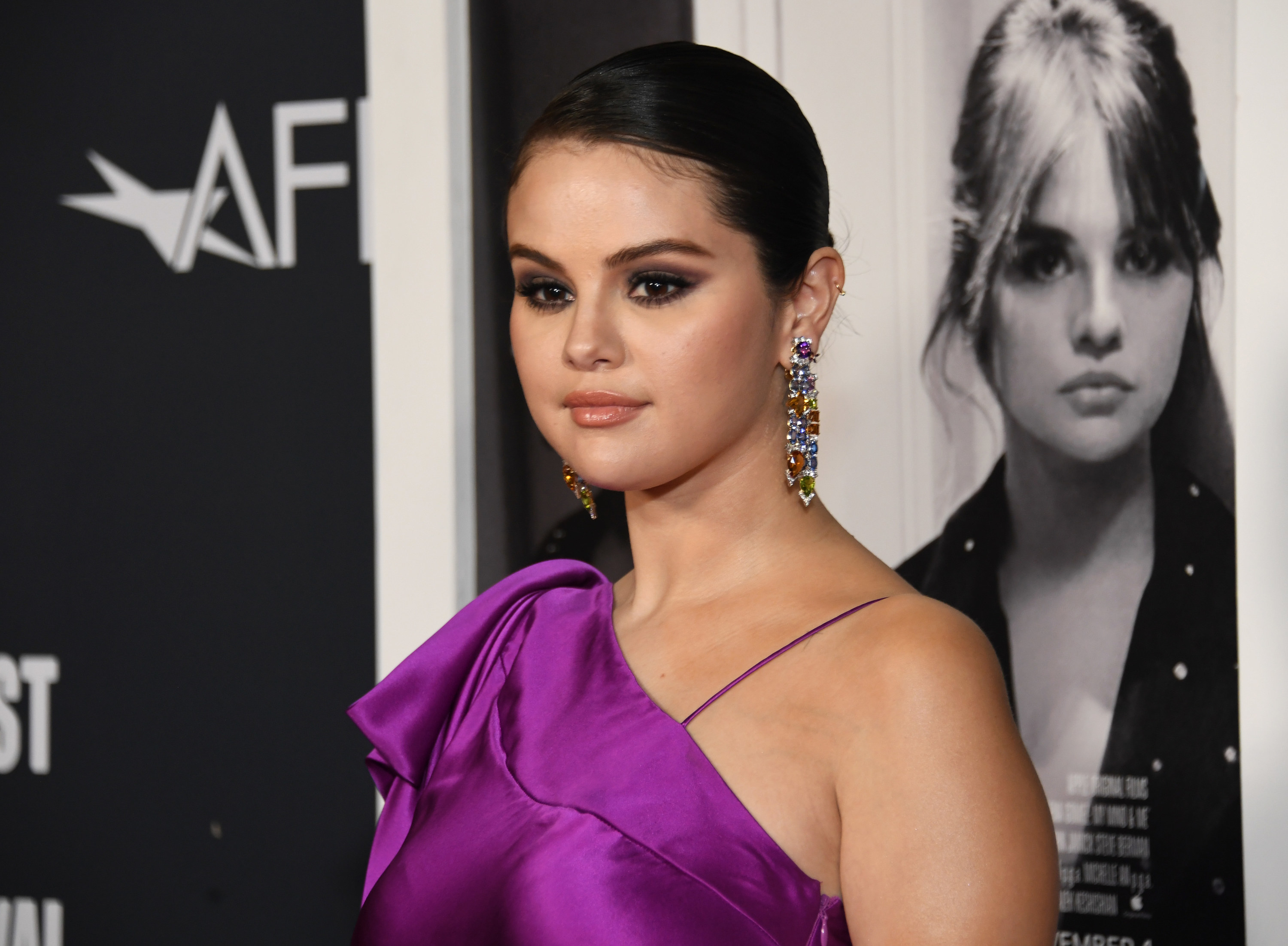 After realizing that her presence on social media was becoming detrimental to her well-being, Selena decided to step back and allow her team to take over, calling it "the best decision" she ever made for her mental health.
"The older I got, the more I evolved and realized that I needed to take control of what I was feeling. I wanted to be able to look in the mirror and feel confident to be who I am," she told the outlet.
"I created a system where I still don't have my passwords. And the unnecessary hate and comparisons went away once I put my phone down," she added. "I'll have moments where that weird feeling will come back, but now I have a much better relationship with myself."