Kim Kardashian and Pete Davidson's relationship has been moving from strength to strength in recent months, and it now looks as if they've just hit another pretty major milestone.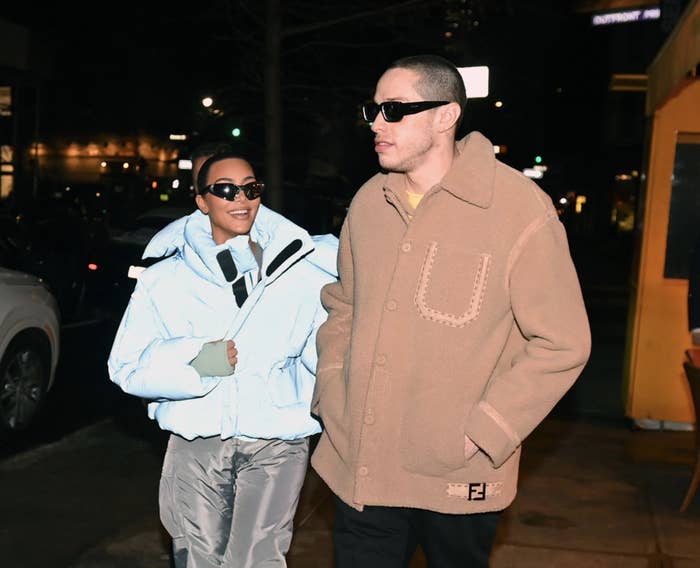 For the very first time, after nearly six months of dating, Pete was just photographed hanging out with Kim's 8-year-old daughter, North West — whom she shares with her ex-husband, Kanye West.
Brand-new video footage obtained by TMZ shows the Saturday Night Live star looking relaxed while driving Kim's pink Moke electric car, with North seated on his lap.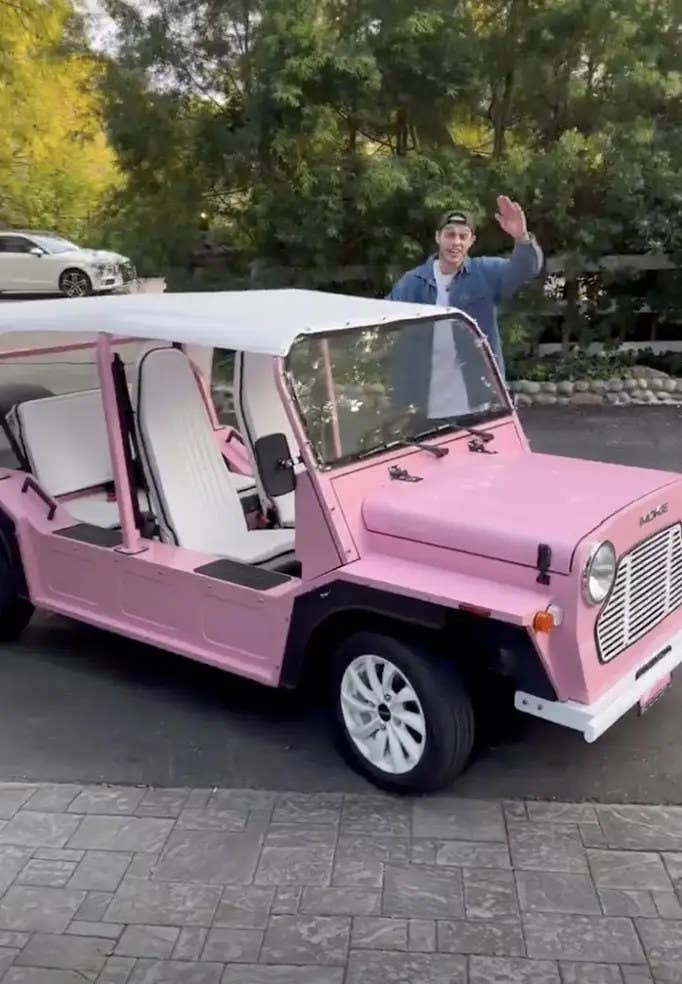 The duo were also reportedly joined by Kourtney Kardashian and Scott Disick's 9-year-old daughter, Penelope Disick, while they took the car for a casual cruise around Scott's gated neighborhood on Sunday evening.
This marks the first time that Pete has been photographed with any of Kim and Kanye's kids, and it currently remains to be seen whether or not he's spent time with any of North's younger siblings: Saint, 6, Chicago, 4, and Psalm, 2.
So, given that it was recently reported that Kim just took a trip to Pete's native Staten Island to meet his grandparents, you'd be forgiven for thinking that there's nothing out of the ordinary about the comedian spending time with his girlfriend's kids. However, if you've been keeping track of Pete and Kim's relationship, you'll know that there are a couple of reasons why Pete and North's playdate might have come as a shock to some fans.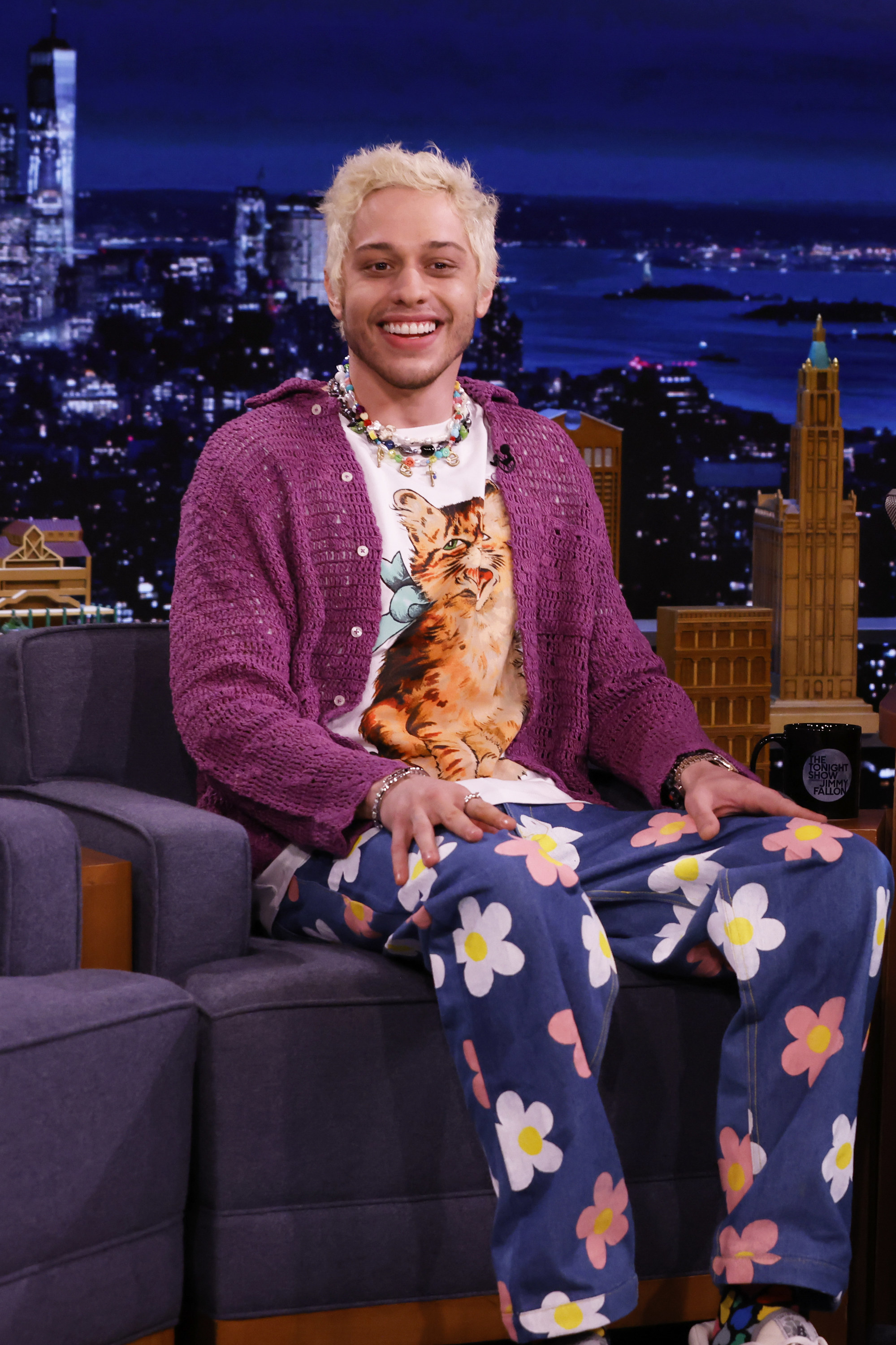 As you may remember, the coparenting of Kim and Kanye's four kids has been a major source of contention between the exes as they've navigated their messy divorce proceedings in the past few months.
Whether it's his lack of invite to Chicago's fourth birthday party or his impassioned posts about North's TikTok account, Ye has been incredibly vocal about how he hopes to raise his kids — or more specifically, his daughters.
And, of course, an ongoing theme in the fallout of Kim and Kanye's divorce has been Ye's concerns about Pete, including how his presence in the family might affect the kids.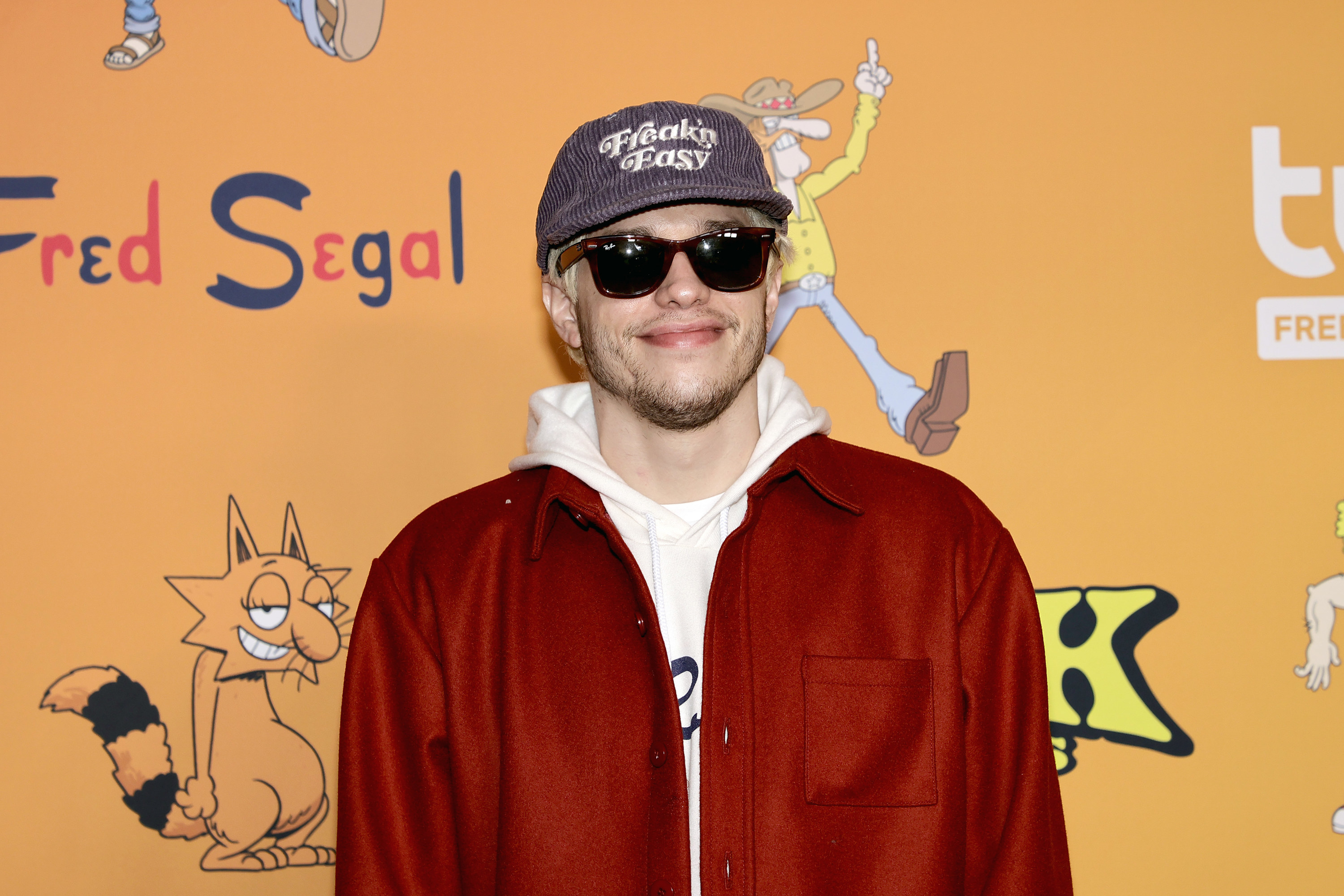 He first broached the topic early on in Pete and Kim's relationship, claiming in an interview with Hollywood Unlocked in January that he had once been "stopped" from entering Kim's home because Pete had been inside the house with the kids.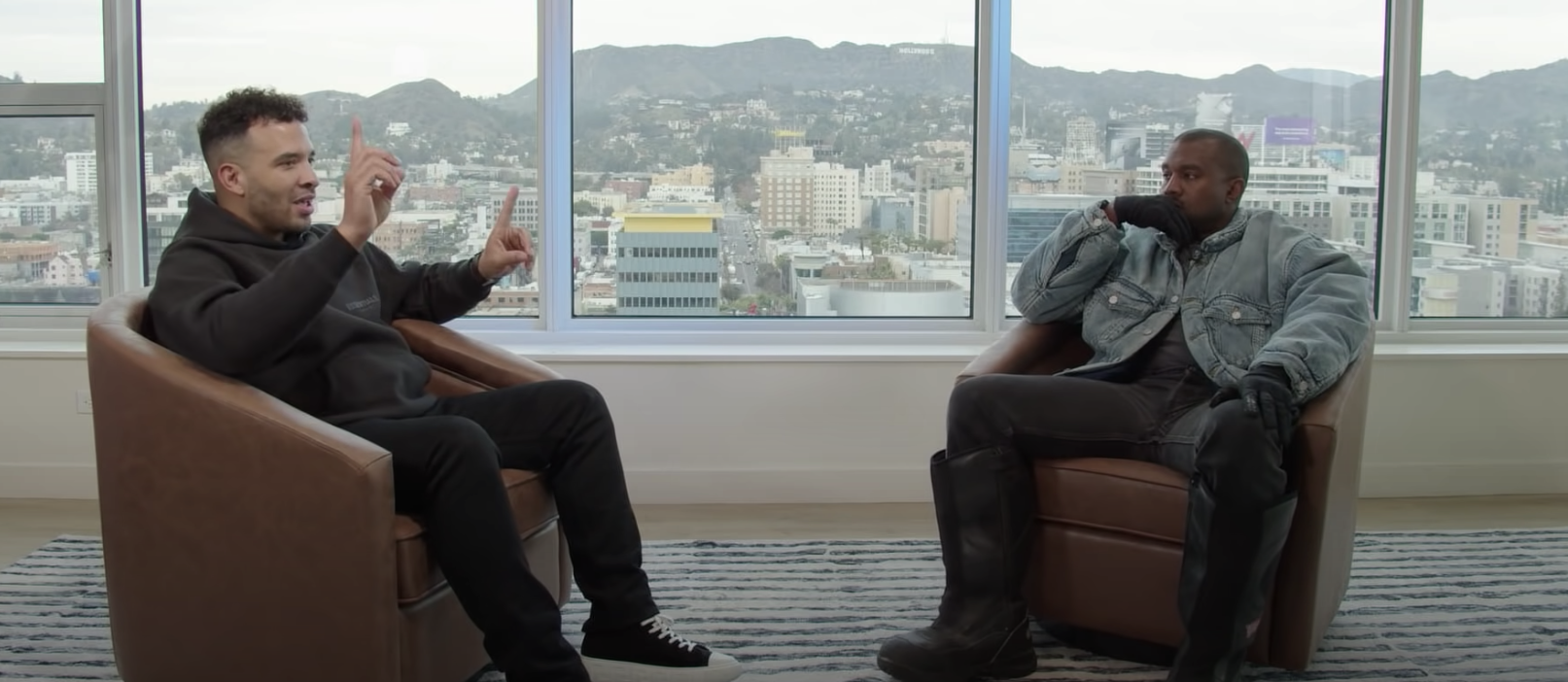 Shortly after the interview went live, a source close to Kim was quick to hit back, alleging that Ye's story was false and that Pete had never met the kids at this stage.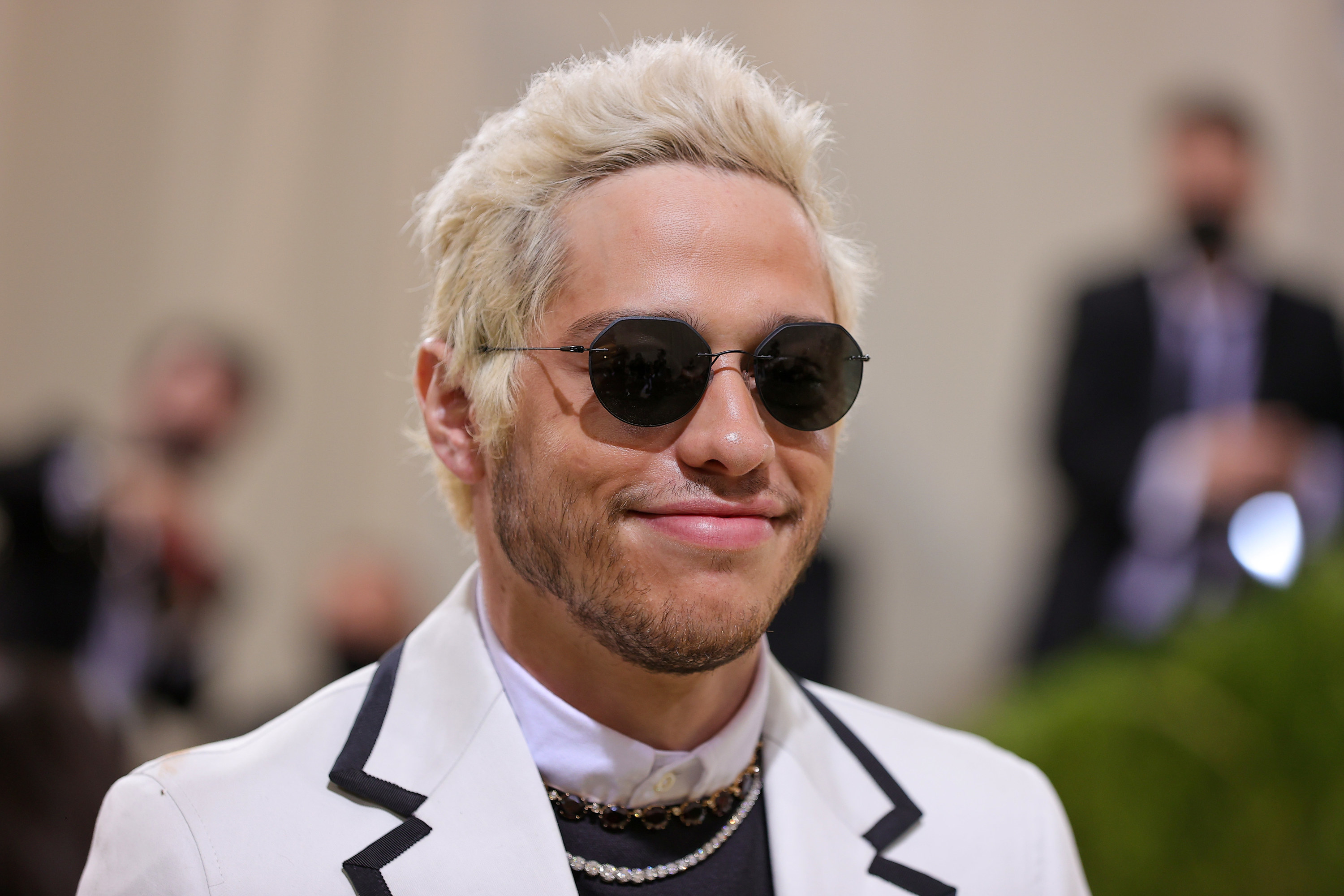 And despite initially saying that Pete had spent time with his children, Kanye backtracked on his claims a few weeks later in February, when he took to Instagram to vow that the SNL star would "never" be allowed to meet them.
In a string of since-deleted Instagram posts targeting Kim and Pete, Ye shared a batch of private texts, including one where Pete can be seen reassuring the rapper that he won't get involved with the kids' lives.
"I'd never get [in the] way of your children," the text from Pete appears to read. "[That's] a promise. How you guys [go about] raising your kids is [your business] and not mine."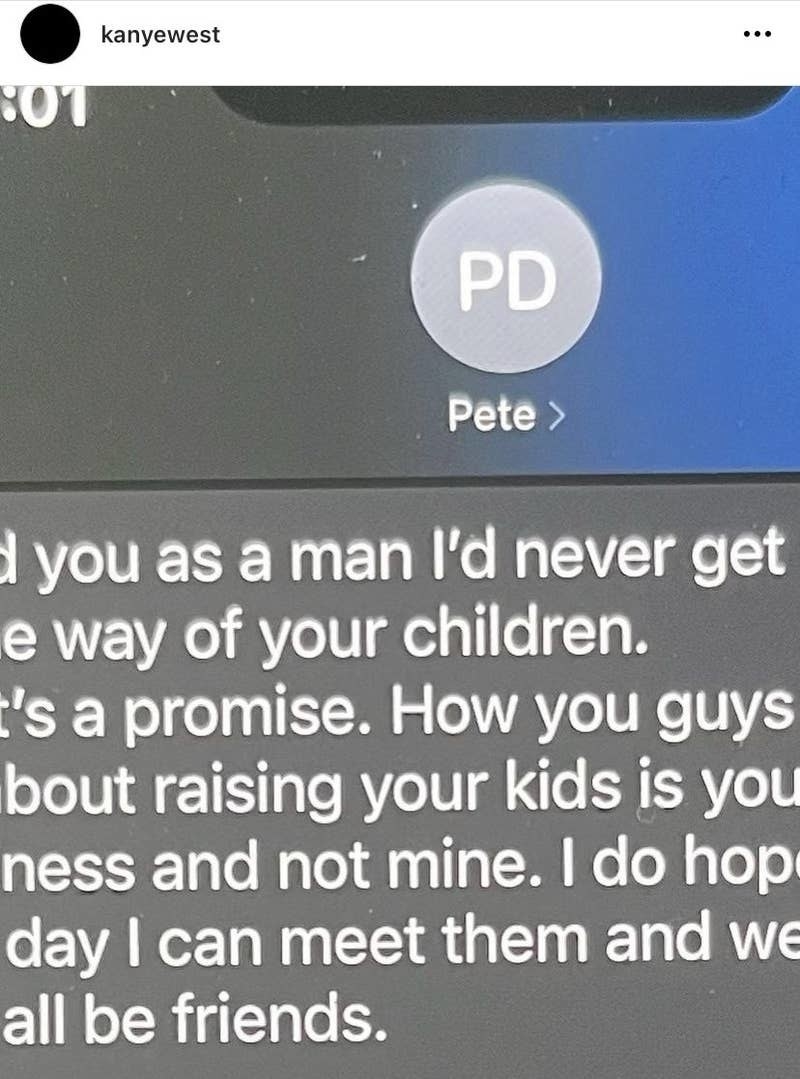 Interestingly, the text finished with Pete expressing that he hopes to eventually solve their differences and meet the kids.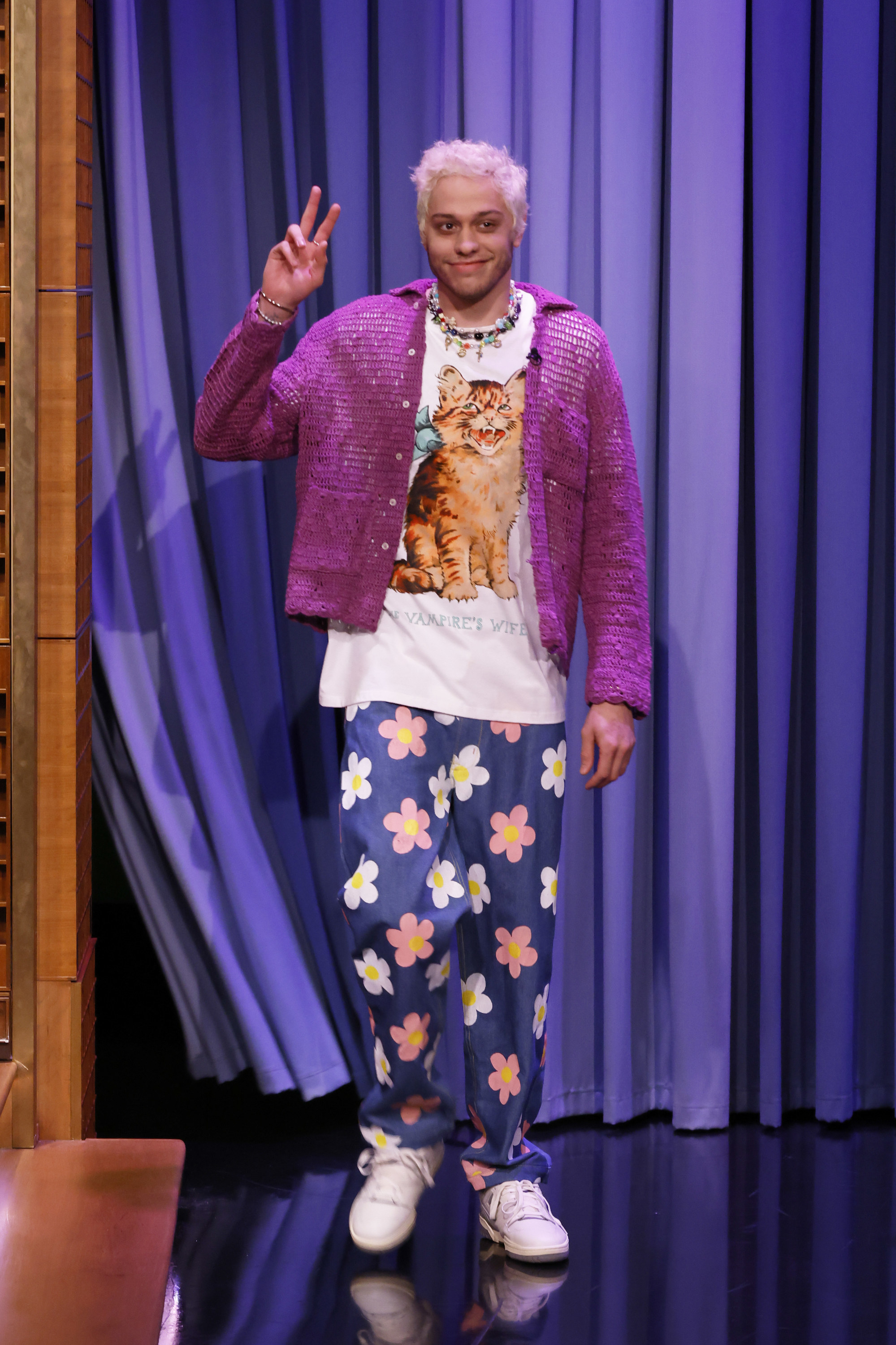 "I do [hope one] day I can meet them and [we can] all be friends," the comedian wrote.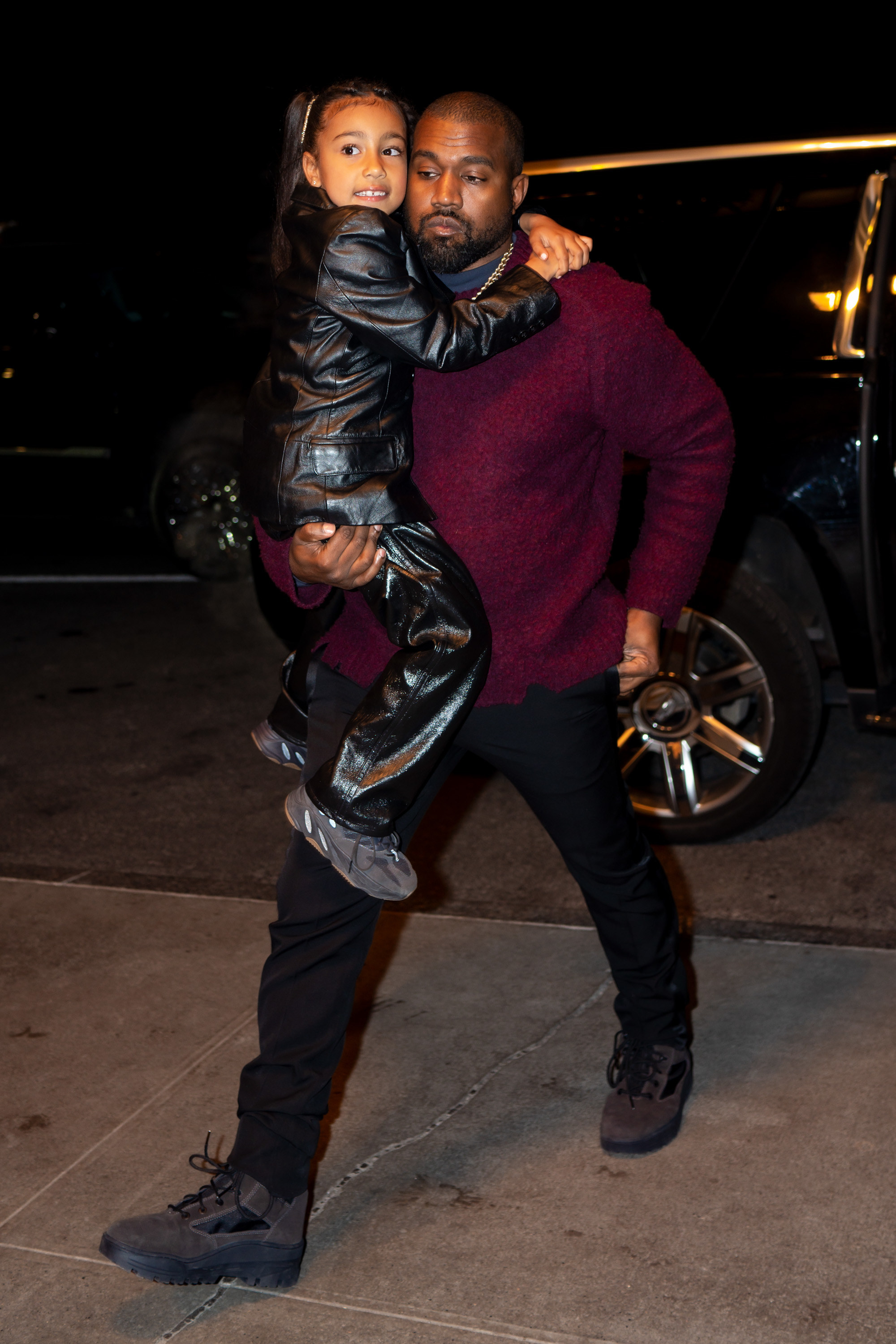 Clearly upset by the possibility of Pete being a part of the kids' lives, Ye shared the message to his followers with the caption: "NO YOU WILL NEVER MEET MY CHILDREN."
What's more, just a few weeks later in March, Ye doubled down on his stance by sharing a controversial joke Pete once made about babies, telling fans that he found it to be "yet another reason" why he wanted to keep the actor away from his kids.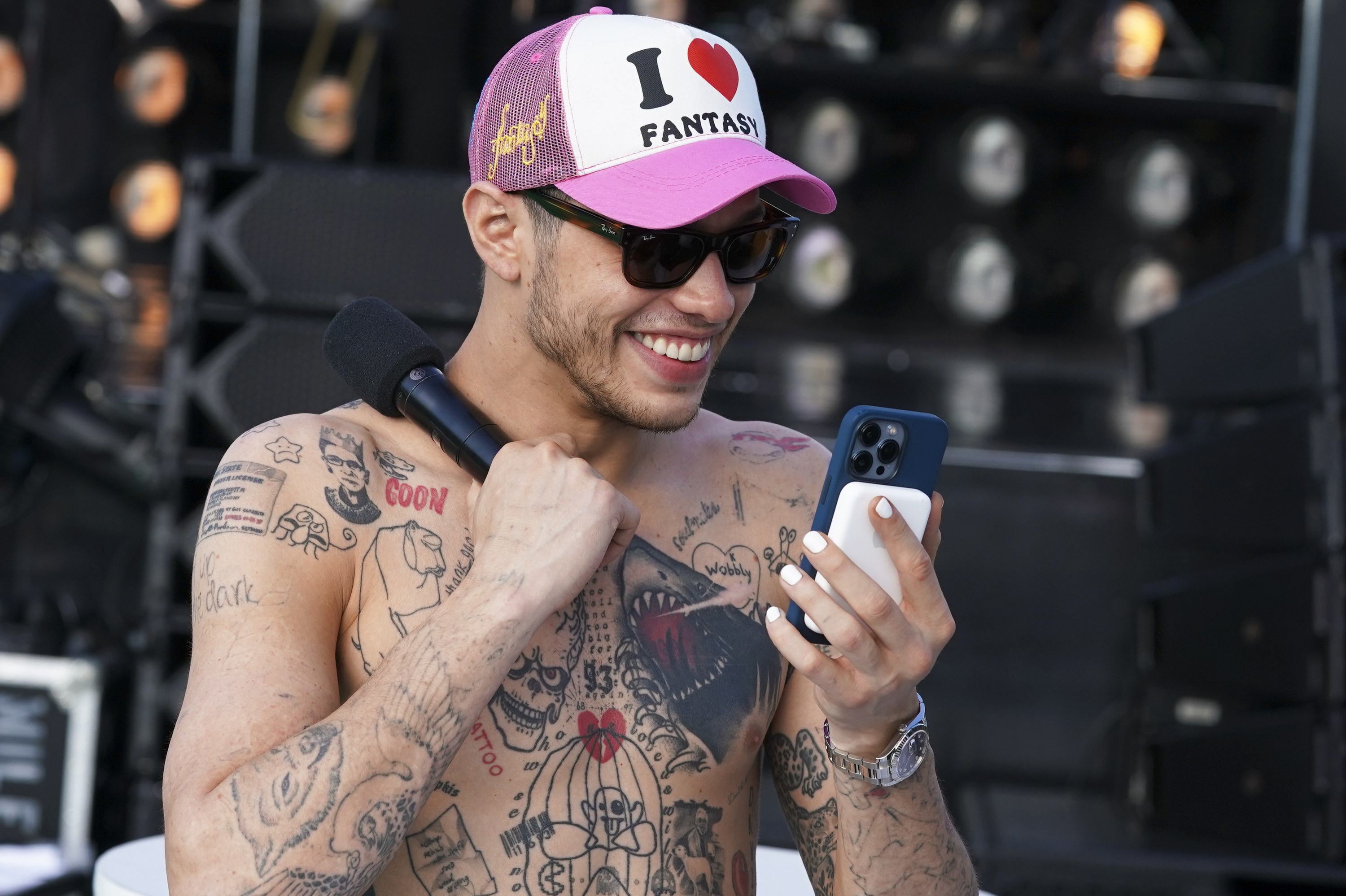 The rapper reposted a screenshot of a 2019 article headlined: "Pete Davidson Enrages Audience With Jokes About Having Sex With a Baby." He shared it with the caption: "Yet another reason why SKETE gotta stay away from my children."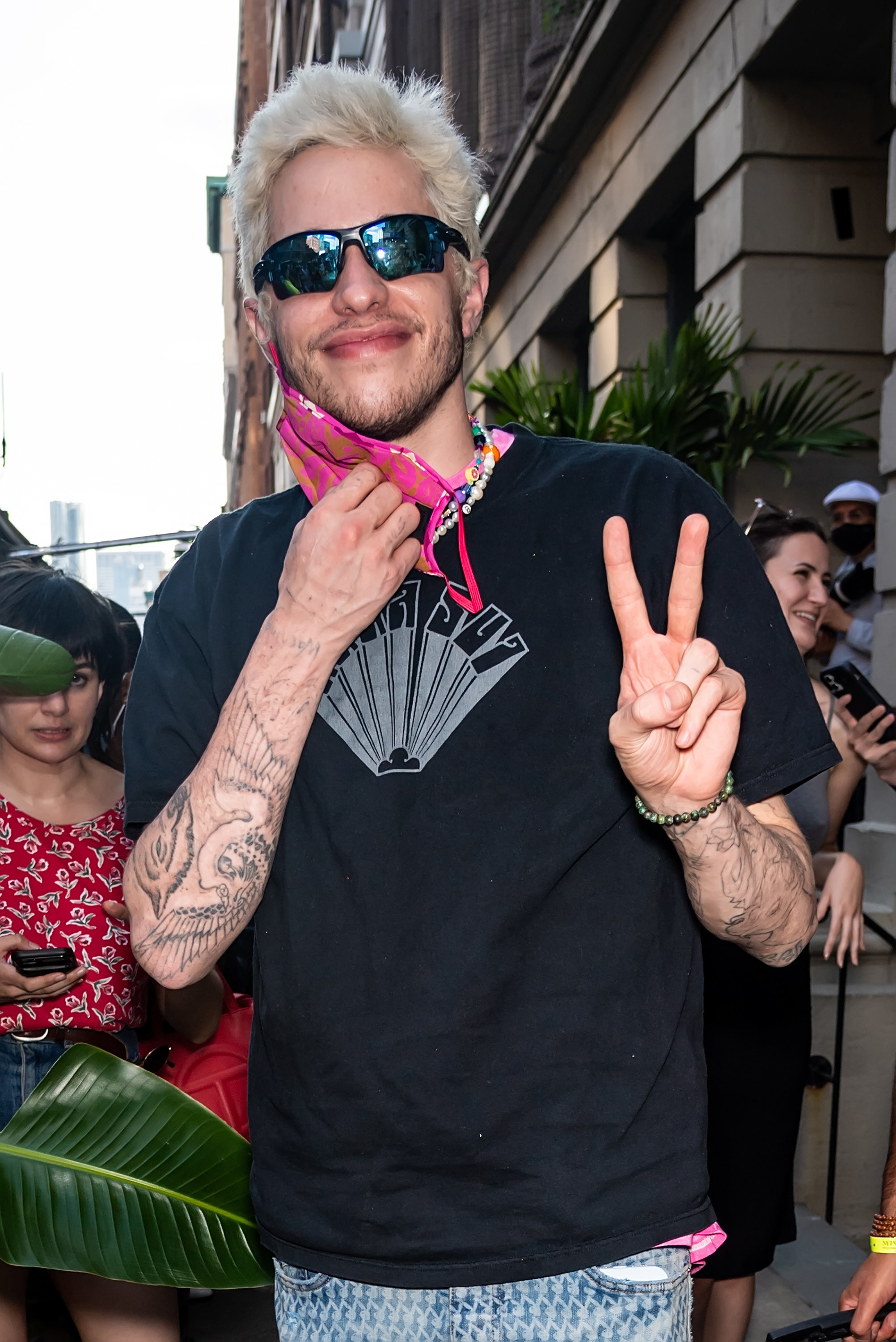 And so, given that Ye — on more than one occasion — has spoken candidly about keeping a distance between Pete and his kids, the news that the comic has been bonding with North comes as a pretty significant milestone in the messy Kimye divorce saga.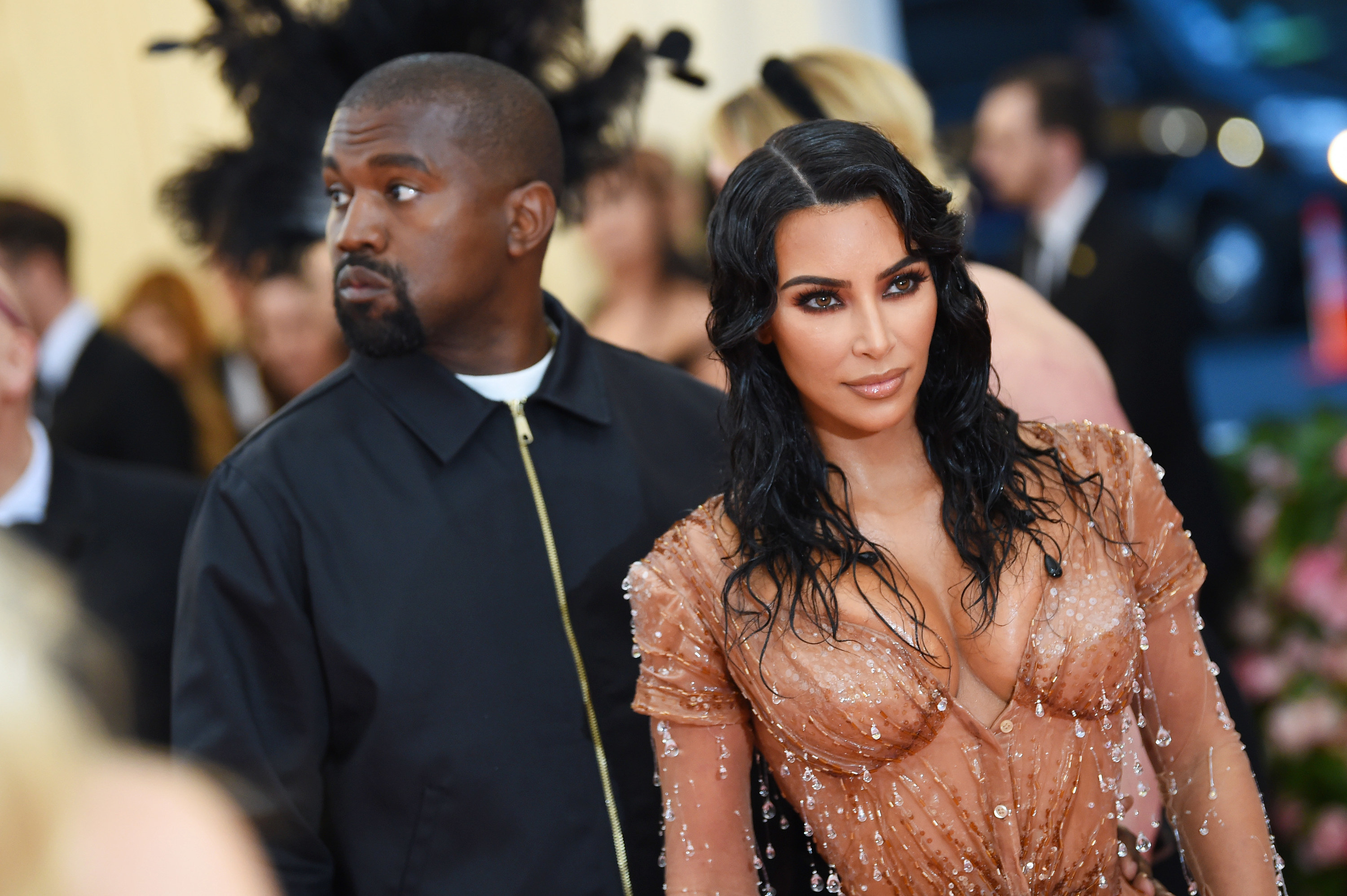 What's more, looking back at how carefully Kim has been navigating the public fallout of their split — particularly in light of Kanye's mental health struggles — the decision to bring Pete into her kids' lives speaks volumes about the strength of their relationship.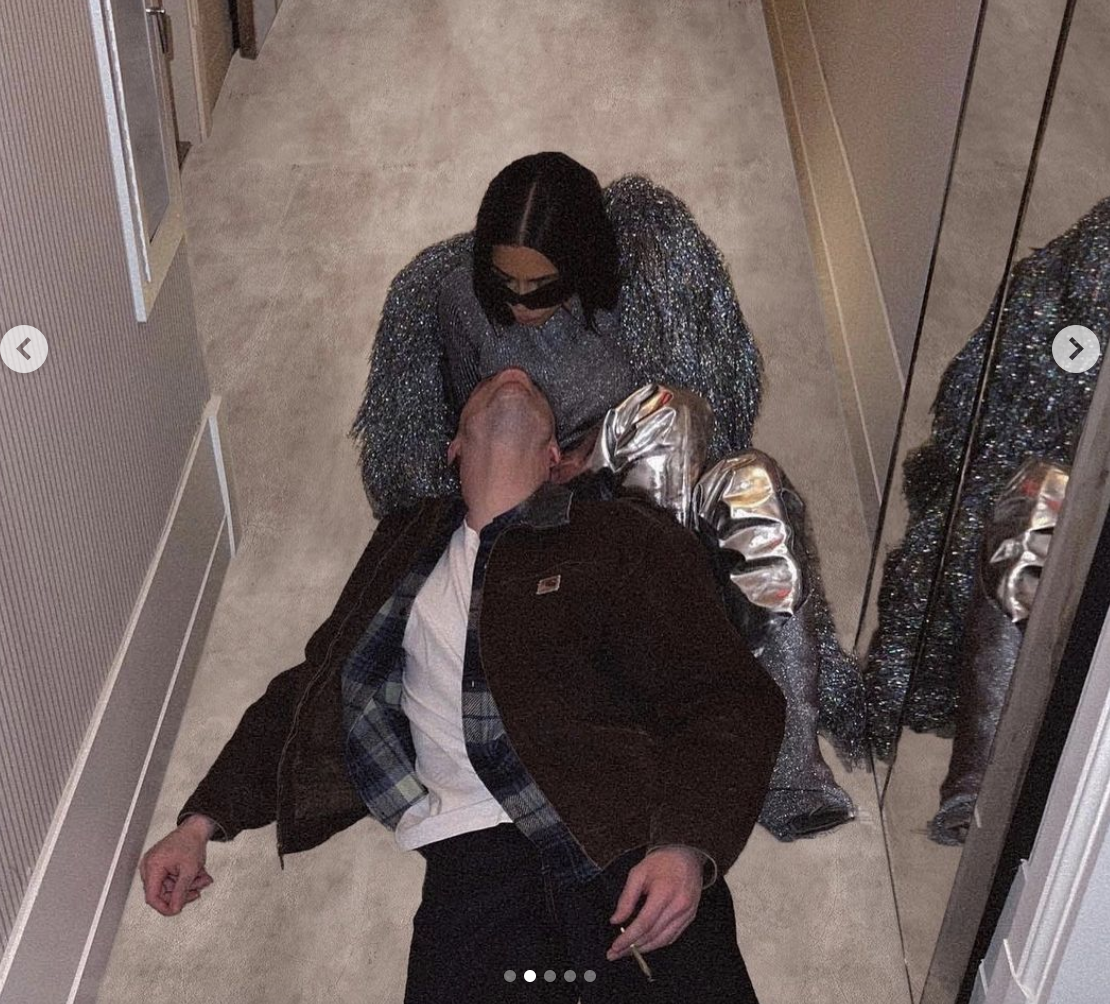 In fact, the footage of Pete and North's outing comes after Kim opened up about the future of her romance with the comic, expressing that it feels good to finally find "peace."
In a brief teaser to promote her upcoming interview with Robin Roberts on Good Morning America, the Skims founder was asked about her relationship with Pete, and whether the romance — which many initially speculated to be some kind of PR stunt — was the real deal.
"How serious is it?" Robin asks Kim in the clip, prompting a rare but heartfelt piece of insight into their dynamic.
"I am a relationship kind of girl, for sure, and I wouldn't be with someone if I didn't plan on spending a lot of my time with them," Kim replies, going on to say she feels "content" with Pete.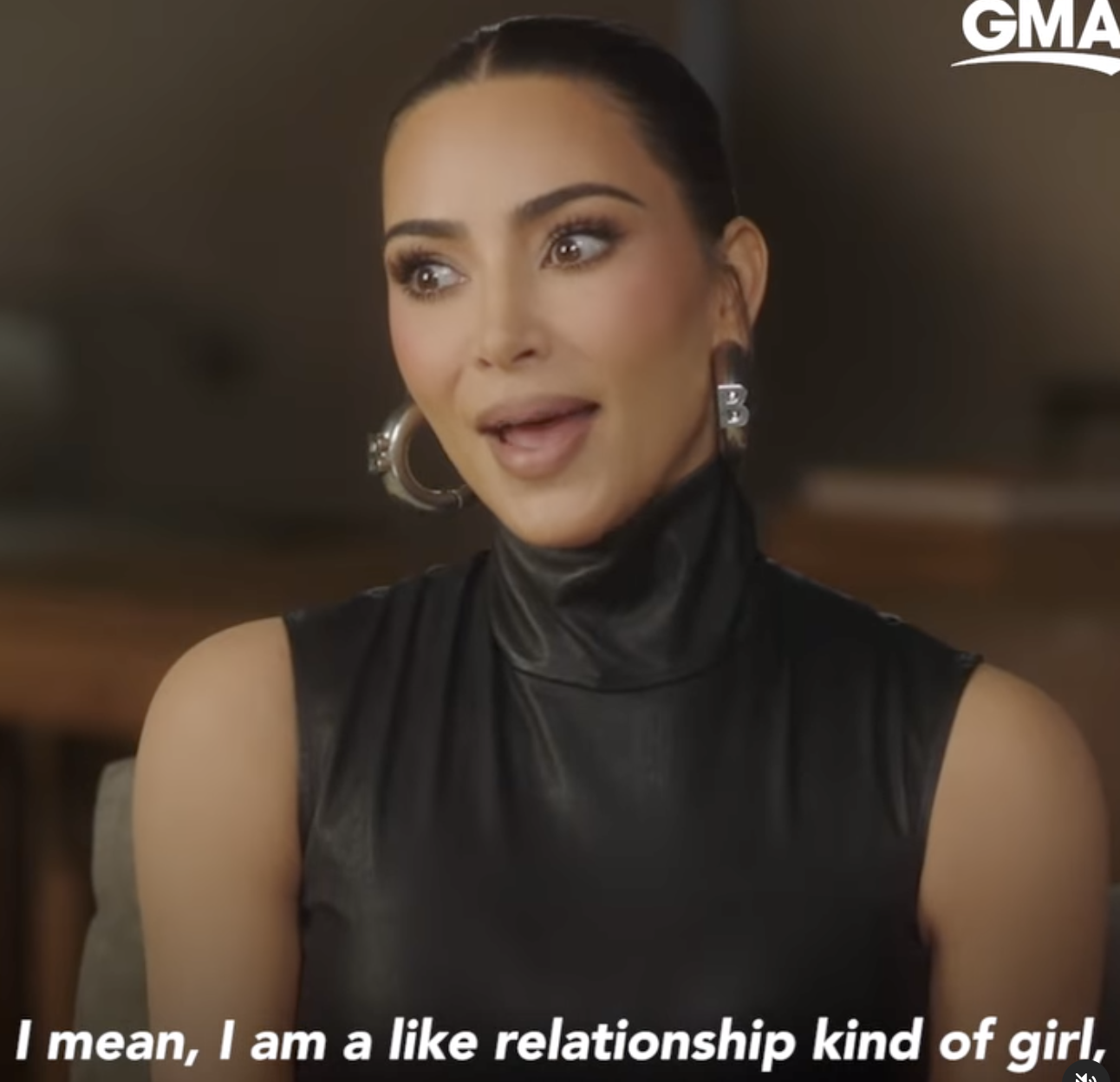 "Obviously, I want to take my time, but I'm very happy and very content. And it's such a good feeling just to be at peace," she adds.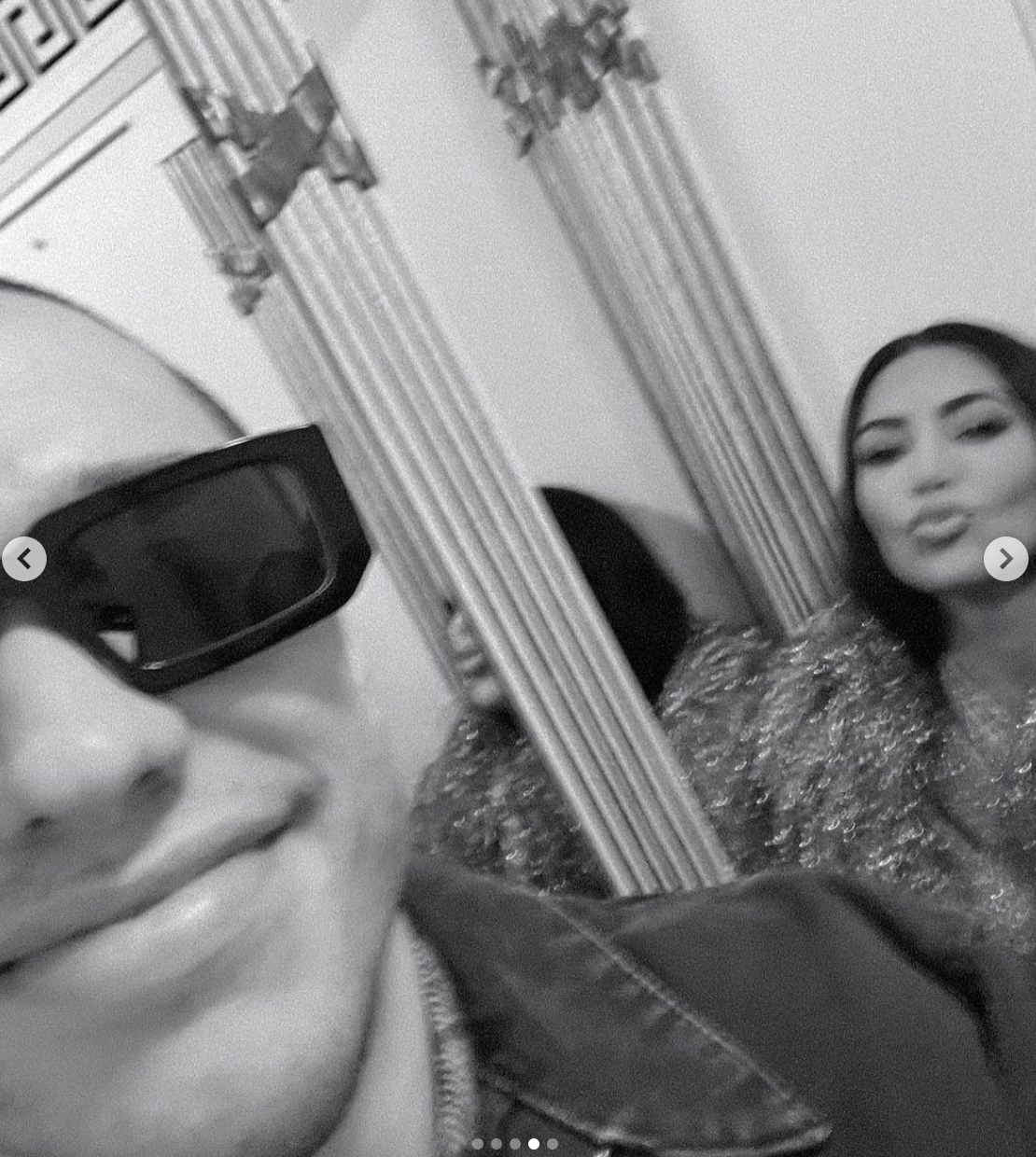 Elsewhere in the short clip, Kim's family can be seen giving their thoughts on the pairing — which initially took fans by surprise when Kim and Pete were first photographed together in October.
"Pete's great. Pete's great," Kris Jenner says. "He's a really nice guy."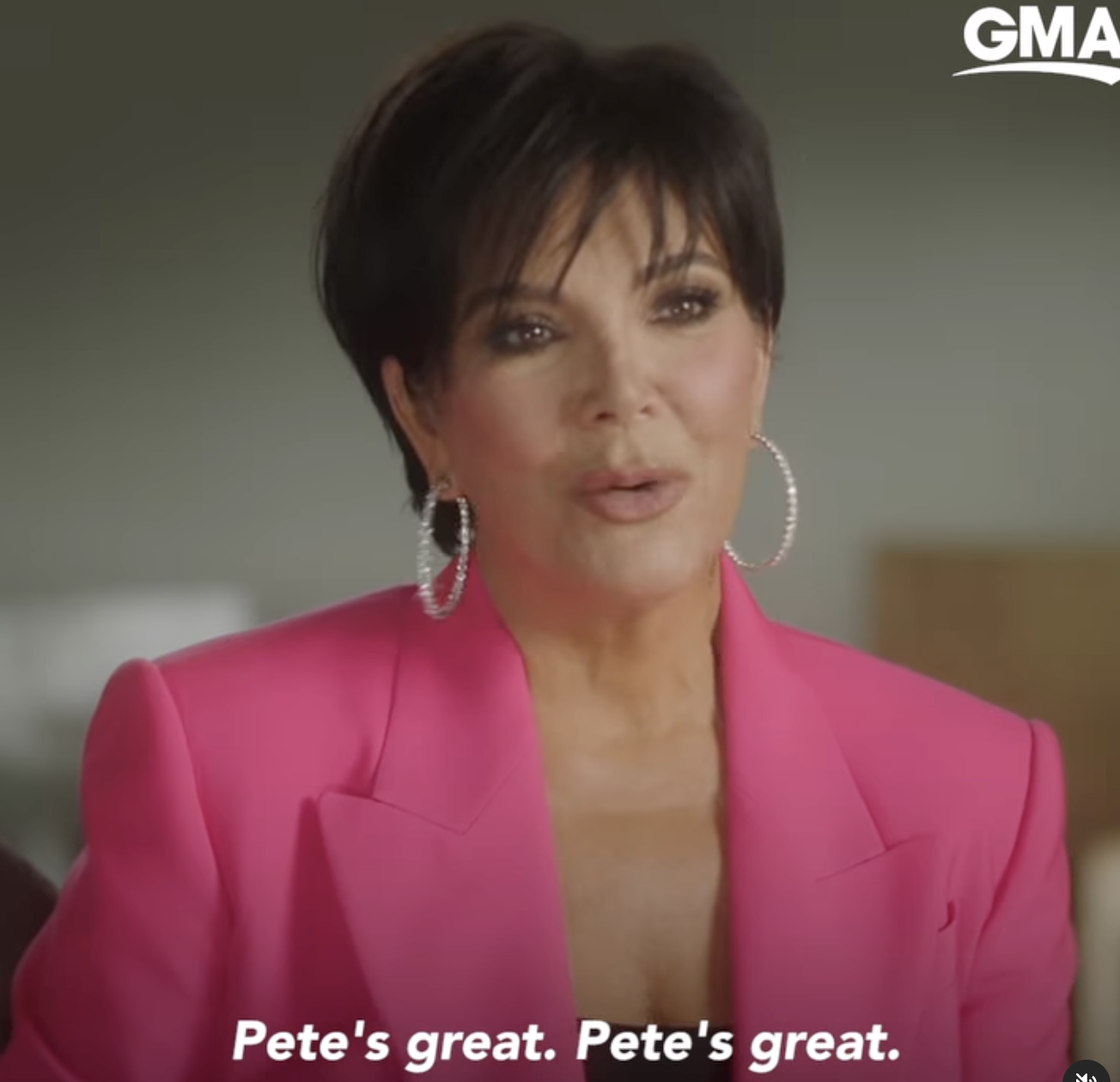 "He just makes her laugh and she laughs all the time," adds Khloé Kardashian.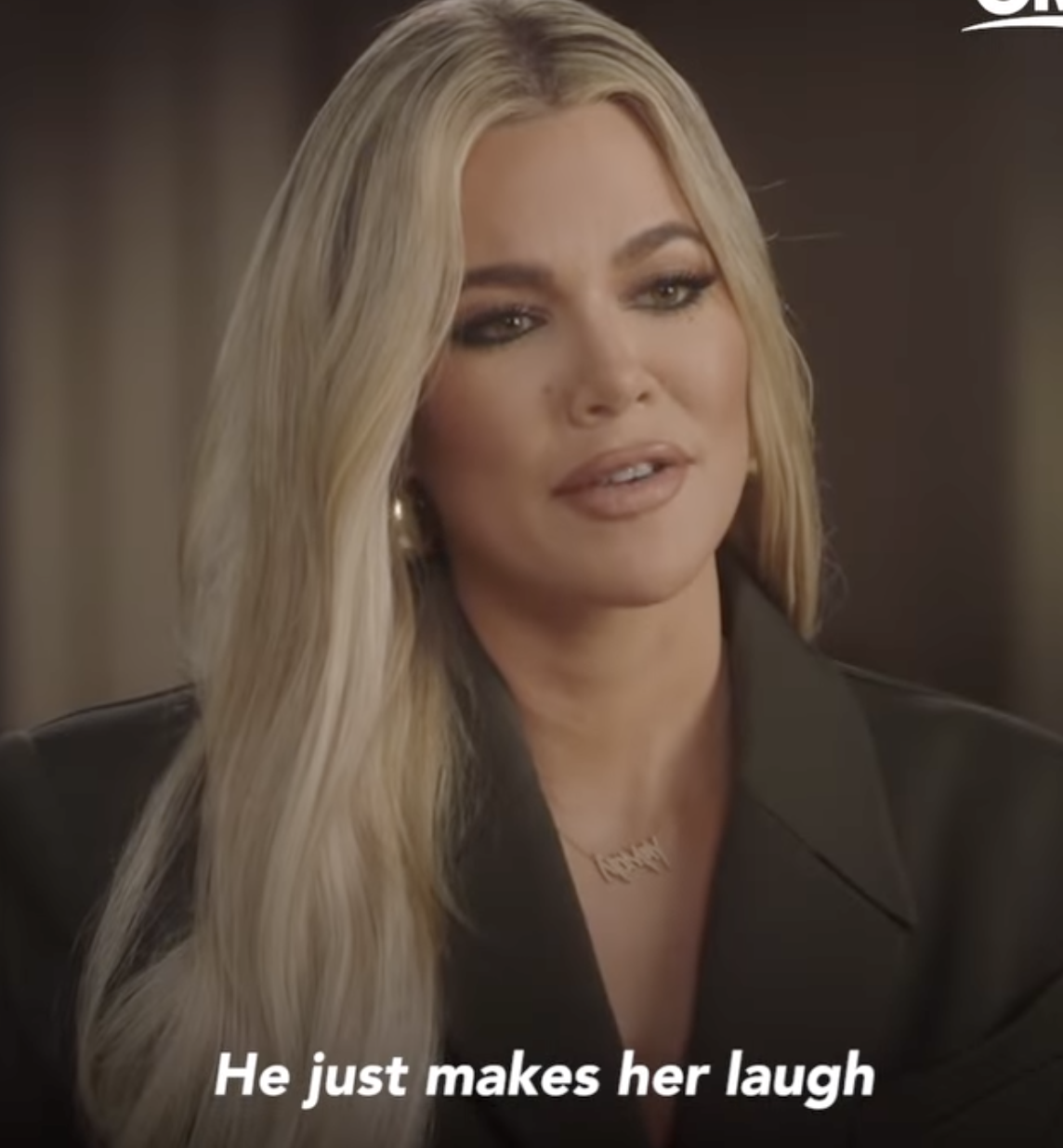 Meanwhile, Ye is yet to comment on Pete and North's surprise outing. However, given the rapper has been lying pretty low in recent weeks, it might be a while before we hear what he thinks of the development.