When Kim Kardashian stepped out at Monday's Met Gala wearing a dress once belonging to Marilyn Monroe, fans had a lot of questions about how the look came to be.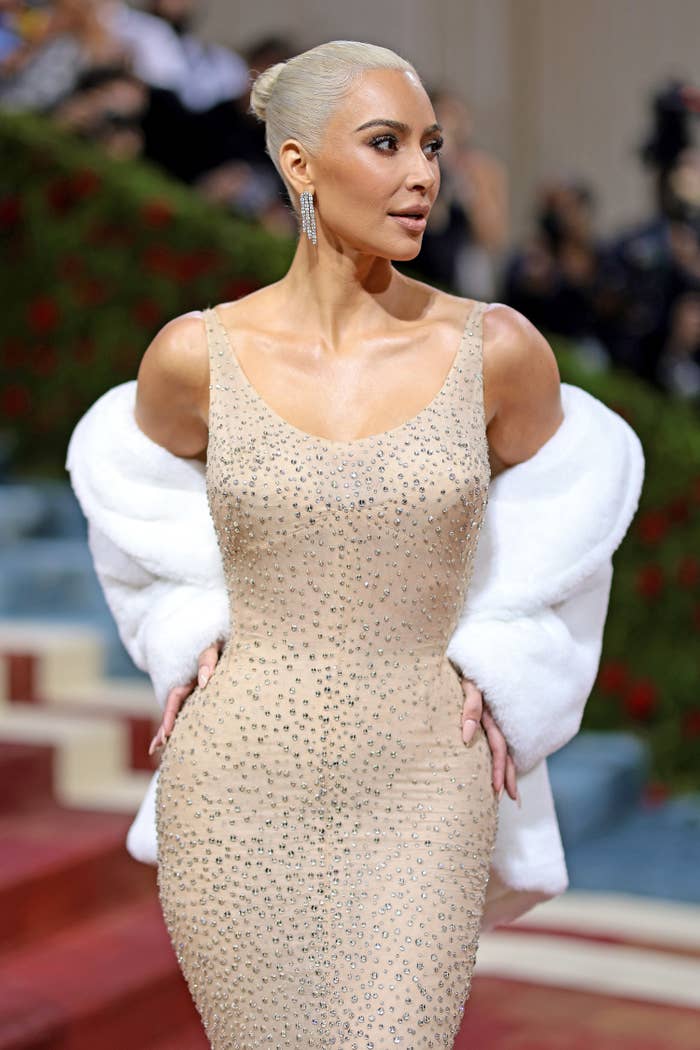 Now, thanks to some brand-new, behind-the-scenes footage, we're getting some juicy insight into the process of getting Kim — and her infamous butt — into the 60-year-old garment.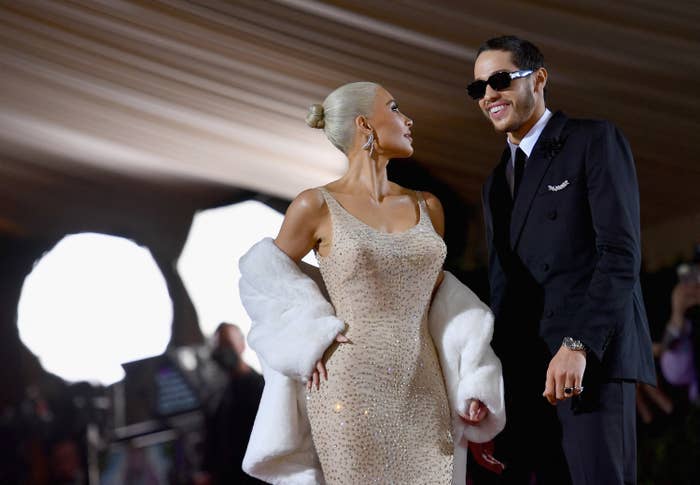 In case you need the context, the glittering $4.8 million dress was last worn by Marilyn in 1962, when she sang "Happy Birthday" to then-president John F. Kennedy. To make matters all the more iconic, it reportedly hasn't been washed since that day, either.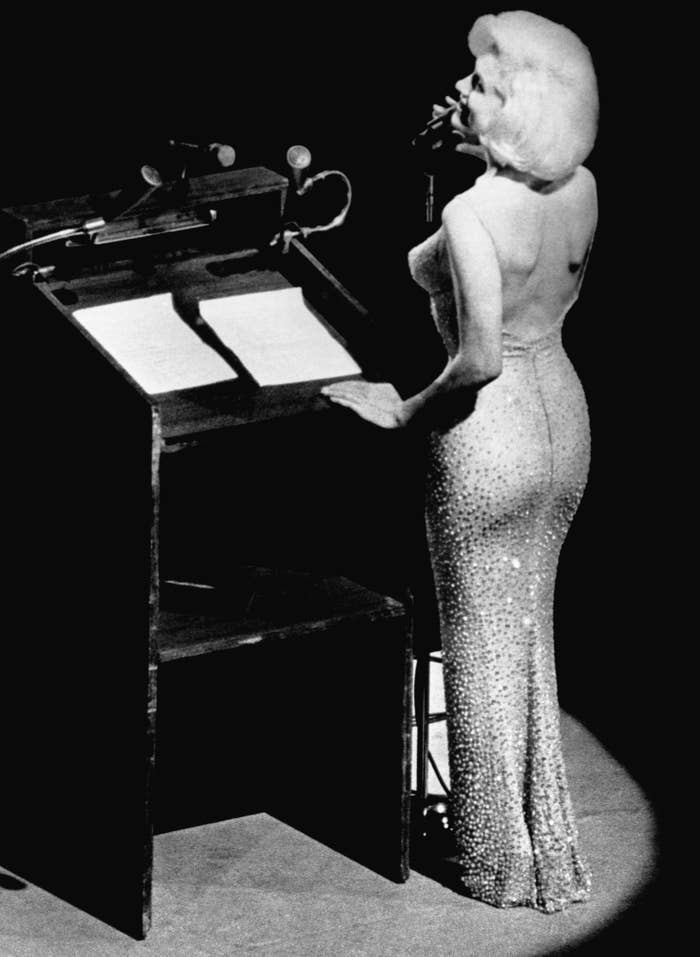 And so, it goes without saying that it's an extremely delicate and valuable piece of Hollywood history, which is why Kim was strictly forbidden from making any alterations.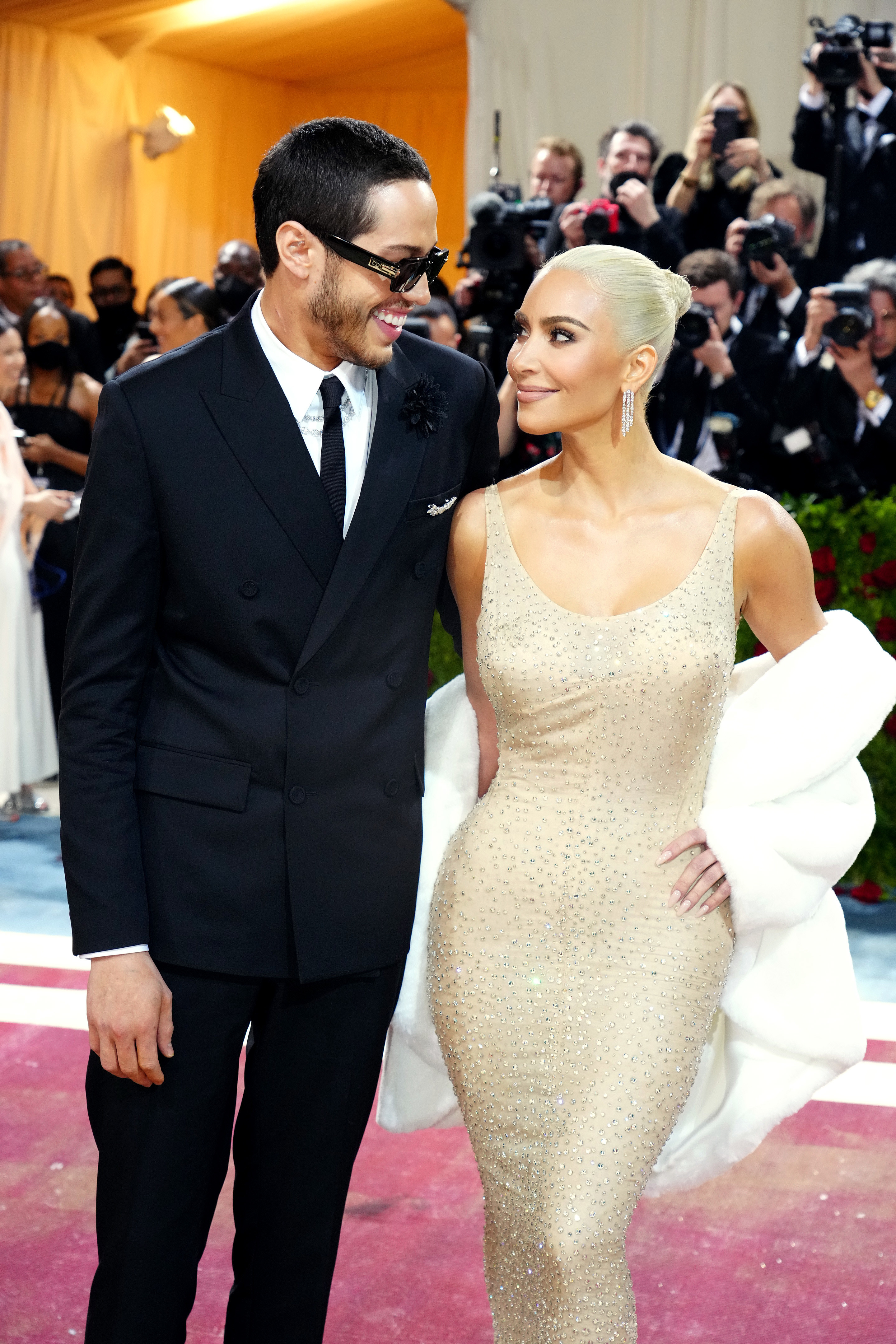 This also meant she had no choice but to resort to some pretty drastic measures to secure the history-making moment.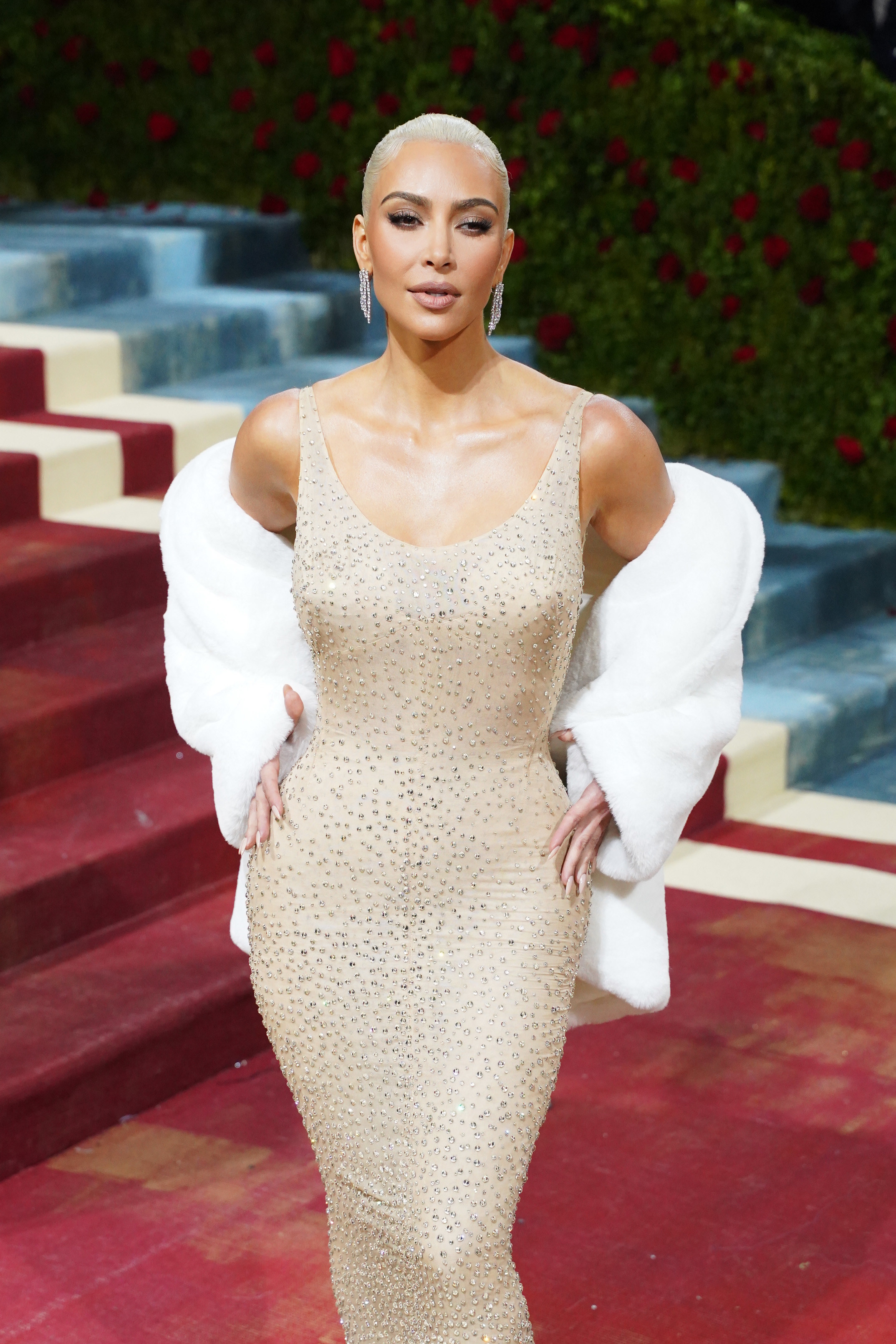 After admitting that she "wanted to cry" when the dress didn't fit the first time she tried it on months before the gala, Kim embarked on a restrictive diet and exercise regime, ultimately making it work by the time the Met rolled around on May 2.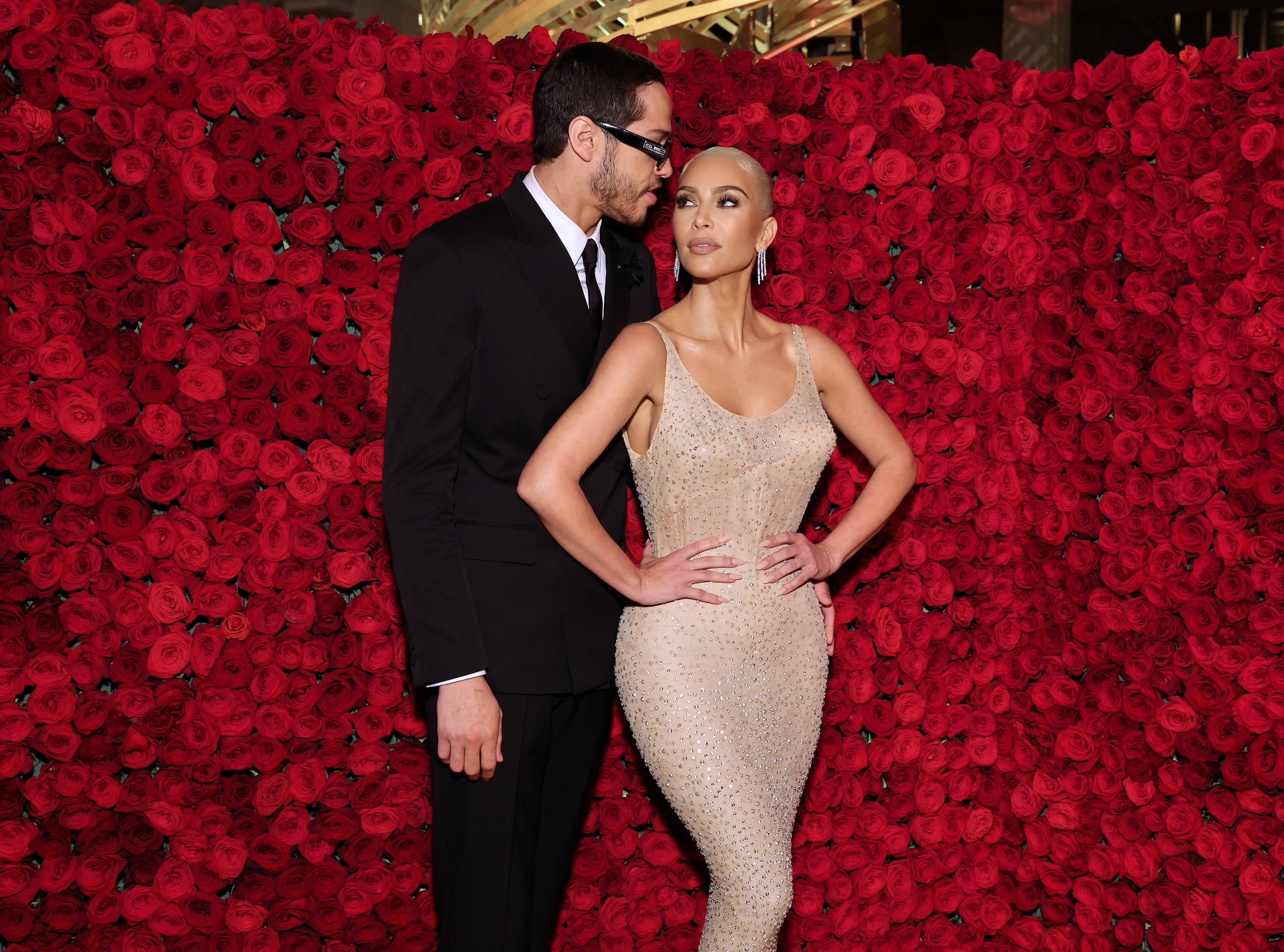 But despite making it onto the red carpet, fans were surprised to see that Kim had paired the show-stopping look with a white fur coat, which she wore draped around her lower back and waist.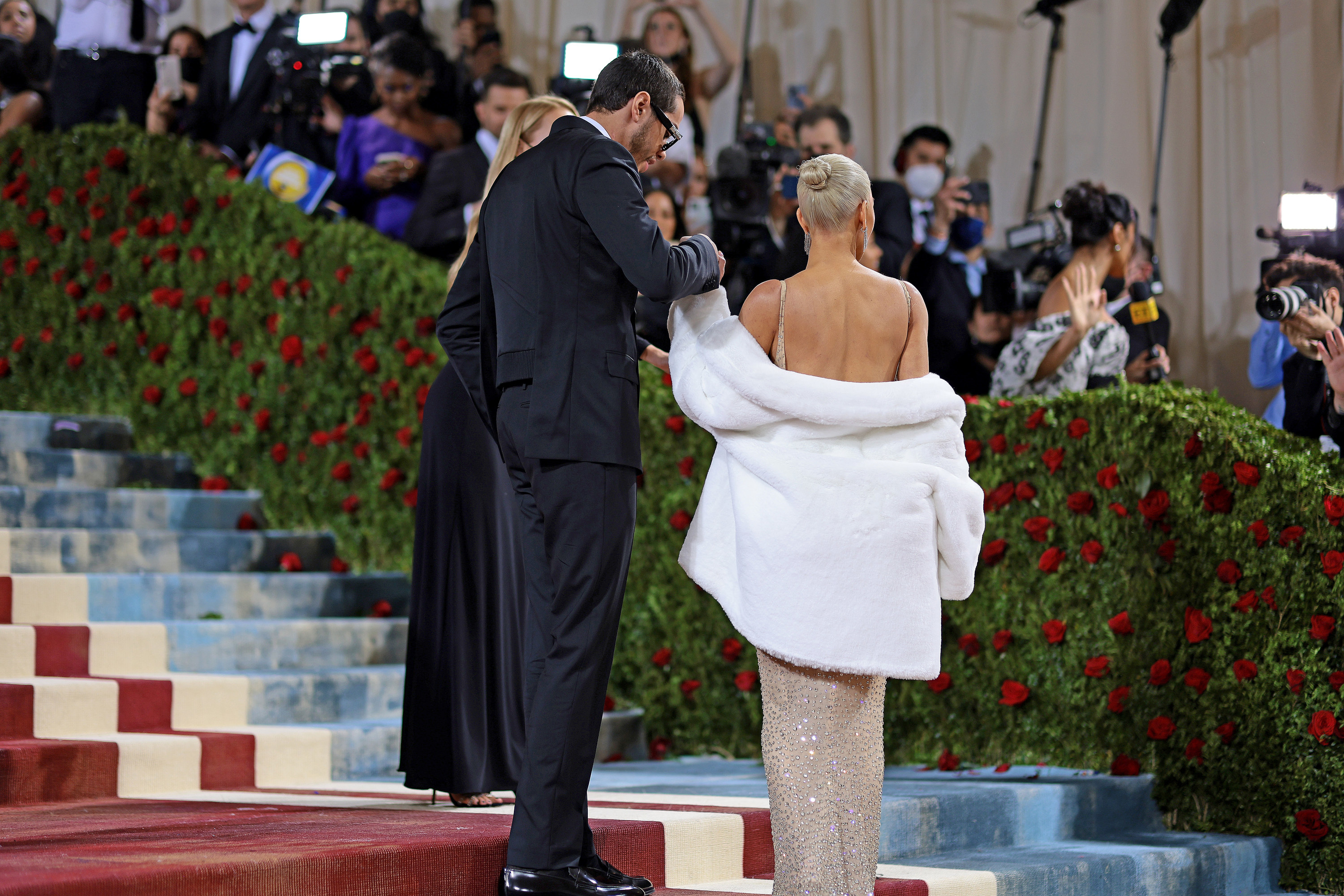 Some speculated that the furry addition might have been a nod to Marilyn, who originally styled the dress with a white coat in the '60s. However, it now appears that the coat was more of a necessity than an accessory.
In newly released footage — shot just 10 days before the gala — a team of helpers can be seen struggling to squeeze the dress over Kim's infamous curves as she tried it on for the second time during a trip to Ripley's Believe It Or Not Museum, where the multimillion-dollar gown is preserved in a darkened and temperature-controlled vault.
Joined by her boyfriend, Pete Davidson, and hairstylist Chris Appleton, Kim stood topless in the middle of a small room while gloved assistants carefully shimmied the gown over her legs — before running into some trouble when they reached her butt.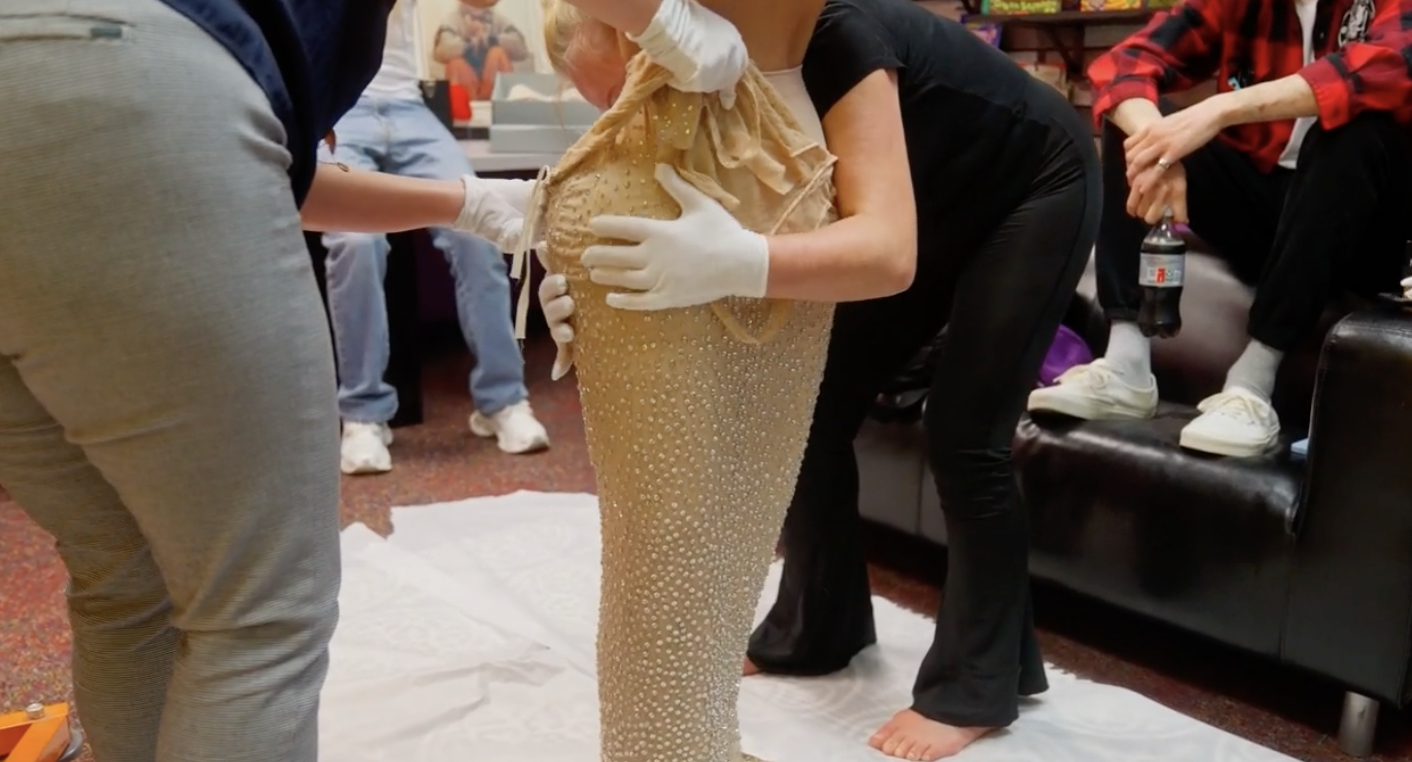 "Dear Lord," Kim joked as the stylists dressed her. "Should we sing 'Hallelujah' or something?"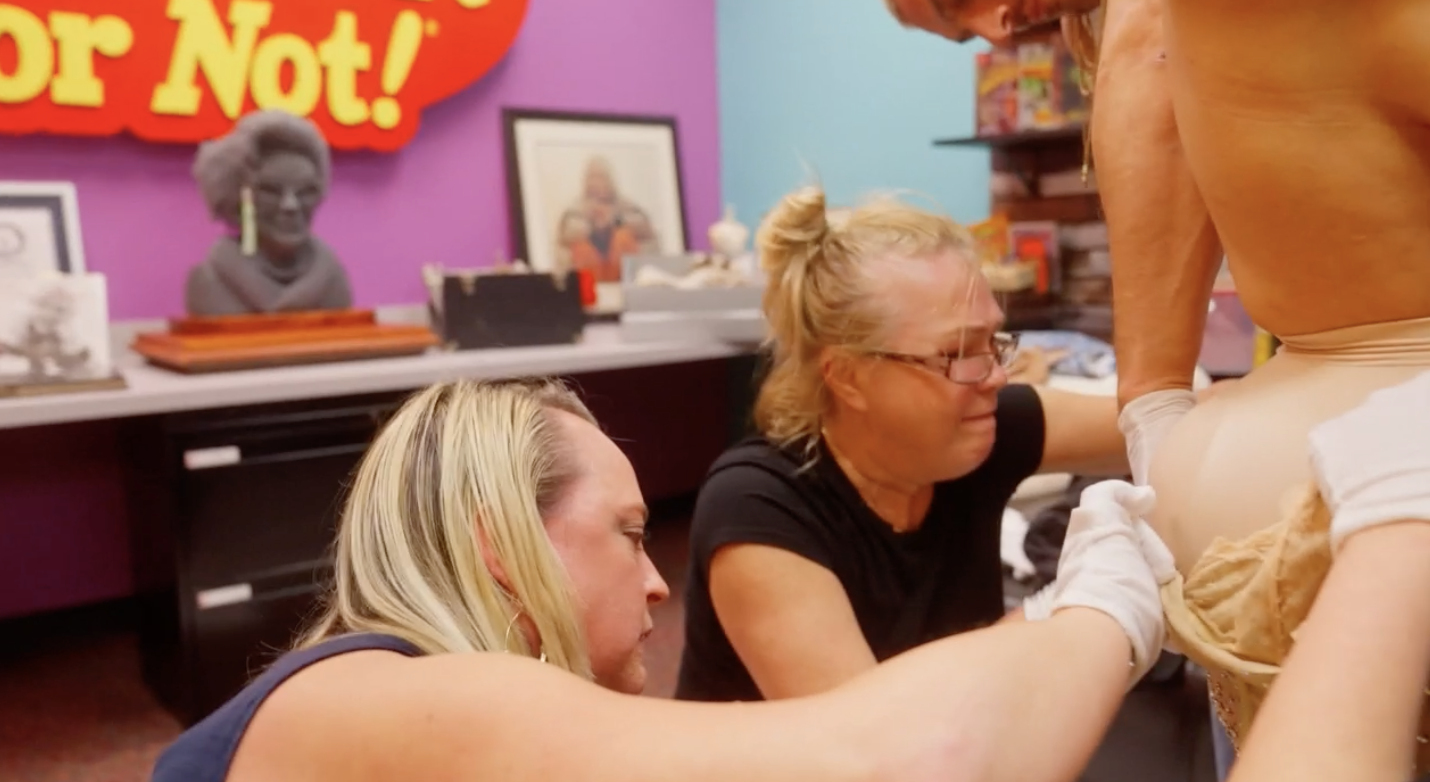 Concerned that the dress might get damaged, Kim swiftly enlisted the aid of Chris and Pete, who offered a helping hand — and naturally, some jokes — from the sidelines.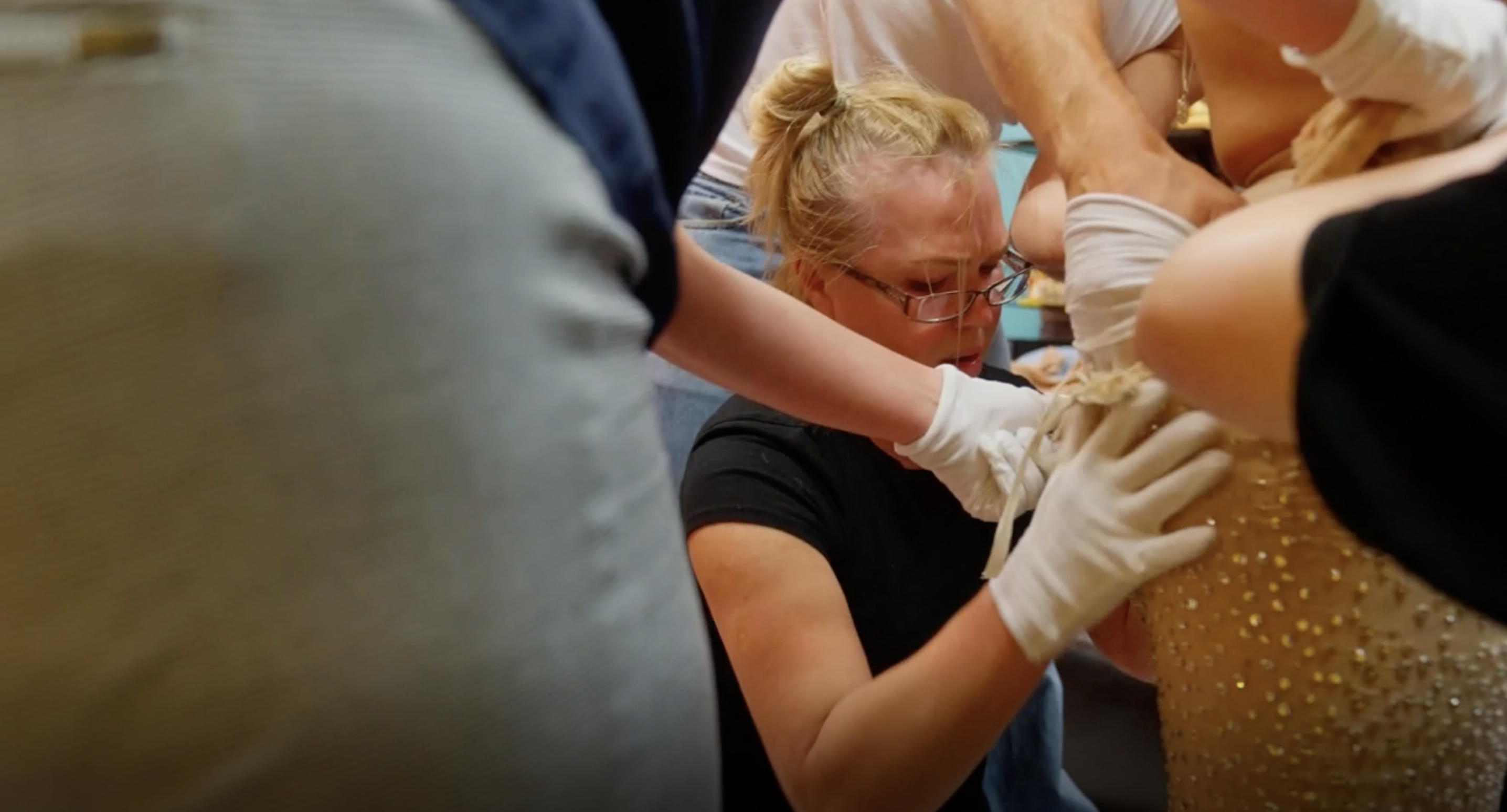 "Kim, push it! Push your ass!" Chris instructed while the assistants grappled with the fabric and Pete held her hands from the front.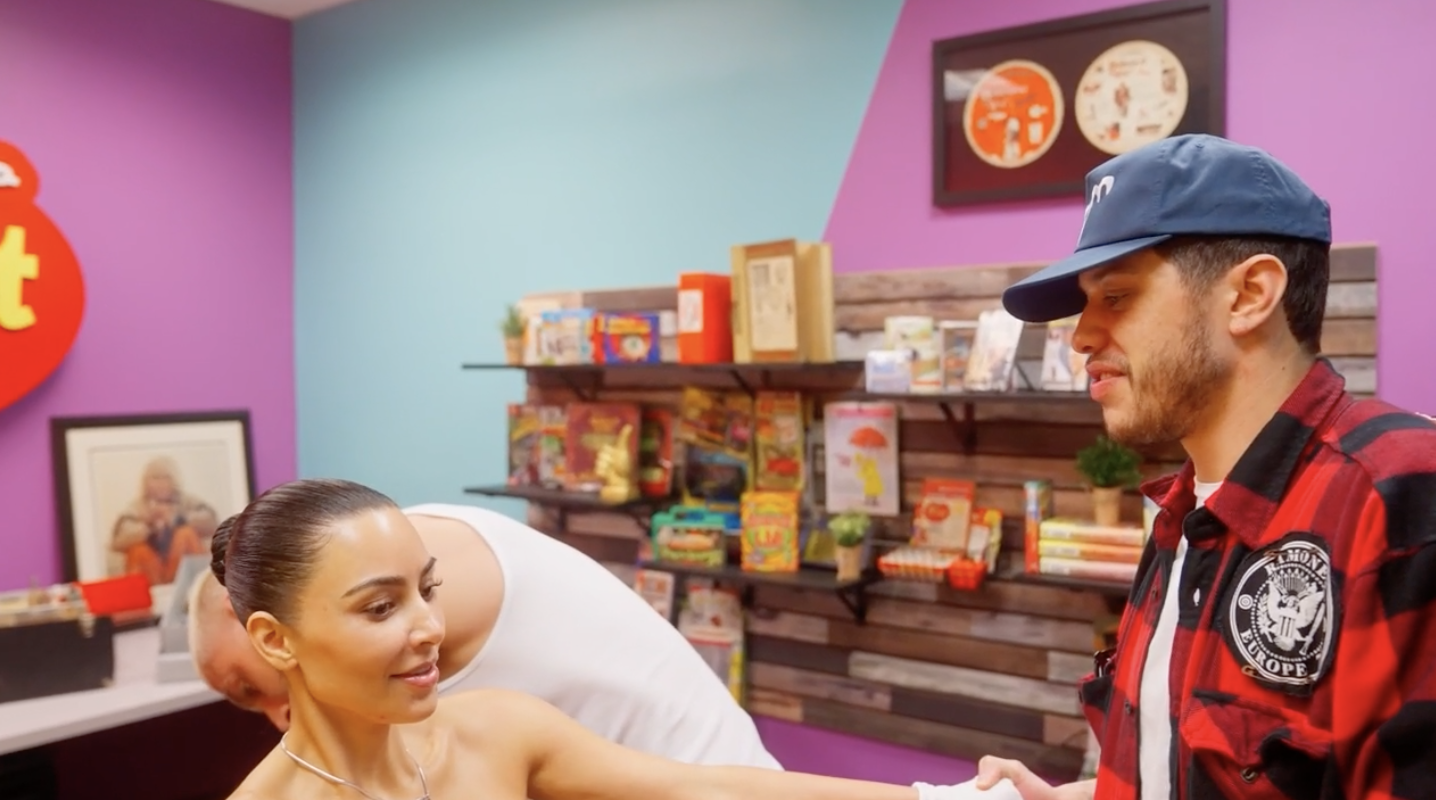 After some serious teamwork, the group managed to get the dress over her butt, but were unable to actually fasten the zip, instead securing the opening with a piece of string.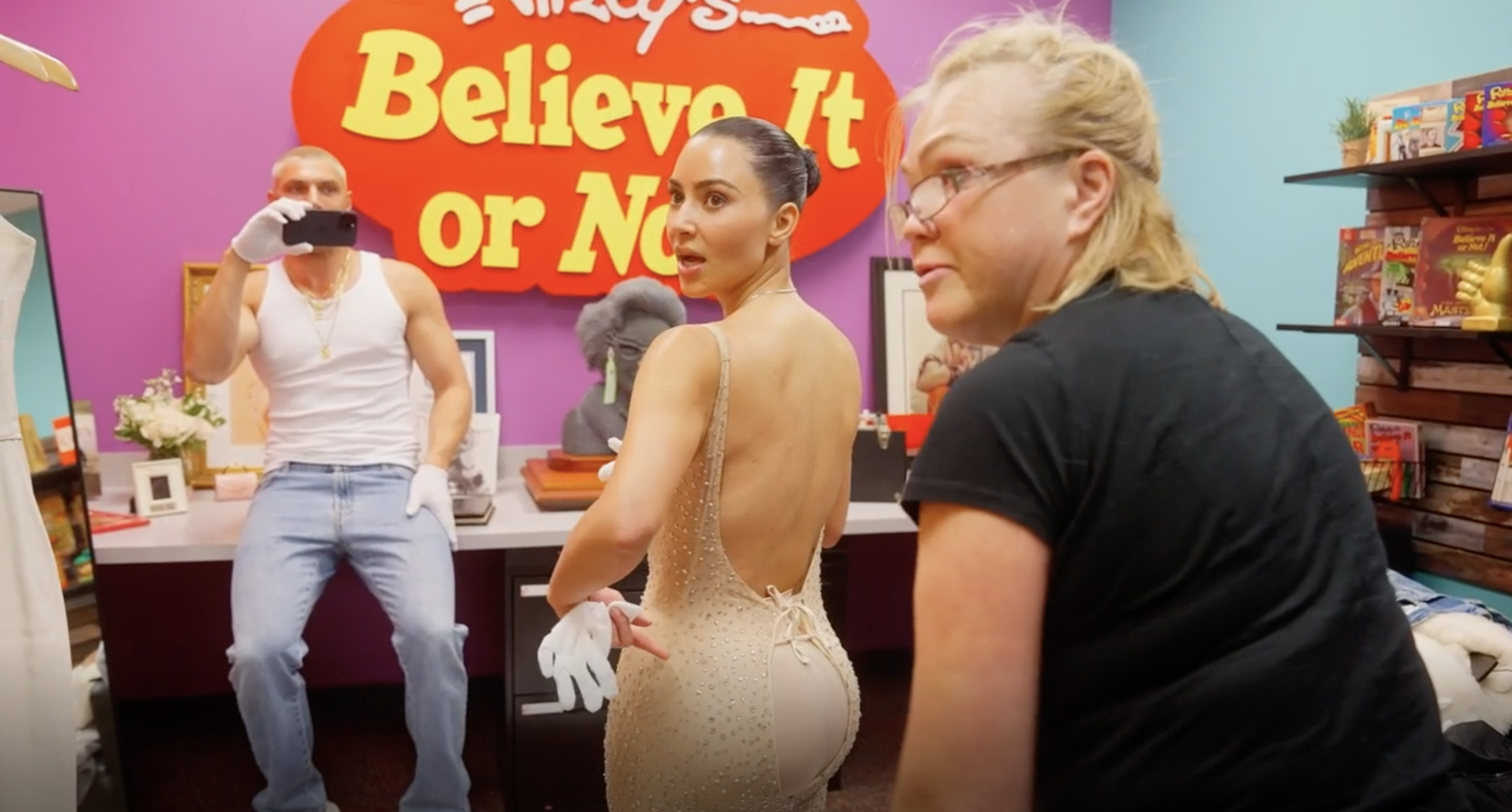 Despite the ordeal, Kim was relieved and seemed pleased with the outcome while inspecting the partially undone zip in the mirror.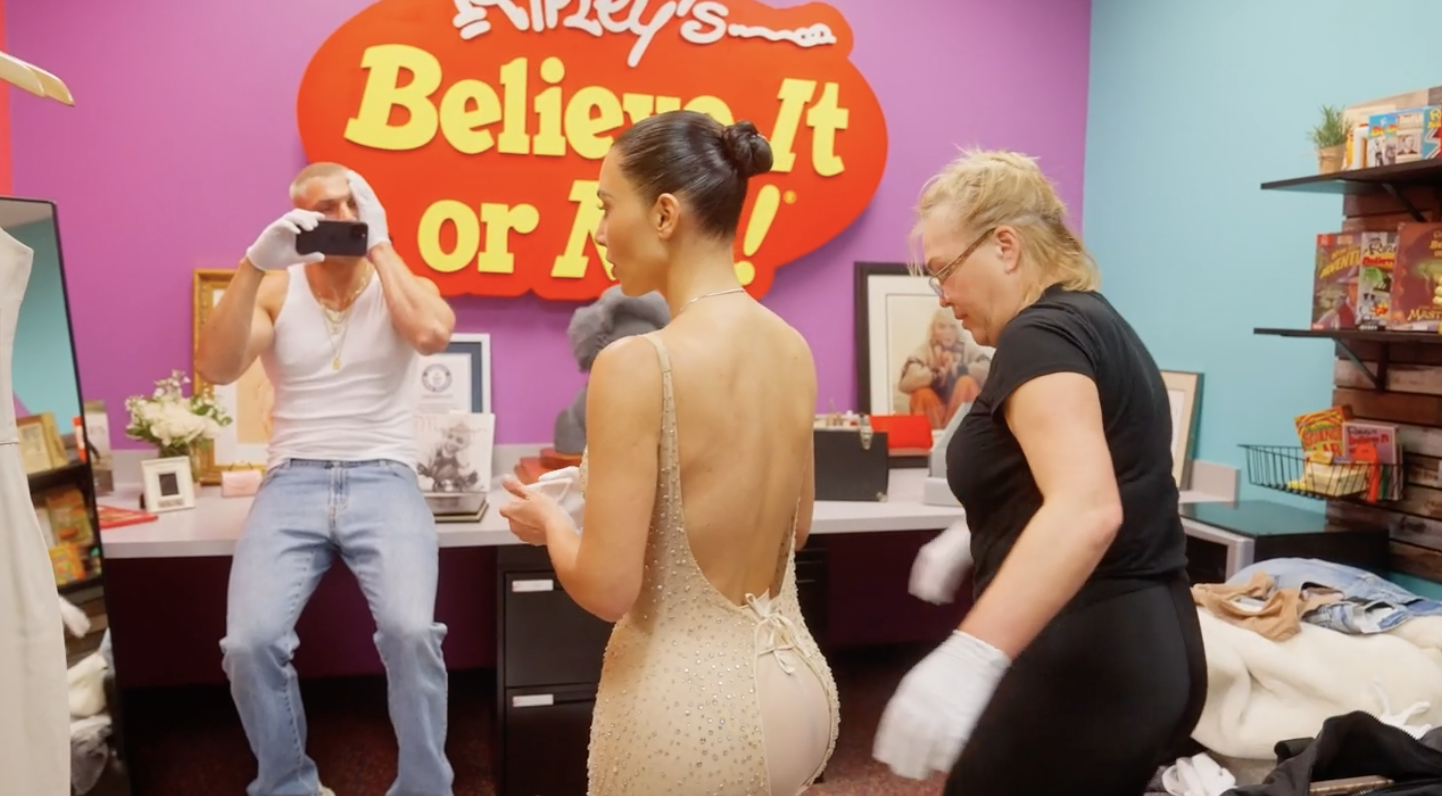 "Can we use that tie and tie it and keep it open?" she said. "What if we did that and put a fur over?"
"Oh my god, we can maybe fake it?!" she suggested with a beaming smile.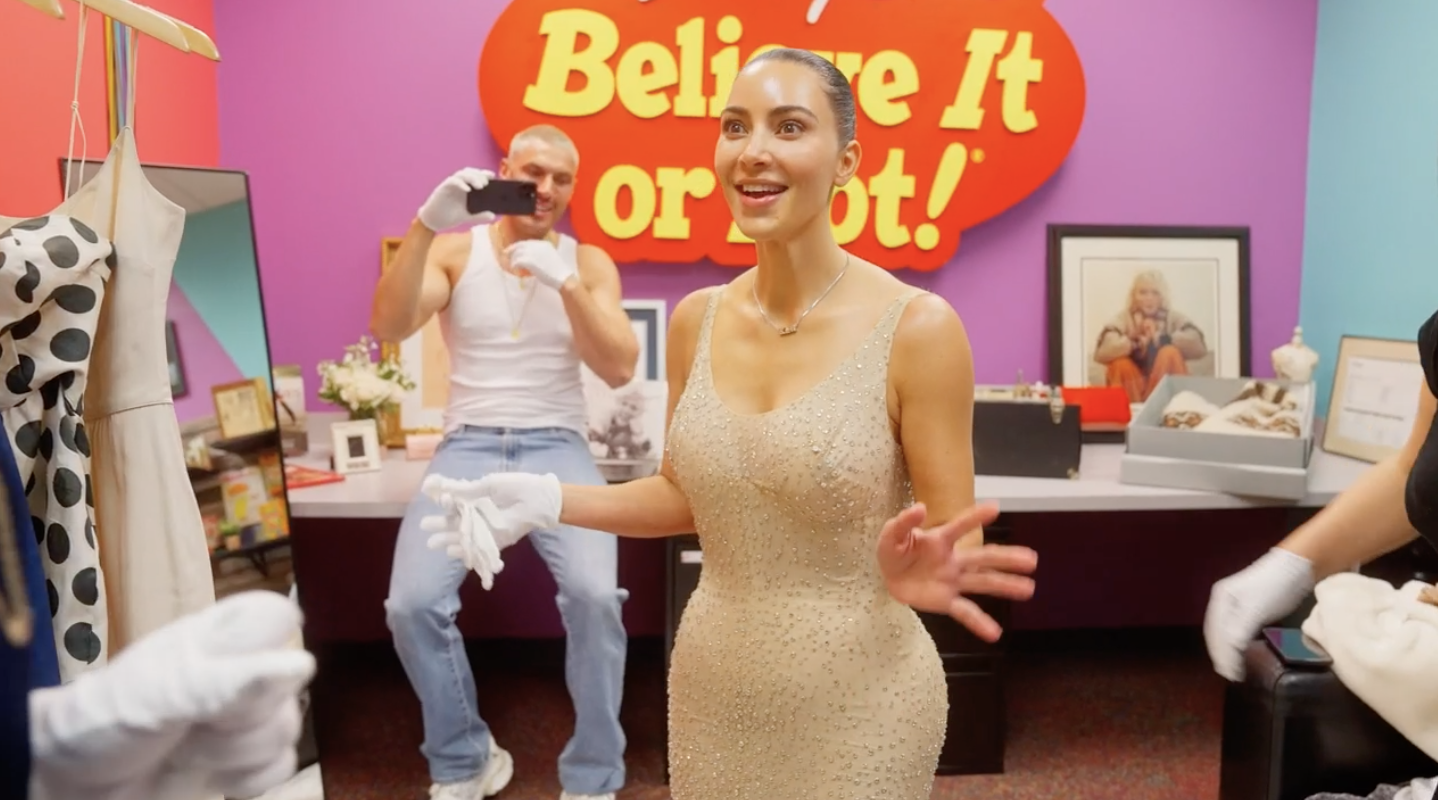 Moments later, Pete and Chris gave their seal of approval before the team moved out into a corridor to conduct a "step test" to ensure Kim could make it up the all-important Met staircase while keeping the dress intact.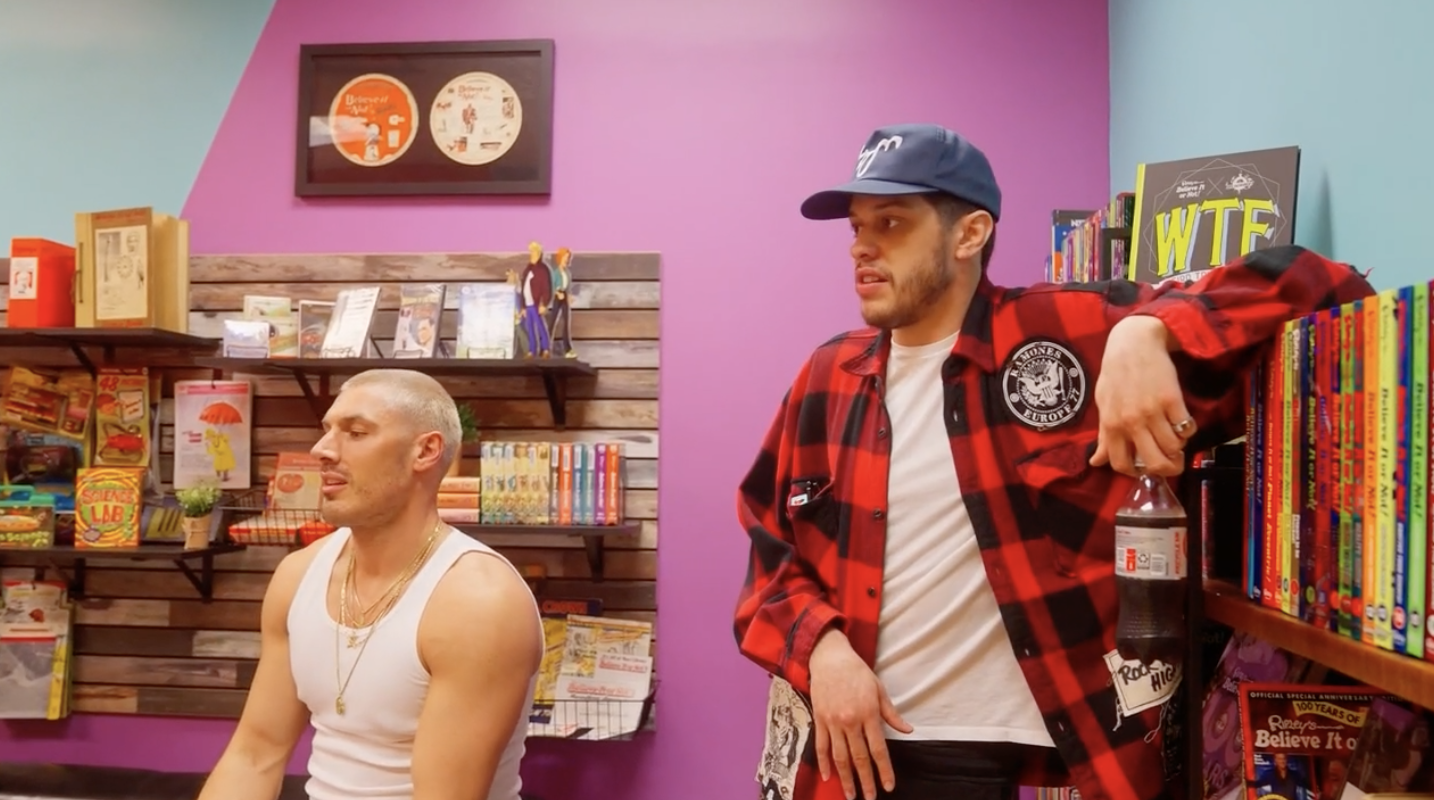 While Kim balanced on a step holding Pete's hand, the two provided some rare insight into their intriguing dynamic while she jokingly asked him to remove the two hats he was wearing.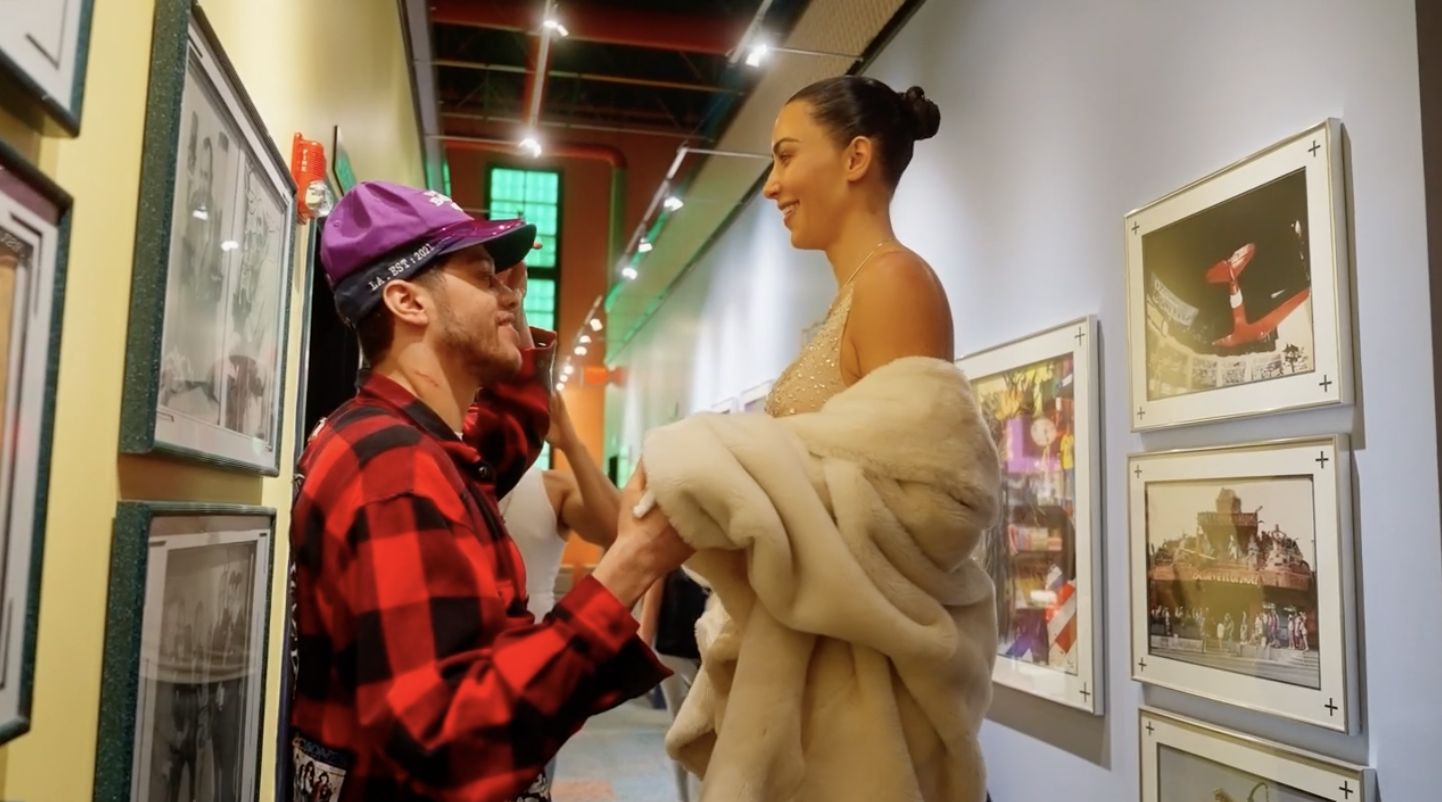 "Take the double hat off," she quipped after the two shared a celebratory high-five. "Just if I want to post some behind-the-scenes, you don't wanna look like a double hat."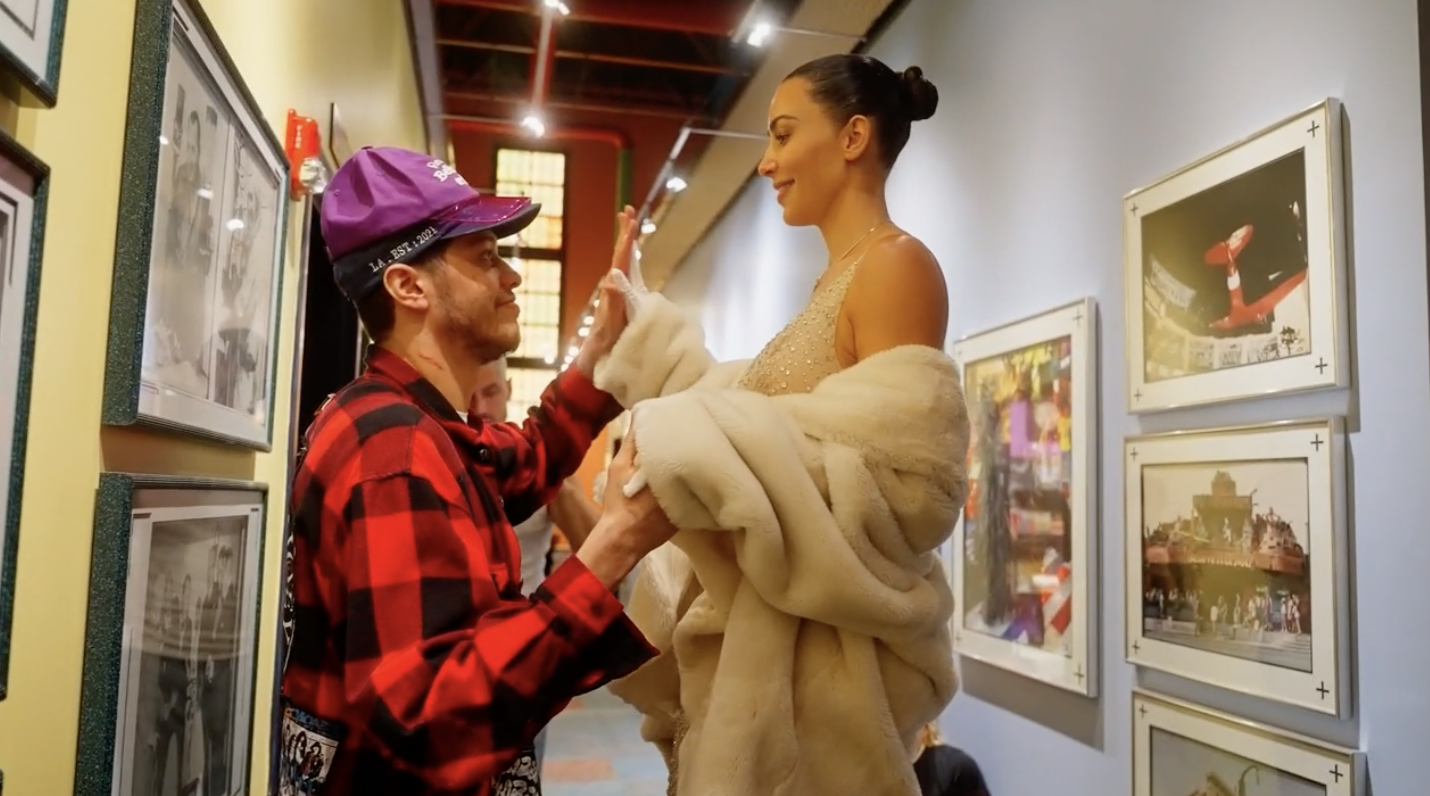 If nothing else, Kim always proves every time that if there's a will, there's a way — and she certainly made it work, much to the pleasure of fans who couldn't help but notice how relaxed she seemed on the red carpet despite the looming pressure of her iconic and very valuable look.
"Ok but I LOVE Kim with Pete so much, she's so much more… normal? Idk but she seems so relaxed and happy," someone wrote on Twitter.
"Kim appears to be relaxed, and happy these days," agreed another. "Stress can really wear you down physically, and emotionally. Pete is a funny guy, and just might make her laugh a lot."
Moral of the story: Sometimes all you need is a bit of teamwork, a white fur coat, and Pete Davidson to hold your hand. Good for you, Kim!