The photoshop saga continues, and it's not a pretty picture.
If you need reminding, Kim raised eyebrows in December after she posted some strange-looking photographs of her 4-year-old daughter Chicago enjoying a day out at Disneyland with her cousin, Khloé Kardashian's daughter True, who's also age 4.
Unfortunately for Kim, it didn't take an expert to notice that True had quite obviously been digitally edited into the pictures due to the fact that her body and hands looked super blurry, while her face looked suspiciously clear.
After doing a little bit of digging, fans quickly realized that the pictures were taken from a trip to Disneyland in October — which True didn't attend.
And thanks to a TikTok that Kylie Jenner posted from the trip, where her 4-year-old daughter Stormi is seen wearing the exact outfit that True is wearing in Kim's post, it soon became abundantly clear that the pictures Kim posted were originally of Chicago and Stormi.
With receipts in hand, it wasn't long before fans posited the theory that Kylie hadn't wanted Kim to post the picture of Stormi, and so Kim took it upon herself to photoshop True in her place.
What's more, fans also managed to locate the original pictures of True that Kim had placed over Stormi on Khloé's Instagram page. But as the theory grew increasingly viral, the family remained silent on the matter.
That was until just two weeks ago, when Khloé landed herself at the center of the debate once again after she mistakenly let slip that True had gone to Disneyland for the "first time" ever, to celebrate her birthday on April 12.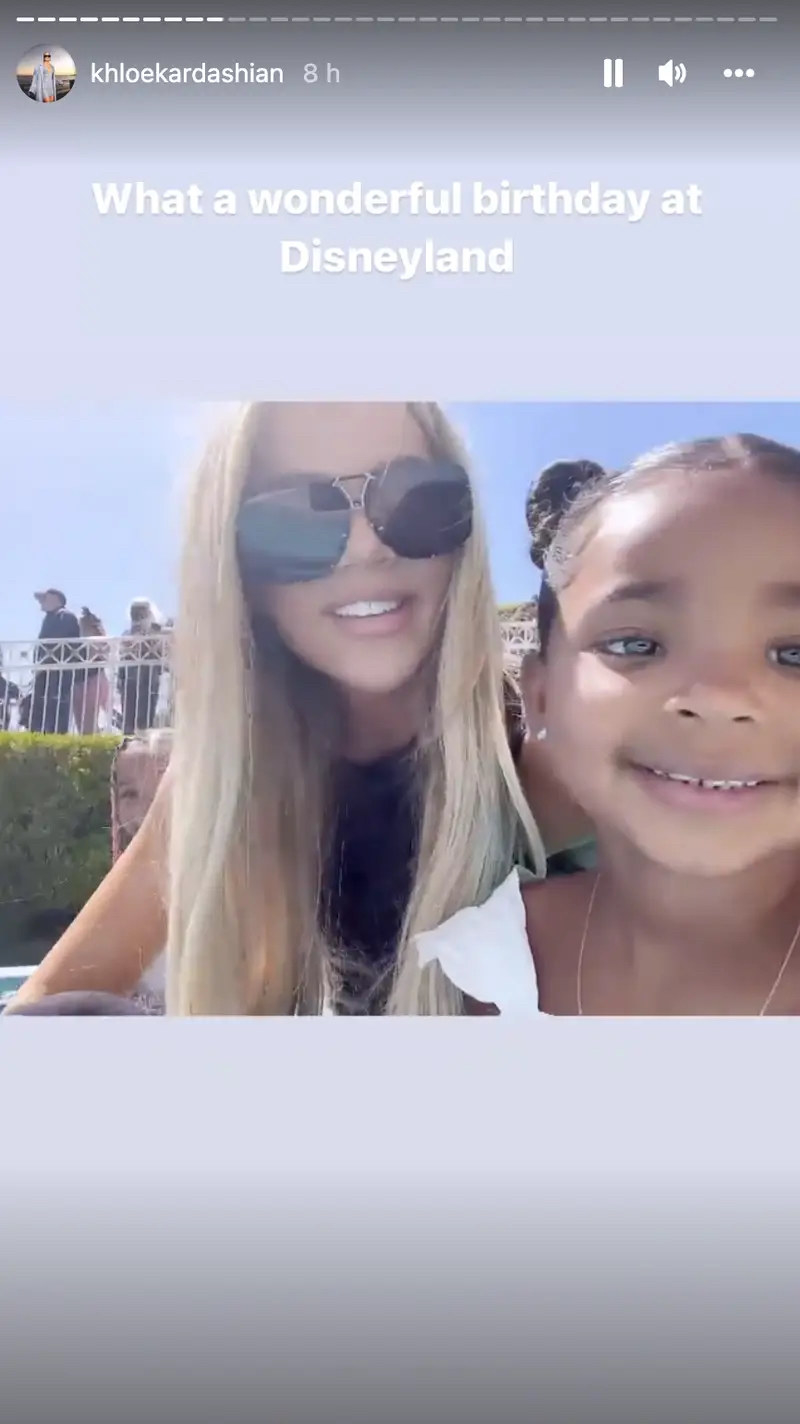 Of course, if True had never been to Disneyland before this month, Khloé's revelation pretty much confirmed fans' suspicions that she must have been edited into Kim's Disney snaps last December.
And as the conversation began to pick up speed, Khloé broke her silence and finally came clean on behalf of her sister.
"Welllppp I fucked this one up," she casually responded to a fan tweet before masterfully steering the conversation back to the subject of their new Hulu show.
While Khloé divulged no further details on the photoshop situation, fans had settled on the theory that Kylie had requested that Kim refrain from posting photos of Stormi to avoid drawing attention to herself or partner Travis Scott in the wake of the Astroworld tragedy.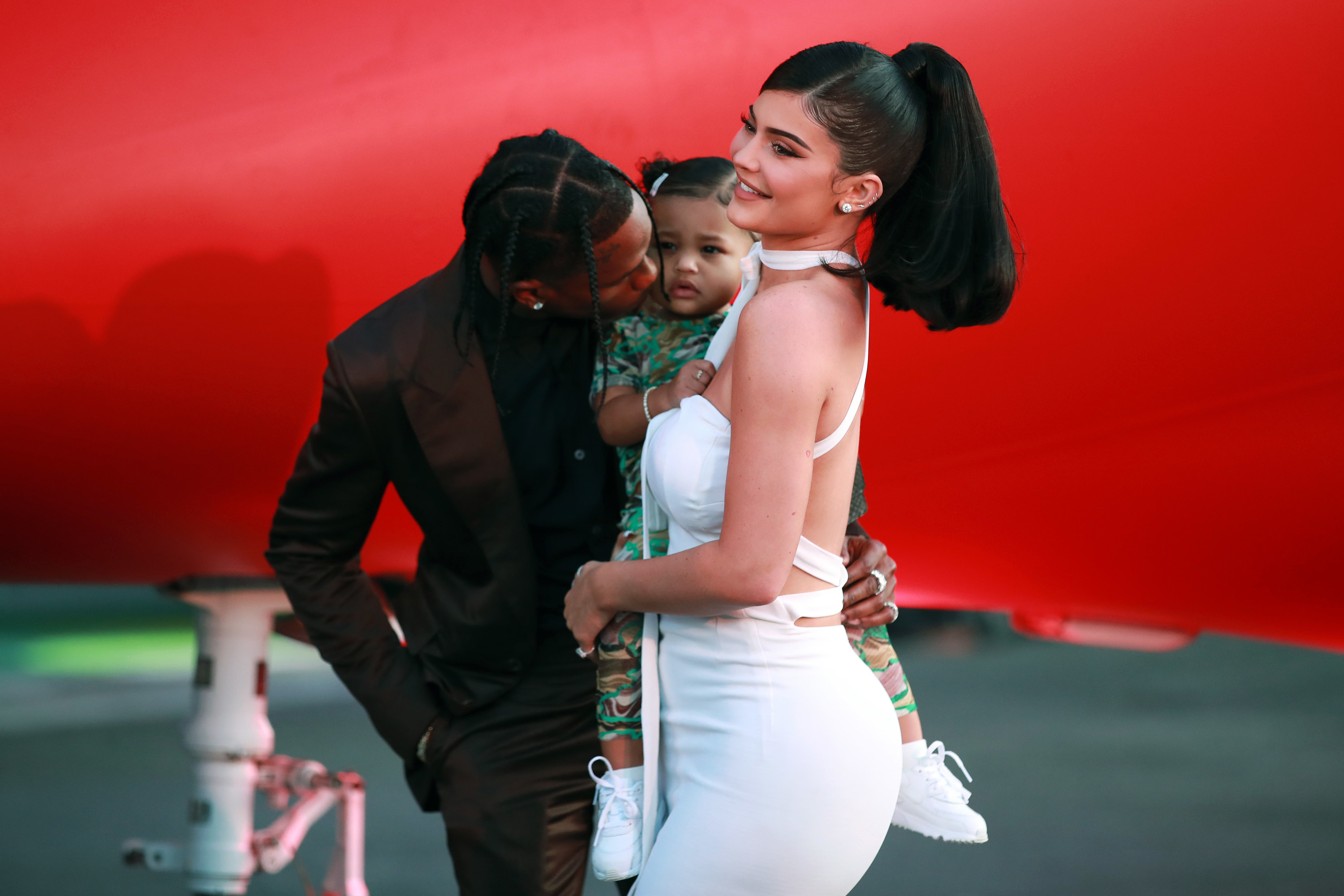 And now, thanks to some confirmation from Kim, it seems that fans were pretty much spot on.
On Wednesday, after shutting down a previous photoshop accusation about her belly button, Kim decided to lay all her cards on the table and do some "serious explaining" for why she felt the need to do a virtual switcheroo with her nieces' faces.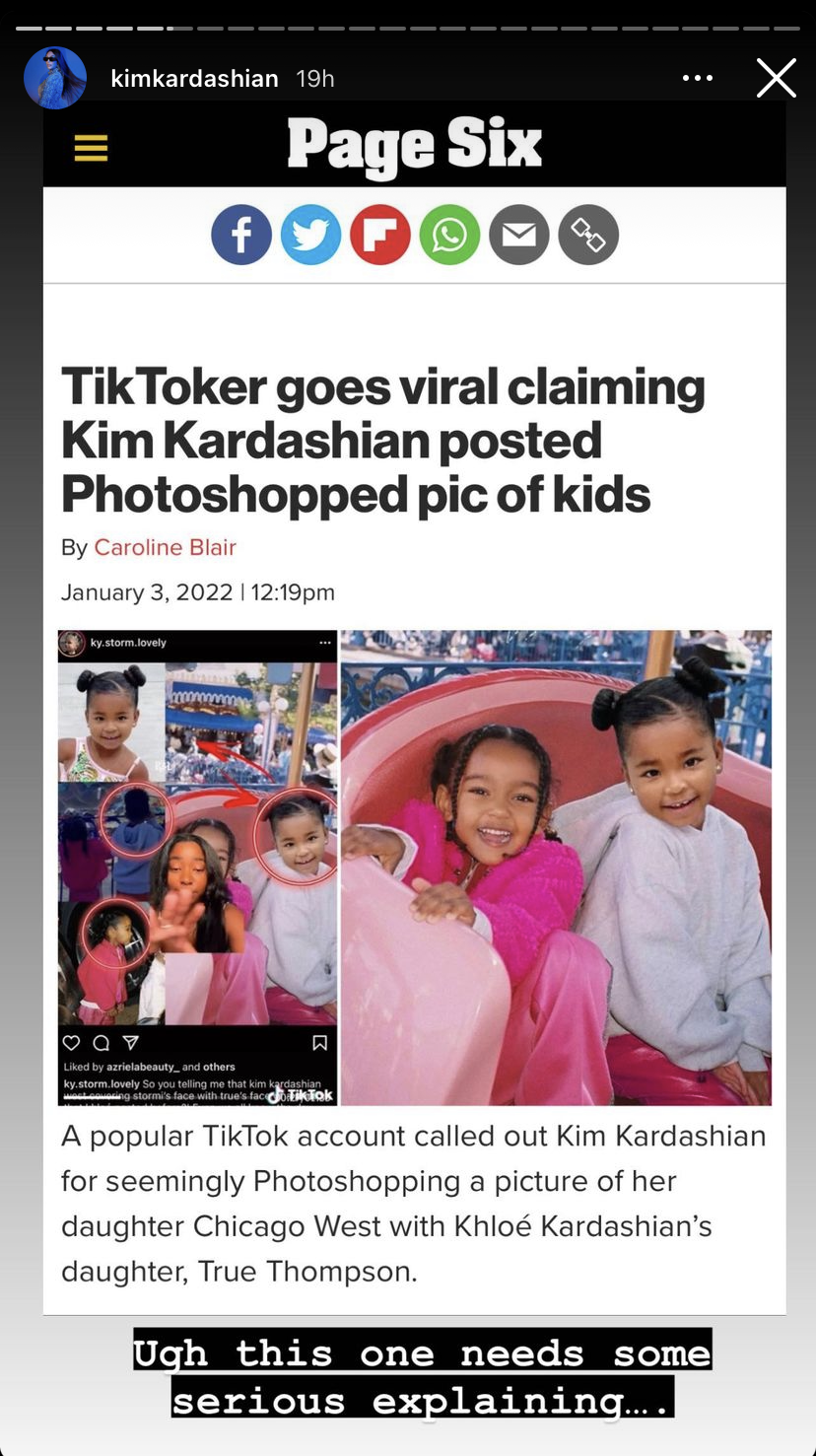 On Instagram stories, Kim began by saying that her current Instagram "aesthetic" is pink and blue, and that — since last fall, it seems — she's been working really hard to keep the color scheme in order on her grid.
"OK OK sooooo you know I am all about my aesthetic!" she wrote to her followers. "And my IG grid is pink and blue lately. Isn't it so cute and well planned out!"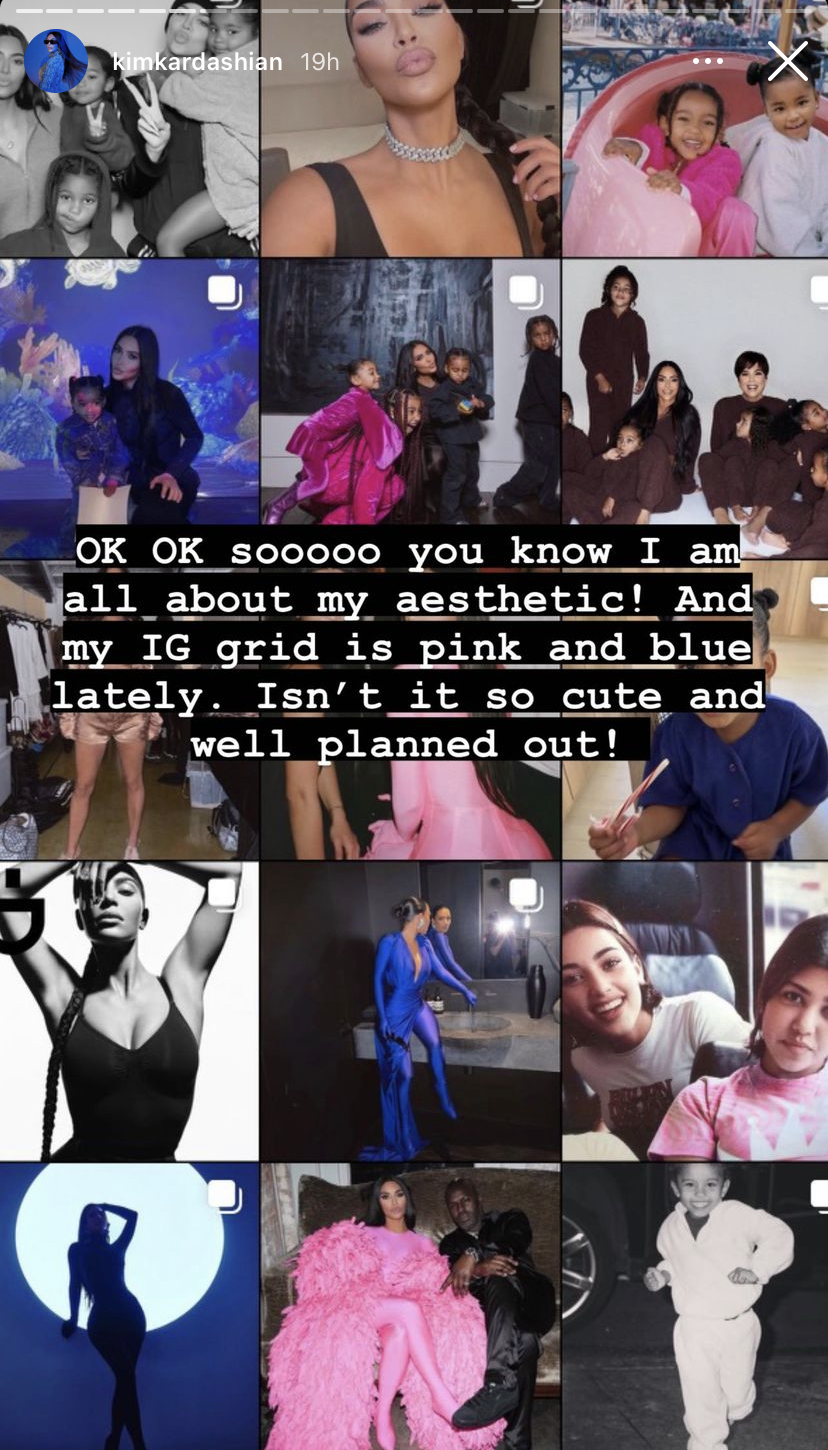 Kim confirmed that the original snaps had in fact been from a day out with Chicago and Stormi, but she said that Kylie "wasn't really feeling" having them posted online. Kim didn't specify, but we can probably presume this was in order to lie low after Astroworld.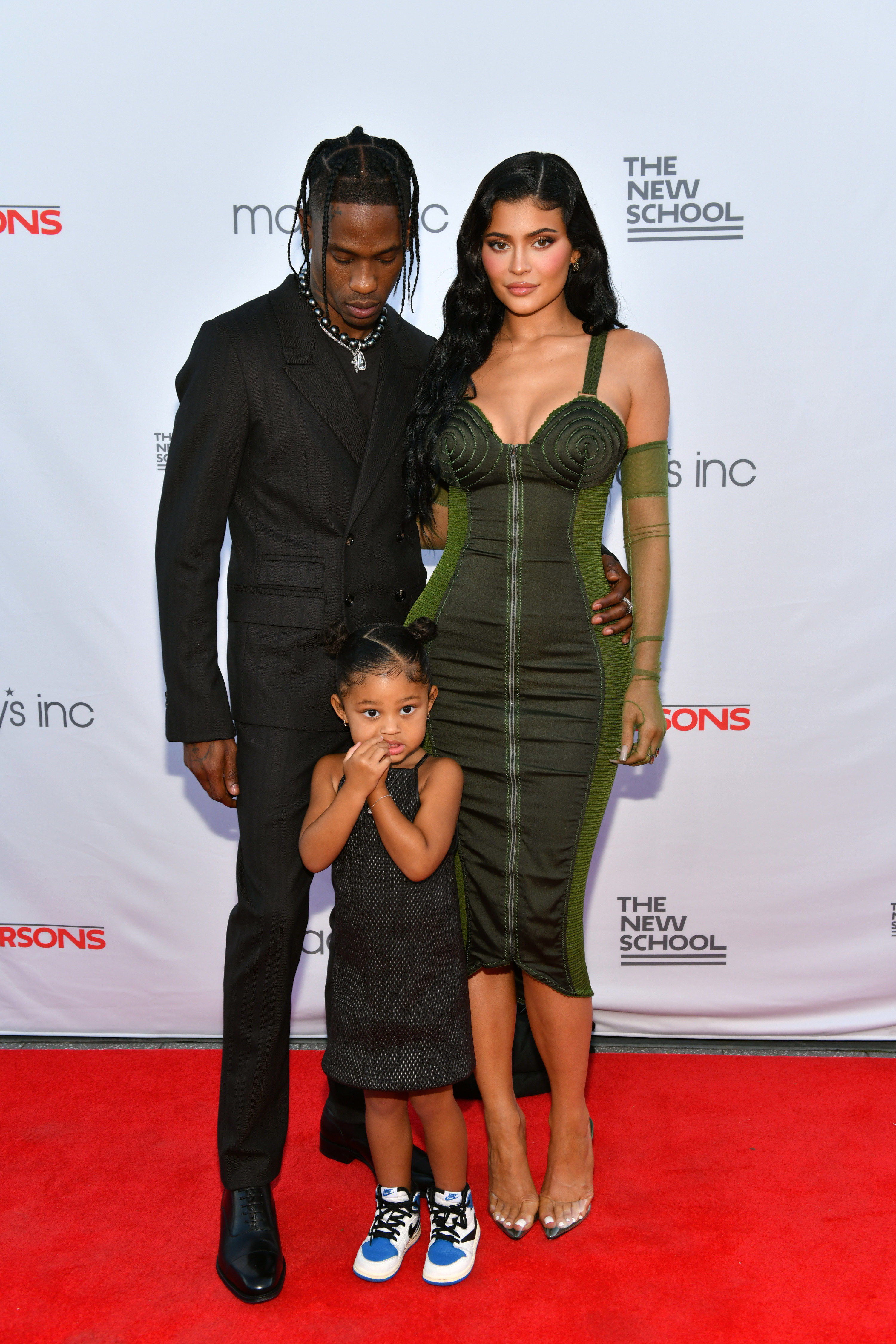 She went on to explain that while she respected Kylie's decision not to post, she wasn't going to let it ruin her fun — especially not when Chicago's pink coat matched her theme so "perfectly!"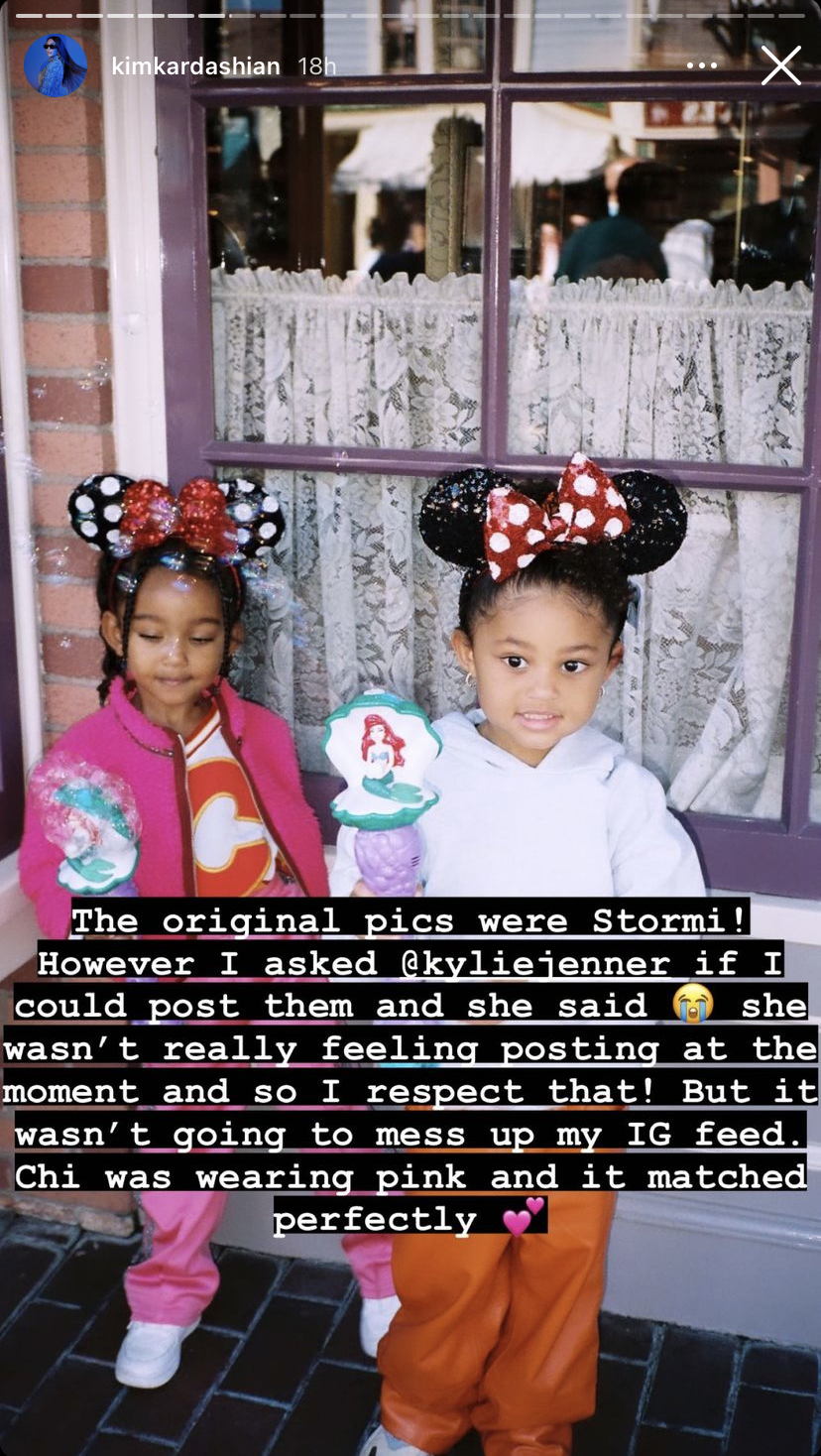 So, to make sure she could post the snap without upsetting Kylie, Kim took it upon herself to switch out Stormi's face for that of True — who, we assume, was not consulted on the matter.
"You know how much a good aesthetic means to my soul … And I will be damned if Kylie will ruin that for me and mess up my IG grid," she wrote, before giving True a well-earned shoutout for "taking one for the team."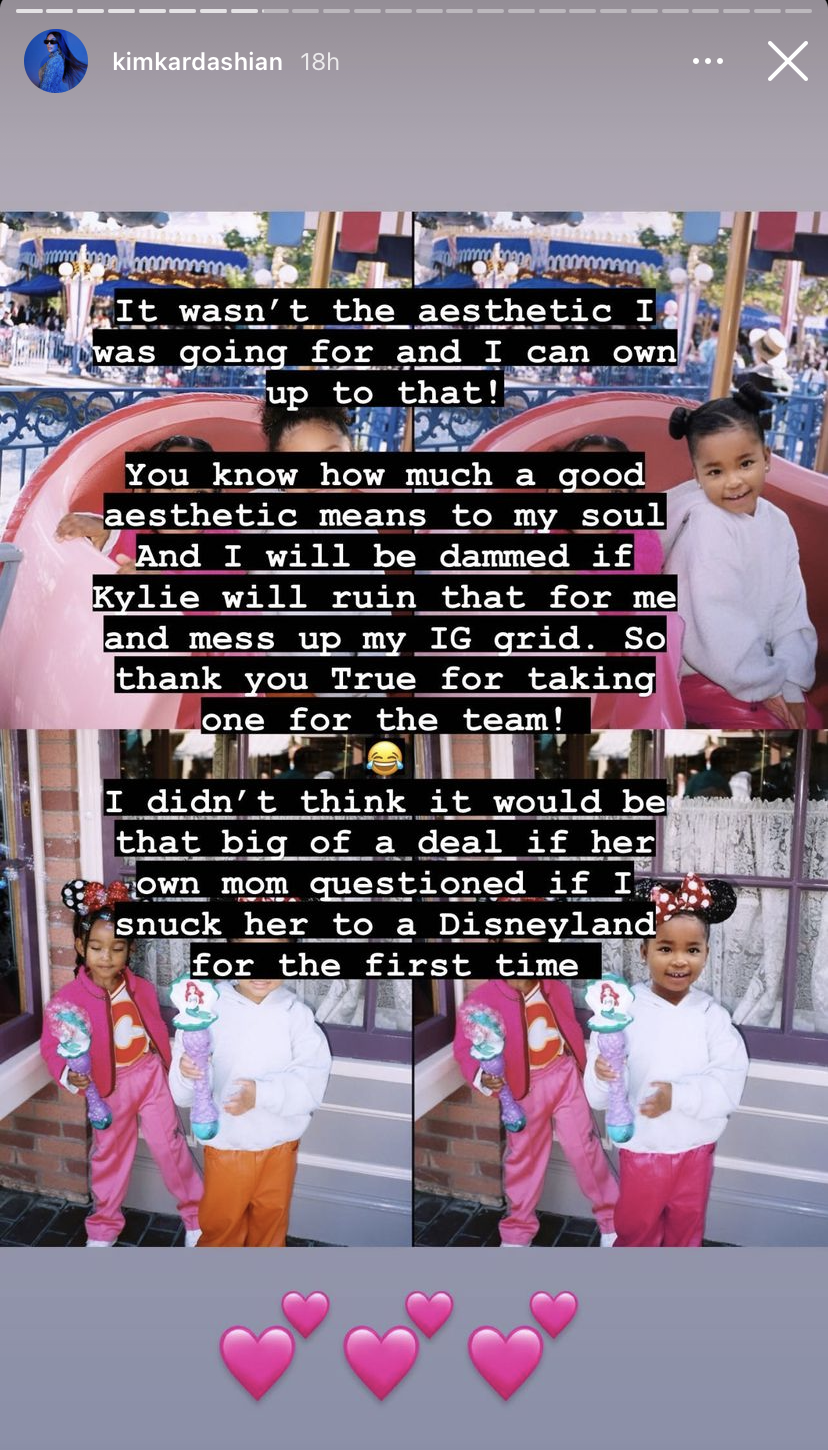 As for the dodgy photoshop job, Kim admitted it "wasn't the aesthetic" she had been hoping for and said she "can own up to that." However, it appears the edit was good enough to fool Khloé, who — after seemingly not getting the heads up — was tricked into thinking Kim had taken her daughter to Disneyland for the first time.
"I didn't think it would be that big of a deal if her own mom questioned if I snuck her to Disneyland for the first time," Kim said.
Despite the fact that we'd been dying for these answers just months ago, what Kim had seemingly hoped to be a refreshing moment of realness ultimately fell a little flat among fans.
Airing their mixed feelings about the confession, many on social media couldn't help but home in on the fact that Kim went to such bizarre and extreme lengths to maintain her Instagram aesthetic.
"She could have just posted the one kid all by herself. The head switching is bizarre. Or maybe keep some family photos for yourselves?" one person wrote on Reddit. "Just imagine if you didn't share everything on Instagram, Kim. Fewer explanations. Less scrutiny. More freedom."

Others wondered why she couldn't have just cropped the image or used a different one? Or even…respect Kylie's wishes and not post it altogether?
"Why couldn't she just edit Stormi out completely? What's the issue with just putting Chi in the pics solo??" someone wrote.
"Couldn't she take a picture of true and chicago in pink outfits since she wanted to match her ig aesthetic so bad? like why do all this when she could have just take another pic?" added another.

As well as swapping the faces, some noticed that it seems Kim also changed the color of Stormi's pants, which, judging by Kylie's TikTok from the trip, were originally orange.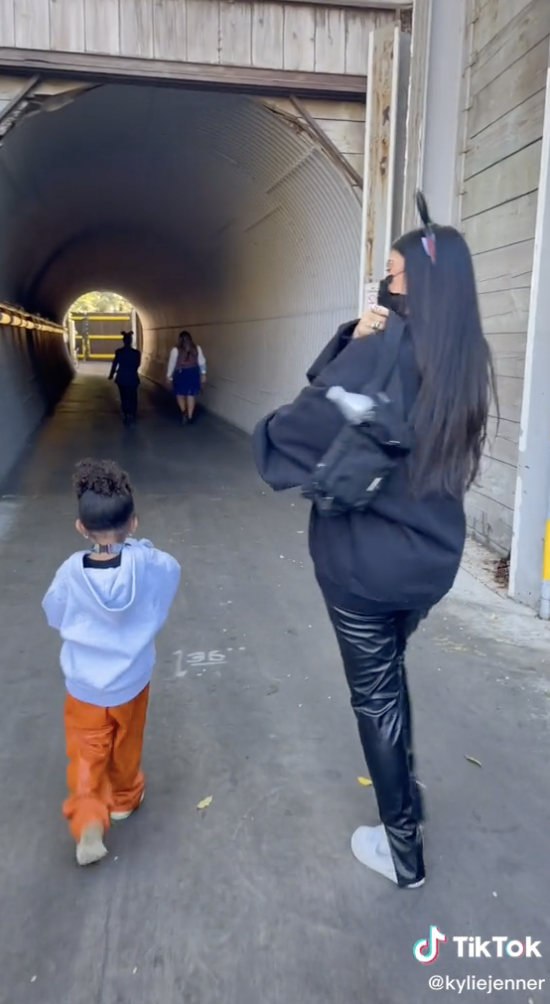 "She could've easily cropped Stormi out instead of choosing to 1) change the colour of the bottoms to suit better the 'aesthetics' of Kim's Instagram page and 2) copying and pasting another child's HEAD onto her body," another user suggested.
"That is unhinged," they carried on, adding that it felt like a complete "disregard for the feelings of Kylie & Khloe and the privacy of True and Stormi."

Similarly, one of the main takeaways from Kim's explanation was that she apparently didn't seek Khloé's permission to use True's pictures, which fans felt was especially strange after Kylie had already requested they not be shared.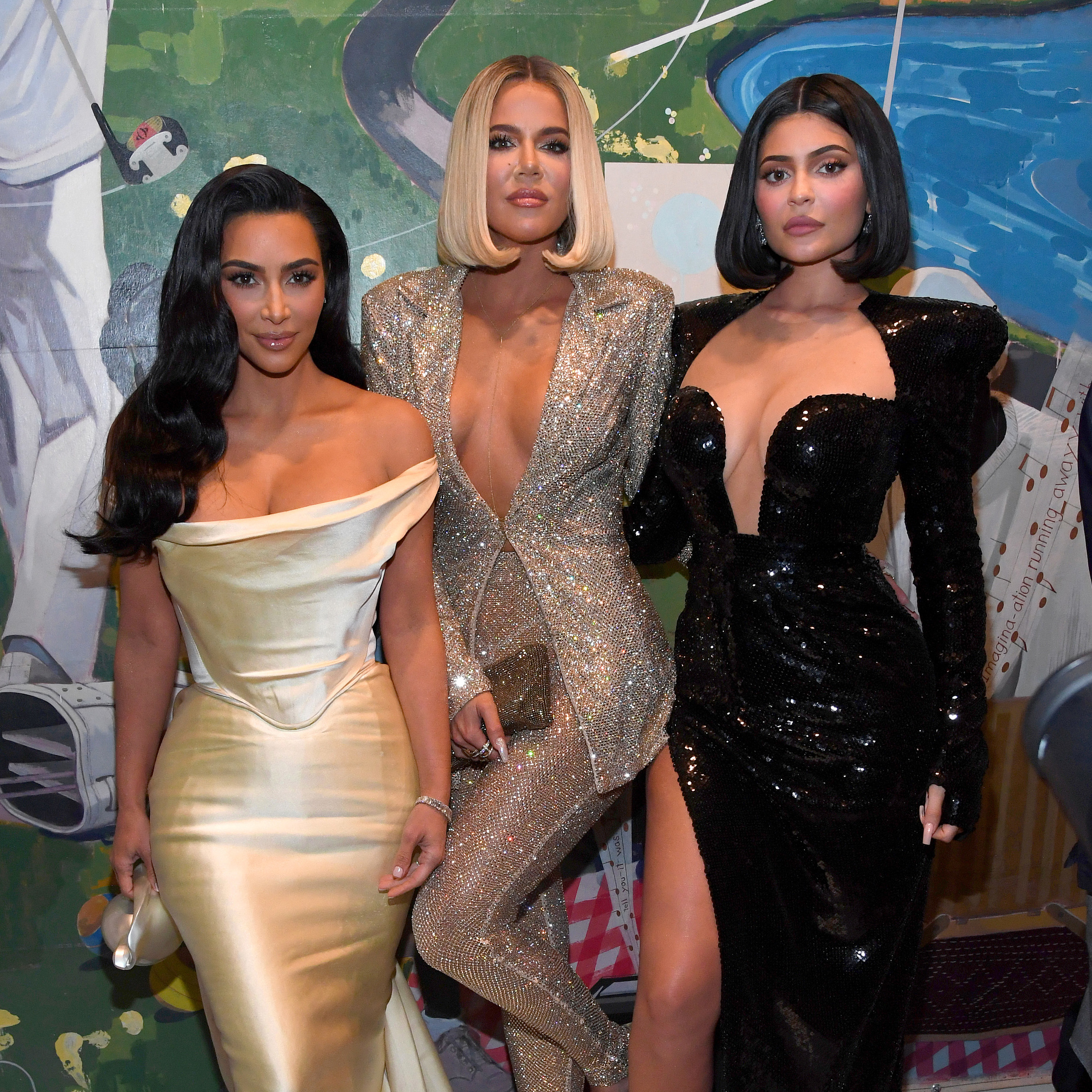 "Doesn't sound like she even asked Khloe for consent to use True after Kylie said no…," someone highlighted.

And as well as appearing to disregard Khloé's boundaries, plenty of fans noted that the whole thing — particularly the tone of her comments toward Kylie — seemed a little insensitive in light of the Astroworld tragedy.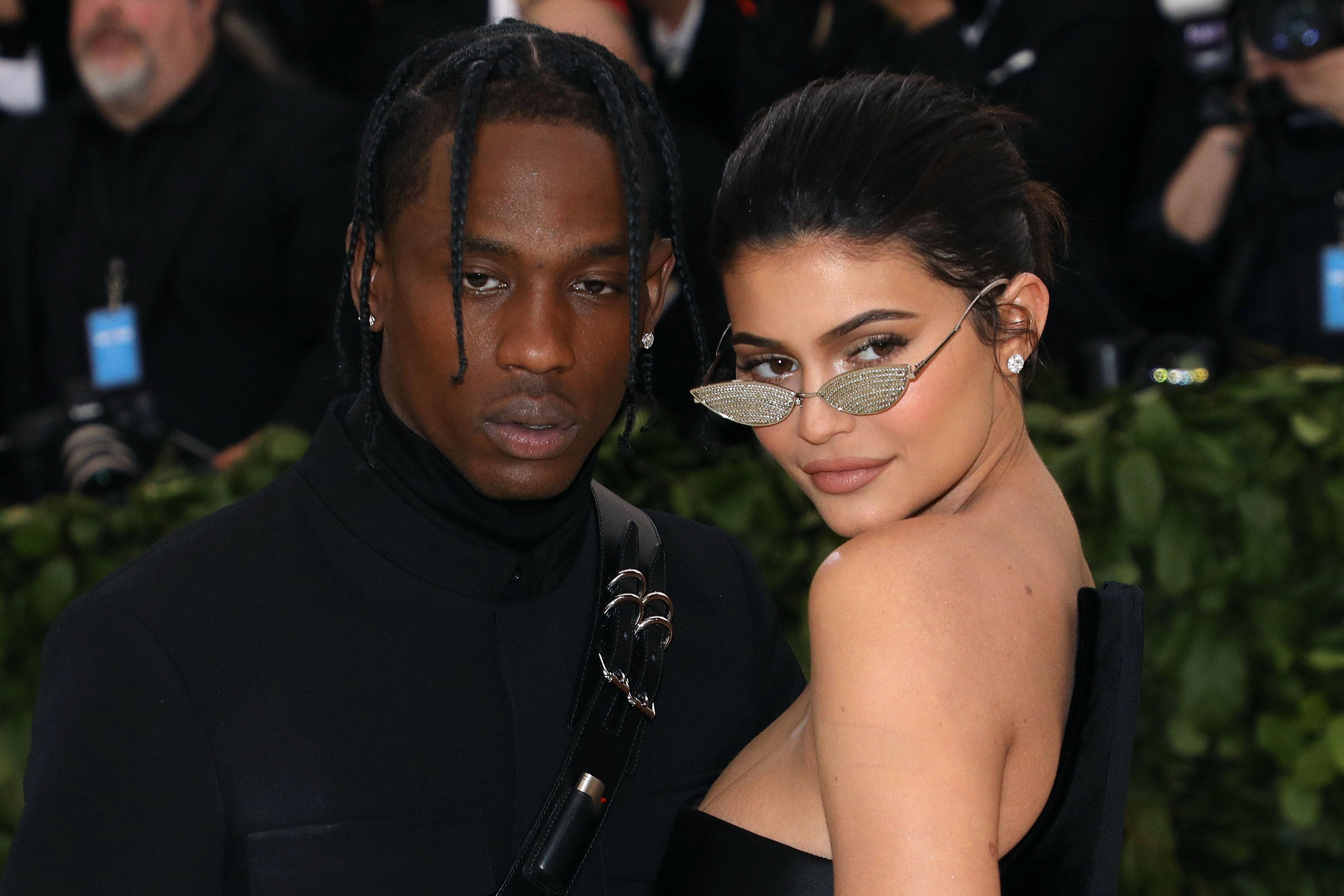 "The way she said 'I'll be damned if I let Kylie…' was so weird," someone said. "Kim chill."

"Wait. The reason Kylie didn't want Stormi on Kim's feed is because of the Astroworld thing. Like people DIED at astroworld and she's talking about aesthetics…," another added.

What's more, after comparing the original pictures with Kim's photoshopped versions, fans were shocked to see that Kim had actually altered the color of Stormi's skin tone to match that of True's.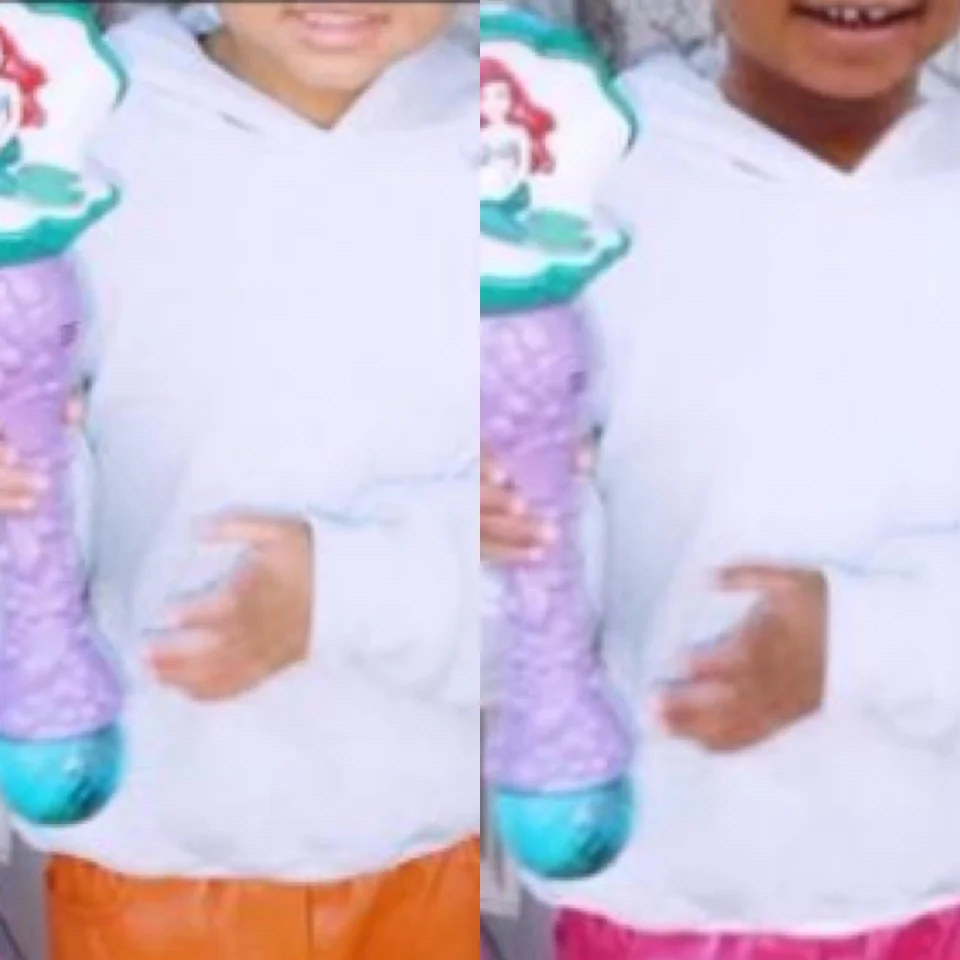 "She even made Stormi's hands DARKER to 'match' True what in the actual fuck," someone noticed.

"In no way is this normal behavior," someone wrote in response. "They are clearly going to have to explain these headlines to the kids one day. What a bizarre life. I feel sorry for the children."

Ultimately, people couldn't help but feel that the entire saga felt exploitative of the children whose images were chopped and changed in front of millions of followers.
"OMG stop Kimmy," someone said. "Do you not realise how idiotic and shallow you sound. They're just babies! You could've uploaded a million other photos with pink or blue in it but you had to exploit the kids for ~aesthetic~ reasons."

In agreement, someone else added that "it honestly kind of implies that the kids are aesthetics. Like little props."

Another user concluded that, regardless of the circumstances, photoshopping children shouldn't ever be acceptable.
"It's actually creepy," they said. "Why would anyone want a photo of their child to be photoshopped that way? For someone's aesthetic is not a rational answer."