As I'm sure you'll remember, the duo set the internet ablaze last summer when they announced to the world that — after nearly two decades — Bennifer was back on.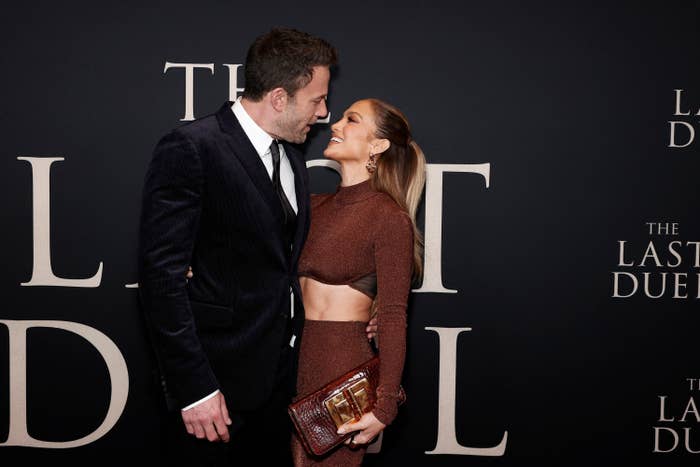 For some context, Ben and Jennifer first started dating in 2002 and quickly got engaged in the same year. However, after solidifying their status as one of Hollywood's favorite power couples, they ultimately called off their wedding and parted ways for good in 2004.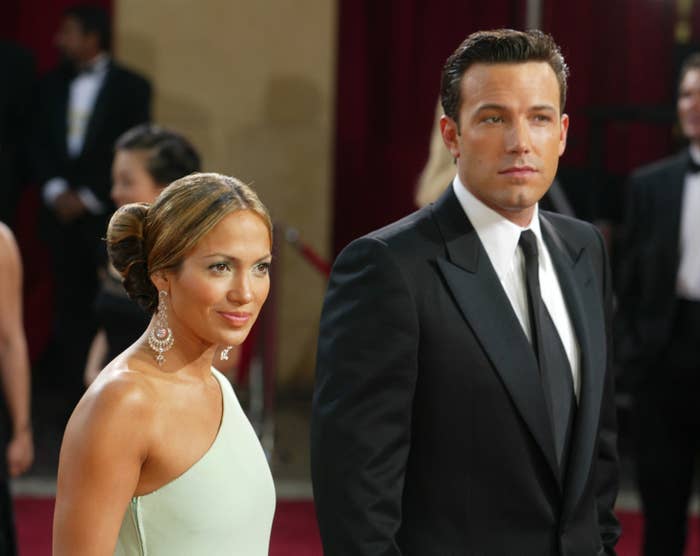 But now, 18 years and a few failed relationships later, Ben and Jennifer are engaged for the second time.
In the unlikely event that you missed it, Jennifer shared the news on Friday in a very special edition of her newsletter, On the JLo, where she showed off her beautiful — and enormous — engagement ring.
And now, after giving her fans a moment to process the excitement, the singer is back with all the juicy details about exactly what went down — and it's just as adorable as we'd been hoping.
On Tuesday, in another exclusive newsletter for her On the JLo subscribers, Jennifer dished on the intimate details of Ben's sweet proposal, revealing that she was actually taking a bubble bath when he shocked her with the ring.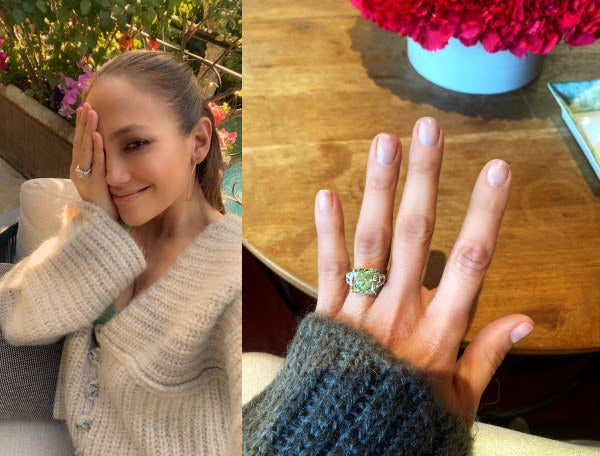 "Saturday night while at my favorite place on earth (in the bubble bath), my beautiful love got on one knee and proposed," she began.
Despite saying that the proposal was "nothing fancy," Jennifer recalled that it was "the most romantic thing" she could have possibly wished for.
"It was the most romantic thing I could've ever imagined...just a quiet Saturday night at home, two people promising to always be there for each other. Two very lucky people. Who got a second chance at true love," she wrote.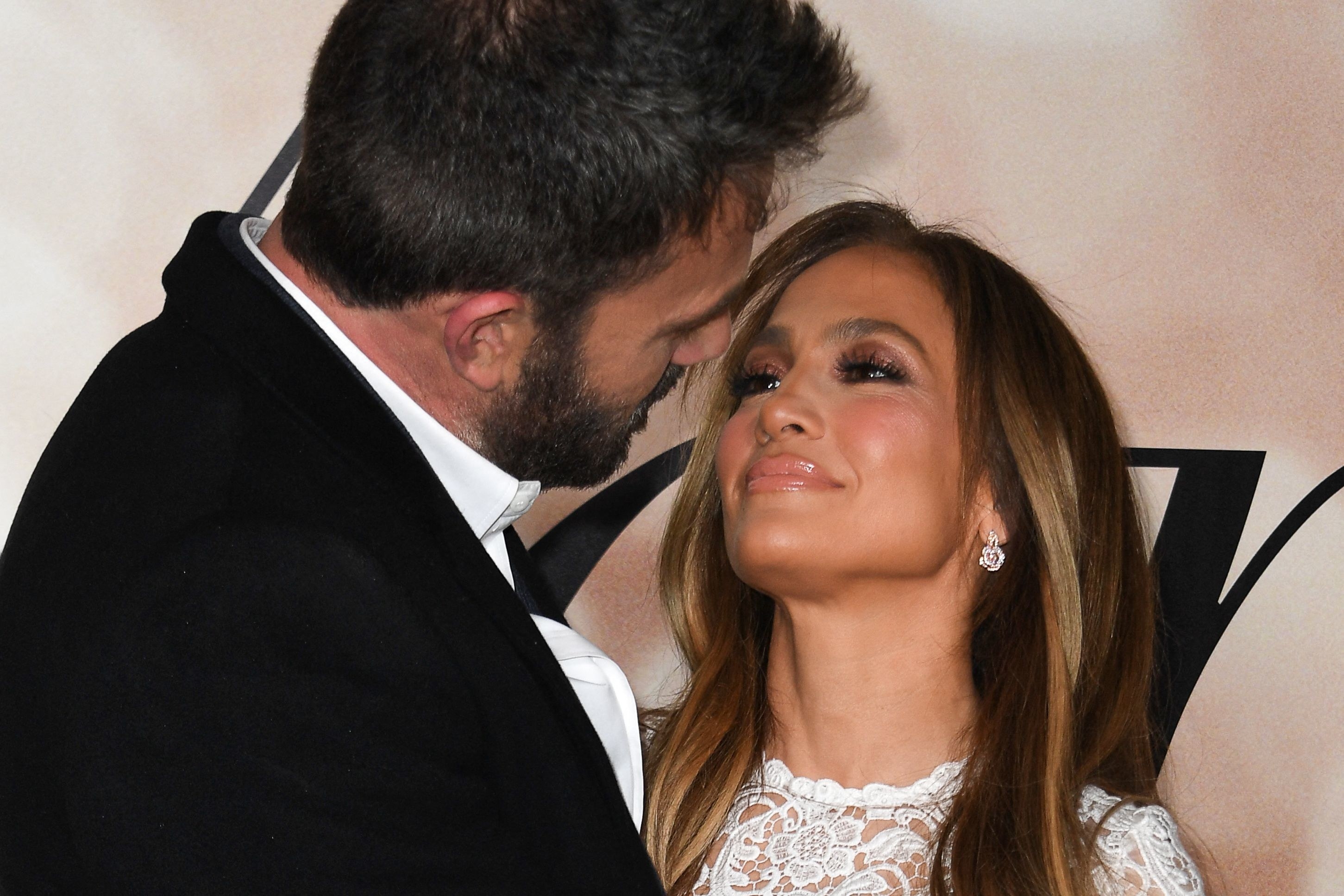 The Marry Me star also went on to reveal that the emotional moment took her by complete surprise, bringing back fond memories of their first engagement 20 years prior.
"I was taken totally off guard and just looked in his eyes smiling and crying at the same time trying hard to get my head around the fact that after 20 years this was happening all over again," Jennifer wrote. "I was quite literally speechless and he said, 'Is that a yes?' I said 'YES of course that's a YES.'"
Of course, the proposal all those years ago didn't have quite such a happy ending.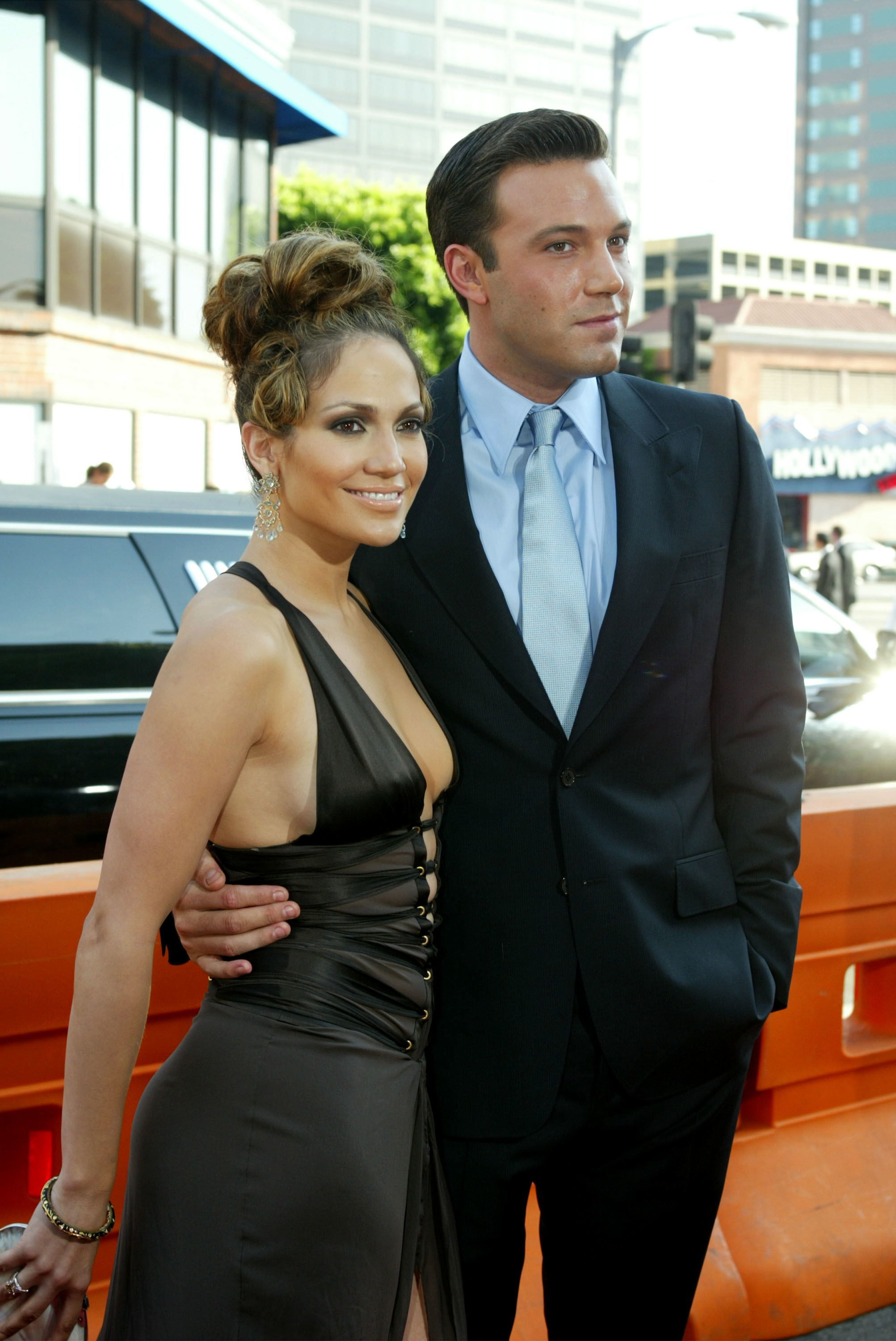 Opening up about the demise of their romance in the 2000s, Jennifer told Rolling Stone earlier this year that her relationship with Ben was destroyed from "the inside out" thanks to "brutal" public scrutiny.
"It's funny because Ben and I were together, and we were so in love. It was one of the happiest times of my life," she recalled.
"But also, there was this other thing happening where we were being criticized, and it really destroyed our relationship from the inside out, because we were just too young to understand at that time what were really the most important things in life," she went on.
But the hardships of their first relationship, she said, built a much stronger foundation for their eventual reunion.
"We're older now, we're smarter, we have more experience, we're at different places in our lives, we have kids now, and we have to be very conscious of those things," she said. "We're so protective because it is such a beautiful time for all of us."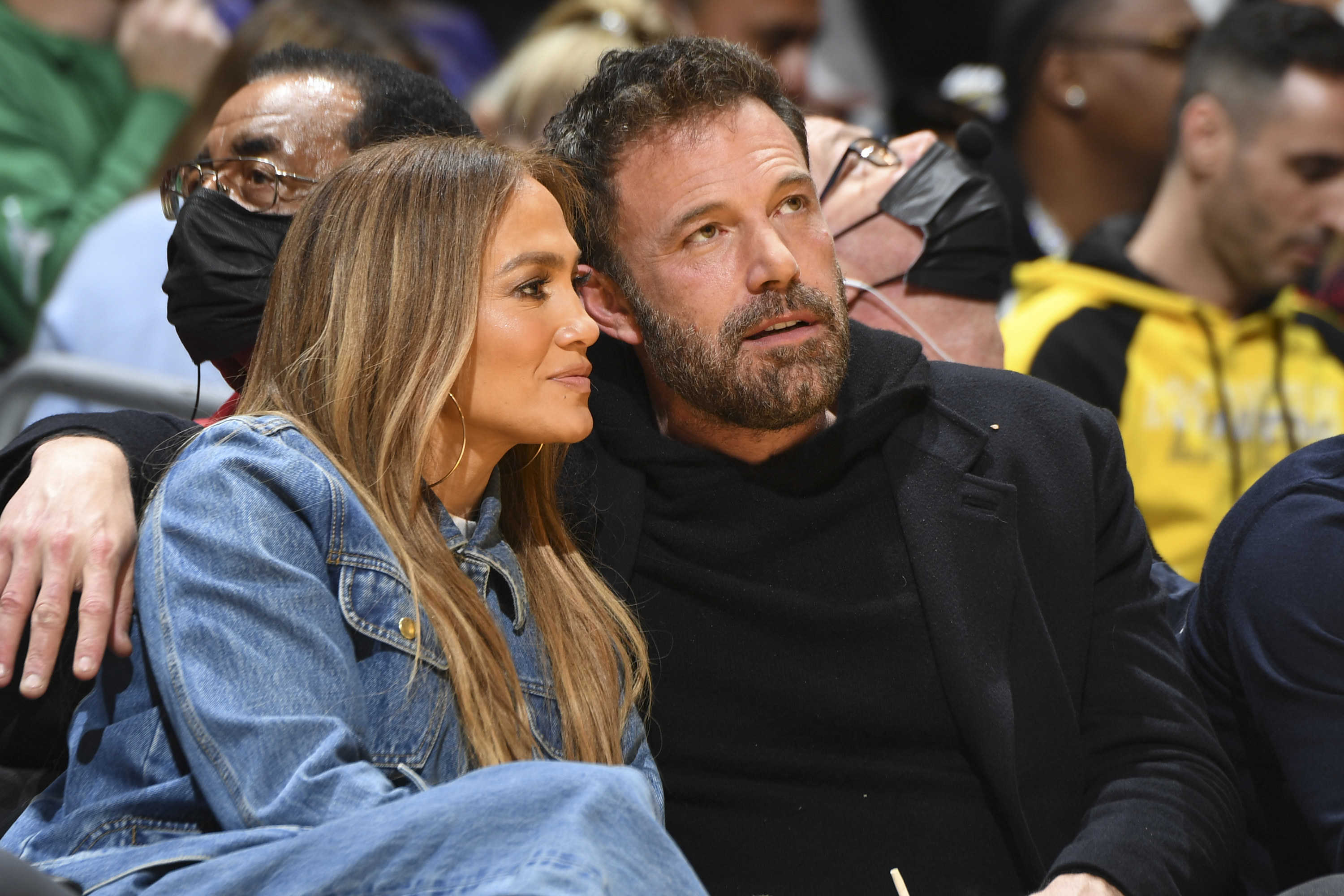 In case you didn't know, both Ben and Jennifer married and divorced other partners over the course of the 17 years that they were apart.
After her split from Ben, Jennifer went on to marry Marc Anthony in 2004. The couple welcomed twins, Max and Emme, in 2008, but sadly divorced three years later. Then, in 2019, she got engaged to Alex Rodriguez, before calling it quits in March 2021.
Like Jennifer, Ben also went on to get married soon after their breakup. The Gone Girl actor tied the knot with Jennifer Garner in 2005, before eventually splitting after 10 years together.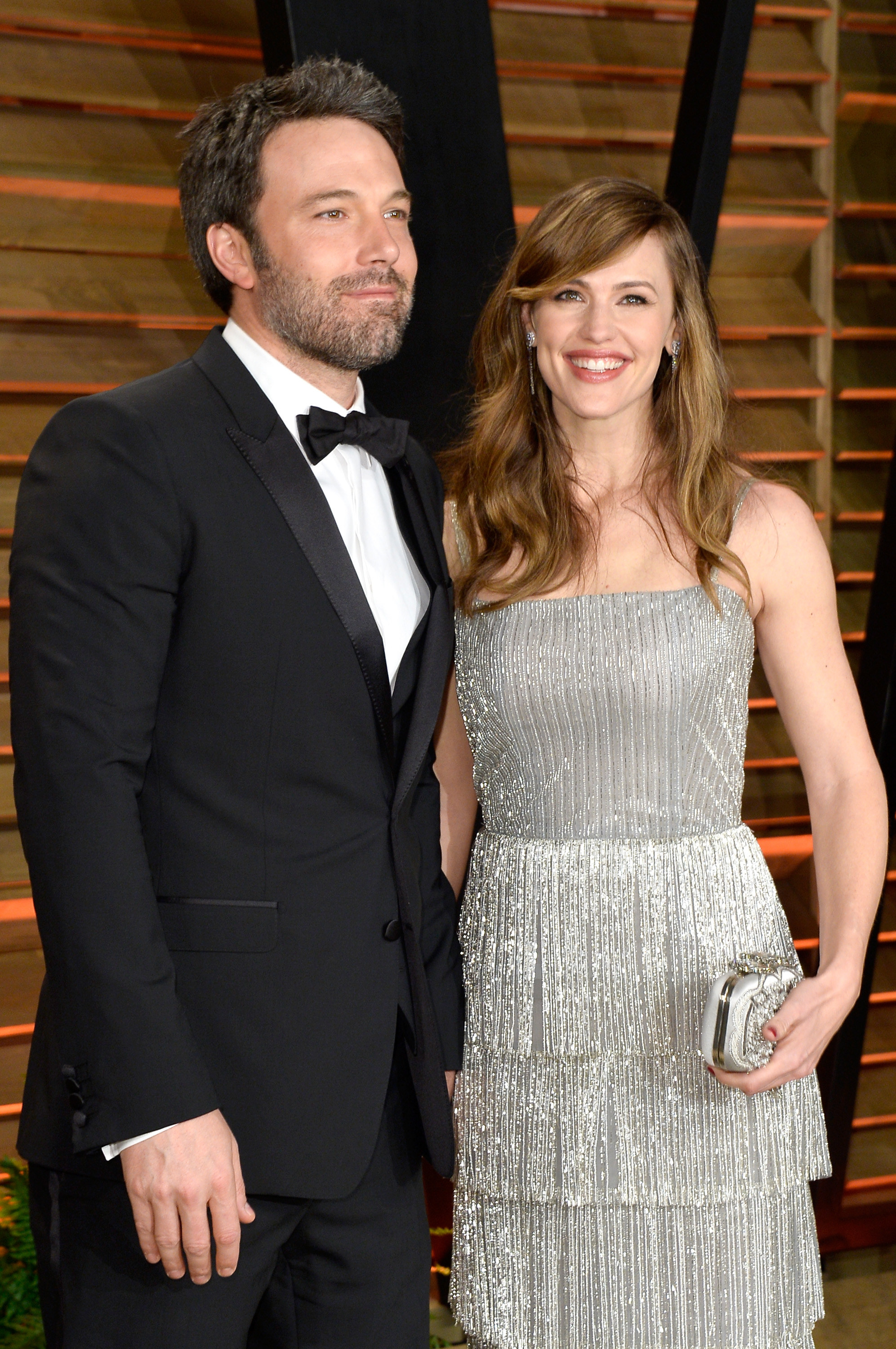 However, even after announcing their separation in 2015, Jen Garner has undoubtedly remained a huge part of Ben's life. While co-parenting their three children — Violet, Seraphina, and Samuel — and navigating Ben's struggles with alcoholism, it's well known that the exes have maintained a solid bond.
With this in mind, it came as no surprise to hear that Ben reportedly gave Jen and his kids the heads-up before he popped the question.
"Ben told Jen and the kids, so they knew about it," a source close to the family told E! News this week, adding that apparently J.Lo has the ultimate seal of approval.
"Jen is happy for Ben," the source went on. "And knows that J.Lo has been a positive influence in certain ways."