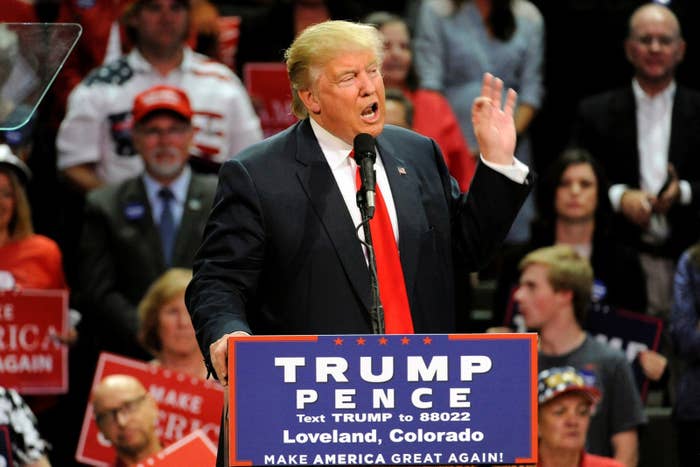 LOVELAND, COLORADO — At a rally two days after a New York Times report revealed that Donald Trump may have avoided paying federal income taxes for 18 years, his supporters affirmed their faith in his business abilities as the candidate touted his knowledge of the tax code.
"When you make lots of money, you write off as much as you can," said Molly, who drove down from Fort Collins with her husband for the event and who declined to share her last name. "That's called a good businessman."
"He makes good business decisions, and that's what he's going to do for the country," she continued. "And when things get bad, he knows how to get out of it."
"Find me someone who hasn't lied on their taxes," added her husband, Zeke.
According to leaked documents obtained and verified by the Times, Trump declared $916 million in losses on his 1995 tax return. This may have allowed him to take advantage of rules benefitting wealthy filers and avoid paying taxes on $50 million in taxable income each year for the following 18 years. In a statement to the Times, the Trump campaign neither confirmed nor denied the report. At the rally, Trump argued that the code itself is unfair, and that he alone has the knowledge to fix them.
"I understand the tax laws better than almost anyone, and that's why I can be the one to fix them," he told a crowd of about 7,000 at the Budweiser Events Center.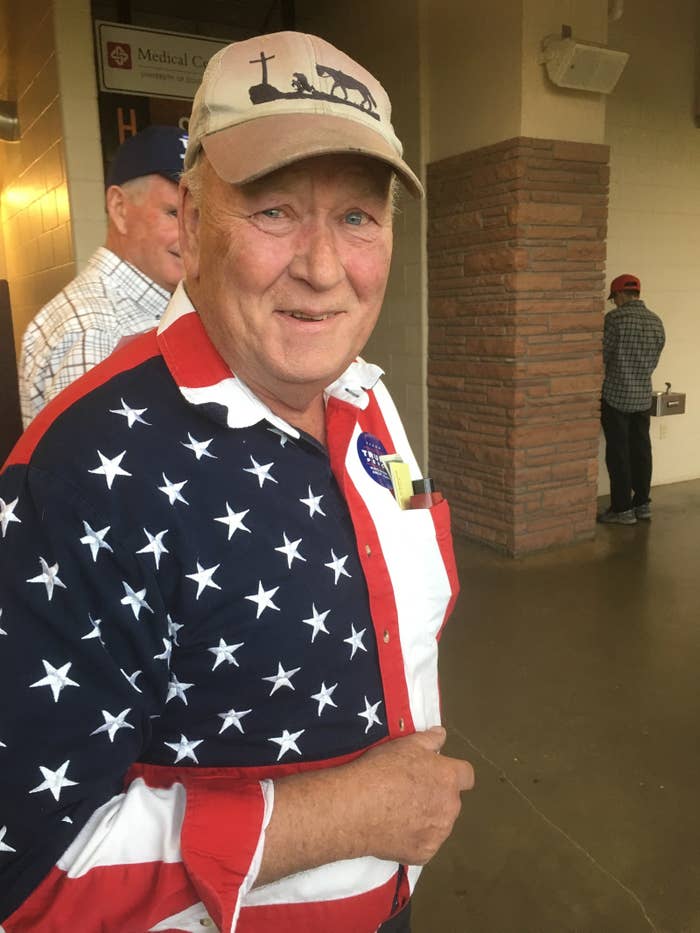 Standing in the pit before Trump's speech, Jim Ryther, a 48-year-old truck driver in a Sturgis Motorcycle Rally t-shirt, said he was drawn to Trump because he's "not a politician," and that this situation was no different.

"He files his tax returns like everybody else does. He doesn't file like a politician," Ryther said, explaining that politicians are "careful."
Meanwhile, Fred Tindell, 58, thinks that "Hillary's just looking for smears."
"He's made billions. Not millions, billions. And when you make that much and have businesses that fail, they let you write it off," Tindell said.
Standing in line for hot dogs, Gwen, 38, and Dennis, 73, also said they believed Trump was the victim of a smear campaign by a biased media.
Clarissa, 36, arrived at the rally too late to get in, but waited outside anyway in the bitter Colorado chill just to "be near the action." Like many of the people BuzzFeed News spoke to, she said she hadn't been following the tax returns story closely, but that she had faith in Trump's business acumen.

"He's a businessman. Sometimes in business, you cut your losses. That's what bankruptcy is. He's a good businessman."
During the event itself, Trump addressed the Times report head-on, saying that "the news media is now obsessed with an alleged filing from the 1990s." As he had at another Colorado rally earlier that day, Trump argued that his understanding of the tax code allowed him to survive the downturn that rocked commercial real estate in the '90s.
"The reason I never felt endangered during the real estate downturn is I knew myself, I knew my business, I knew the financial system, I knew the tax code inside out and backwards," Trump said, arguing that he legally took advantage of the tax code in order to save his business.
But he also called the tax code "a disgrace to our country in so many ways."
"The unfairness of the tax codes is unbelievable. It's something that I've been talking about for a long time. You've heard me talking about it, despite being a very big beneficiary, I must admit." He was interrupted by cheers.
"But you are more important that my being a beneficiary so we are going to straighten it out and make it fair for everybody."