Of the many small indulgences and unbidden conveniences the current tech boom has given us, one of the most enticing might be the luxe meal-kit-in-a-box: A cardboard box of pre-packed ingredients, delivered to your door once a week or so with idiot-proof recipes included. For anyone who's come home after a long day at work to find an empty fridge and an utter unwillingness to cook or shop the appeal is obvious: A kit offers the ease of takeout, but the joy (or bragging rights) of cooking, all for the low, low price of (roughly) $10 per meal.
Indeed, the consulting firm Technomic estimates that over the next decade, the meal-kit market will become as big as a $5 billion industry. More than half a dozen venture-backed, slickly marketed companies — among them Plated, Purple Carrot, HelloFresh, ChefDay!, Chef'd, GreenChef, Din, Peach Dish, and Blue Apron — are chasing the space, all with slightly different glosses and specialties. But at three years old, Blue Apron appears to be the breakout, with a $2 billion valuation, a footprint covering the majority of the country, and monthly delivery rate north of 5 million meals a month, according to a November Forbes profile. (Blue Apron declined be interviewed for this article.)
Last week, the service offered omnivores on the two-person plan "trattoria-style cheeseburgers with crispy rosemary-garlic potatoes and aioli," "seared chicken and roasted sweet potato rounds with a chestnut and Brussels pan sauce," and "North-African spiced shrimp with dates, kale, and carrots" — all delivered to your door in pre-portioned packages, and with prep times of about 45 minutes at most. Here's what it would all look like on the table, according to the recipe cards enclosed: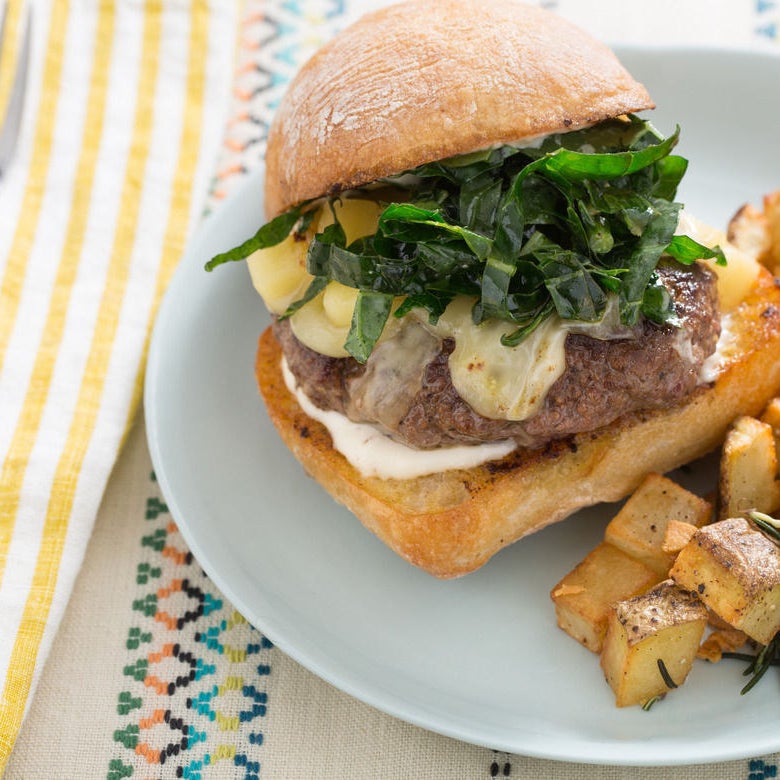 And straight out of the box, this is what it looked like: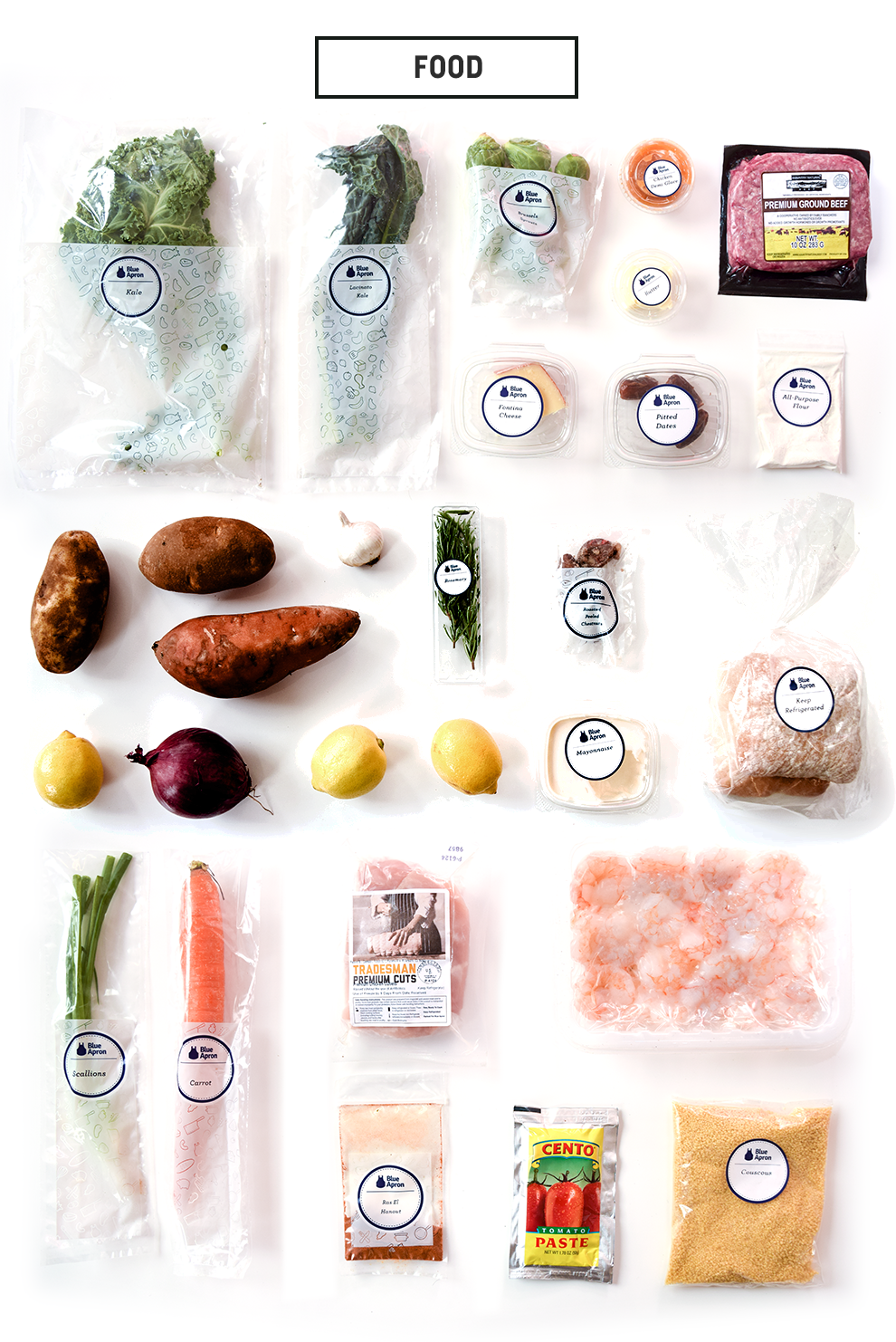 And this is what remained, after cooking: Nine plastic baggies of varying sizes; four clamshells, also plastic; a pair of tiny containers that had held about a tablespoon of chicken demi glace and a pat of butter, respectively; a sheaf of recipes, instructions, and promotions printed on thick cardstock; the foil bag from a few tablespoons of tomato paste; three paper bags, now soggy and damp from refrigeration and condensation; a cardboard box stamped with cheerful, cartoonified cooking implements; three thick plastic meat packages; two gel-filled icepacks; and a foil bag not unlike the ones marathoners wear to keep warm. (Plus the compostable peels from three lemons and skins from a head of garlic and a purple onion.) It was, in other words, a lot of waste for three meals for two people. But that's just a mere six meals; consider Blue Apron's 5-million-meals-per-month figure, and you start to get a sense of what kind of waste it produces — to use a Silicon Valley term of art — at scale.

Blue Apron argues that by portioning out its ingredients exactly, it helps cooks reduce the approximately 31% of post-harvest food that goes wasted in the country. That's a compelling argument on paper, and one that makes intuitive sense to anyone who's ever tried to follow a fancy recipe exactly and ended up with a partially zested lemon and seven-eighths of a head of black garlic in her fridge. (WTF, black garlic?) But it's a little harder to swallow when you're staring down a plastic bag containing about three tablespoons of all-purpose flour — a bag that's likely been shipped across the country to your doorstep.

According to that same Forbes article, Blue Apron sources its ingredients from 100 different family-run farms, and according to an August Pacific Standard report, it delivers to 85% of the country from two distribution centers nationwide — meaning that before it makes it to your doorstep, there's a decent chance your lacinato kale and premium ground beef crossed the better part of the United States in a refrigerated truck.

Blue Apron also makes a point that "all of [its] packaging material is biodegradable to recyclable" — in fact, it's stamped right on the box, under a headline saying "Eco-Friendly Packaging." And its website offers an extensive (if hard to find) guide to recycling packaging. But as Nathanael Johnson points out in a deliciously irate Grist post titled "Blue Apron, You're Just Making it Worse," all that recycling is easier said than done.
Those tiny baggies, for example, are made of low-density polyethylene, a type of plastic that is nominally recyclable, but that most cities won't accept for curbside pickup. (Mine is one of them; Blue Apron's "recycling locator" tool suggested that I walk the trash about three-quarters of a mile away to, ironically, my local grocery store.) The ice packs are only recyclable once you "let [them] thaw, cut off a corner, and empty the water-based solution into the trash," according to Blue Apron's own guidelines. The foil liner is #7 — "miscellaneous" — plastic, which, according to Earth911, "many curbside programs will not accept at all." Of course, you can always take all this stuff to your municipal waste facility, but it's hard to believe that the type of person who doesn't have time to go to the grocery store would willingly hop in the car for a weekend trip to the local recycling plant, either. Blue Apron also offers cooks the option of sending back the waste (save for "any meat or seafood packaging") — once it's been collected from at least two deliveries, and rid of food residue, carefully rinsed, and compacted.
Blue Apron does seem to be thinking about this stuff. The recycling guide is helpful, if optimistic, and founder Mathew Wadiak told Pacific Standard's Keira Butler that the company "buys from environmentally conscious suppliers — farms that use cover crops and no-till techniques instead of carbon-intensive synthetic fertilizer, for example." (BuzzFeed News couldn't verify this.)
And besides, industrial food production is already an incredibly complex and tangled process. Meal-delivery services might produce a whole lot of landfill waste, but for someone who lives miles away from a grocery store, the fossil-fuel impact of hopping in the car and picking up a meal's worth of ingredients — which were likely also shipped across the country, or even across the planet — might be worse.
But the shrimp and couscous were genuinely delicious, and all the rest of it was pretty good. And cleanup was a breeze, because everything went straight into the trash.