Here at BuzzFeed Tech, we're trying new stuff constantly. Companies send us products unsolicited; co-workers and friends and far-flung relatives corner us at parties to implore us to write about whatever thing they just discovered; our inboxes runneth over with PR pitches about the latest and greatest. But only a tiny fraction of that stuff ever makes it into our daily routines and changes the way we live our lives. That's what this list is — all the things that made us happier, safer, saner, more productive, and more connected in 2016, and that can maybe make you feel the same next year.
1.
Organizing my apps by color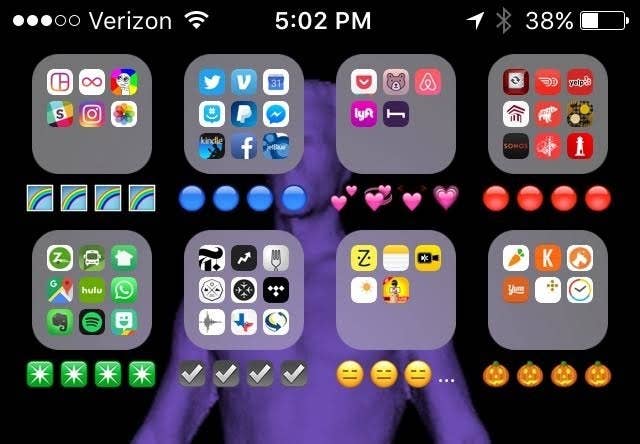 2.
Water-friendly phones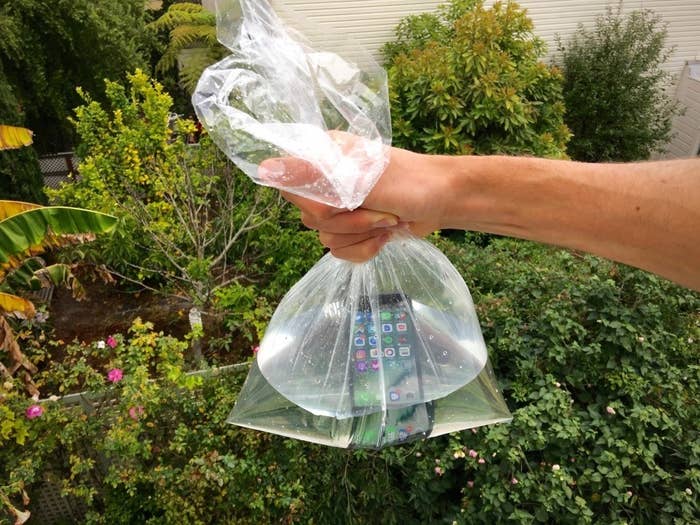 3.
Apple's Live Photos
I traveled more this year — for work and for pleasure — than I have in any previous year of my life, which means I also took a lot more pictures than ever before. The result is a formidable, deeply disorganized library comprising stray moments of my year. Sometimes, when I'm looking to kill a few minutes or if I'm feeling nostalgic for something, I'll pad through the little patchwork of colorful thumbnails and watch the days and weeks and months rush past under my thumb. I'll open up a few of the best photos and reminisce. It's a nice, tidy exercise of selective memory.
Late last year, though, Apple rolled out its Live Photos feature, and ever since it's unexpectedly changed the way I relive all of the weird, wonderful, dumb, and mundane moments of 2016. For the uninitiated, Live Photos is a nearly invisible feature that, when toggled, keeps your camera rolling before and after you snap the shutter on your picture, creating a little three-second video with sound; press on your photo and it animates almost like a GIF. It's one of the many throwaway bells and whistles that accompany new phone software and hardware updates — a little Easter egg designed to make your eyes widen a touch and give you the general impression that you're living just ever so slightly in the future.
I enabled the feature unwittingly late last year, and as a result my photo library has been transformed into a hypnotizing, moving archive of every memory I've seen fit to try to capture. Now my library is rich with new context — a photo of an acrobatic basket fisherman on Myanmar's Inle Lake is forever preserved with the sound of lapping water against our skinny little engine boat. With a touch of a finger, a photo of the park in fall at sunset reveals the orange and yellow leaves shimmering in the wind. The meticulously orchestrated but made-to-look-candid photos of my dog are appended with the moments where she turns away from the camera to drool and scratch herself indiscreetly.
There are unexpectedly poignant moments, too. A photo of my 90-year-old grandmother reflects the slow grace of her movements as she poses for a photo with her infant granddaughter at twilight at a family reunion this summer. Scrolling through moments like these, I can't help but think of the power these photos would have if the loved ones in the frame were to pass away. I think about how magical and heartbreaking and necessary it might feel to watch them come to life again, if only for an instant.
Mostly, though, I'm thankful for how messy they are. So many of my live photos from this year capture the awkward seconds before and after a posed picture or the mundanity of a seemingly insignificant moment at home. They're what might have once been throwaway photos. But now even these dumb, haphazardly shot memories are imbued with meaning. More than anything else, they're a reminder that, unlike most of the still images themselves, life is messy, weird, unexpected, and occasionally beautiful and poignant. —Charlie Warzel
4.
Tile Slim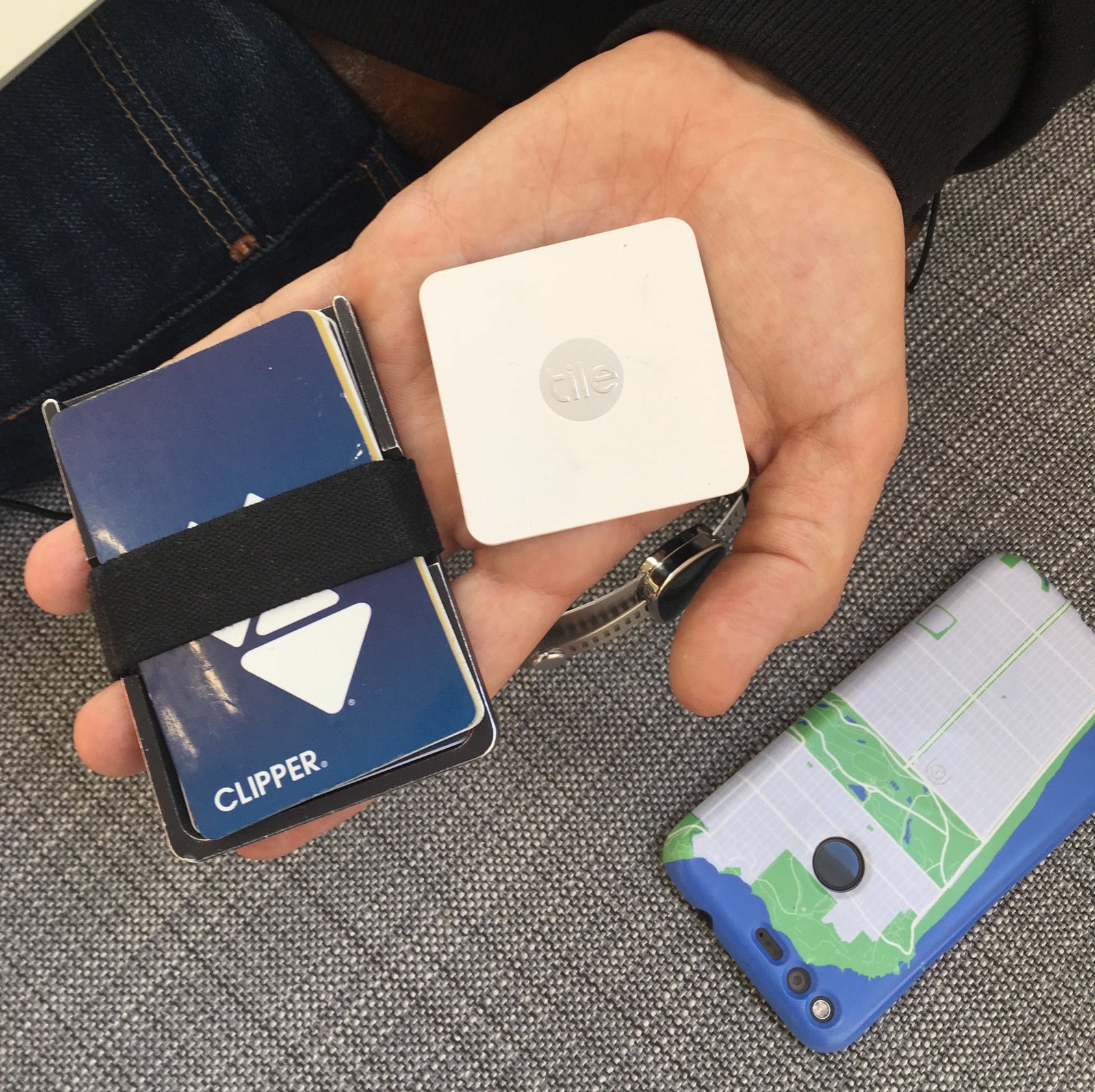 5.
Sending voice notes on WhatsApp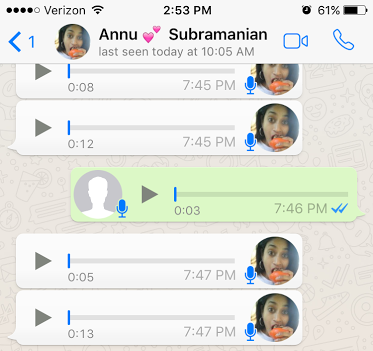 Of the many doohickeys and flourishes and lily-gilding Easter eggs included in the newest iOS update, by far the most purely delightful are the fireworks, shooting star, lasers, balloons, and confetti you can now unleash on any poor soul with whom you text. Spice up a boring "I'm running late" missive to your co-worker with confetti! Tell your significant other about a reality star's latest look with fireworks! Apprise your parents of your new tattoo with ~*LaSeRs*~! Is it necessary or useful or in any real way worth the millions of dollars Apple doubtlessly spent developing it? Heck no! Is it fun? Absolutely. (Sent with Laser effect) —Ellen Cushing
8.
Kiwake
So, I am a big oversleeper. Major snooze-buttoner. I sleep like nine hours a night. I can sleep through anything. My sleepiness, while cute on a Sunday morning, is not so much a boon in the professional world. I've never gone in for those alarm clocks that shine lights on your face or get gradually louder or move away from you, because that seems like overkill, but this year, I found an app that actually helps with the snooze habit. It's called Kiwake. This is how it works: Before you go to bed, you take a picture of something in the room where you are sleeping. When the alarm goes off in the morning, you have to get out of bed and take a picture of that thing again before it will go off. Congratulations, now you're out of bed. The key here is, obviously, not to get back into bed; for this reason, I usually use a photo of a framed drawing of a banana that hangs above my coffee machine, so that I can immediately start making coffee. Kiwake's system also includes brain games (tap all the tiles as they fall, remember four colors or shapes in a row, remember which cup the bean is under), as well as "motivations" that you have to acknowledge by swiping them (if you, like me, don't have a personal mantra or whatever, you can use a picture of someone or something that makes your life worth living as your "motivation"), but these features are definitely secondary to the get-out-of-bed photo-matching thing. A word to the wise: If you don't want to set an alarm, make sure Kiwake is off — the app works because it's insistent, and the only way to make it stop other than to follow the instructions is often to delete it. —Caroline O'Donovan
9.
Gboard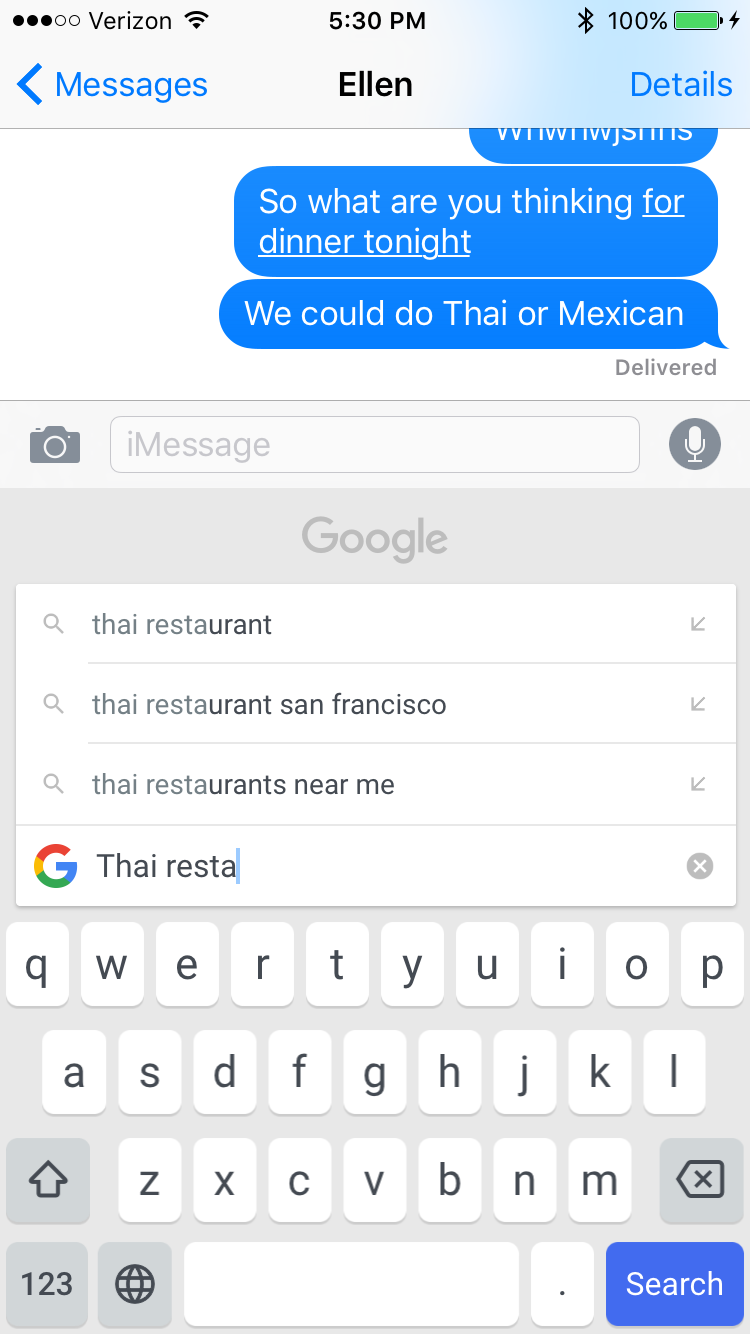 10.
Deleting — and then un-deleting — Facebook
I spent most of 2016 hating Facebook. In the months leading up to the election, the social network felt like little more than an outrage factory: a crowded, loud, ugly, inhuman place good only for yelling at my distant relatives, being bullied into throwing parties for near-strangers, and finding out that people I previously adored had absolutely wretched opinions about culture and current events. In March, I'd deleted the app from my phone altogether, and by the summer, I was checking the site once a week or so. I was happier, saner, more productive. I forgot a lot of birthdays.
And then, on Dec. 2, a fire ripped through a warehouse a few miles from my home in Oakland, California, killing 36 people, some of whom were my friends. And literally overnight, Facebook became essential. It was where I gobbled up any information I could find at a moment when the local news and official updates were error-ridden and torturously slow; where people I hadn't seen in years messaged me to ask if I was OK; where details about benefit shows and vigils and donation drives and memorials spread; where we prayed for the missing and, later, remembered the dead. I watched press conferences streamed live by local news affiliates and scrolled through the tributes stacking up on victims' pages and I ❤️ and 😢-ed every acquaintance's anguished status with the raw abandon of a broken heart and the kind of emotional vulnerability only really afforded by a screen. People at work or on the subway or, yeah, on Twitter may have been oblivious, but on Facebook, it seemed, everyone knew how I was feeling, because they were feeling the same way too. In a year when Facebook felt bigger — in ambition, in size, in sheer, world-changing power — than ever before, I liked it best when it felt small: all the people I knew and loved IRL in the same private, virtual room, grieving together. —Ellen Cushing
12.
Reflectacles
13.
Night Shift and Night Mode
14.
VR
A lot of techies said that 2016 was the "year of VR," which wasn't really the case. It's not a widespread thing yet. Google Cardboard was fine but uncomfortable, we all got motion-sick, and these high-powered headsets are super expensive. But the release of all of these headsets did allow a lot more people, me included, to have that initial "Holy shit!" moment with the technology. I watched a train steaming toward me turn into a flock of crows, which then turned into ribbons. It was amazing! I won't soon forget that first feeling of wonder. —Blake Montgomery