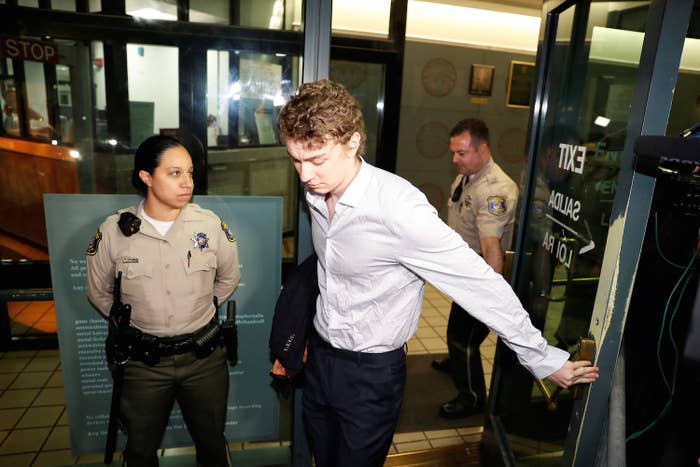 Brock Turner, a former student-athlete at Stanford University, was released from county jail on Friday after serving just three months for sexually assaulting an unconscious woman behind a dumpster in January 2015.
As he exited Santa Clara County Jail, people in the crowd shouted to Turner, who wore a button-up shirt and pants, "Are you going to say you're sorry, Brock?"
He did not respond, and avoided making eye contact with them.
Turner's lenient sentence drew national outrage, and a letter read to him by his victim during his sentencing was widely shared across social media. In the letter, his victim described the "severe impact" that the assault had on her.

Santa Clara County Sherrif Laurie Smith was at the jail Friday ahead of Turner's release, advocating for a bill that aims to increase the punishment for sex crimes against intoxicated victims.
In the release, Smith writes, "probation is not a fair sentence for anyone convicted of a sexual assault felony against an intoxicated and unconscious victim."
Turner was convicted of three counts of sexual assault — assault with intent to commit rape of an intoxicated woman, sexually penetrating a woman with a foreign object, and sexually penetrating an unconscious woman with a foreign object — on June 2.
The former swimmer was sentenced to six months in prison, but corrections officials have said that it is typical for inmates without previous disciplinary records at Santa Clara County Jail to serve half their time. In addition to jail time, Turner will be on probation for three years and will be required to register as a sex offender.
Santa Clara County Superior Court Judge Aaron Persky, who oversaw the case, said in court that he felt a harsher punishment would have a "severe impact" on Turner. The judge's decision sparked massive outrage and protest for what people felt was overt leniency.
Persky currently faces a recall campaign because of his sentencing, and a recent BuzzFeed News report found that the judge had given preferential treatment to another student-athlete accused of domestic violence.
Following Turner's release, a couple dozen protesters demonstrated outside the courthouse, calling for Persky's resignation.