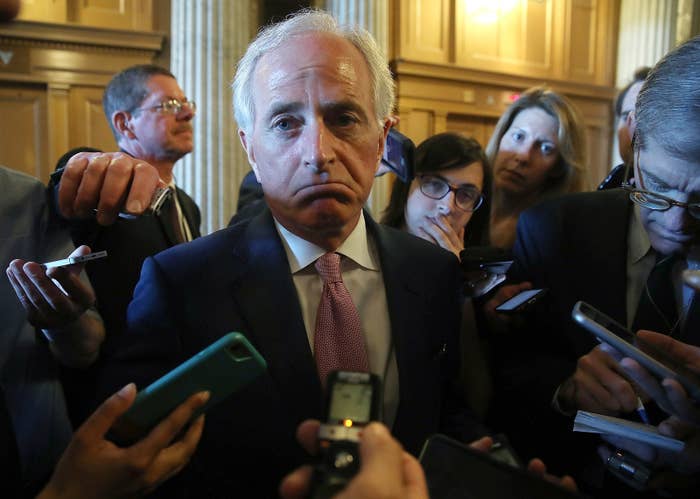 Sen. Bob Corker, a Republican from Tennessee and the chair of the Senate Foreign Relations Committee, is escalating his public criticism of President Donald Trump, following a Sunday morning Twitter spat.
Trump, Corker told the New York Times in an extensive interview Sunday night, "would have to concern anyone who cares about our nation."
"I know for a fact that every single day at the White House, it's a situation of trying to contain him," he added.

Corker, who recently announced that he will not seek reelection next year, had called the White House "an adult day care center" in a morning tweet, in response to an attack from the president on Twitter.

In a series of tweets, Trump claimed that Corker "begged" him for an endorsement and then decided to retire when Trump declined.
Trump also said he turned down Corker's bid for secretary of state, and added that Corker is "largely responsible for the horrendous Iran deal."
A source familiar with the situation told BuzzFeed News that "all claims made in the president's tweets are false. The president called the senator early last week and asked him to reconsider his decision not to seek reelection and reaffirmed that he would have endorsed him, as he has said many times."

Corker suggested the same to the New York Times Sunday night.
"I don't know why the president tweets out things that are not true," the senator told the Times. "You know he does it, everyone knows he does it, but he does."
Corker also suggested that more than impacting him personally, the president's Twitter habits have damaged diplomatic negotiations.
"I know he has hurt, in several instances, he's hurt us as it relates to negotiations that were underway by tweeting things out," he told the Times.

Corker, an early supporter of Trump, has been increasingly critical of the president in recent months. Last week, he told reporters Secretary of State Rex Tillerson, Chief of Staff John Kelly, and Secretary of Defense James Mattis are helping "separate our country from chaos." And in August, he said Trump "has not yet been able to demonstrate the stability nor some of the competence that he needs to demonstrate in order to be successful."