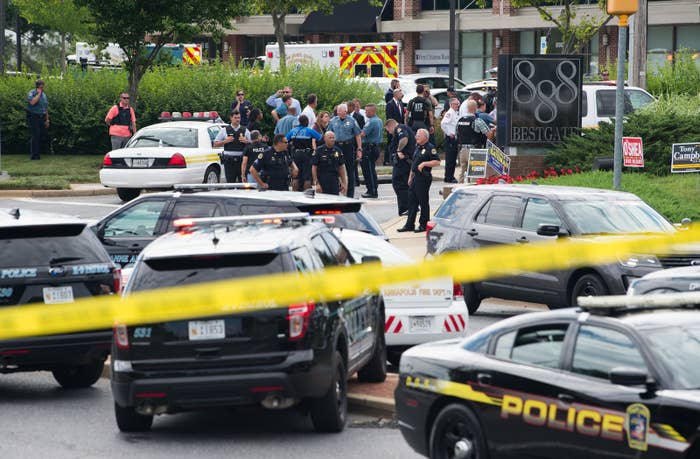 ANNAPOLIS — A man who had a long-running grudge against a Maryland newspaper was charged with five counts of first-degree murder Friday over the mass shooting at the company's newsroom that left five people dead.
Jarrod W. Ramos, 38, is accused of opening fire in the Capital Gazette offices in Annapolis on Thursday, killing five staffers and injuring two others.
During a hearing Friday morning, he was ordered held without bail.
Late Thursday, somber officials announced the names of the victims: Wendi Winters, an award-winning reporter who covered community news; Robert Hiaasen, an editor known for his humor; Gerald Fischman, an editorial writer; Rebecca Smith, a new sales assistant; and John McNamara, who had worked for the Capital Gazette in various roles for more than 20 years and loved sports.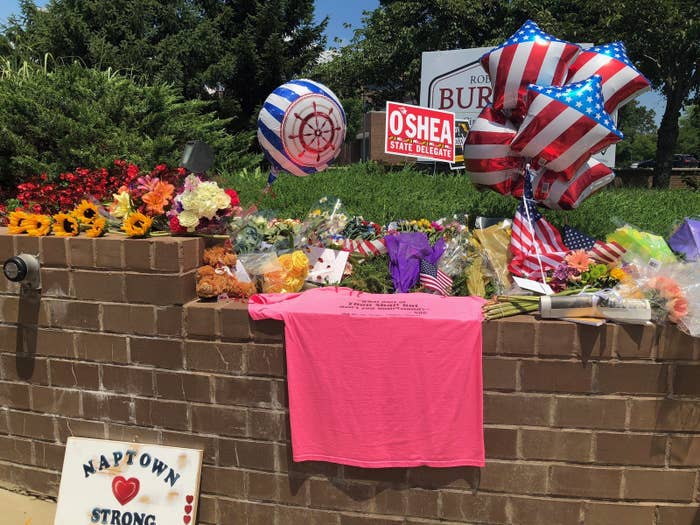 The alleged gunman entered the newspaper's building Thursday afternoon with a shotgun, walked through the lower level "looking for victims," and opened fire, Anne Arundel County Acting Police Chief Bill Krampf said Thursday.
"This was a targeted attack on the Capital Gazette," Krampf told reporters. "This person was prepared today to shoot people. His intent was to cause harm."
State Prosecutor Wes Adams said prior to entering the building, the suspect barricaded a back entrance so people couldn't escape.
When law enforcement arrived at the scene, Timothy Altomare, Anne Arundel County police chief, said officers found the suspect hiding. No shots were exchanged with law enforcement.
Altomare said officers collected evidence from the suspect's home "showing the origination of planning."
"The fellow was there to kill as many people as he could," Altomare said Friday during a press conference. He said that officials have no reason to believe there were any other suspects "involved in this atrocity."
The suspect used a 12-gauge pump action shotgun that was legally purchased about a year ago, Altomare said, adding that the alleged shooter has not been cooperating with authorities since his arrest.
"We're not getting very much communication," the police chief said, adding that officials used facial recognition software to identify the man.
President Donald Trump offered his condolences Friday, saying the attack "shocked the conscience of our nation and filled our hearts with grief."
"Journalists, like all Americans, should be free from the fear of being violently attacked while doing their job," Trump said, vowing to do everything in his power to reduce violent crime.

"We will not ever leave your side," he said. "So our warmest, best wishes and regrets."
At the Capital's offices, a memorial grew in front of a large stone sign reading "888 Bestgate," the address a Capital intern had tweeted frantically to police on Thursday in the midst of the shooting.
Flowers were laid next to rolled-up newspapers, American flag balloons, and a reporter's notebook on whose cardboard cover was written "Please tell God to stop this when you have a word."
People arrived all morning at the memorial. A man who said he had freelanced at the paper as a photographer laid down a small potted plant and removed his hat, his camera around his neck.
Patricia Card, a 45-year Annapolis resident, said she'd been compelled to drive to the newspaper's office building, where her daughter once worked, with a bouquet of flowers. "I don't know anyone who works there now, but the Capital is dear to everyone," she said. "It's such a tragedy, it hurt everyone here."
She was moved, she said, that the Capital had still published a paper. "It's wonderful. It gives a lot of hope," she said.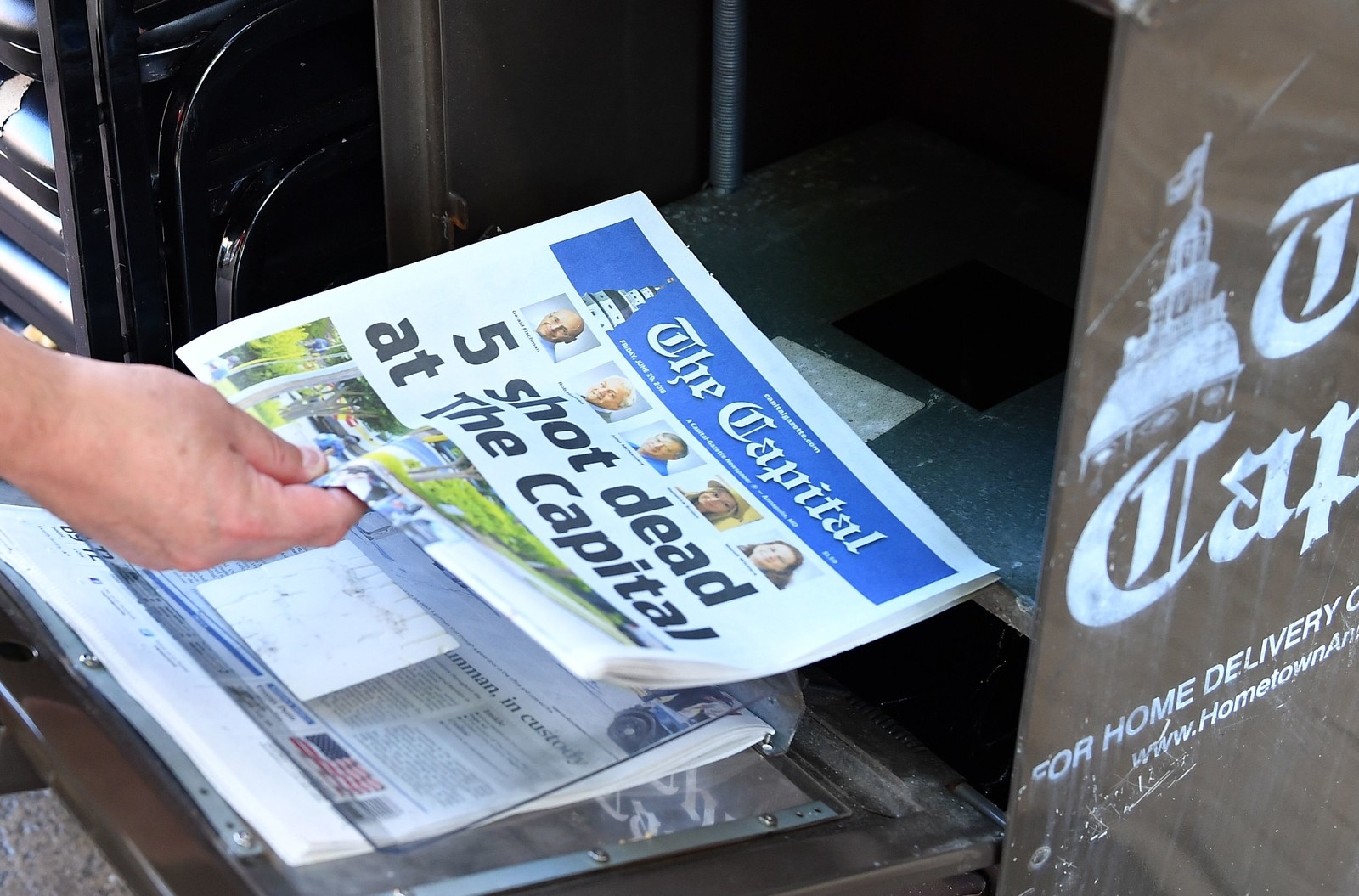 Ramos had unsuccessfully sued the newspaper for defamation in 2012 after it published a column about his guilty plea to criminal harassment.

The column, written by Eric Hartley and titled "Jarrod wants to be your friend," detailed the events leading up to his guilty plea — how he reached out to an old classmate on Facebook and proceeded to harass her over email, according to court documents.

"That sparked months of emails in which Ramos alternately asked for help, called her vulgar names and told her to kill herself. He emailed her company and tried to get her fired," Hartley wrote in his column, adding that the woman called police about the man's behavior.
One week before the statute of limitation for defamation expired, the suspect sued Hartley, Capital Gazette Communications, and Tom Marquardt, the paper's then-editor and publisher.
Hartley, who no longer works at The Capital, did not immediately respond to BuzzFeed News' request for comment.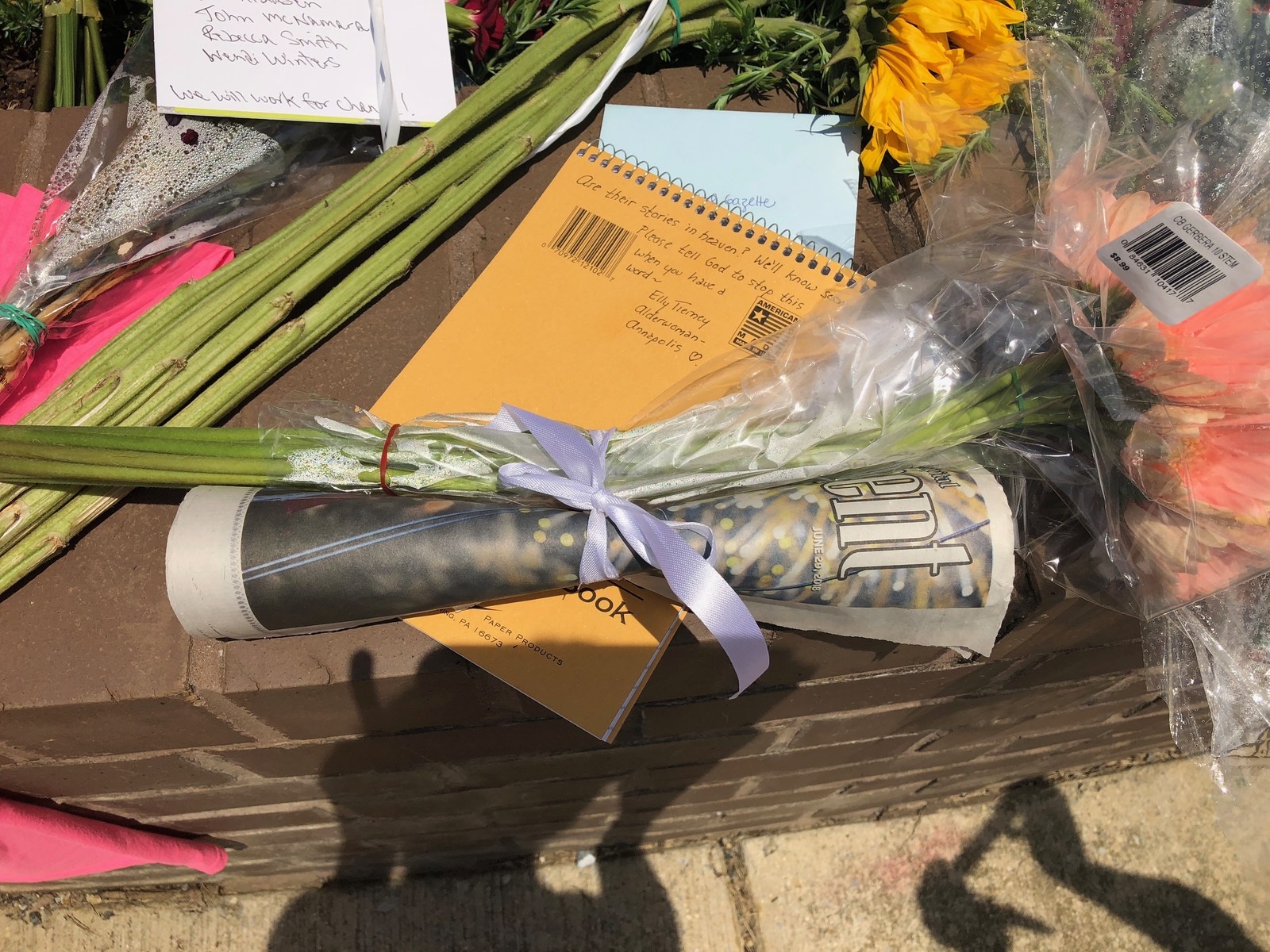 The judge in that case granted the defendant's motion to dismiss after the plaintiff was unable to give "a single example of how he had been harmed by the article." He appealed the decision and in 2013 a Maryland appeals court upheld the original decision.
In November 2011, the suspect appeared to create a Twitter account that he used to attack Hartley, Marquardt, and the newspaper.
Marquardt, the newspaper's former editor, told the Baltimore Sun he was "seriously concerned he would threaten us with physical violence," adding that he reached out to Anne Arundel County authorities about Ramos years ago, but nothing came of it.

The suspect lives in an apartment complex of two-story brick buildings in Laurel, Maryland, just down the street from the local police department.
One neighbor told BuzzFeed News Friday that the suspect mostly kept to himself, going so far as to call him a "hermit."
Ismael Reyes said he'd seen his neighbor just five or six times in the roughly seven years he's lived in the same 6-unit building.

"When I moved in I tried to say hi a few times, he just ignored me," Reyes said.

Reyes said he was out Thursday and when he returned home around 8:45 p.m., the area was swarmed with officers and "all hell broke off."
"It doesn't seem real," he added.

David Jenkins, who lives in the building next door and told BuzzFeed News he had never seen the suspect before, recounted the large SWAT team presence Thursday night.
He said he saw law enforcement officers "bust out those windows."

"It was like something out of TV," he said.
This is a developing story. Check back for updates and follow BuzzFeed News on Twitter.

Molly Hensley-Clancy reported from Annapolis, Mary Ann Georgantopoulos reported from New York City, and Elizabeth Pears reported from London.