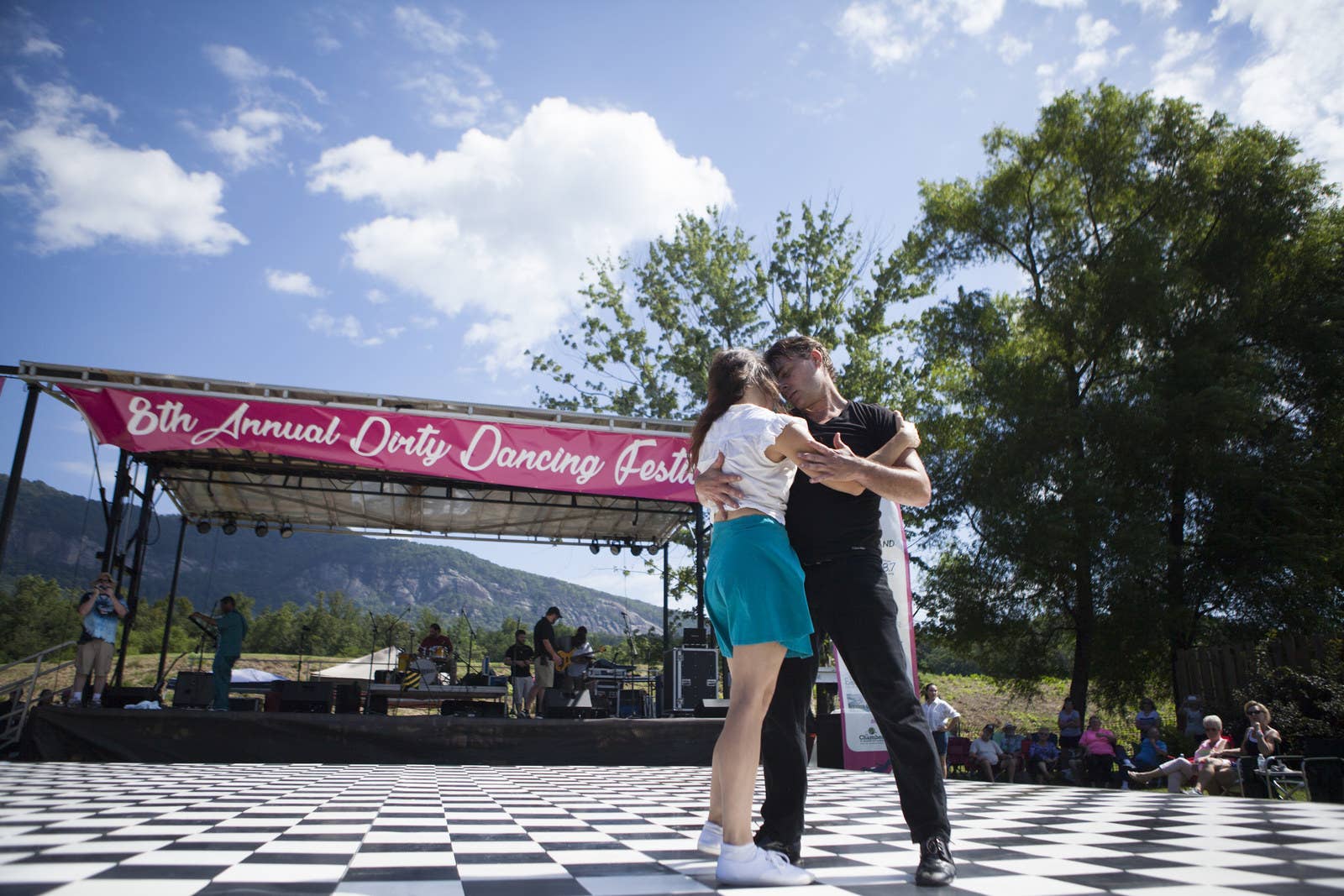 Lake Lure, North Carolina, has a population of about 1,200 with a median income of $60,000 and a median age of 62. During the summer season, the population can swell to about 12,000. The town was first developed in the early 1900s, when three brothers purchased 8,000 acres of land around Chimney Rock, a famous granite outcropping. When Patrick Swayze mentioned it in his autobiography, The Time of My Life, he referred to it as "this Podunk little town." Over the years, Lake Lure has become a popular destination for tourists, drawn to its location nestled in the mountains, under a canopy of trees, giving way to a lake so sublime in every hour of the day. The sunsets, where the clouds are illuminated by an unearthly light, leave you clutching your heart in wonder.
Michelle McConnell Yelton, the 38-year-old cofounder of the Lake Lure Dirty Dancing Festival, is a hometown girl who moved back after several years in Los Angeles. Now the president and CEO of a PR firm, part of the motivation for her move home came from "wanting to do work for nice people," and she's correct: People are very nice in this part of the country. The festival started in the wake of Swayze's death in 2009. He died too young at 57, after two years with pancreatic cancer, slightly too early for him to have an official nostalgia-driven comeback. In September 2009, Lake Lure held a candlelight vigil for Swayze at Firefly Cove. Formerly the Chimney Rock Camp for Boys, it was the setting for the dancers' cabins — including that of Swayze's Johnny Castle — and also where the interior dance scenes, the golf course, and the steps and bridge that Baby (Jennifer Grey) dances across were filmed. The attendance was impressive enough that it became clear there was an audience for an annual festival. Eight years later, moved to a date in August that coincides with Swayze's birthday and the film's debut in theaters, the Lake Lure Dirty Dancing Festival draws an audience of about 3,000 people from around the country. It runs for two days, with a Friday night screening of Dirty Dancing and all-day dancing lessons, watermelon games, and a "lake lift contest," where couples re-create Johnny and Baby's famous "lift," on Saturday.
Yet, there is something curious about this festival. Most of the film's iconic scenes weren't filmed in Lake Lure. There are no historical artifacts from the film; many of the filming locations burned down (one was a case of arson) or collapsed (thanks to an influx of tourists), none of the actors appear, and the major claim to fame — that the lake lift scene was filmed there — is likely untrue.
There's a Portuguese word, saudade, that is nearly untranslatable in English but essentially means "nostalgia for something that has never been." What kind of feeling brings people to Lake Lure for this festival, to see the land that Baby and Johnny once danced upon?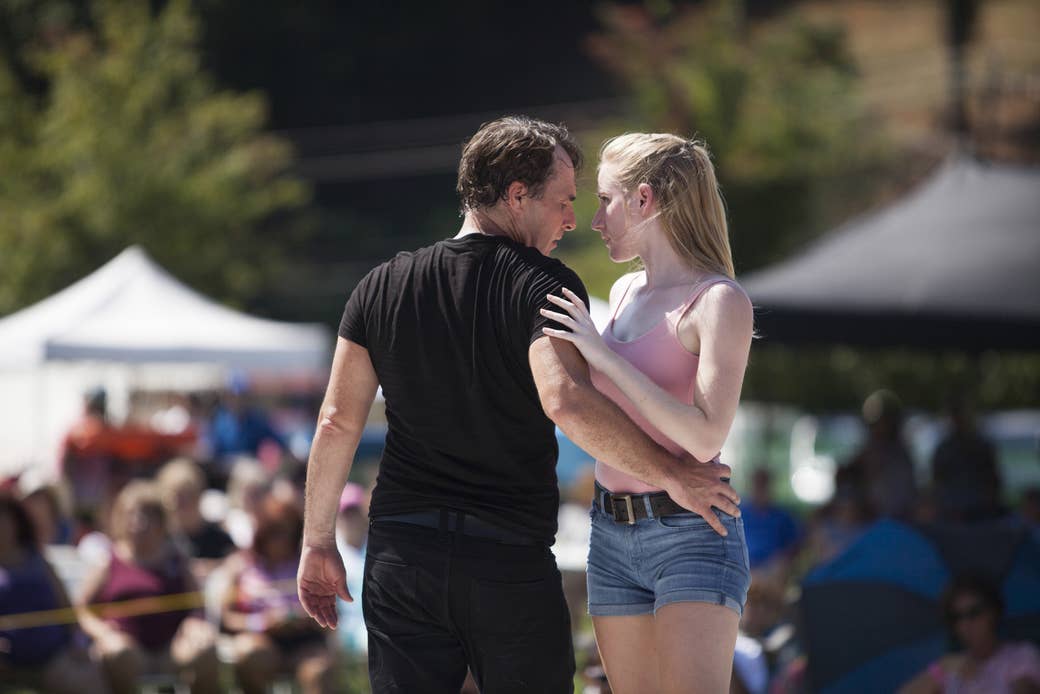 First released in 1987, Dirty Dancing is, above all, about a girl: 17-year-old Frances "Baby" Houseman comes of age during one special summer at Kellerman's, a fictional Jewish resort in the Catskills in 1963. The privileged young idealist learns to dance and falls in love with bad-boy resort dancer Johnny Castle. Oh, and she also helps out Penny, another resort dancer, lending her the money for an abortion. When the abortion goes wrong, France's doctor dad (played by Jerry Orbach) saves Penny's life, and Baby saves her job by substituting for the dancer at a big show.
Dirty Dancing was based on the experiences of its screenwriter, Eleanor Bergstein, a "teenage mambo queen," as she describes herself in interviews, whose life experiences weren't so different from Baby's. Jewish summer retreats in the Catskills were a real phenomenon, and these retreats developed because Jewish families in the '40s, '50s, and '60s often weren't allowed to be members of their local country clubs.
While Bergstein had based Kellerman's on Grossinger's Catskill Resort Hotel (currently a piece of pristine ruin-porn that inspires quite a bit of Instagram posing, though the owner is taking the first steps toward reconstruction), the Catskill resorts were in disrepair and were closed during the time of filming. So the crew ended up using two locations to stand in for the Catskills: the Mountain Lake Lodge, in Pembroke, Virginia, and Lake Lure, North Carolina.
The film's immense popularity led to both towns mounting annual celebrations of the film. The Mountain Lake Lodge — whose exteriors stood in for Kellerman's — uses its visual advantage to have themed Dirty Dancing weekends, and Lake Lure, where a boys camp stood in for Johnny's Cabin and where many of the dancing interior scenes were filmed — has the yearly Dirty Dancing Festival.

While it's difficult to do a true tour of the filming locations in Lake Lure, I had the best option: talking with Rachel Bland, a 35-year-old land records specialist for Rutherford County, who is the de facto historian of the Dirty Dancing Festival. Sitting in a row of camp chairs, waiting for the film to show on the first night, Bland was surrounded by friends and family, including her mother, Michelle, and her daughter Jordan ("my Swayze baby — she's been coming since she was itty-bitty"). Bland has lived in Lake Lure since she was 2. Wearing a black-and-white T-shirt saying "Nobody puts Baby in a corner" and a Patrick Swayze pin, Bland showed me her scrapbook, a two-inch binder filled with photos, memorabilia, and memories. "I keep it kind of secret — I don't get to geek out too much," Bland said.

She first saw the film on VHS, one that her mother (who loved the movie) made sure to special-order once it was available. "I was 6. I didn't get the point of the movie until I was a teenager, didn't know about the abortion. I just thought Patrick Swayze was cute, that was it. But now it's because I live here, and because I am a Swayze fan." She still had the T-shirt her mother gave her for Christmas that year — "it was a Dirty Dancing Christmas!" — baby pink, with a silhouette of Swayze and Grey, and the words "Dirty Dancing, Lake Lure, North Carolina" emblazoned below. "My daughter wore it for six years," said Bland, touching it delicately.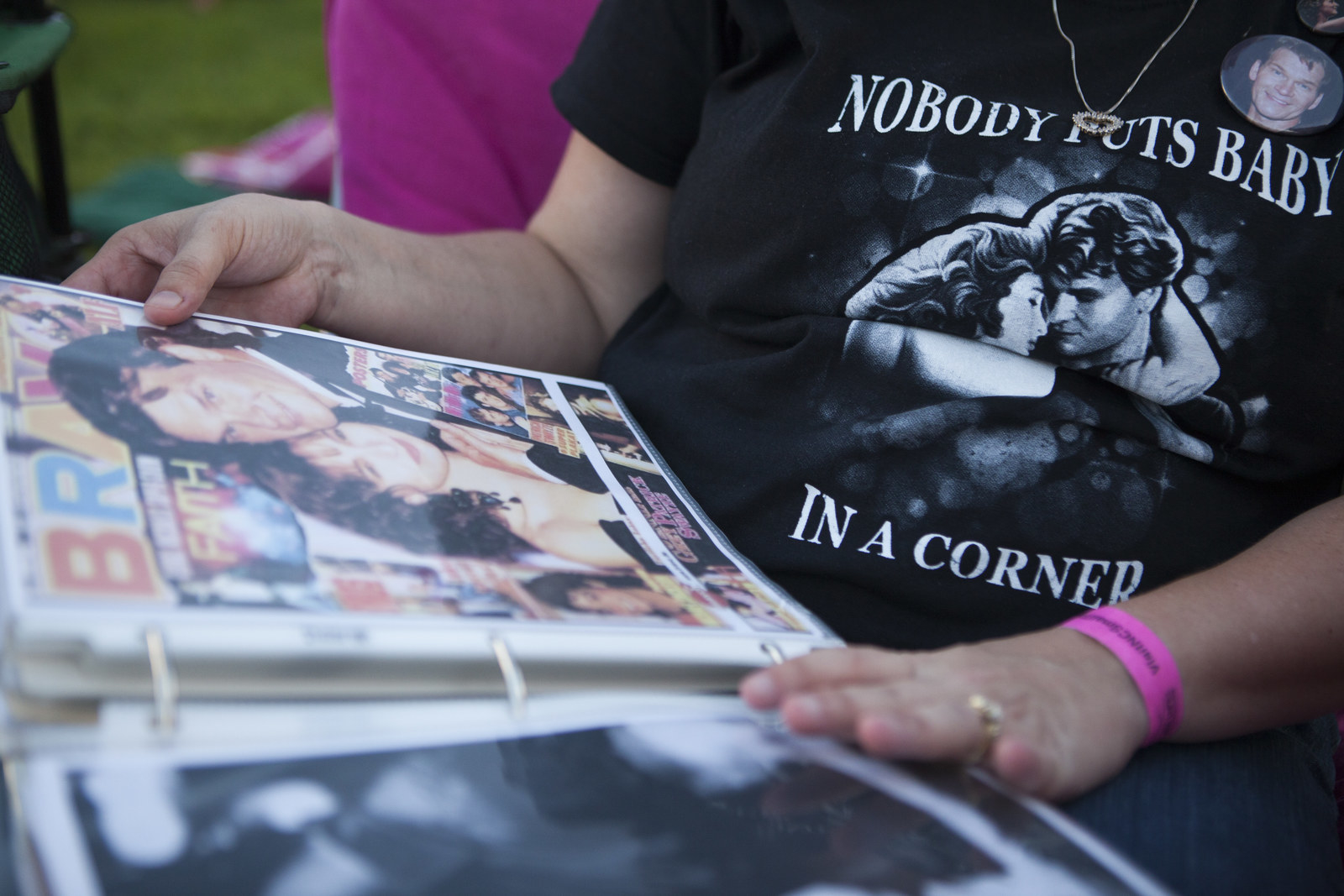 In 1988, Bland's mom took her to the Chimney Rock Boys Camp to look at the sites immortalized by the film. In her scrapbook, there were pictures of 7-year-old Bland running around: "There's Johnny's cabin, me doing the crawl scene on the floor, and dancing around his cabin." She flipped to another page: "This cabin right here was where they did all the scenes with the dancers. Somebody burned it down — it was arson." She posed on the bridge where Baby would run back and forth to the dancers' cabins, practicing her moves in a series of montages. She labeled the photo: "1988 the steps right after the movie/me doing the wipeout scene like Baby on the steps." Twenty years later, she has another photo. The bridge is gone; the steps are overgrown: "2009 same location wish it had been kept up better."

In 2007 developers tore down the Chimney Rock Boys Camp, which was falling apart, and converted it into a gated community called Firefly Cove. (Condos start at $500,000.) The official Firefly Cove community website advertises the "Dirty Dancing Filming Locations," but you won't be able to see them unless you have permission to be on the grounds. Rachel turned to another photo: "That's the only thing that's left. I think there's just a couple of rocks left now." She had a photo of the water, the cove where she is certain that the Lift was filmed. The Lake Lure Boat Tours claim that this was the location; however, Pembroke, Virginia also claims that the Lift was filmed in their lake, which dried up in 2008. (A New York Times article from May 2017 explains that the Lift actually happened in Virginia.)

For Bland, Dirty Dancing is part of her identity — "and everyone knows it, too," she quipped. She could rattle off Swayze trivia with the ease of a scholar. "I wish I could've met him," she said, "but I just really, really like the movie. It's local, I'm like, that's my favorite movie ever, and it was filmed in my hometown. That's really cool." She smiled, and her family gathered around her, all in their own camp chairs. The sun was going down, the sunset was amazing — it was like that every night, I was told — and pretty soon, Dirty Dancing would be showing on an inflatable screen.
On the second day of the festival, I had a good conversation with professors Stefanie Benjamin (University of Tennessee) and Whitney Knollenberg (North Carolina State University) at their booth, which lured attendees through their Wi-Fi connection, however spotty. They were there to research film tourism within rural communities, one of Benjamin's academic specialties. Talking to tourists who came by to log on to the Wi-Fi, the duo collected data on festival attendees' experiences using social media posts (however, they did note that lots of attendees had locked Instagram accounts).
Benjamin wrote her doctoral thesis on the Mayberry Days festival in Mount Airy, North Carolina, a yearly celebration of The Andy Griffith Show, and she's researched Hollywood-induced tourism in Albuquerque (Breaking Bad) and is starting a project regarding Game of Thrones–related tourism. When asked for one example of "film-induced tourism within a rural community," she mentions The Stanley Hotel in Colorado, which utilizes its status as the place that inspired Stephen King to write The Shining to attract tourists. They've even added things such as the hedge maze from the movie, even though the Stanley Kubrick adaptation, released in 1980, was filmed in England (with some exteriors in Oregon).

According to Benjamin, the difference between a film-inspired festival and a simple summer festival can be slight. The Mayberry Days festival, more of a long-running tradition, has actors dressing up like the characters — a local paper noted that one actor had been perfecting his Don Knotts as Barney Fife impression for 15 years.
Benjamin spent the weekend chatting to Dirty Dancing festival attendees, and while it drew a devoted crowd, it differed from the fanatical crowd that she's seen at other events. Many of the attendees were there for the first time, thanks to a perfect storm of both the 30th anniversary of the movie and the looming eclipse (Lake Lure was just northeast of the path of totality). Some of them expressed disappointment at the lack of the actual sites where the movie was filmed: Only pictures and memorabilia made up the walking tour at the Rutherford Country Welcome Center, just off the festival grounds, and there was no getting into Firefly Cove.

At points, the Dirty Dancing Festival was just a summer festival. Cover bands played; a local dance group did a clogging performance. There was far less cosplay than any kind of nerd festival.
Thousands of people crowded into Morse Park Meadows to partake in the day's events — including shopping the Artisan Alley, where one booth had quilted tote bags that rendered Dirty Dancing's lift scene in a nearly painterly fashion, another sold T-shirts that read "I carried a watermelon" and "Mrs. Johnny Castle." Attendees could play watermelon games, take shag dance lessons, go on a "walking tour" at the Rutherford County Welcome Center, eat barbecue and funnel cake at the food court, and listen to music coming from the main stage, where a black-and-white checkerboard dance floor encouraged participation.
Later, there was going to be a dance contest (best shagging couple), a re-creation of Kellerman's talent show, and the lake lift competition, where pairs of competitors would battle it out to see if they could lift their partner up, by the hips, in what is a dazzling film scene, but a truly difficult physical task (even when the liftee, like Jennifer Grey circa Dirty Dancing, is likely 100 pounds soaking wet). Under a white tent, the dance floor provided some excellent shade. "My Babys, spin out like this," a dancer dressed up like Johnny Castle, in a black T-shirt and black pants, hair slicked back and sweaty. Eric Carmen's "Hungry Eyes" blared, and he threw his arm out and sent his partner spinning, a faux Baby in a blonde ponytail wearing a pink tank top and high-waisted jean shorts.

I tried dancing, but it felt like I was doing it wrong. I could count about eight or so women dressed up as Baby in pink tank tops and jean shorts. There were even more women in clean white pairs of Keds, perfect for taking their first tentative steps with their own Johnny Castles. Folks paired off: husbands and wives, mothers and daughters, female friends, dancing with each other, Johnnys leading and spinning around their Babys.
Then the music stopped, and the teacher, one of several ringers working that day from the Asheville Ballet, told the crowd that the pressure was on: "Imagine, there's 1,000 people in the audience, you're up on that stage, and you have to nail it."

Benjamin and I watched women and men sigh over Patrick Swayze all weekend long. This was perhaps best embodied by two women who walked up to Benjamin's booth, curious about what was going on.
"Is this your first time at the festival?" Benjamin asked them.
They nodded.
"Where did you come from?"
"Turkey!" they replied, in unison.
"Why did you travel so far?" she asked.
"Patrick Swayze!" they said.
Indeed the festival had one particular characterization that set it apart: The audience was, well, crazy for Swayze. He embodied a sensitive masculinity that women could swoon over and the men at the festival could say, yes, I like him. That particular combination of masculinity and struggle is hard to find in an actor (today the closest thing we may have is that charming lunkhead Channing Tatum). The first night had a real Swayze vibe, with a talk with Stacy Widelitz, the songwriter who cowrote "She's Like the Wind" (the song Swayze sung on the movie's soundtrack). He had a stockpile of charming anecdotes about Swayze, whom he called "Buddy." Before the screening of Dirty Dancing, the crowd sang happy birthday to Swayze (it was Aug. 18, after all) and cut up a big cake in his honor.
A 68-year-old in a camp chair told me proudly that he and his wife had secured the "Patrick Swayze room," where Swayze stayed during filming, at the Inn at Lake Lure for two years running and just got it for next year as well. "It has a Jacuzzi," he said.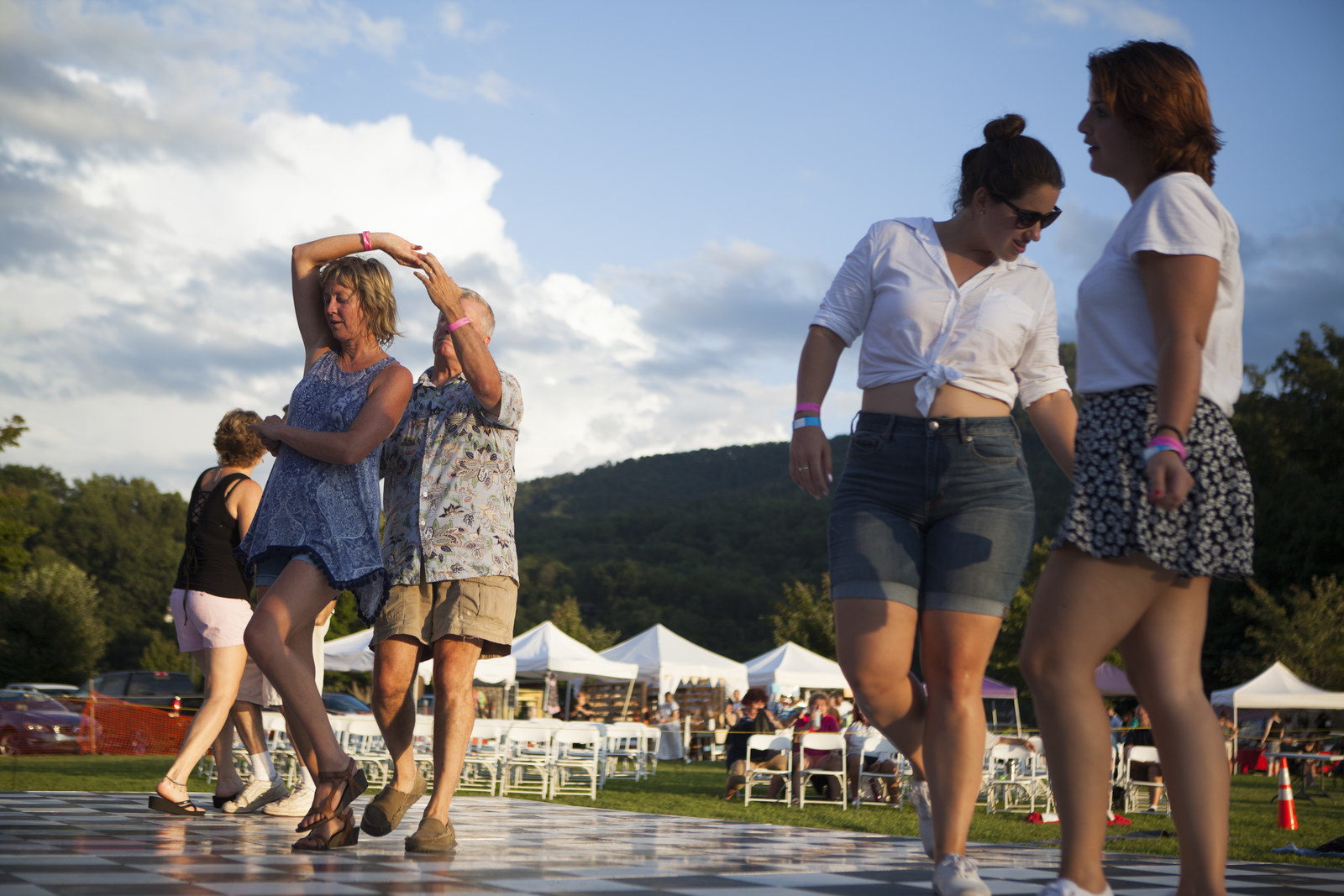 It's important to note that Dirty Dancing was supposed to go straight to video, those three words being code for the kind of movie that wasn't even worth putting in theaters due to its mediocrity, cheapness, or lack of stars. When Dirty Dancing was in the works, it was rejected by every studio in town, until Vestron Pictures, nominally a video distribution company, stepped in to make it as a no-budget teen dance film quickie. And everyone at the time thought the finished product was a porno.

Test screenings were awful. Expectations were low. Critics panned it. Roger Ebert wrote a one-star review laced with sarcasm, noting that the film at least had a great title, but was hobbled by an idiot plot: "This might have been a decent movie if it had allowed itself to be about anything," he wrote. Pauline Kael steeled herself against the movie's hokum, calling it "a girl's version of that old phony: the-summer-I-grew-up-and-everything-changed," but she gives in, just a little: "you come out of the theatre giggling happily."
But Dirty Dancing became a word-of-mouth hit. Though it opened in fourth place, the film played in theaters for an improbable (these days) four-plus months, ended up making $63 million domestically during its run and, adding in its worldwide totals, was a $213 million juggernaut. When it came out on video, it was the first film to sell a million copies on VHS and the number one rental of 1988, and it remains a hit: Over 10 million DVDs have been sold as of 2007.

The past 30 years have also had their share of Dirty Dancing references, enough so that the film's iconic version of the lift dance move and the liberation found in lines like "Nobody puts baby in a corner" serve as shorthand for true love. Movies like Silver Linings Playbook and Crazy, Stupid, Love have included takes on the lift for comic effect — in the latter, it's how Ryan Gosling seduces a ream of women. The pilot of the Zooey Deschanel vehicle New Girl starts with our recently dumped, "adorkable" heroine watching Dirty Dancing over and over, crying and mouthing along to the movie, while her three male roommates look on in befuddlement. And when it comes to real life, it should surprise nobody that when you google "Taylor Swift" and "Dirty Dancing," the first result is a photo of Swift and her ex-boyfriend Harry Styles doing the lift.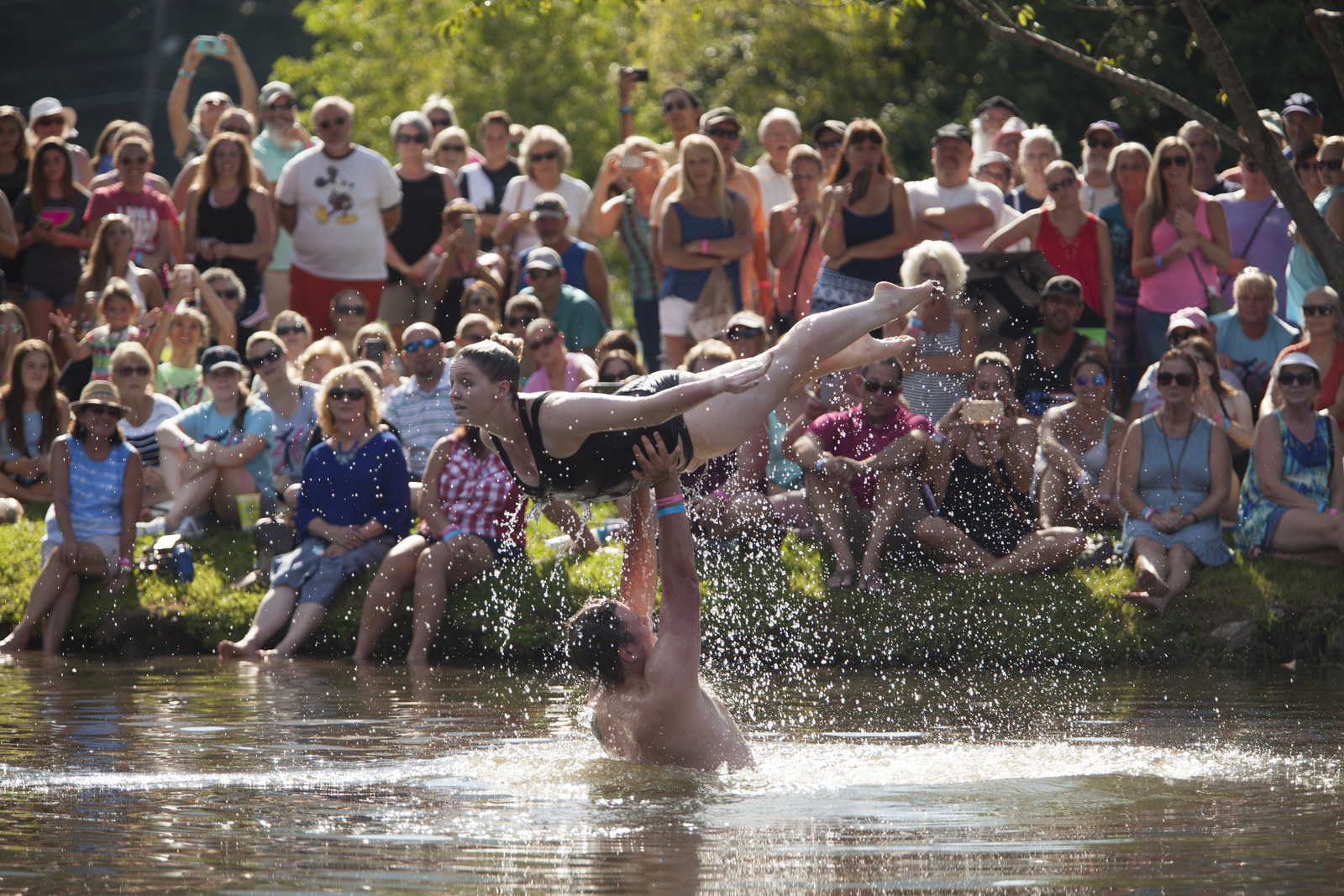 Lake Lure was hot. Very hot. Ninety degrees, 100% humidity. My hair was full curls like I was cosplaying as Baby, and I thought about the fact that the hairdresser on that film was very skilled. Having forgotten my sunglasses, the only protection I had was a hat. Said hat was my Kelly green Boston Celtics baseball cap, and to be honest, it blew my cover: It was as good of an indication of any that my political leanings were likely Northeast liberal. Which, to be fair, they are.

Festivalgoers didn't want to discuss the abortion in the film on the record. Part of it was due to circumstance: I kept running into mothers and daughters. Whole families that had passed Dirty Dancing down to each other as a tradition. Off the record, it was often a different story. While more than one person made it clear that they opposed abortion rights, when they talked about the movie, and about Penny's situation, they were sympathetic. They understood her circumstances. She made her money by dancing, and a baby would've derailed her economically. The father was a schmuck who used her for sex and left her alone and pregnant. Abortion was illegal in 1963, and the back-alley abortion that Baby paid for was horrific: "The guy had a dirty knife and a folding table."

It's odd how Dirty Dancing sticks in the memory as a film with an abortion plotline. If you first saw it as a kid, it very well could've gone over your head. It certainly went over mine. And yet, when you watch it as an adult, you see how in the film abortion is less of a political cudgel and more as something that people may deal with in life. It clearly points out the risks of abortion in 1963.

I do think its fearlessness matters. It means that Dirty Dancing remains singular in its portrayal. Festivalgoers discussed the fact that Penny actually has the abortion — no last-minute miscarriages thanks to falling down the stairs — and how its perspective is very different than 2007's twin mainstream films that laughed off abortion in a cutesy, winking fashion: Juno and Knocked Up. The only recent mainstream film to dive into abortion as something that occurs with no hand-wringing is 2014's Obvious Child, a charming and small movie that will never match Dirty Dancing's omnipotence.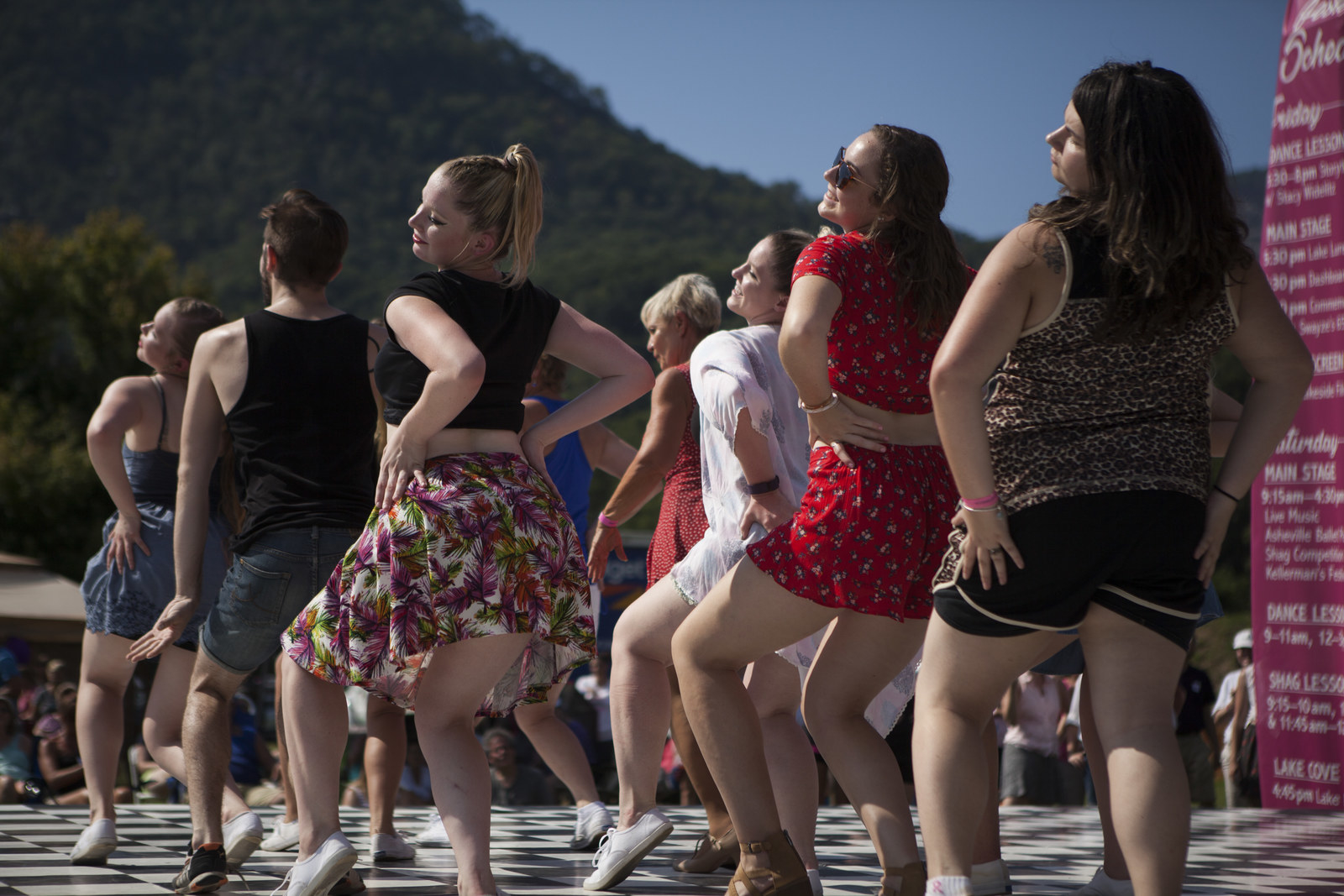 In my day-to-day life, I basically live on a movie set. That's a bit of an exaggeration, but it's not far from the truth. I'm essentially peak TV's wacky neighbor: I live in the neighborhood of Greenpoint, Brooklyn, which was both featured on Girls and has served as "Hell's Kitchen" for every Netflix Marvel series (thanks — and consider this showbiz magic — to the fantastic view of the Manhattan skyline available at Transmitter Park, even though characters in Manhattan wouldn't be looking at the iconic skyline). I know all the Marvel TV show code names: "Crime" meant The Punisher, "Group Therapy" meant The Defenders, "Violet" meant Jessica Jones. The Unbreakable Kimmy Schmidt has filmed in the church on my block, and Tracy Morgan's upcoming TBS show, The Last O.G., has filmed in the church across the street from that church on my block. James Franco sightings are typical. I have complained to location scouts about the generators blaring in my window. I am thankful that I don't have a car that I'd have to keep moving around my neighborhood, depending on productions blocking my street parking.
Movie magic (and sometimes it's movies, but lately it is just so many streaming shows, HBO, and CBS productions) has become mundane. Craft services trucks greet me at my door. I have to tell the production assistants, "I live here!" when I walk home.
Despite all that annoyance, however, there have been times in my life where it's pretty cool to live on a set. I've taken friends on Kimmy Schmidt tours. When my late mother was too sick to visit me at my new place in Brooklyn, I told her what movies and television she could watch to know exactly where I lived, what bookstores I frequented, and what my view of the Manhattan skyline looked like.

In Walker Percy's National Book Award–winning 1961 novel The Moviegoer, the titular character talks at length about how the movies can serve as proof of existence (whether that's fair is the existential question of the novel): "Nowadays when a person lives somewhere, in a neighborhood, the place is not certified for him. More than likely he will live there sadly and the emptiness which is inside him will expand until it evacuates the entire neighborhood. But if he sees a movie which shows his very neighborhood, it becomes possible for him to live, for a time at least, as a person who is Somewhere and not Anywhere."
The more people I talked to about Dirty Dancing, the clearer picture I got about how a small movie became nearly canonical, even if this particular crowd leaned toward a specific white Southern demographic. When I talked to people in their late twenties and early thirties, I heard the letters "VHS" over and over again. The title played a role as well — if you're a kid, doesn't a movie called Dirty Dancing seem, well, inappropriate and thus intriguing?
Dirty Dancing had reach: There were grandmothers and mothers and daughters, who all pressed the film on their daughters at the right time. There were groups of friends in their sixties and beyond who saw the movie over and over thanks to the music. A 36-year-old man in a Swayze tank top that depicted the actor in his surfer-guru role of Bodhi from Point Break talked about how he watched Dirty Dancing over and over on cable. I chatted a bit with a group of women in matching fabulous red-and-purple headbands, all part of The Red Hat Society of North Carolina, a social group for women over 50, where they picked this festival as their monthly outing. Rachel Coleman, 31, from Roanoke Virginia, and her friends wore matching pink tanks that read "Camp Coleman." The festival was one stop on her bachelorette party weekend. This festival's focus on Swayze, and the fact that money goes to the Pancreatic Cancer Action Network, held particular meaning for Coleman and her sister. They first watched the film with their mother, who recently died from pancreatic cancer. They watched the film all the time growing up, "although it disappeared for a little bit when we got older," Coleman noted. "It's already nostalgic because it's the '60s depicted in the '80s, and you already have that feeling when you see it."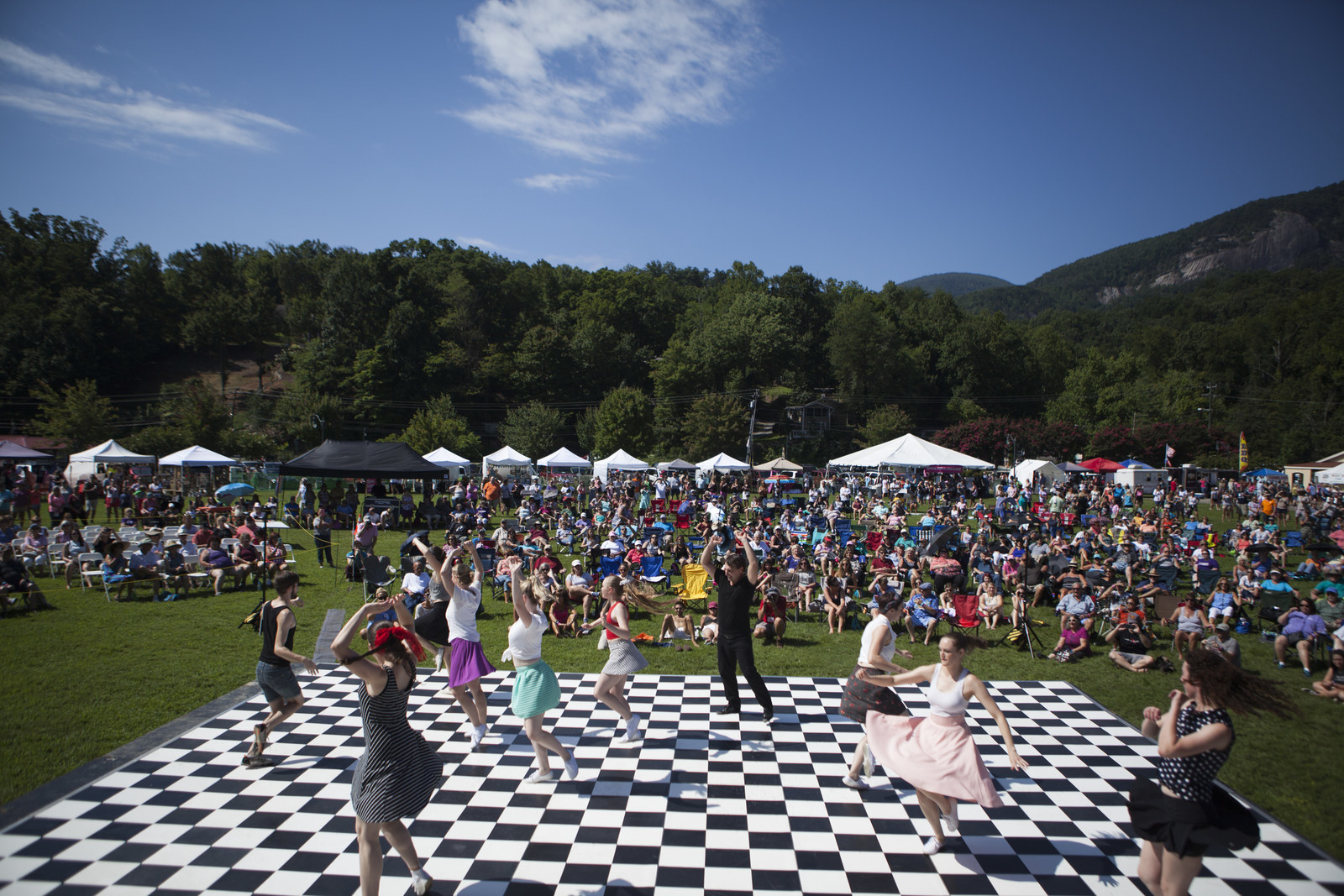 The yearning to be where Johnny and Baby danced is one Lake Lure is hoping to capitalize on in the future. "We want to re-create Johnny's cabin," said Yelton, the festival cofounder. "We want that organic connection to the movie." She has been doing the detective work throughout the years to figure out the town's story in the making of Dirty Dancing. (Lake Lure could have played a bigger role: The Dirty Dancing team asked The 1927 Lake Lure Inn and Spa whether it could be the stand-in for Kellerman's, but the Lake Lure town council refused because of the film's name.)
One of their struggles is simply a case of resources. "We're trying to buy the steps from Firefly Cove," said Yelton. "We want to relocate them to a public space." In the future, the town wants to raise money for a film trail, where they can connect locations with the scenes from the movie. Currently, it's hard to find specific connections to Dirty Dancing in Lake Lure. The ones that are still standing require going to a golf course, getting on a boat tour, or contacting the gated community in order to see about those steps.
In the future, there very well could be more tributes to Dirty Dancing in Lake Lure, more historic signs indicating that "Johnny's cabin was here." Adding that element, they hope, would bring folks back to Lake Lure, over and over, with the opportunity to attend the festival, to take the kids dancing, to go to the places and to pretend, just for a moment, that they're Baby and Johnny, falling in love for the first time under a curtain of stars, where anything is possible.
But until then, Lake Lure is just a place where a film crew once showed up with large lights, cranes, and dollies to film a few scenes that happened to be part of an accidental classic. It's a place so frozen in time that it could stand in for the '60s in the'80s, and in the 21st century, its relationship with history is a matter of negotiation.

And Lake Lure's haphazard relationship with history, its attempt to keep track of the Dirty Dancing locations even if the buildings have burned down, bumps up against the belief of Dirty Dancing fans every August. We deride the sentimental — especially in art — but perhaps it's the sentiment that gives Dirty Dancing its heft, the way that the film has faith in Baby and Johnny and their love, faith that the fans of the film imbue into its locations. It's the transitive property: People believe in the magic of the film and people believe in the magic of the place and it turns Lake Lure alive with some sort of magic. There's an incredible power to the energy of a community going all-in on a piece of art that speaks to them.
I saw that force on the last day. The festival ended with a lake lift competition. A group of young couples, some who seemed shipped in for this exact moment, went gamely into the water and played at being Baby and Johnny for the span of seconds. It was a series of quick lifts — until the next to last couple. After their lift, the man got on bended knee in the cove. A whoop went up from the crowd. She said yes to the proposal, and threw herself into his arms. It was sweet and romantic, imagining a world where Baby and Johnny stayed together.
For me, however, that proposal paled in comparison to the re-creation of the Kellerman's talent show. The Asheville Ballet dancers led a troupe of game festivalgoers in re-creating each zippy song and dance move for the audience. People stumbled. People forgot the steps. People looked around, desperately, at the dancer in order to see what they were doing.
The last song at the talent show was "Time of My Life." Fake Johnny and Fake Baby, the dancers who had spent all day giving lessons under the tent, took to the checkerboard stage to re-create the last dance in the movie. The festivalgoers joined in, serving as Johnny's backup, dancing for that moment where love is real and two people can overcome everything in order to be together. Then fake Johnny lifted fake Baby up in a lift. The Lift. She floated above the crowd, her tulle skirt fluttering. It was a gorgeous, graceful sight. I got a little bit weepy seeing the absolute joy on the faces of the dancing festivalgoers. For a moment, they weren't in Lake Lure. For a moment, they were in Kellerman's. But I had to pack my things and head back home to Greenpoint, where the streets were lined with giant cranes and enormous Arri lights, creating new fantasies and dreamlands that people can inhabit —with just one click, inside the comfort of their homes. ●
Elisabeth Donnelly is a writer and editor in New York working on a collection of essays. She is also the cowriter of the young adult trilogy The Misshapes (Polis Books) under the name Alex Flynn.