The trial of Trump's campaign manager Paul Manafort just started. Here's what you need to know.

It's been nine months since Manafort was first hit with charges related to special counsel Robert Mueller's investigation. Jury selection just began in the trial, in Alexandria, Virginia.
This is significant — since Mueller was appointed, prosecutors have secured multiple guilty pleas, but this is the first time one of their cases is going before a jury.
Important for you to know: Manafort isn't charged in connection with the months he spent running Donald Trump's campaign in the summer of 2016. He's facing five counts of filing false income tax returns, four counts of failing to report foreign bank accounts, five counts of bank fraud conspiracy, and four counts of bank fraud.
Manafort is facing another case in Washington, DC. The judge in that case issued a gag order restricting what Manafort can publicly say, but he's maintained his innocence.
Here's everything else you need to know about the trial in Virginia.
Facebook uncovered a political influence campaign with possible ties to Russia
Stop me if you've heard this one before. Facebook said it has been the target of coordinated political influence campaigns — again — with activity that was consistent with, but not definitively tied to, Russian state-sponsored actors. Again.
The company says it removed 32 pages and accounts from Facebook and Instagram that were engaged in "coordinated inauthentic behavior," which is PR language for some shady stuff.
This shady stuff includes the creation and promotion of a protest event scheduled for Washington, DC, later this month.
Something to watch for: Facebook said the accounts were not engaged in any direct electioneering or pushing of candidates ahead of the 2018 midterm elections, but sought to sow discord by posting about divisive social issues.
By the way, Facebook's head of security said "we still don't have firm evidence to say with certainty who's behind this effort," but added, "Some of the activity is consistent with what we saw from [Russia's Internet Research Agency] before and after the 2016 elections."
Psst: Your favorite podcast is going twice weekly! Listen to The News every Wednesday and Saturday for the big conversations happening in the news today.
SNAPSHOTS
Trump said "collusion is not a crime." The president tweeted that one day after his lawyer, Rudy Giuliani, said the same thing on cable TV. Trump's comments were in reference to special counsel Robert Mueller's Russia investigation — he wrote: "Collusion is not a crime, but that doesn't matter because there was No Collusion (except by Crooked Hillary and the Democrats)!" It's not the first time Trump has said this. But it may be a signal that "collusion is not a crime" is a new message the president and his defenders will begin to hammer away at.
The president also said you need an ID to buy groceries in the US. (You don't.) At a rally in Tampa, Florida, Trump made the case for introducing compulsory voter ID for citizens voting in elections by saying people need "a picture or a card" in order to purchase groceries. Voter ID laws have been slammed by activists as a tactic to suppress turnout, particularly among low-income voters.
New body camera footage shows LAPD officers accidentally shooting and killing a hostage. The graphic video shows officers fatally shooting a man and the woman he was holding at knifepoint while responding to a stabbing at a church on June 16. Together with the fatal shooting of a Trader Joe's employee during a chaotic confrontation with a gun-wielding suspect on July 21, it is one of two incidents in less than two months where LAPD officers have inadvertently killed an innocent bystander.
A Palestinian poet has been imprisoned for a poem she posted on YouTube. Dareen Tatour, 36, was arrested in 2015 after her poem "Resist, My People, Resist Them" was published on Facebook and later YouTube. She was sentenced to five months in prison, following years of house arrest. A 2015 YouTube video of her reading her poem over footage of Palestinian protesters throwing rocks was shared online among activists. In November 2016 prosecutors charged her with incitement of violence after examining the poem. Reacting to the sentence, Tatour said, "I didn't expect justice."
Russian "agent" Maria Butina and a GOP operator left a trail of cash, documents reveal. Butina, who was arrested and indicted on charges of "conspiracy to act as an agent of a foreign government" last month, exchanged over $300,000 with a Republican operative, according to a new BuzzFeed News investigation. Federal investigators say some of the money went to her campaign to help Russia infiltrate US politics.
Jordan Peterson says meat cured his depression and now his daughter will tell you how it healed her too — for a fee. Mikhaila Peterson, 26, is now making money off a new kind of diet that allegedly cured her depression and arthritis: all meat, all the time. Her father is the University of Toronto psychologist turned YouTube star, best-selling author, and influential thought leader who rallies against political correctness and identity politics. He's also her regimen's biggest booster.
A man is fighting to make the South safer for LGBT people after his gay daughter killed herself.
Last year, 75-year-old Nathan Mathis went viral. He made his way to a rally for Roy Moore near his home in Alabama, with his sign folded. Once inside, he unfurled it. It didn't take long for reporters to notice.
The sign read: "Judge Roy Moore called my daughter Patti Sue Mathis a pervert because she was gay. A 32-year-old Roy Moore dated teenage girls age 14 to 17. So that makes him a pervert of the worst kind. Please don't vote for Roy Moore."
He held the sign and a picture of his daughter, Patti Sue, in her yellow basketball jersey. Patti Sue, a lesbian, had killed herself in 1995 at age 23. Reporters swarmed him, and three days later he was flown to the set of The Ellen DeGeneres Show.
You have to read Tori Truscheit's extraordinary report — the reporter went to Alabama to talk to groups trying to build on Mathis's moment to turn support from parents of LGBT people into political action.
What Truscheit found was "straight parents working like hell to make sure the next generation of queer and trans youth survive the South."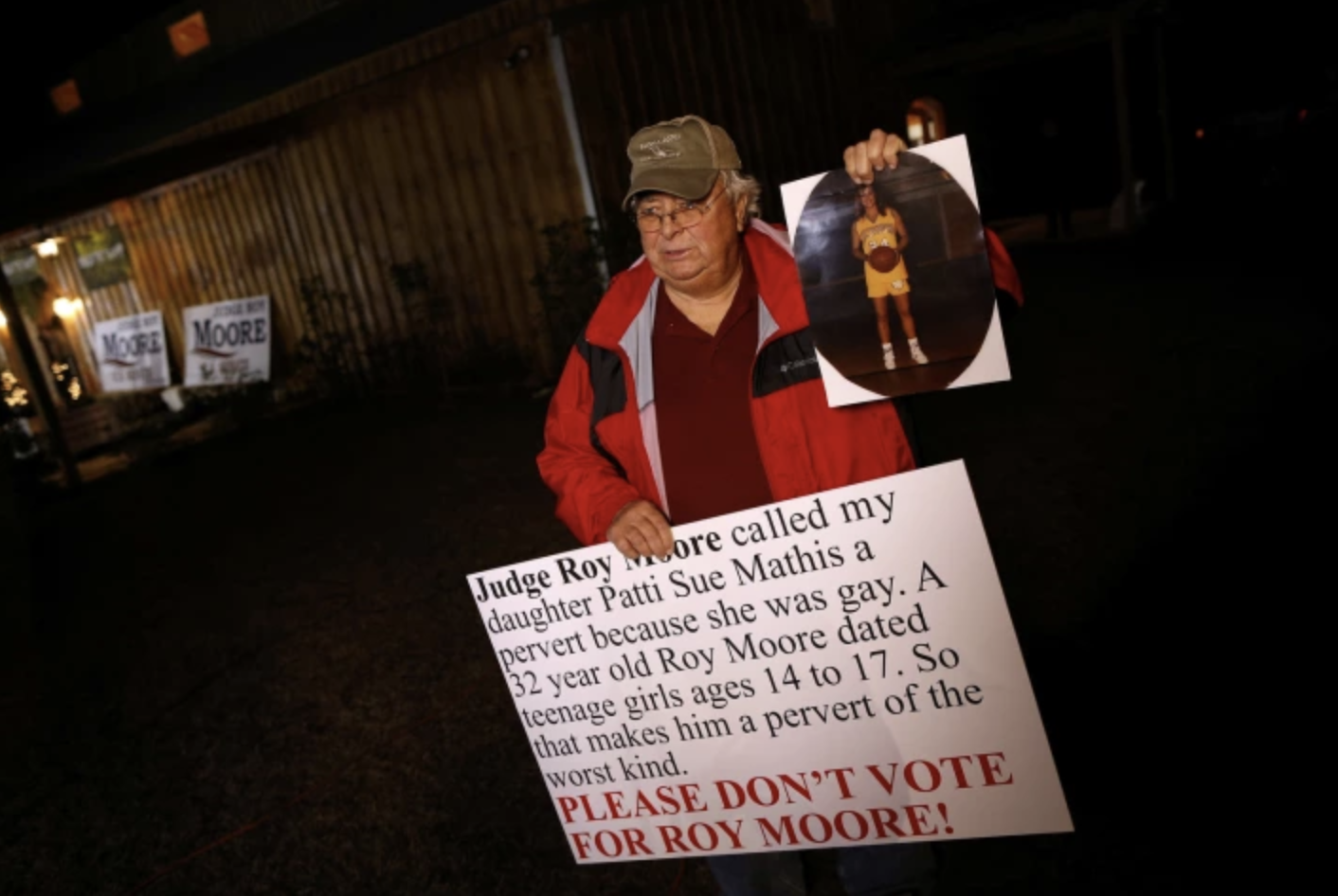 This cancer patient's touching obituary called out fat-shaming by doctors
When 64-year-old Ellen Maud Bennett from Newfoundland, Canada, was diagnosed with inoperable cancer and given days to live, she spent her time with her family, filling her home with laughter and love.
She also left very specific instructions for how she'd like to be remembered.
Bennett requested that her obituary address how her doctors treated her. It read, in part:
"Over the past few years of feeling unwell she sought out medical intervention and no one offered any support or suggestions beyond weight loss. Ellen's dying wish was that women of size make her death matter by advocating strongly for their health and not accepting that fat is the only relevant health issue."
People are really grateful and really moved by Bennett's obituary.