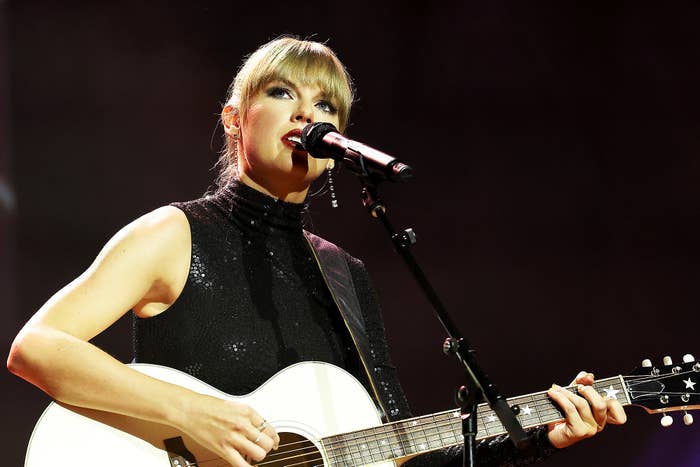 The Taylor Swift album you listen to on release day is rarely the Taylor Swift album that takes hold in your mind the next day, the next week, the next month. It's been 16 years since Swift's debut, and in that time, her fans (it's me; Hi) have had time to perfect the cycle: First, you listen to let the music wash over you, then to pick apart lyrics, then to connect the dots between Swift's personal life and the music. Swift invites this dynamic — indeed, builds whole promotional strategies around it.
This cycle is once again at play with Swift's 10th studio album, Midnights, which arrived on Friday. The problem is, it creates an immediate bifurcation — those who have seen every episode of the Taylor Swift show and have every storyline memorized are fundamentally listening to a different album than the casual drop-ins. For the latter, Midnights might perhaps register as a passing blip, a confoundingly small evolution in the sound of an artist known for reinventions. But you wouldn't trust someone who has only seen scattered episodes of a TV show to give a fair verdict on a new season, would you?
Take it from me instead: Though Midnights is a subdued record, and perhaps the first Swift album where you might hear reviewers heavily lean on words like "mood" and "atmosphere," Swift is tangling with her own mythology in compelling and sophisticated ways that make this her best and most ambitious album since her megapop turn, 2014's 1989.
Swift is tangling with her own mythology in compelling and sophisticated ways.
Midnights is an engulfing vibe, reveling in a synth-forward energy that is in the lineage of her pop trilogy — 1989, 2017's Reputation, and 2019's Lover. Lyrically, Midnights is her messiest and possibly most vulnerable work. It's a concept album — Swift announced that the album's 13 songs (of course, Swifties sigh; it's her favorite number) would revisit 13 specific midnights over her life. Three hours after its release, Swift dropped the "3 am Edition," which features seven additional tracks.
It's perhaps not surprising that Midnights has thus far been tagged as "overly familiar" and "aggressively normal," and fair enough; audiences should expect a mass-scale progress from artists, and doubly so from a pop star who has set pop trends for a decade. Pop demands tweaks — if an artist wants to command either the music or celebrity conversations or both, they are expected to expand on their previous work.
But the ways that Midnights retreads classic Swift sounds suggest deliberate exhumation: The album opener "Lavender Haze," an undeniable banger about subverting expectations, sounds too similar to "I Think He Knows" from Lover for it to be an accident; "Labyrinth" hues closely to Lover's "The Archer." "Maroon" is a more confident version of Reputation's "Dress"; "Snow on the Beach" borrows heavily from Evermore's "Gold Rush." And never one for subtlety, Swift also literally samples herself here: "Question…?" samples 1989's "Out of the Woods."
If Swift is a dedicated self-portraitist, Midnights is the first time she has allowed herself to edit her previous work. Putting herself in conversation with her past self, Swift seems to be telegraphing that these songs — these polaroids of different midnights — capture accurately who she was during moments when we thought we knew who she was (In "You're on Your Own, Kid," she guttingly reframes a time when we thought she had it all: "I hosted parties and starved my body / Like I'd be saved by a perfect kiss"). Midnights carefully rewrites Swiftian lore, extenuating joy and amplifying pain she has already written about. For the new fan, this may seem insular; for those already engaged in the project, it's Swift's most rewarding album yet.
Swift has built an, ahem, reputation for writing songs about specific events in her life, but there has always been a push and pull between her tendency toward the diaristic and her unwillingness to fall apart publicly. Lyrically, she has aspirations for the raw confession, but what comes out tends to be a polished translation of difficult emotions. She is often at a remove. Swift doesn't do explicit, doesn't do specific — perhaps it's not in her nature, or perhaps because there is too much to risk in making space for the unrefined hurt. So she buries symbols beneath symbols beneath references beneath metaphors (e.g., losing one's virginity becomes a scarf).
In Midnights, though, she has found a delicate space in between the posture of confessing and the demands to be polished and put-together: the self-critical. On this album, Swift won't name names (though one can try to guess who "Spiderboy" is), but she is for once willing to explicitly expose her own flaws. Or as she put it on Instagram, the album contains "a real guided tour throughout all the things I tend to hate about myself."
That's a force at work in the first single and the album's strongest song, "Anti-Hero." The chorus contains the memable simplicity ("It's me, hi / I'm the problem / it's me") that has already made the song trend on every social media platform, but it also delves meaningfully into Swift's relationship with self-loathing ("I'll stare directly at the sun but never in the mirror," she closes out the chorus). The song's opening line, "I have this thing where I get older but just never wiser," plays as both a pushback against her own public image — Swift receives plenty of criticism for refusing to give up the self-referential devices in her songs — and wry self-criticism. The song also offers the album's most talked-about lyric, aka The Sexy Baby Line, but in context, it perfectly distills the pressures on famous women to be young, demure, and innocent while also exuding sex appeal.
If Swift is a dedicated self-portraitist, Midnights is the first time she has allowed herself to edit her previous work.

But the self-hate is relentless on this record. Elsewhere on Midnights, on "Bigger Than the Whole Sky," one of the 3 am Edition tracks, she sings that "Every single thing I touch becomes sick with sadness / 'cause it's all over now, all out to sea." On "High Infidelity," she excoriates herself for cheating: "You know there's many different ways that you can kill the one you love / The slowest way is never loving them enough."
"Would've, Could've, Should've," easily one of the best songs she has ever written, ought to have earned a place on the proper record instead of its addendum. Here, Swift is searing to a past older lover (we all have our guesses) but equally scathing to herself: "If I'd only played it safe / I would've stayed on my knees / and I damn sure would've never danced with the devil at 19." I suspect placing "Would've, Could've, Should've" in the 3 am Edition collection is partially to prevent it from taking up all the oxygen in the whole of Midnights. If it had made the original 13, it would be the only song anyone is talking about.
That's not to say this is the album's only note. "Vigilante Shit" is peak playful Swift in a song that pulsates and vamps over a sparse beat in the style of much of Reputation. "Draw the cat eye sharp enough to kill a man," Swift smirks in the first line, giving herself a license to kill/cringe. On "Karma," the vigilante has done her work, and now she luxuriates in the schadenfreude. Swift is flexing her fun skills on "Glitch" and "Paris," too. Meanwhile "Sweet Nothing," cowritten by Swift and "William Bowery," the pseudonym for her longtime boyfriend Joe Alwyn, shines with overwhelming prettiness.
All over Midnights, Swift flexes the lyrical prowess that established her as a leading songwriter. On "Anti-Hero," she delivers a satisfying set of internal rhymes ("I should not be left to my own devices / they come with prices and vices / I end up in crisis"). On "Mastermind," she slips in "Machiavellian" without making its presence on a pop song seem forced.
Though Swift has made a career of working with a suite of producers in the past, Midnights is primarily helmed by Jack Antonoff, a reliable collaborator for the singer. This is both a benefit and a detriment: On the one hand, Antonoff has grown as a producer and is able to restrain himself from unleashing the big choruses that defined his early sound; on the other hand, Antonoff's extensive credits mean he has a hard time preventing musical ideas from bleeding into each other — the bridge of "Vigilante Shit," for example, is closer to a Lana Del Rey sound than one suited to Swift.
Midnights is, implausibly, Swift's fourth album of new material in as many years, not including two rereleases of her old work that arrived in 2021. While 2020's "sister albums" Folklore and Evermore expanded Swift's fanbase, Midnights seems to confirm that the pair of folkier pop records were a self-contained chapter rather than a new permanent path.
But the album's closer, "Mastermind," finds Swift at her most revelatory. The artist has made a habit of rejecting the accusation that she is "calculating," but on "Mastermind," she comes clean: "What if I told you I'm a mastermind," she sings like she knows the jig is up. Swift lets us in on her motivations: "No one wanted to play with me as a little kid / so I've been scheming like a criminal ever since / to make them love me and make it seem effortless."
It's not her first time playing around with this idea — on Folklore's "Mirrorball," Swift admits that "I've never been a natural / all I do is try, try, try." Is she calculating or anxious? Is she a manipulator, or is she a planner in order to avoid the worst outcomes? On "Mastermind," she delivers the thesis of her career: "This is the first time I've felt the need to confess / and I swear / I'm only cryptic and Machiavellian 'cause I care." The twist, though, is that the confession has a built-in safety: The song is addressed to a lover who is aware of her schemes and wants to be a part of them anyway. This is what it's like to be loved despite your worst tendencies, or perhaps because of them.
If Swift has spent nearly two decades turning her life into a sort of text, Midnights is her attempt to play with what she has already written. Some of these songs scan as precise edits that bolster or challenge stories we already know. Others register as attempts to undo established narratives about Swift and replace them completely. This album is not her first time playing with her own mythology — Swift attempted a similar feat with Reputation, an album that was unfairly criticized upon its release. But this time around, she is deft and precise in places where Reputation was sprawling and unwieldy. For the uninitiated, Midnights could be read as vague and lacking in specificity. But for those of us who have done the reading, Midnights is a cohesive and at times stunning development for a songwriter who has made evolution her signature. ●