Secret files reveal NYPD officers can lie to juries or brutally beat civilians and still keep their jobs
It's not a handful of officers. Not even tens. It's hundreds. Secret files that we obtained show that from 2011 to 2015, at least 319 New York Police Department employees who committed offenses serious enough to merit firing — from lying to grand juries to physically attacking innocent people — were allowed to keep their jobs, their pensions, and their tremendous power over people's lives.

Among the 319 employees, 35 were found guilty by a police tribunal of excessive force, getting into a fight, or firing their gun unnecessarily. Fifty-one employees lied on official reports, under oath, or during an internal affairs investigation.
Oscars 2018: The reckoning that wasn't.
Perhaps the 2018 Oscars will be remembered most for what wasn't said. Last night's ceremony was noticeably quiet on ~Hollywood's big reckoning~, save for a handful of moments. Here they are — the few times the historic #MeToo and Time's Up movements were mentioned.
What the Oscars did focus on was, well…business as usual: movies and the people who made them. Highlights:

Here are all the winners from last night's ceremony.
An Auschwitz tour guide's home was vandalized with the Star of David and "Poland for the Poles"
First, a quick catch-up: About a month ago, Poland passed a new law aimed at making it illegal to blame Poland for the Holocaust. The law prohibits calling Nazi concentration camps "Polish death camps" — because they were run by Nazis in occupied Polish territory, and many Poles feel the phrase blames them for the deaths in a war that also killed 6 million Polish citizens.

Now, amid rising tensions, the home of an Italian tour guide and Holocaust historian was vandalized in the city of Krakow. The guide said he found a Star of David and the slogan "Poland for the Poles" written in Polish on the door of his apartment, and "Auswitz [sic] for Poland guide!!" scrawled in English on the wall. A police investigation is underway.
A Florida teacher is under investigation for reportedly hosting a white supremacist podcast
Dayanna Volitich was "removed from the classroom" where she teaches social studies in a Florida middle school. She's being investigated by her employer after reports she hosted a white supremacist podcast and used Twitter to share anti-Semitic conspiracy theories and suggest Muslims be eradicated from the planet.

HuffPost reported that Volitich used a pseudonym, "Tiana Dalichov," to secretly host a podcast titled Unapologetic, on which she recently argued that some races are smarter than others.
In a recent episode of the podcast, Dalichov identified herself as a public schoolteacher and prided herself on bringing her beliefs into the classroom.
Quick catch-up
Michelle Carter: The woman who texted her boyfriend to encourage him to kill himself has hired the lawyer for the Boston Marathon bomber. Carter is asking for her manslaughter conviction to be overturned.
President for life: President Trump joked that maybe the US should have a "president for life." The remark was about Chinese President Xi Jinping's move to end term limits in China, and Trump told supporters that maybe the US could also try that. So far, the White House has not appeared to express any concern about China's move.
Bumpy landing: The pilot's report for one flight heading into DC said, "PRETTY MUCH EVERYONE ON THE PLANE THREW UP" The flight landed in the wake of a powerful nor'easter that brought rain, snow, and very strong winds to the East Coast. The turbulence was serious business — the report added that even the "PILOTS WERE ON THE VERGE OF THROWING UP."
Flu season: The flu is starting to fade, but is still widespread in Midwestern and East Coast states. The Centers for Disease Control and Prevention said the virus is finally on the decline, though public health officials urge that it's still worth getting the flu shot.
Huntington, West Virginia, is ground zero of America's opioid crisis
It's a city of 47,000 and has an overdose rate 10 times the national average — an incredible 10% of the population is addicted to opioids. In 2016, Huntington was in the spotlight after a string of 26 overdoses and two deaths that took place within the span of five hours.
Huntington's new claim to fame is that it's the subject of Heroin(e), an Oscar-nominated documentary short that follows a fire chief, a realtor, and a judge who came together to start the county's drug court program.
"Drug court" refers to a treatment program that offers people arrested on drug-related charges the chance to have their arrests wiped away, if they can stay off drugs. Drug courts exist because sending people hooked on heroin or meth to prison doesn't work very well.
Dan Vergano spoke with the people trying to save their community from opioids, one drug court session at a time.
People are having all the feelings over a photo of a little girl staring at Michelle Obama's portrait
Last month, the official portraits of Barack and Michelle Obama were formally unveiled. Fast-forward to a few days ago, and this picture of a young girl marveling at the former first lady has gone viral.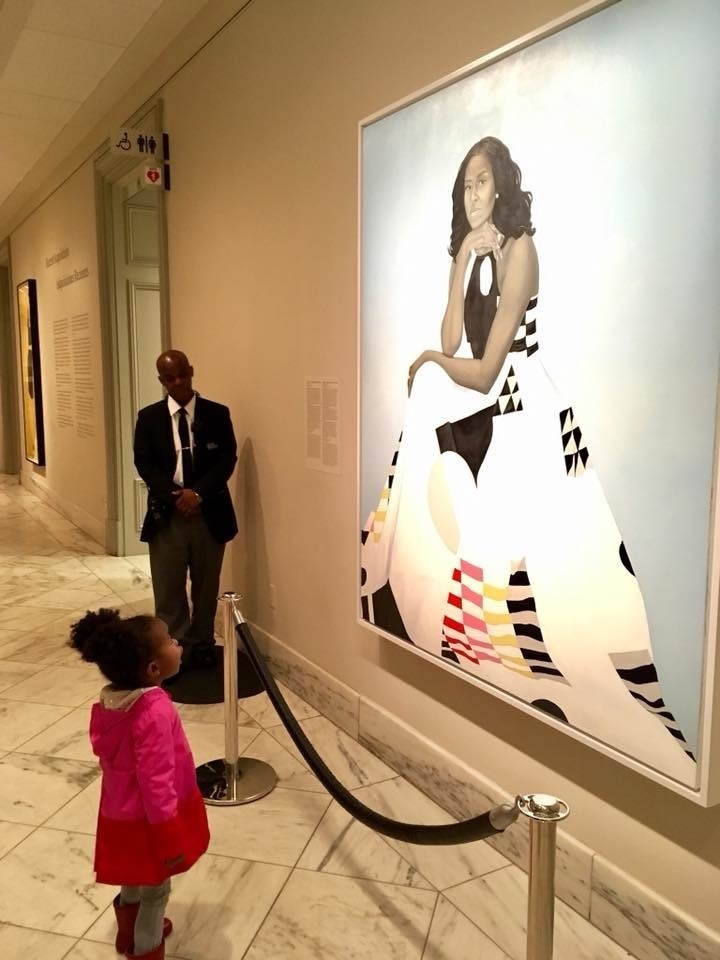 One of the people there said time seemed to stop as everyone around the little girl watched her stare in awe. The feeling's mutual: The internet is responding with tears.

Enter your email below to sign up for the BuzzFeed News newsletter: