Big progressive organizations are helping the Florida teens with their gun control campaign

They began barely two weeks ago as a group of survivors sitting in a circle in the home of one of their parents. Now they're a movement.
Following the shooting in Parkland, Florida, that left 17 people dead, the students from Marjory Stoneman Douglas High School have been just about everywhere. On cable news and social media, they began a rallying cry for gun control, calling for a March for Our Lives next month.
A lot has changed since the day they got together: Major organizations like Giffords, Move On, Planned Parenthood, and the Women's March LA told us they are helping the students with logistics, strategy, and planning of their rally.
A new report says there is widespread sexual harassment within the UK's Labour Party
The report was compiled by a group of the party's female members called LabourToo. They ran a survey giving women activists the chance to anonymously report discrimination, harassment, and abuse within the Labour Party.
It catalogs dozens of instances of sexual harassment and assault across all levels of the party. A copy of the dossier has been handed to Labour leader Jeremy Corbyn.
Two Labour MPs are currently suspended and under investigation by the party, after multiple women came forward with sexual harassment complaints.
Taiwan is running out of toilet paper, and it's terrifying
People in Taiwan are hoarding toilet paper after supermarkets announced prices would be increasing by 10–30% by mid-March. The reason they give? The rise in the price of pulp internationally.
As a result, there have been incredible scenes across the country as people scramble to buy as much TP as possible. The mad dash for toilet paper has created a nationwide shortage. This is what that shortage looks like:
Ryan Seacrest will be on the Oscars red carpet this Sunday, despite sexual harassment allegations
This awards season has been dominated by the Time's Up movement. Despite this, Ryan Seacrest will return to host E!'s Oscars red carpet special on Hollywood's big night, even though he is facing accusations of sexual harassment.
E! is standing by the host after a woman came forward to allege that Seacrest sexually harassed her. He's denied the claims, and the network says it conducted a probe into the allegation, which was brought to its attention in November, and found "insufficient evidence."
An ABC spokesperson also said Seacrest would continue his duties on Live with Kelly and Ryan, as well as the reboot of American Idol, which is slated to premiere March 11.
Quick catch-up
Downgrade: Jared Kushner, the White House senior adviser and President Trump's son-in-law, has had his security clearance downgraded, meaning he will no longer have access to top security information. Kushner is accepting the decision and will not ask Trump for an exception.
Tone it down: Shadi Petosky, the co-creator of Amazon's children's show Danger & Eggs, said the company's executives told her that her political tweets "weren't becoming of someone running one of their shows."
Bedding down: Casper, the once online-only mattress company, has joined the ranks of the many digitally native businesses that now have physical retail stores: It now has a permanent location in New York's swanky NoHo neighbourhood where you can try its mattresses IRL.
Turn down for what: Just ahead of her highly anticipated return to tennis, Serena Williams' husband, Reddit cofounder Alexis Ohanian, bought four billboards to celebrate the legend. Williams took some time off last year to give birth to their daughter, Alexis Olympia. The billboards read "GREATEST," "MOMMA," "OF ALL TIME", "Serena Williams, G.M.O.A.T. — signed Alexis Jr + Sr."
Down, boy: Before her beloved pup died last year, Barbra Streisand apparently had her cloned — twice. Two of her new dogs were born after Streisand had cells taken from the cloned dog's mouth and stomach before her death.
The mysterious professor at the center of the Trump-Russia probe has disappeared, and not even his girlfriend can find him
Joseph Mifsud allegedly told the Trump campaign that Russia had Hillary Clinton's emails. Then, when the news broke, he vanished.
Now, a 31-year-old Ukrainian woman who claims to be his fiancé can't find him. She showed us WhatsApp messages where Mifsud told her he was in Saudi Arabia at the same time as President Donald Trump's visit, and in Sicily, Italy, for the G7 Summit.
Messages also show how Mifsud learned she was pregnant last year. Then after he became a focus of the Trump-Russia probe, he stopped replying. That silence has held, even six weeks after the daughter she says he fathered was born.
People are having a great time laughing at this man who struggled to buy leggings
A woman asked her boyfriend to grab her new leggings while he was out shopping. He was more than a little confused by the situation, and she soon received these messages: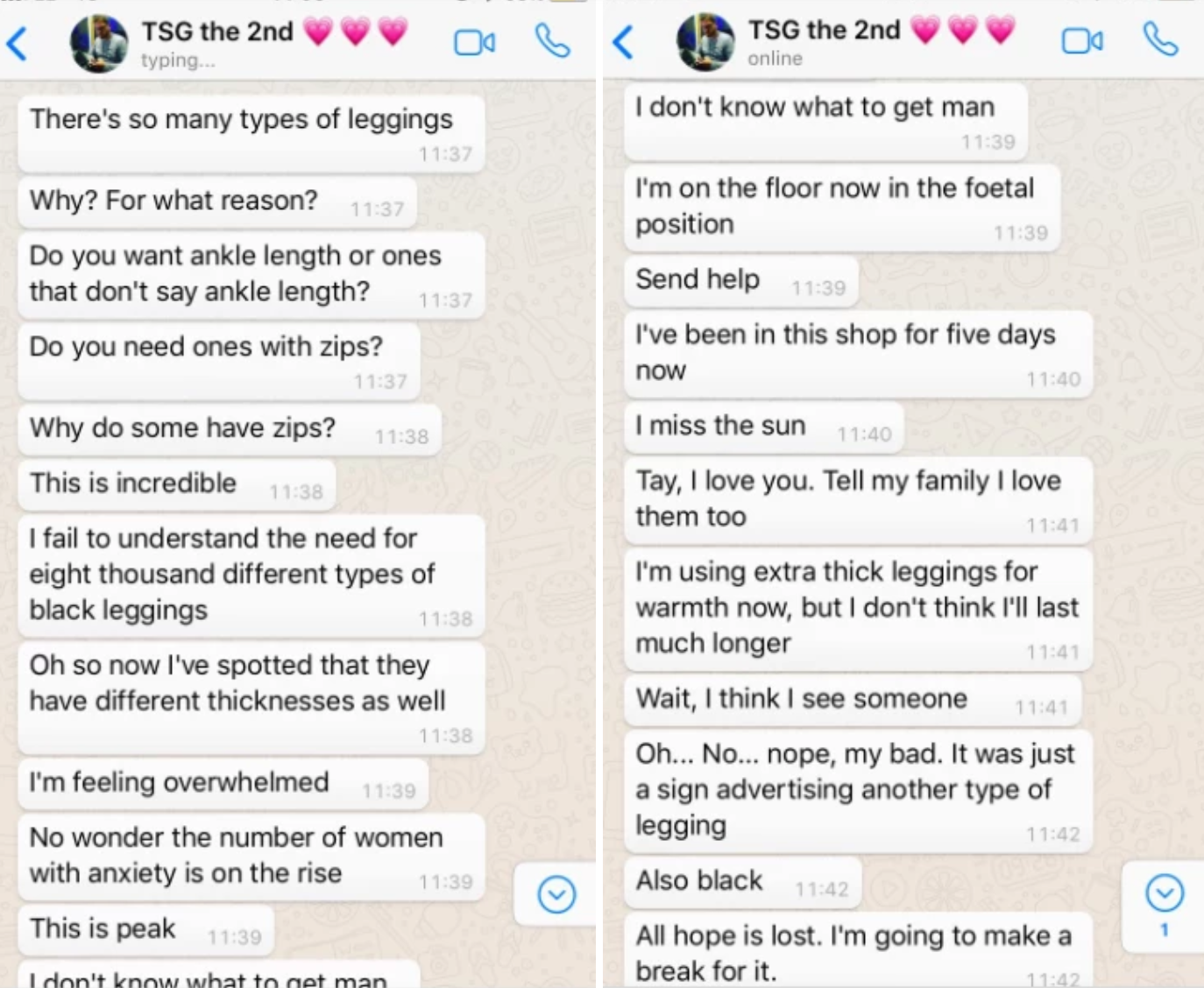 Reactions to his struggle are the absolute best, and I can't stop laughing.

Enter your email below to sign up for the BuzzFeed News newsletter: