The Department of Education will reject transgender student bathroom complaints
The department says it won't investigate or take action on any complaints filed by transgender students who are banned from restrooms that match their gender identity. It's the first time officials have asserted this position publicly — for nearly a year, the official response was that they were studying the issue. The department never cemented its intent to reject all restroom complaints issued by trans students, until now.
Syria's civil war is ending. But the war for Syria is just beginning.
Syria's bloody, messy civil war could be nearing its end. It has left half a million people dead and displaced nearly 13 million more. The thing is, the conflict is being replaced by something even more dangerous.
Escalating warfare in the region shows the next phase of Syria's conflict. As one expert told us, "The intra-Syrian fight is finished. It's about Iran. It's about Israel. It's about Turkey. It's about Russia. It's about the US. They are now involved in waging the fight on the ground."
Another expert put it more bluntly: "You had four foreign powers in the last few days that have lost helicopters, drones, or planes over Syria. This is not a contained conflict. This is a fully regionalized conflict."
The Winter Olympics were hit with a cyberattack, and all eyes are on Russia
Hackers attacked the Winter Olympics in South Korea, and security experts are trying to determine if Russia is behind the attack. Malicious software targeted users with an @pyeongchang2018.com email address.
The fascinating part: It looks like the attack didn't do the maximum damage it could have done — on purpose. The malware that affected Olympic computers was a "wiper" — it was designed to wipe a computer's files — but it intentionally held back.
One security analyst said, "I read this as the attacker was trying to send the victim a message — they're clearly saying, 'I could have wiped your data, and I have full access to your systems, and I could have destroyed it...'"
PSST: Today's is the 150th episode of Reporting to You, the BuzzFeed News morning briefing. Each weekday morning, we bring you the news you need to know in audio form, if that's your jam — no weird robot voice, just good humans telling you the news. Subscribe to the podcast, or if you'd prefer to get it on Amazon Alexa, here's how to install it.

Instagram is experimenting with snitching if you screenshot Stories
It's like the end of an era. Maybe. In a blow to lurkers everywhere, Instagram is testing telling people when someone screenshots their Story. Previously, IG was good not to narc — unlike Snapchat, which is famous for snitching (among other things). Right now, this test includes a small group of users. People's reactions to this have been reasonably unchill.
Quick catch-up
UN vote: Remember when Donald Trump said he would cut off aid to countries that condemn the US decision to recognize Jerusalem as Israel's capital? Well, the proposed State Department budget is out and, nope, not a single country lost funding on the basis of voting against the US.
The Philippines: President Rodrigo Duterte told soldiers under his command that when engaging with rebel women, they should shoot them in the vagina. The leader has made numerous incendiary comments since taking office in 2016. Activists have criticized the comments as misogynist and demeaning.
Vanessa Trump: Donald Trump Jr.'s wife Vanessa was taken to hospital after opening an envelope with white powder in it. Police say this was done as a precaution. Tests later revealed the substance was nonhazardous.
Obama portraits: Barack and Michelle Obama had their official White House portraits unveiled. They were the first presidential portraits to be painted by black artists — the former president was painted by Kehinde Wiley from Brooklyn and the former first lady was painted by Amy Sherald from Baltimore. People either really loved or hated Michelle's.
Thirteen Reasons Why: Novelist Jay Asher, best known for writing the novel Thirteen Reasons Why, was expelled from the Society of Children's Book Writers and Illustrators after allegations of sexual harassment. The group's executive director said that, after an investigation, expelling him "was the proper course of action." Asher says he wasn't pushed out, but left of his own accord.
What would a less gendered world really look like?
And how might our world change if we were all empowered to define it for ourselves? Shannon Keating fiercely explores this question in a moving essay. A taste: "Sometimes womanhood feels like a cage, and sometimes it feels like home; the only home I've ever known. I don't think I want to knock down those walls entirely, but rather find a way to give myself more room."
A TV station said the Olympics were happening at P.F. Chang's
Okay, so we all know the Winter Olympics are going on, yeah? They're happening right now in Pyeongchang, South Korea. Well, Chicago's ABC affiliate accidentally flashed a graphic that said "P.F. Chang 2018" while discussing the politics behind the Olympic Games. That's right, they said the Olympics were happening at a popular Asian-themed chain restaurant. Face, meet palm.
Here it is in all its glory: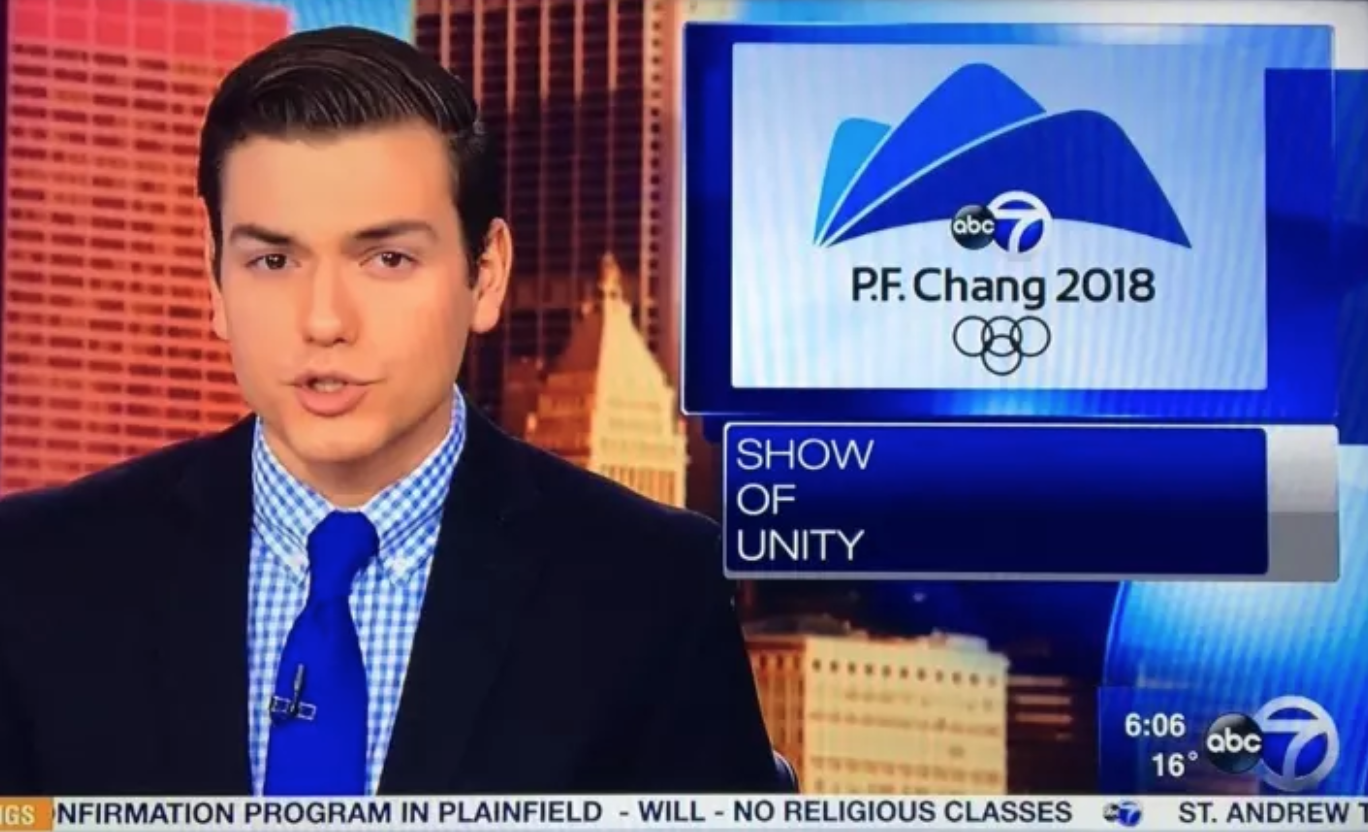 Enter your email below to sign up for the BuzzFeed News newsletter: