Morning Update: Will Smith Is Going To Blue Himself
Trump to withdraw troops from Syria, Jeff Sessions policy overturned, "To All the Boys I've Loved Before" sequel.
If you'd like to get this newsletter in your inbox, click right here.
Trump's decision to withdraw from Syria has allies there wondering about their future
With little warning, the Trump administration decided to pull US troops from Syria.
The sudden announcement created waves of confusion and fear among US allies in the country — who are now anxious about facing a hostile Turkey and a still-active ISIS threat alone.
A journalist with a TV station in northern Syria told us, "People are very afraid. It looks like the situation is going to be crazy."
Trump's decision surprised even officials across the US government. The State Department and the Pentagon have long lobbied against a US withdrawal. The move also drew criticism from members of Congress, including Republican Sen. Lindsey Graham, who said the withdrawal would be a "huge Obama-like mistake."
The 7-year-old Guatemalan girl who died in US custody was given no water for hours, lawyers say
Jakelin Caal was in the custody of Customs and Border Protection when she died on Dec. 8.
Attorneys for her family raised new questions about the agency's handling of the case, accusing CBP of failing to provide water to the girl for eight hours. They also say the agency potentially violated its own rule that requires agents to contact medical professionals in the event of a "medical emergency."
The cause of death remains unknown, and an autopsy report is not expected for weeks.
You should also know: A 5-month-old girl has been hospitalized with pneumonia after being detained by the Border Patrol.
BuzzFeed News has won a lawsuit over its decision to publish the Trump dossier
A federal judge dismissed a defamation lawsuit against BuzzFeed News over the publication of a dossier that alleged several years of links between Russia and then–president-elect Donald Trump.
The judge found that because the dossier was the subject of official proceedings — both Trump and then-president Barack Obama had been briefed on it, according to reporting at the time — BuzzFeed News' report was fair.
The judge also found the article was "fair and true," because it just reproduced the dossier — it didn't express any opinions about it.
👉 If you believe in this kind of journalism, support our reporting by becoming a BuzzFeed News member today.
SNAPSHOTS
A federal judge ordered the return of individuals deported because of Jeff Sessions' asylum policy. The former attorney general made it harder for people facing domestic or gang-related violence in their home country to advance asylum claims. A judge ruled that policy was illegal.
The Catholic Church concealed more than 500 allegations of sexual abuse in Illinois. The state's attorney general says allegations against more than 500 priests were effectively disregarded and their names never made public.
A woman was arrested after allegedly lying about being married to a firefighter to get donations from the public. Ashley Bemis, 28, allegedly made up a story about her husband being a firefighter during a raging Southern California wildfire to solicit more than $2,000 in donations.
Netflix just announced To All the Boys I've Loved Before is getting a sequel. Lana Condor and Noah Centineo will be returning.
The first photos of Will Smith as Genie in the live-action Aladdin were released and people were not happy. Most of the criticism seems to stem from the fact that Smith isn't blue like in the 1992 animated version. Smith posted on Instagram to calm concerned fans. "Yes, I'm gonna be BLUE! :-) )," the actor wrote. Here he is, not yet blue: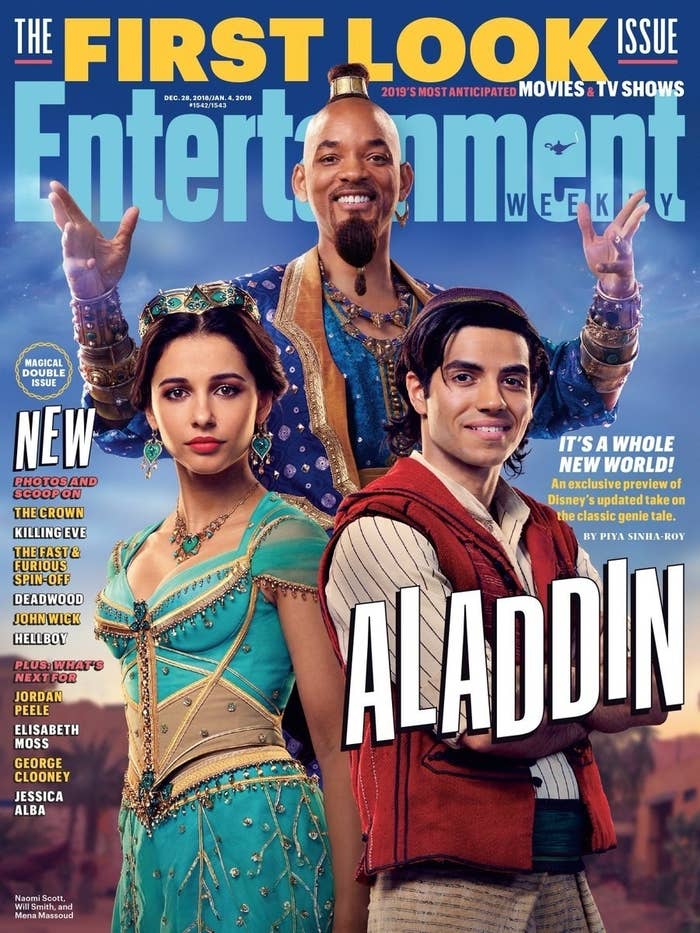 Apps are revealing your private information to Facebook and you probably don't know about it
I mean at this point, what's another privacy overreach, right?
According to a new report by the German mobile security initiative Mobilsicher, major Android apps like Tinder, Grindr, and Pregnancy+ are quietly transmitting sensitive user data to Facebook.
This can include things like religious affiliation, dating profiles, and health care data. The information doesn't have your name attached, but it's far from anonymized — and it's transmitted to Facebook regardless of whether users are logged into the platform.
As Charlie Warzel writes, this gets at a greater issue of transparency: When platforms like Facebook disclose their data policies, they do it "in daunting mountain ranges of text with impressively off-putting complexity. Rare is the normal human who reads them."
Related: Nicole Nguyen explains why "opting out" of data collection is an illusion.
This woman said men don't really own furniture and now her mentions are a mess
Kathryn Hasty went to her close friend's house and saw that there was only a chair and a TV in the living room. And that's it. Nothing else. Not even a lamp.
Inspired by the simplicity, she snapped a photo and tweeted it with the caption "guys really live in apartments like this and don't see any issue."
Her tweet has spurred a, uh, let's say spirited debate. Here's the photo that started it all: