Trump's lawyers argue Congress has little power to investigate a sitting president's affairs
Right now, President Donald Trump is fighting investigations from the Democrat-controlled House on multiple fronts.
A court hearing where the president's lawyers fended off inquiries into Trump's personal affairs shed some light on the White House's strategy.
That strategy has three parts: First, resist efforts to speed up the litigation. Second, raise sweeping arguments about the limits of Congress's ability to investigate a sitting president that test the bounds of previous US Supreme Court and appeals court decisions. Finally, be prepared to lose and appeal. Read Zoe Tillman's analysis of how it'll work.
Trump's lawyers leaned in to the argument that Congress doesn't have much power to investigate a president — and avoided commenting on the lawfulness of two of Congress's most famous investigations: Richard Nixon's role in the Watergate Scandal and Bill Clinton's role in the Whitewater scandal.
Alabama Republicans voted to criminalize nearly all abortions, even for victims of rape and incest
The bill, which now heads to the governor's desk to be signed, bans all abortions except in cases where the woman's health is at serious risk. Once signed into law, it will be the strictest abortion law in the US.
If that seems too strict, that is partially the point. This law — as well as the handful of six-week abortion bans that other states have recently passed — will get blocked by the courts, and this is precisely what the anti-abortion movement wants.
That's because anti-abortion advocates see the current conservative majority on the Supreme Court as the most friendly to their goals in decades, and they hope getting these laws in front of it will result in overturning Roe v. Wade.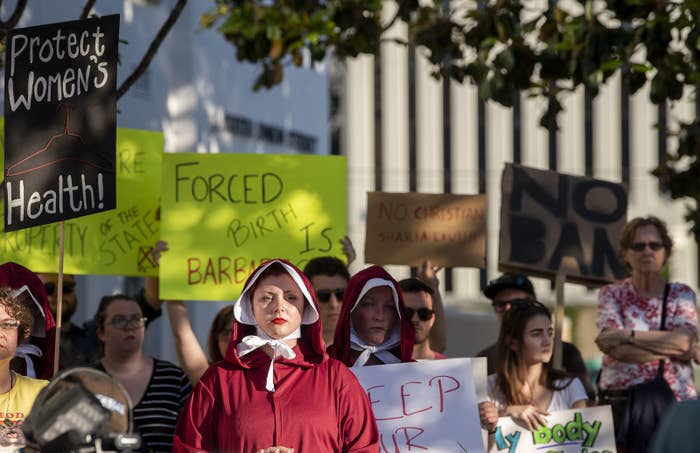 SNAPSHOTS
Montana governor Steve Bullock is running for president. His entrance to the race pushes the Democratic 2020 field to close to two dozen candidates. I trust that you can name all 22, in order of entry and alphabetically.
A fire at a mosque in New Haven was intentionally set, police say. The blaze in the Connecticut mosque broke out on Sunday, and authorities are investigating it as arson. There was one person inside the building, but they got out unharmed. The fire left the building unusable.
An 11-year-old girl told her classmates to stop making Nazi salutes, and her teacher sent her down to the principal's office. Keith Gamble said his daughter's classmates made the gesture on multiple occasions after a teacher instructed one student assigned to play Adolf Hitler in a history project to give the "Sieg Heil" salute.
The Game of Thrones creators are making the next Star Wars movie. After The Rise of Skywalker closes out the current trilogy, Disney announced another trio of Star Wars movies, because why would you stop printing money. David Benioff and D.B. Weiss's film will hit theaters in 2022.
The Tati Westbrook/James Charles drama got even messier after screenshots were posted to Twitter. I can't possibly catch you up here, but the quick version is: after the influential YouTubers' friendship publicly ended, fans have been taking sides — mostly Westbrook's. An attempt to help Charles with screenshots seems to have backfired.
An Iranian disinformation operation impersonated dozens of media outlets to spread fake articles
A particularly ambitious disinformation campaign that used fake Twitter accounts to target journalists is likely linked to Iran, according to researchers.
The operation published 135 fabricated articles on websites designed to mimic outlets such as the Guardian, Bloomberg, Al Jazeera, the Independent, the Atlantic, and Politico.
You might think vigilance is at an all-time high for disinformation. But this campaign had some major successes: A fake article claimed that Arab nations had called on FIFA to strip Qatar of the 2022 World Cup — and that article was covered by Reuters, which caused other outlets to spread the disinformation further.
As one researcher put it to us, "social media is being treated as a disinformation laboratory by a number of state and nonstate actors."
This conversation shows how private Instagram pages can ruin friendships
There are, essentially, two types of people in the world: ones who receive a link to a meme and a funny video on a private Instagram page and follow the page, and ones who are too lazy to put effort in.
This tension came to a head recently between Haroon Ajmal and Wasif Ali, two good friends who had differences over this.
After Ajmal sent Ali a funny video and Ali refused to follow the page, Ajmal snapped. His response, a meditation on modern friendship, went viral because it's funny but also, damn, it hurts: "you're not reciprocating mans effort here still."