To get this newsletter in your inbox every morning, sign up right here.
Chief Justice John Roberts rebuked Trump for his latest attack on the judiciary
It's unusual to have such a public dispute between two branches of America's federal government, but here we are.
The background to the conflict is this: On Monday night, a federal judge in California ruled against the Trump administration's new asylum policy. In response, President Donald Trump attacked the ruling as having come from an "Obama judge."
So the chief justice of the US Supreme Court responded. Roberts wrote in a statement, "We do not have Obama judges or Trump judges, Bush judges or Clinton judges. What we have is an extraordinary group of dedicated judges doing their level best to do equal right to those appearing before them."
In response, Trump tweeted that the rulings "are making our country unsafe."
SNAPSHOTS
A Border Patrol agent who shot across the border and killed a Mexican teen was found not guilty. José Antonio Elena Rodriguez, 16, was shot 10 times in 2012 while walking on the street on the Mexican side of the border, after someone threw rocks at Border Patrol agents, according to officials. A jury acquitted Lonnie Swartz of involuntary manslaughter charges.
A remote tribe in India fired arrows at and killed an American missionary who illegally tried to visit them. Police identified the man as John Allen Chau, a US citizen who was reported missing after traveling to North Sentinel Island as a Christian missionary. The Sentinelese tribe are the only occupants of the island and remain completely disconnected from the outside world. It is against the law to visit there.
Instagram influencers are using the California wildfires to sell products and post nudes. Popular influencers are posting meditation shots, product sales pitches, or nudes and pairing them with somber messages about standing with those affected by the wildfires. 2018 is weird.
Gap is closing hundreds of stores. The company said it plans to "quickly" shutter Gap-brand stores that are "dragging down the brand." The CEO did not specify exactly how many stores would close, or where those stores are located. But he said the closures will include "some amazing flagship stores around the world." It's like Game of Thrones: Gap Edition.
Please do not do what this famous soccer player did to this bird. Patrice Evra is a French footballer. Yesterday, he posted a video of himself doing things to a chicken that are against god, but even more pressingly, against all food safety regulations. Do not be like Patrice Evra.
Nicki Minaj allegedly flew all the way to China for a concert that turned out to be a scam. Minaj was scheduled to perform at an event called the Djakarta Warehouse Project in Shanghai. Djakarta Warehouse Project is an annual dance music festival in Indonesia, and this Shanghai event was billed as its Chinese spinoff. However, it turned out the organizers didn't have permission to use the name, and Minaj reportedly refused to play.
A sixth-grader left this guy a very detailed note after a bus driver hit his car. Andrew Sipowicz noticed that his Mustang had been damaged in an apparent hit-and-run, and was upset. And then he saw the note. The handwritten message included the bus number, a breakdown of what happened, and an artistic rendition of the bus hitting his car, complete with the faces of apparently screaming children in the backseat. Because the whole thing is so great, here's the note: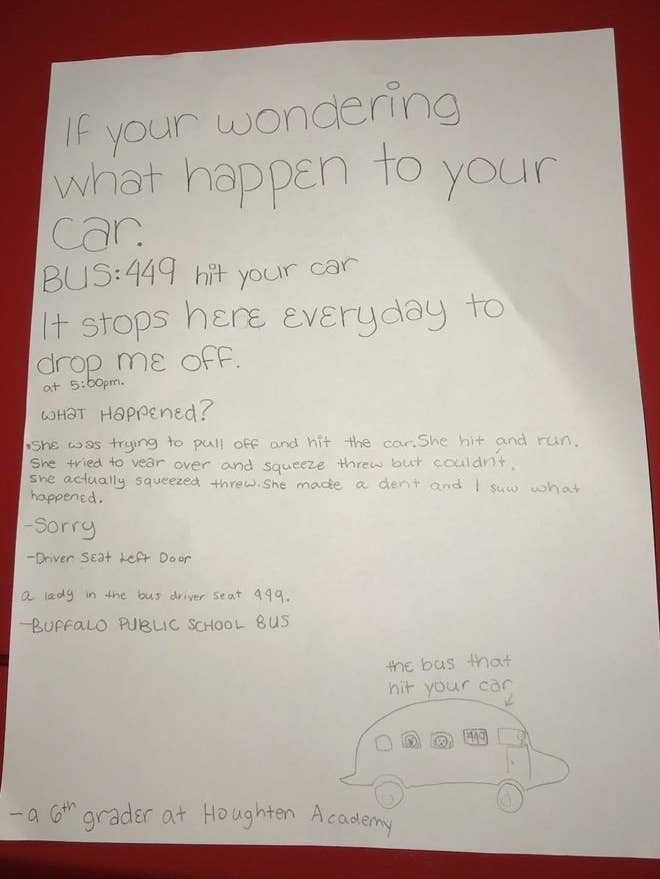 15 things you should never say at Thanksgiving (or any holiday gathering, really)
Happy Thanksgiving, friends! Now here's the thing.
You likely know people in your life who have a complicated relationship with food. Perhaps they've gone through an eating disorder, or are currently struggling with disordered eating.
Because family meals can be an awkward time for talking about food, we put together this list of things you might consider not saying at the dinner table.