The FBI finished its Brett Kavanaugh investigation without talking to Christine Blasey Ford or Brett Kavanaugh
It was a week ago that the FBI was charged with investigating Christine Blasey Ford's sexual assault accusations against Supreme Court nominee Brett Kavanaugh.
The FBI delivered the investigation amid criticism that the bureau did not talk to key witnesses, including Ford and Kavanaugh.
Republicans said that the investigation cleared Kavanaugh, while Democrats called it incomplete, pointing to the witnesses who were not interviewed.
Republican Sens. Jeff Flake and Susan Collins — both considered key swing votes — said they believed the FBI did a thorough job, but did not indicate how they'll vote.
What happens now?
As with all history-changing events, these things happen in procedures cloaked in very formal lingo. Today will be the Senate's initial cloture vote, which is fancy language for a vote to end the debate on Kavanaugh's nomination.
After the cloture vote, the final vote will likely happen Saturday. Republicans can afford to lose only one vote to make it a 50–50 tie. In the event of the tie, Vice President Mike Pence will break it.
Things you should know: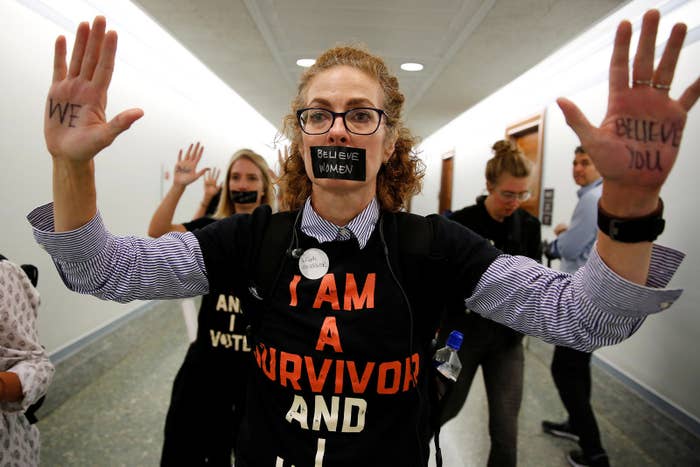 Facebook's hyperpartisan pages are deepening divisions about Kavanaugh's nomination
The US is divided over the Supreme Court nomination, and that division is more acute on the internet.
Kavanaugh's nomination has become one of the biggest traffic-generating news stories for hyperpartisan news pages on Facebook of the past two years, according to publishers who spoke to us.
After Facebook put energy into making hyperpartisan pages less visible, publishers of those pages say the Kavanaugh story has been a boon. One publisher told us, "It is certainly the biggest story in politics since the 2016 election."
Interesting to note: While both right and left pages have seen increases in traffic, the right seems to be dominating, in spite of accusations of conservative bias leveled against Facebook. Conservative publishers had the top-performing content about both Kavanaugh and Christine Blasey Ford, one of three women who has accused him of sexual misconduct.
If you're wondering what the content looks like, here are some examples: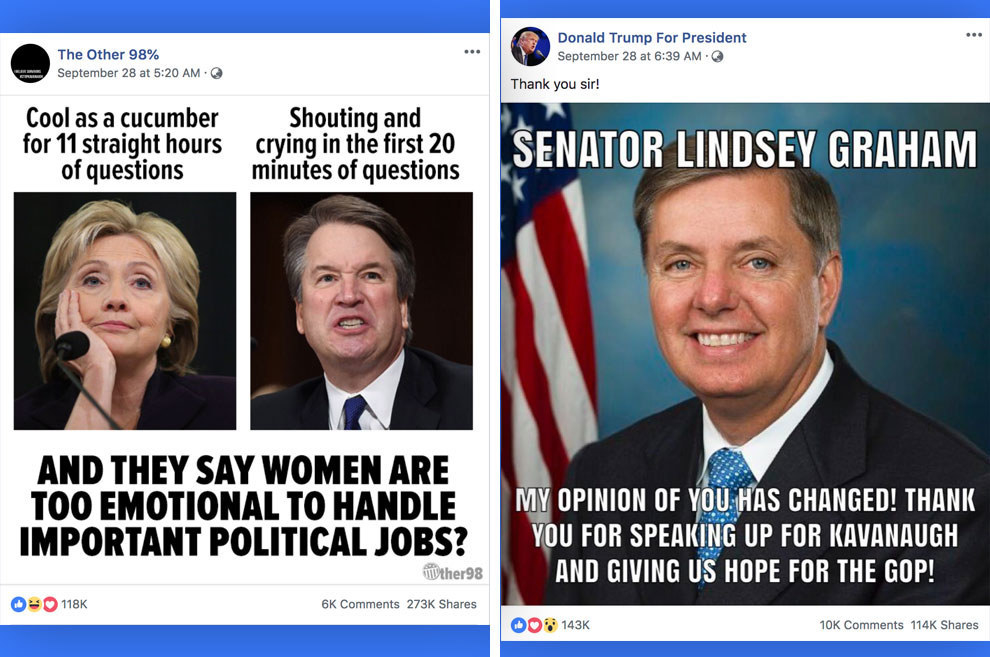 SNAPSHOTS
Elon Musk just insulted the SEC on Twitter after agreeing to pay millions in fines. The CEO of Tesla is in the process of finalizing a settlement with the Securities and Exchange Commission after botching an attempt to take his company private. Musk agreed to pay $20 million in fines. Yesterday, he tweeted that the "Shortseller Enrichment Commission is doing incredible work. And the name change is so on point!" It's unclear why Musk decided to insult the SEC, particularly because the settlement is not yet finalized.
You absolutely need to get the flu shot this year. Last year's flu season in the US was one of the deadliest in the last 40 years — an estimated 80,000 people died, including 180 children. It's important to get a flu shot as soon as possible, and experts recommend you get the shot before the end of October. Here's what you need to know about it.
Two women were being harassed in a grocery store for speaking Spanish, then a woman stepped in to shut down the harasser. This is one of the stories where you should really watch the video.
The Nobel Peace Prize was awarded to Denis Mukwege and Nadia Murad. Mukwege, a Congolese gynecologist and Murad, a Yazidi Kurdish human rights activist, received the honour for "their efforts to end the use of sexual violence in war and armed conflict." Mukwege, 65, has treated tens of thousands of women who were raped during conflicts in the Democratic Republic of the Congo, while Murad, 24, was the victim of sexual violence while held captive by ISIS in Iraq, and has since become a human rights activist.
Celebrities' homes keep getting burglarized because stars can't help themselves on social media
This week, Los Angeles police arrested a team of people who follow celebrities a little closer than the rest of us do.
According to police, the group tracked the social media profiles of Rihanna, Christina Milian, Dodgers right fielder Yasiel Puig, and Rams wide receiver Robert Woods to allegedly break into their homes while they were away.
They're not breaking in just once, either. Puig's home has been burglarized four times — twice in the last two months. Milian's home was broken into twice in four days. The burglars even left behind a wish list of other targets, like Matt Damon and Viola Davis, police said.
Police said they initially thought the break-ins were random, then realized they're all timed with celebrities posting on social media that they're away from their homes.
The day Rihanna's house was burglarized, she tweeted about going to an event in Dubai.
Some longreads to sit with this weekend
Some people get really uncomfortable talking about adoption. In part, because they don't know how to handle talking about something that can be so fraught. We published an excerpt from Nicole Chung's memoir, where she wrote thoughtfully about people's expectations when they ask about adoption — that they want to hear she's happy being adopted — and the difficulty in answering. From the piece: "The truth was that being Korean and being adopted were things I had loved and hated in equal measure."
Do you pop your pimples even though you know you should leave them alone? Amelia Possanza wrote an essay about popping pimples and anxiety, and how the two are intimately related. Possanza writes that she knows she shouldn't pop pimples, but "it feels as good as crossing something off a list, a task with a beginning, middle, and end that can be completed without much thought. It is a relief from the constant tick of my anxiety."
A year ago this week, Tom Petty died. Revisit Hanif Abdurraqib's excellent tribute to Tom Petty's America, the one that may be theoretical, but it's the one everyone wants to believe in. From the essay: "Tom Petty knew what all great writers know: If you can tap into the right emotions, you can make everywhere feel like anywhere. And you can make a stranger feel like everyone's best friend."