Morning Update: Wait, What Just Happened In The UK?
Trump's Supreme Court pick, explaining the mess in the UK, Justin Bieber is engaged, it's nuts. Your BuzzFeed News newsletter, July 10.
Trump says he will nominate Brett Kavanaugh to the Supreme Court
Less than two weeks after Justice Anthony Kennedy announced he will step down from the US Supreme Court at the end of July, President Donald Trump has named his pick to replace him.
Trump introduced Brett Kavanaugh as a judge with "impeccable credentials, unsurpassed qualifications, and a proven commitment to equal justice under the law."
Here's what you need to know: Despite Trump's propensity to go outside governing norms, as demonstrated by [gestures broadly] everything, the president has been consistent in picking judges who represent the desires of ideological conservatives. This one is no different.
The background here: Kennedy's tenure saw him become known as the swing-vote justice — he sided with the more liberal judges often enough on big cases, including on affirmative action, abortion, and LGBT rights.
Trump choosing Kavanaugh is seen as an opportunity to move the court markedly to the right. Given recent trends, Chief Justice John Roberts — a solid conservative with institutional concerns — will become the court's center vote.
What are Kavanaugh's views? The judge has written more than a hundred decisions in more than a decade on the DC Circuit. Here are his views on abortion, executive power, and gun laws.
As for the environment, one expert says, "He is pretty consistently anti-environment on every front. I call him Lord Voldemort." The expert, I am extremely pleased to say, is a professor named Bill Snape.
Pregnant women say they miscarried in immigration detention centers and didn't get the care they needed
First, the background: In December, the Department of Homeland Security quietly implemented a new policy by the Trump administration — the detention of pregnant women not yet in their third trimester.
Before that directive, Immigration and Customs Enforcement was under an Obama administration–era directive not to detain pregnant women except in extreme circumstances or in relatively rare cases of expedited deportation.
The policy change came with a directive that ICE is responsible for "ensuring pregnant detainees receive appropriate medical care." We found evidence that, instead, women in immigration detention are often denied adequate medical care even when in dire need of it, are shackled around the stomach while being transported between facilities, and have been physically and psychologically mistreated.
SNAPSHOTS
Starbucks is eliminating plastic straws from its stores worldwide. The coffee giant announced it will redesign cups and lids for cold drinks, eliminating more than 1 billion plastic straws a year, it said. Starbucks will invest instead in biodegradable "alternative-material straw options." Plastic straws often end up in the oceans, where they endanger aquatic animals like turtles and contribute to pollution.
A "miracle baby" who was found buried face down in a forest has survived. The 5-month-old infant survived what is believed to have been at least nine hours in a cold forest buried under leaves and sticks. Officials searched for six hours before a deputy heard a faint cry and uncovered the buried boy, who is now in good condition. The search for the infant kicked off after police arrested a man who appeared to be "under the influence of drugs." The man indicated that a baby who had been left in his care "was possibly buried somewhere in the mountains."
A 92-year-old grandpa was beaten with a brick and told to go back to his country. Rodolfo Rodriguez accidentally bumped into a little girl and, according to his grandson, was thrown to the ground by her mother and beaten with a brick. The grandson, who did not see the attack but spoke to police and witnesses about it, says four men joined the mother in the attack on Rodriguez. A witness told us she heard the assailants shouting for Rodriguez to "go back" to Mexico. Rodriguez was left with a broken cheekbone, two broken ribs, and other injuries. Strangers have stepped in and donated more than $45,000 via a GoFundMe campaign started to help with medical costs.
1 in 4 teenage girls self-harm, according to a new survey of US high school students. Nearly 18% of teens in the US reported harming themselves at least once during the previous year, according to a new study. The rates of self-harm are as high as 31% for teenage girls in some parts of the country. The study found that the prevalence of self-harm was highest among 14-year-olds (19%) and decreases with age. The study found that teenage girls were twice as likely as boys (24% vs. 11%) to have reported self-harm in the previous year. This story contains links to resources, in case you or someone you know is self-harming or in emotional distress.
Justin Bieber confirmed he's engaged to Hailey Baldwin in an Instagram caption. The singer said that the pair got engaged on July 7 while they were on vacation in the Bahamas, writing: "Gods timing really is literally perfect, we got engaged on the seventh day of the seventh month, the number seven is the number of spiritual perfection, it's true GOOGLE IT! Isn't that nuts?" While I am not going to google that, I am going to sit with the thought that the Biebs is going to be related by marriage to Alec Baldwin. It's true, GOOGLE IT! Isn't that nuts?
I know you want the pictures of the new royal baby's christening. I am happy to provide. Here's one I loved: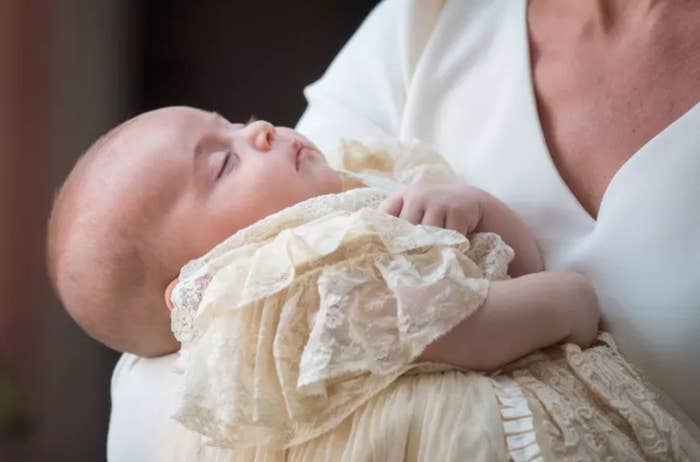 The UK is falling apart faster than normal, and here's what you need to know
Well, look, England may be in the semifinals of the World Cup, but all is not well across the Atlantic.
Tell me what happened. Yesterday, we covered how British Prime Minister Theresa May and her Cabinet managed to agree on a negotiating position for Brexit — the UK will opt for the "soft" serve, which is to say it will try to "keep a common rulebook" with the European Union and form some kind of free trade agreement with the bloc. In other words: Brexit, sort of.
That doesn't sound like a disaster. Sure. It's everything that happened next. First, the minister in charge of implementing the Brexit plan resigned, which is not exactly an endorsement of the Brexit plan. His resignation was followed by Boris Johnson's — he was the UK's foreign secretary and an advocate for a "hard" Brexit.
Oh, that's some drama. You want drama? In his resignation letter, Johnson said that May was "heading for a semi-Brexit" under her plan and that the UK was "truly headed for the status of colony."
Where's the EU in all of this? Well, the EU is waiting and side-eyeing the UK's plan, and already says many of its proposals are unacceptable.
This can't get any worse for the UK, can it? Sure it can! It's only Tuesday. There are rumors that May might actually face a no-confidence vote from her party. If this were to happen, she'd be out as prime minister eight months before the UK leaves the EU.
What would happen if she was ousted? The collapse of the May government would likely bring about another general election — the third in four years in the UK. I'm not an expert, but I can firmly conclude this would lead the British population to the brink of madness.
And remember, this is all happening while the country prepares to deal with Donald Trump's first visit as president.
This academic commented on politics while his cat climbed on his head
Jerzy Targalski was speaking on a Dutch TV show when he was interrupted by his cat Lisio. Here's the thing, though — he just calmly continued the interview as his kitty proceeded to clamber on top of his head, because cat people are outstanding.
There is, uh, no way for me to tell you about this clip — you just have to see it.
Targalski told a news station after the clip went viral that the behavior is common for Lisio, who is one of his five(!!!) cats.
"It's his way of saying, 'Good morning,' or 'I love you,' I think," he said, again, because cat people are just gems of humanity.

Enter your email below to sign up for the BuzzFeed News newsletter: