Morning Update: "Twilight" Is Now Vintage Cinema, I Guess
Trump stokes caravan fears, Saudi Arabia apparently sent a Khashoggi body double, get your flu shot. Your BuzzFeed News newsletter, Oct. 23.
Surveillance footage appears to show a Saudi "body double" wearing Khashoggi's clothes after he was killed
By now, we know that Jamal Khashoggi was killed after he walked into the Saudi Consulate in Istanbul.
What actually happened inside? The Turkish government says it has evidence the dissident Saudi journalist was tortured, killed, and eventually dismembered. Meanwhile, Saudi Arabia has changed its story repeatedly.
What do the Saudis say happened? First, they said Khashoggi walked out alive. Then they said they didn't know. Then they admitted the journalist was killed, saying it happened in a "fistfight" and that they're investigating but don't know where the body is.
Is there evidence they're not telling the whole truth? Yes. Yesterday, CNN showed footage that appears to show a man leaving the consulate wearing the same clothes as the dead journalist and a fake beard in an attempt to impersonate him. The network reported that the "body double" is a Saudi operative, one of a team of 15 sent to murder Khashoggi.
What does the existence of an apparent "body double" mean? The use of a double suggests the plan to kill Khashoggi was premeditated and casts further doubt on Saudi Arabia's story about the journalist's death.
Why would Saudi Arabia not release the footage of the body double? The Washington Post reported that a Saudi diplomat said that the body double wearing the wrong shoes led the government to withhold the footage.
Where's the US in all of this? President Trump said he believed the killing was "a plot gone awry," and "foolish and stupid." He went on to say he is against canceling a multibillion-dollar arms deal with the kingdom.
Meanwhile, lawmakers questioned whether the US should maintain its relationship with Saudi Arabia after this.
Caravan migrants have no idea what Trump meant with his "Middle Easterners" tweet
Right now, a giant migrant caravan is making its way through Mexico toward the US border. At least 7,200 people are en route, seeking an escape from violence and poverty.
President Donald Trump — who was enraged at a migrant caravan that took place in the spring — attempted to stoke new fears about this coming group, tweeting that "criminals and unknown Middle Easterners are mixed in."
The president added, "I have alerted Border Patrol and Military that this is a National Emergy [sic]." Trump's comments were met with confusion by members of the caravan, with one of them saying, "Most of us come from Honduras. It's small; we all know each other. We would know."
We are tracking all the misinformation about the migrant caravan, and there's already quite a bit.
By the way, the pictures of the caravan are incredible, though some may be difficult to look at. I found this one quite striking: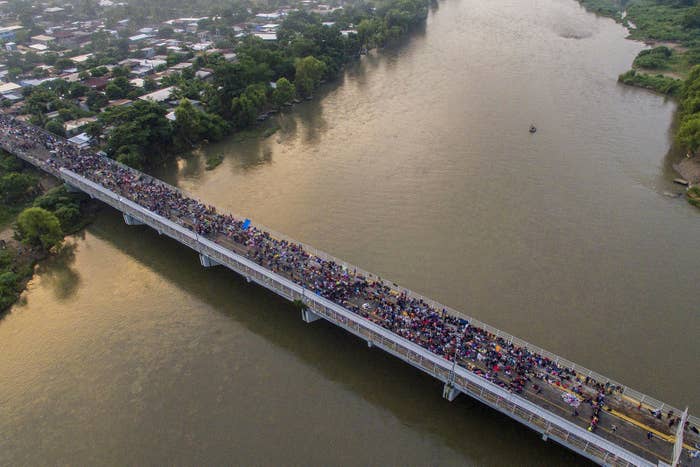 SNAPSHOTS
A lioness killed the father of her three cubs at an Indiana zoo. Ten-year-old African lion Nyack was killed after what the zoo called a "physical incident" with female lion Zuri. The zoo said that keepers had never noticed any aggression between the two before. One morning last week, before the zoo opened, staff heard "an unusual amount of roaring" from the lion pen and arrived to find the two animals fighting. A necropsy confirmed that the lion died of suffocation from injuries to the neck. The 12-year-old lioness was uninjured.
Police arrested three more Proud Boys members after a fight in New York. The NYPD made the arrests in relation to a brutal brawl that erupted last week after a talk by the far-right men's group's founder, Gavin McInnes. A total of five men have been arrested following the incident between Proud Boys and far-left protesters on Oct. 12. The event led to intense scrutiny over how the NYPD responded to brutality among extremists.
A white woman harassed a family speaking Spanish at a restaurant and demanded to see their passports. The woman, whose identity is not known, can be seen in a video screaming obscenities at a Spanish-speaking woman who was dining with her 7-year-old child and other members of her family. "Go back to your fucking country," the woman yells. "You do not fucking come over here and freeload on America." It's the latest in a series of recent videos that have gone viral showing minorities being confronted for doing normal things.
Four Americans and a guide are dead after a bachelor party rafting accident in Costa Rica. Surviving members of the bachelor party describe the accident as a "living nightmare." According to authorities, three recreational rafts flipped on the Naranjo River in Quepos, leaving five dead. Government officials identified the American victims as Ernesto Sierra, Jorge Caso, Sergio Lorenzo, and Andres Denis, all between 25 and 35 years of age. Officials identified the Costa Rican guide as Kevin Thompson Reid, 45.
An explosive device was reportedly found outside George Soros's home. Reports emerged last night that an explosive package was found in a mailbox outside the billionaire philanthropist's home in Westchester County, New York. When BuzzFeed News asked, the Bedford Police Department said in a statement that it had received a phone call from an address in the area regarding "a suspicious package found in the mailbox." Police said that "an employee of the residence opened the package, revealing what appeared to be an explosive device. The employee placed the package in a wooded area and called the Bedford police." They declined to identify the resident.
He was a healthy 38-year-old. The flu almost killed him.
I have to admit: I am relatively casual about the flu shot. If I think of it before January, I make plans to get it. Most years, it doesn't occur to me to make a priority.
This story changed my mind.
Lindsey Vehlewald's story about her husband, Charlie Hinderliter, was shared far and wide last week — and for good reason. Last fall, the couple skipped their flu shots. They didn't do so because they opposed vaccines; they just figured they were young and healthy, so it was probably fine.
When Hinderliter got the flu in January, he assumed he would soon recover. Two weeks later, he was in a coma. He spent 58 days in the intensive care unit.
The couple are now sharing their horrific experience so that you (and I) take the flu more seriously and make time for getting vaccinated.
Remember: The flu can be deadly. It can kill healthy adults. Last winter, an estimated 80,000 people died from the flu and its complications in the US — including 180 children — the highest number in the past 40 years.
People are sharing Twilight memes and memories as part of the "Twilight renaissance"
I occasionally have the unfortunate task of translating an internet what the hell moment while I myself am screaming what the hell. This is one of those days.
Stretch your mind back to the prehistoric times of 2008, when the first of the Twilight movies came out. You know, the ones with Kristen Stewart and Whatshisface. You can pretend you didn't have an opinion, but you probably did. You either hated them or loved them — there was no "neutral."
Though 10 years is a blink of an eye in the span of human history, it's an eternity on the internet, and as such, fans of Twilight have taken to revisiting the now-old-as-time movies and the fandom that came with them.
This trip into what I guess is vintage cinema for the youths is dubbed the "Twilight renaissance," and though I am screaming what the hell, the memes and the memories are good. Well played, teens.